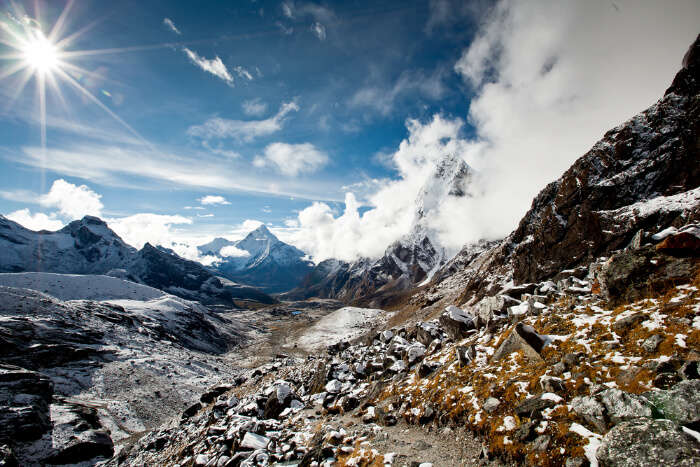 It is the dream of every adventure seeker to try trekking in the Himalayas. The narrow passes, steep ascends & descends, and the breath-taking views attract the hikers. Luckily enough, India is blessed with the magnificent Himalayas that provide ample opportunity to hike. Winters may not be the safest time to hike, but it is the experience that counts for the adventure junkies.
Yes, it is tough to walk on snow sheets. The temperatures are freezing, but breath-taking views make up for all the effort and pain. As much as it is hard to believe, not all of these treks are difficult. Let's go through the best of winter treks in the Himalayas to help you take your pick from easy, moderate and difficult ones.
Top 20 Winter Treks In Himalayas 
These winter treks mentioned below cater to each and every level of difficulty. Whether you are just beginning your journey as a trekker or a already a pro after conquering tens of the mountains, these best winter treks in Himalayas will only have one effect on you – overwhelming. So, simply enjoy your winter escapes when the mountains give you a call!
Easy Treks: Winter Trekking In The Himalayas For Beginners
These winter treks in Himalayas mentioned below are perfect for those who are just starting their journey of becoming a trekker. 
1. Triund And Laka Glacier Trek: Gaze At Unparalleled Vistas

This trek is all about enchanting beauty couples with load of adventure. This fascinating treak takes you to Laka Got glacier where you can indulge in camping and calm your senses. Also, don't forget to play with the snow and make blissful memories with your loved ones!
Altitude: 2,850 m
Duration: 3 Days
Route: Mcleodganj square-Triund-Laka Gacier
Best Season: May-June and September-October
Highlights: View of deodar, rhododendron, and oak trees, green snow-clad mountain
What Makes It Difficult: This is another easy trek which begginers can partake in. However, some towards the ends, some trekkers might face difficulty.
Trekking In Uttarakhand: The 22 Greatest Treks That Will Leave You Mesmerized
2. Prashar Lake Trek: Witness A Magical Himalayan Sunrise

Prashar Lake Trek is toutted as one of the top short duration winter treks in Himalayas. Snuggled in the valley of the Dhauladhar range, the range runs through dense forests of pine alongwith spectacular vistas of snow-clad mountains Also, This trek is is ideal for a long weekend!
Altitude: 2750 m
Duration: 2 Days
Route: Panarsa-Jwalapur Village-Parashar Lake
Best Season: December to February
Highlights: Snow-capped mountains, pine forests, Himalayan sunrise, mystical Parashar Lake
What Makes It Difficult: This is touted as one of the easiest treks. However,  you might experience difficulty of there's heavy snowfall.
41 Perfect Destinations To Spend Your Summer Holidays In India In 2022
3. Kasol-Kheerganga Trek: Dive Into Natural Sulfur Hot Water Springs

One of the most famous treks among adventrures, Kasol-Kheerganga trek lets you relax in the lap of nature and spend some tranquil moments. This short trek offers a soul-stirring journey into the woods and lets winess he enchanting view of Parvati River.
Altitude: 3962.4 m
Duration: 3 Days
Route: Kasol-Bharsaini-Kheerganga
Best Season: May to June and September to October
Highlights: Rudra Naag Waterfall, Shiva Temple, fascinating rock formations
What Makes It Difficult: It is a moderate to easy trek wherein you just need to know the basics with a balanced mental and physical state. 
12 Astounding Treks In Ladakh That Need To Be On Every Hiker's Bucket List 
4. Kareri Lake Trek: Loosen Up Amidst Chir And Chilgoza Pines

This captivating trek makes you fall in love with the natural beauty. The view os rich forests along with narrow terrains and unrealistic meadows will give a myriad of unforgettable memories. Moreover, you can also indulge in Tyrolean Traversing to make the most of your adventrous trek.
Altitude: 2,934 m
Duration: 3 Days
Route: Dharamkot-Kareri Village-Kareri Lake
Best Season: May to July and September to November
Highlights: Dhauladhar Mountain, scenic meadows, alpine and forests of Oak and Rhododendron
What Makes It Difficult: This is another which does not require much efforts. However, since climbing in deep snow is a part of this trek, you need to get ready for it. 
Top 12 Waterfalls In Himachal Pradesh That Treat Your Eyes To The Best Sights Ever!
5. Kuari Pass Winter Trek: The Lord Curzon Trail

One of the best winter treks in india, The Kuari Pass trek was discovered by the erstwhile viceroy Lord Curzon and is popularly known as Lord Curzon trail among the Europeans. On the downward trail, trekkers can halt at one of the most amazing ski resorts in India – Auli.
Altitude: 4425 m
Duration: 8 days
Route: Dhak-Chitrakantha -Tali Top-Khulara-Kuari Pass-Tali -Auli-Joshimath
Best Season: Mid December – February
Highlights: Sunrise views of Mt Kamet, Mt Chaukhamba, Mt Trishul, & Nanda Devi
What Makes It Difficult: The challenging part of this trek is when the snow level is high. Otherwise, this one is easy, yet an adventurous trek. 
10 Best Restaurants In Kullu That Will Give You The Flavor Of Himachal
6. Nag Tibba Winter Trek: Journey To The Abode Of Nag Devta

In addition to being a beginner's destination for Himalayan winter trek in December and around the month, Nag Tibba is also a Hindu pilgrimage to the temple of Nag Deva (Snake God). Beginning in Dehradun, the trek goes through the remote villages and landscapes of Pantwari, Nagtibba, Devalsari, and Thatyur.
Altitude: 3,050 m
Duration: 5 days
Route: Dehradun-Pantwari-Nagtibba-Devalsari-Thatyur
Best Season: Mid November – March
Highlights: Sight of the Swargarohini & Nanda Devi peaks from Thatyur, temple of Nag Tibba, and remote villages around
What Makes It Difficult: This trek is not much difficult to partake in. However, during the trek, you would pass through dense forests where you need to be a bit careful.
10 Restaurants In Mandi That Serve Traditional And Famous Dishes Of Himachal (2022)
7. Dodital Winter Trek: Ft. Snow-Capped Mountains & Golden Mahseer Fish

The easy Dodital trek takes you through the oak woods, pines, & rhododendron forests. It includes camping around along the beautiful Dodi Lake – famous for its Himalayan Golden Mahseer Fish – before taking you to the Darwa Pass. The scenic charm and chilly weather make it among the best places for trekking in Uttarakhand in January.
Altitude: 3,050 m
Duration: 5 days
Route: Sangam Chatti-Agoda-Bebra-Manjhi-Dodital-Darwa Pass
Best Season: Mid December – January
Highlights: Fish feeding at Dodi Lake camp, views of Bandarpunch peak (Tail of Lord Hanuman) & Dhaula Dhar ridges, and side strip to Yamunotri base camp
What Makes It Difficult: If you are indulging in this trek during winters then you might find some difficulty as you would have to walk a lot on the thick bed of snow. So, make sure you carry along perfect shoes!
18 Secret Places In Himachal Tourists Haven't Discovered Yet In 2022!
8. Auli Gorson Winter Trek: A Short Stay In The Alpine Paradise

From Rishikesh to Gorson Bugyal, this is one of the most beautiful winter treks in India and it takes you through Joshimath and Auli. The journey from Rishikesh to Joshimath is, however, covered by bus. You will be covering Joshimath to Auli by ropeway. The main walk is between Auli and Gorson. The deodar & oak trees and the beautiful view of the Nanda Devi peak add to the rich experience of this easy trek.
Altitude: 3050 m
Duration: 6 days
Route: Rishikesh-Joshimath-Auli-Gorson Bugyal
Best Season: November – Mid March
Highlights: Rishikesh base camp bonfire, breath-taking view of the Nanda Devi, and Ski valley at Auli – one of the best places for skiing in India
What Makes It Difficult: Since this area is covered with snow during winters, you're likely to face some difficulties. Also, you mught experience low wind speed and the dipping temperature.
35 Gorgeous Places To Visit In India This Winter Season
9. Kedarkantha Winter Trek: Pretty Campsites Amidst Giant Pines

Kedarkantha winter treks in Uttarakhand is famous for its pretty campsites in clearings surrounded by giant pines. The climb & descent through the enchanting forest ends with an icing. The trail being easy serves as a perfect winter trek in Himalayas.
Altitude: 3,500 m
Duration: 6 days
Route: Sankri-Juda ka Talab-Kedarkantha Base-Kedarkantha peak-Hargaon camp-Sankri
Best Season: Last week of December – Mid April
Highlights: Juda-Ka-Talab & Hargaon campsites surrounded by giant pines and 360-degree view of famous mountain summits, Kempty falls, Tons Valley, and Sankri
What Makes It Difficult: This one is an easy trek and just need to stick to the basics which is layering up and keeping yourself hydrated at all times. 
The Ultimate List of Adventure Holidays In India For Summer 2022
10. Dayara Bugyal Winter Trek: Into The Ski Valley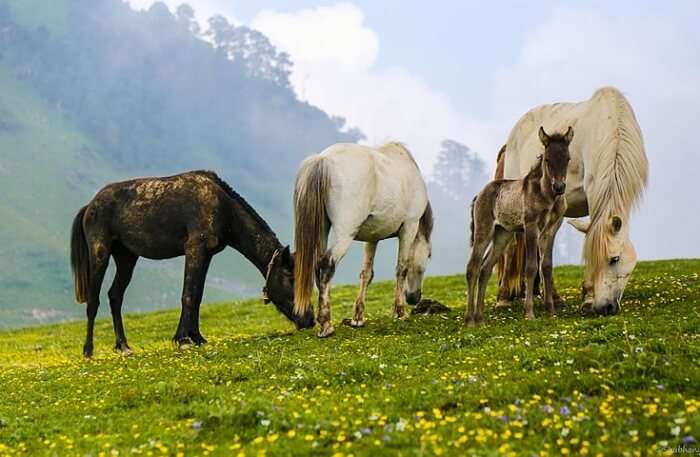 Bugyal in local dialect means "High Altitude Meadow". One of the easiest winter treks in Himalayas, it takes you through some of the most beautiful meadows in Uttarakhand, spanning 28 sq km and offering Nordic and Alpine skiing options. The vacant shepherds' huts provide cozy stay options in chilly winters.
Altitude: 3,600 m
Duration: 6 days
Route: Barsu/Raithal Village-Barnala Bugyal-Dayara Bugyal-Bakariya Top
Best Season: Mid December – February
Highlights: Barnala Lake, meadows, ski valleys, and shepherds' huts
What Makes It Difficult: Perfect for beginners, this easy-easy trek needs you to keep essentials in your mind. Also, make sure thet you are physically active!
30 Best Hill Stations In Himachal To Experience Pure Bliss In 2022!
11. Kedarkantha Trek: A Walk On The Frozen Lake

Image Credits: Kanthi Kiran for Wikimedia Commons
Kedarkantha Trek has some of the most thrilling and adventurous times waiting for you in the majestic mountain range. The magnificence of snowfall, the peaceful winds, and the pine trees oozing of Christmas vibes make the trek to this destination in the Himalayas totally worth it. This is one of the most standout treks when it comes to snow trekking in the middle of the majestic Himalayas. The best thing about this trek is the remote route that one needs to take in order to reach the base camp. It is as gorgeous as it can get!
Altitude: 3810 m
Duration: 6 days
Route: Dehradun-Sankri-Juda Ka Talab-Kedarkantha Base-Kedarkantha Peak
Best Season: December – April
Highlights: Exquisite species of flora and fauna, breath-taking view of the snow-capped mountains, and the views of the frozen pond.
What Makes It Difficult: The trek throughout will have knee-length snow which might get a little tricky to cross. Otherwise it is an easy to moderate level trek.
Trekking In Himachal Pradesh: 23 Best Routes To Put On Your Bucket List In 2022!
---
Planning your holiday but confused about where to go? These travel stories help you find your best trip ever!
---
Moderate Treks: Himalayan Winter Treks For Those With Some Prior Experience
These winter treks in Himalayas are for those who have come a little far from their beginning but still have a long way to go!
12. Brahmatal Trek: A Fairly New Winter Trek In Uttarakhand

The snow-laden mountains are hard to be scaled in peak winter season. Brahmatal is one of the very few winter treks in Uttarakhand in January-February. And despite the cold season, it is not very difficult to scale.
Altitude: 3,270 m
Duration: 7 days
Route: Kathgodam-Loharjung-Bekaltal-Brahmatal-Daldum-Kathgodam
Best Season: Mid January–February
Highlights: Brahmatal lake at the mountain top, jungles with snow beneath the leaves, and terrific panoramic views
What Makes It Difficult: This trekking trail is covered with abundant snow that may hinder your trek. So, make sure that your are clad in many layers. 
14 Best Restaurants In Dalhousie That You Must Visit While You Are On A Trip To Himachal in 2022
13. Singalila Sandakphu Winter Trek: Search For The Red Panda

Confined in the North-East, this Himalayan winter trek is best done in the winter season. It is the only trek in India that lets you see some of the tallest mountains in the world – Everest, Kanchenjunga, Makalu, and Lhotse. Furthermore, you may be lucky enough to find red pandas and Tragopan.
Altitude: 3,636 m
Duration: 7 days
Route: Dhontrey-Tonglu-Garibas-Sandakphu-Phalut-Rammam-Rimbik-Darjeeling
Best Season: October – November
Highlights: Monasteries, snow-capped mountains, Tiger Hill, and views of Kanchenjunga, Everest, Makalu, & Lhotse
What Makes It Difficult: Since the weather conditions may change frequently, you might experience some challenges during this trek. 
Best Trekking Places In India For 2022: Your Month-wise Trekking Guide Is Here!
14. Annapurna Base Camp Trek: Get Hyptonized By The Giant Mountains

Annapurna Base Camp Trek is one of the most popular treks in Annapurna region. This stupendous trek offers you to back in the beauty of rhododendron forest, pictersque mountain vistas, and the exceptional the Annapurna Range. Since the trek lets you witness various floral and faunal species, it is also famously known as sanctuary trek.
Altitude: 4130.04 m
Duration: 10-11 Days
Route: Pokhara-Nayapul-Ghandruk-Sinuwa-Deurali-Annapurna Base Camp
Best Season: February to May
Highlights: Buddhist culture, interaction with locals, flora and fauna
What Makes It Difficult: With a moderate difficulty level, this trek requires basic precautions. Also, the routes of this trek has steep climbs, dense forest, and rustic pathways through villages.
River Rafting In Himachal Pradesh: Navigate Himalayan Waters On Your Mountain Getaway In 2022
15. Har Ki Dun Winter Trek: The Trek To The Amphitheatre Of Gods

Har Ki Dun winter trek, set in the vicinity of the Kedar Kantha Trek, snakes through a pretty valley dotted with villages that boast of unseen Himachali architecture. The trek eventually takes the trekkers through forests of chestnut, walnut, & willow trees.
Altitude: 3,560 m
Duration: 8 days
Route: Sankri-Taluka–Osla–Kalkatiya Dhar-Har Ki Dun
Best Season: Mid November – Mid March
Highlights: Osla village, Kala Nag, Bandarpunch, Ruinsara peaks, Jaundhar glacier, and the majestic Swargarohini
What Makes It Difficult: The initital park of the trek is quite easy. However, the trek from Osla to Har-Ki-Doon is quite tough as you will have to reach a sudden height of approximately 2000 feet at a stretch.
8 Churches In Himachal Pradesh That Are Perfectly Enveloped Within Hills
16. Dzongri Winter Trek: From The Erstwhile Sikkim Capital

The Dzongri trek enthralls adventure enthusiasts and novices alike. The trek beginning in Yuksom – erstwhile capital of Sikkim, paves its route through beautiful gorges, forests laden with Himalayan flowers, and panoramic views of Mt Pandim, Mt Thenchinkhang, & Mt Jhopuno.
Altitude: 4,020 m
Duration: 8 days
Route: Yuksom-Tshoka-Dzongri-Halt
Best Season: Mid November – March
Highlights: Short-term trek, Dzongri and Dzongri La view point, Laxmi Pokhari Lake
What Makes It Difficult: This is considered as a moderate to difficult trek and it's better to have a priport trekking experience for this one. Also, you will experience light air along with lesser oxygen beyond Dzongri.
20 Places For Trekking In October: A Complete Guide Sites In India And World
Challenging Treks: Winter Treks In The Himalayas For The Pros
These winter treks in Himalayas are for those who have conquered tonnes of mountain peaks and are amazing at what they do!
17. Chadar Trek: The Frozen River Trek In Zanskar Valley

With temperatures falling to as low as -35 degrees Celsius, the Zanskar river freezes to form a sheet of ice. People often compare this experience of winter trekking in Himalayas to sliding on ice rinks. But the beautiful sight of the frozen river and the Shanti Stupa en route makes the experience all the more exciting. See our complete Chadar Trek Guide, if it's on the cards anytime soon.
Altitude: 3850 m
Duration: 9 days
Route: Chilling-Zaribago-Deepyokma- Naerak Pullu -Lingshed-Nyarakpulu-Tso Mopoaldar-Tilatdo-Chilling
Best Season: Mid January – February
Highlights: Shanti Stupa and Walk on frozen river
What makes it difficult: The temperatures are uncomfortably freezing throughout the day. Walking on the ice sheet itself is very difficult. Also, trekkers come across icy rocks and boulders that they need to climb.
13 Wildlife Sanctuaries In Himachal Pradesh To Treat Your Inner Adventurer In 2022!
18. Snow Leopard Trek: The Ultimate Wildlife Empyrean

The Snow Leopard Trek takes you through a wildlife expedition in the snow-capped Hemis National Park. Nestled among the Himalayas in Ladakh, the trek gives a chance to see some of the most endangered species in India. And the additional scenic views only add to the long list of rewards to the strenuous trek.
Altitude: 4,100 m
Duration: 13 days
Route: Leh-Phey-Hemis National Park-Zingchen-Leh
Best Season: Mid January – February
Highlights: Snow Leopard, Tibetan wolves, horned sheep, blue sheep, and Eurasian Brown Bear
What makes it difficult: The temperatures in winters stay below the freezing point throughout the day, ranging between -5 degrees Celsius and -10 degrees Celsius. Also, being a 13-day long trek, it is a very tiring experience.
Trekking In Kerala 2022: A Short Guide For Beginners To Have An Ultimate Experience!
19. Goechala Trek: A Sparkling Gem Of The East

Overlooking the awe-inspiring Kanchenjunga, Goechala Trek is popular for heavenly sunrise and sunset views. While this adventrous trek, you will also get to witness a wide range of flora & fauna that will surely add charm to you overall experience.
Altitude: 4937.76 m
Duration: 10 Days
Route: Bagdogra Airport-Yuksom-Sachen-Tshokha-Dzongri-Dzongri Top-Thansing-Lamuney-Goechala
Best Season: April to June
Highlights: Magnificent Kanchenjunga, sunrises and sunsets, beautiful orchards
What Makes It Difficult: Steep & rocky terrains make it a moderate to difficult trek. Also, during this trek, you will come across various dense forests.
Trekking In Darjeeling 2022: Top 9 Trekking Routes For An Thrilling Holiday In The Tea Hills
20. Everest Base Camp Trek: Perfect Start Of New Year

Image Credits: Surajaley for Wikimedia Commons
Everest Base Camp Trek has seen itself emerging as one of the most loved destinations amidst the trekker's community. This is one of the most breathtaking winter escapes that you will fall in love with the snowy mountains. The uninterrupted scenic landscapes of the snow-clad Himalayas, the soaring high summit of the Everest base camp, and the vast greenery in this destination is truly something that one cannot ignore. Adventure lovers can simply spend their New Year's eve in the lap of the lofty peaks of the Everest Base. What a perfect start of the year!
Altitude: 5645 m
Duration: 15 days
Route: Kathmandu-Lukla-Phakding-Namche Bazaar-Tengboche-Dingboche-Thukla-Lobuche-Gorakshep-Everest Base Camp  
Best Season: December – April
Highlights: Magnificence of the Everest, a spellbinding landscape of snow-clad mountains, and green patches of grass
What Makes It Difficult: The trek is one of the most challenging ones that one has ever come across. This trek is not only long but is windy throughout the journey. 
10 Valleys In Himachal Pradesh That You Must Visit In 2022 For Their Heavenly Landscapes!
So now, when you know how to treat the adventure junkie in you, pack your bags and go on these winter treks in the Himalayas before all the snow melts away. Plan your trip to India and get ready to go on a wonderful joyride either solo or with your pals. We promise you'll have the time of your life!
Please Note: Any information published by TravelTriangle in any form of content is not intended to be a substitute for any kind of medical advice, and one must not take any action before consulting a professional medical expert of their own choice.
Frequently Asked Questions About Winter Treks In Himalayas
What should one keep in mind while trekking in snow?

Trekking in snow is not a difficult task if you keep certain rules in mind and follow them properly. Some of the rules that you must follow are: 1. Since days are shorter during winter, begin early. 2. Keep an extra pair of socks with you. 3. Keep drinking water during the trek. 4. Carry the essential items needed for the trek. 5. Be aware of the snow cornices.

Which is the best winter trek in India?

Chadar trek - Frozen river Zanskar trek is the best winter trek in India. It is one of the toughest yet the most adventurous winter trek in Himalayas. Not only is it famous amongst the locals but also across the world for its picturesque views. The trail will take you through the Zanskar river which is frozen and is 100 km long! It takes 8 days to complete one side of the trek.

How do I get to Nag Tibba?

Nag Tibba is the highest peak of the Himalayas in Uttarakhand. It is one of the most popular treks in India. Getting to Nag Tibba is quite an easy task. The base camp is located 85 kms away from Dehradun. Once you reach the bus stand of Dehradun, take a bus to Pantwari. The route is hassle-free and offers picturesque views. After reaching Pantwari, you will have to trek for 4 kilometers in order to reach the base camp.

How do you trek Sandakphu?

If you want to trek to Sandakphu, you will have to reach Manebhanjan in Darjeeling. Sandakphu is situated at a distance of 32 kms from there. If you are a professional hiker and can trek upto 8-9 hours a day, then you will be able to complete one way in just 2 days, otherwise it takes 3 days.

How can I get to Rupin pass?

Rupin pass is located in Dehradun. The trek begins from Dhauala. The nearest airport is Jolly Grant Airport in Dehradun. And if you are coming by train, then the nearest railway station is Dehradun. Once you reach the airport, you can take a cab to the pass. If you reach Dehradun by train, there are two buses that leave by 5:30 am in the morning for Naitwar. From Naitwar you can take a taxi to Dhauala.

What should you not do while trekking in winter?

There are few things that you should keep in mind while trekking in winter to avoid any issue. Some of the things you should remember are: 1. Do not wear shoes with holes. 2. Don't forget your gloves. 3. Avoid taking corners for shorter route. 4. Do not go out without drying up your hair. 5. Do not leave your necessary items in your vehicle.
People Also Read
Trekking In Darjeeling Trekking In Himachal Pradesh Trekking In Sikkim