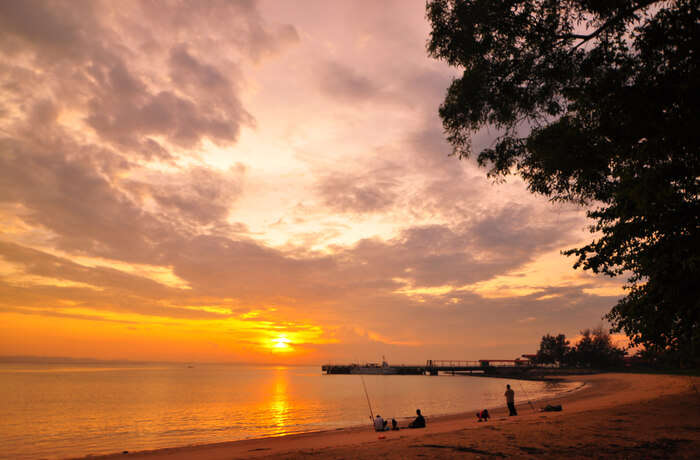 Changi Beach is known to be one of the ancient beaches of Singapore, making the Changi Beach history even more interesting. Though the beach is not much touristy this is a good place to spend a relaxing afternoon. Changi Beach is a beach with historical importance too as during the era of Japanese Occupation of Singapore The Changi Beach was amid killing grounds that was used by the Japanese Imperial Army. This shoreline is amazing for children. There a lot of eateries for lunch and supper simply near Changi Beach in Singapore.
It is often difficult to discover a shoreline which you can simply approach and dunk your toes in, yet you can do that in 'Changi Beach'. It's an open zone with strolling and cycling and is connected with 'Changi Beach' Park. The beach is encompassed with clear water and so the beach itself is very neat and clean though swimming is not suggested. It is next to Changi ferry terminal. Visitors can ease at the beach and can adore the lovely beauty of the sunset at the beach.
About Changi Beach

'Changi Beach' situated at the northern face of Changi in the eastern district of Singapore. The 'Changi Beach' was one of the slaughtering grounds utilized by the 'Japanese Imperial Army' amid 'Japanese Occupation of Singapore', where 66 Chinese common male folks were shot were executed on the shoreline by the 'Japanese Hojo Kempei' on 20 February 1942. This was the part of the 'Sook Ching' operation to demolish to anti-Japanese common people which are known as the 'Sook Ching' massacre of 1942. The war landmark plaque was built at the 'Changi Beach' Park in the eastern part of Singapore.
'Changi Beach' was also a war zone during the era of World War II and there is a rumor about the place being haunted. The shoreline extends from Changi Point to Changi Ferry Terminal. The drift is agreed with lines of trees and a lush spread, making it a decent outing spot. The shoreline water is bluish and stretches for about 3.3 km along the drift. It is a well-known spot for native people to spend quality time with their families. Numerous individuals appreciate cycling and skating over the zone. The shoreline is never packed, giving a truly necessary sentiment of harmony to its guests, differentiation to the occupied and cosmopolitan nature of urban Singapore.
Things To Do At Changi Beach
Wondering what to do on Changi Beach? Here are some exciting ideas to have fun on the beach.
1. Visit The Changi Beach Park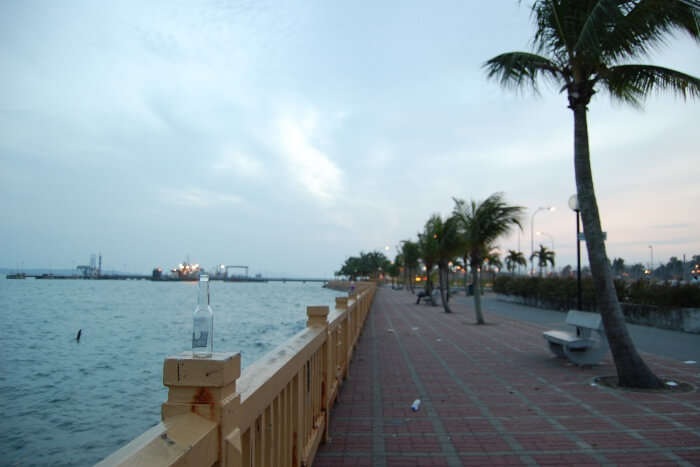 'Changi Beach' Park is the amid oldest beach parks of Singapore. Thak is Effortlessly available from Changi Village. The park consists of two play areas. The 'Changi Beach' Park map shows the park is covered with scenic beauty along with benches, shelter and barbeques pits is an incredible place to go through the day to loosen up. A 3-km running/cycling track additionally makes it an alluring spot for energetic cyclists. There are 2 principle segments to 'Changi Beach': From Changi Point to the Cafhi Jetty and from the breakwater to the Changi Ferry Terminal. The principal segment is well known with families, picnickers, and campers. Changi Point is close to the waterway mouth, where the pontoons to Pulau Ubin and Pengerang go back and forth. It's likewise a prominent angling spot. Going further along the coastal park, you'll locate a decent place for children where there's a pleasant stretch of shoreline and a play area adjacent. Towards the finish of the segment is an incredible spot for viewing the substantial 747 planes take off or arrive. Once more, angling fans are a typical sight here as well.
Suggested Read: Shopping In Changi: 10 Stores For Buying All Kinds Of Products At The Best Price Ever!
2. Take A Cycle Tour And Boardwalk

Cycles are an extraordinary method to explore 'Changi Beach' Park and it encompasses. They can be hired from a bicycle stand at the park. The Changi Boardwalk offers magnificent waterfront sees. Beginning from the Changi Ferry Point Terminal, you can appreciate the 2.2 km boardwalk, joined by the sound of lapping waves, at your recreation. One of the main advantages of going on a cycling tour in Changi is that you are able to cover more than just beach on your tour. Changi Road boasts a number of attractions and the best way to explore is on a bike. Witness this interesting place from a local's perspective. Who knows what stumble upon? There are a number of bike tour operators who offer day tours.
Suggested Read: 20 Romantic Places To Visit In Singapore For Honeymoon In 2022
3. Grab The Delicacies At Changi Beach
'Changi Beach' is also foodies delight and if you are a foodie you can go to Grab the delicacies at the Changi Beach restaurants. Bistro @ Changi, an F&B foundation in the 'Changi Beach' Park offers western delicacies including grilled meats, pasta, and seafood. It is open from twelve till late at night. It opens at 10 am on Sundays. Close-by, there are likewise a lot of other feasting alternatives at Changi Village. One spot to look at on if you are into barbecued meats and beer, is Little Island Brewing Co, a microbrewery and smokehouse eatery.
4. A Day Out To The Changi Village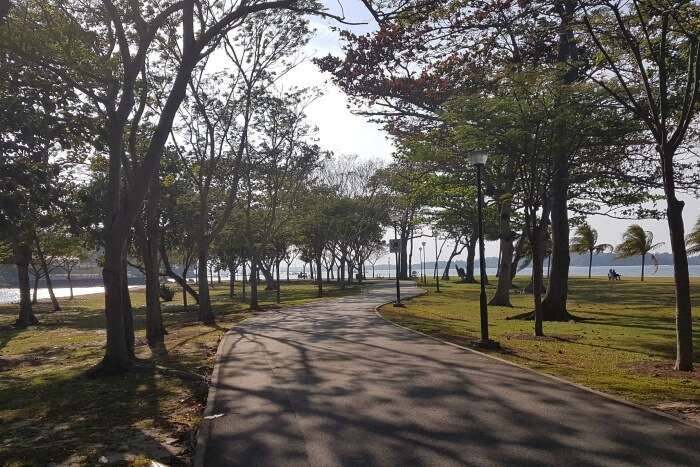 Take a day out to the Changi village. In spite of the fact that there are a wealth of eateries and bistros all through Changi Village, in the event that you cherish sustenance, you will be in total paradise investigating the Changi Village Hawkers Centre. In addition, if you visit Changi Village you shouldn't miss a side excursion to close-by Pulau Ubin. Regardless of whether you have yet two or three hours to save, it is definitely justified even despite the picturesque 15-minute watercraft ride to this Singapore heaven.
Suggested Read: 14 Ethereal Festivals In Singapore That Will Force You To Ditch Yours In 2022
5. Visit The Changi Chapel And The Museum
Changi museum and the chapel was originally located at the Changi Prison later in 2001 it was relocated at Changi Village. It graphically outlines the dark time of the Japanese control of Singapore between 1942 and 1945. Including ladies and kids, common people and detainees of war were detained at the scandalous Changi Prison region amid this period. The gallery offers a look at the wartime encounters of the detained through the numerous unique photos, illustrations, and letters in plain view. something like two hours for this historical center, since you may very much need a passionate break between shows. It's amazing stuff.
Places For Accommodation In Changi Beach
Here are the places on Changi Beach where you can wish to stay if you want accommodation overlooking the beach.
1. Village Hotel Changi By Far East Hospitality

Located only 30 minutes' away from the bustling Orchard street is Village Hotel Changi. Encompassed by peaceful greenery, this inn is only a 15 mnt drive from 'Changi International Airport' and the 'Singapore Expo.' The lodging highlights a housetop pool and hot tub disregarding the South China Sea. The place is perfect for all explorers. Village Hotel offers indoor and outdoor venues for a party, a fitness center and a convenient tour work area. Buffet breakfast is served at the inn and situated on the housetop. Guest can also have native food worldwide dishes, including Chinese food. It is a 10-minute stroll from the bumboat terminal to 'Pulau Ubin' and 'Chek Jawa Wetlands', making it a completely adaptable area. The inn is a 5-minute stroll from shops and seller slows down at Changi Village. 'Changi Beach' Park and Changi Sailing Club are likewise only a short walk away. Tanah Merah Ferry Terminal is a 15-minute head out. The property offers courtesy planned transport administrations to 'Changi International Airport.'
Suggested Read: 10 Restaurants In Changi Which Will Let You Taste The Flavors Of Singapore Cuisine!
2. Changi Cove

Found far from the city, Changi Cove is an inn encompassed by lavish greenery, Changi Cove offers visitors a peaceful and agreeable condition to revive. All lodgings in Changi Cove are completely air-conditioned and accompanied an en-suite washroom. WiFi and parking are complimentary for all the guests of the hotel. Visitors can likewise use the adjacent swimming pool and gym facilities. The picturesque Changi Boardwalk is open 24-hours and available through Changi Cove's prime door. A 15-minute stroll from 'Changi Cove' is 'Changi Village Food Center and 'Changi Ferry Terminal', which is a 20-minute ship pontoon ride to Pulau Ubin. Changi Cove is around 10 km far from Changi Airport, 8 km far from Singapore Expo and 4 km far from the Loyang Industrial Estate.
3. Changi Beach Club

Changi Beach Club is open to public and its clean avenues offer the guest a unique stay. Located in Singapore the inn is is inside 1.7 km of Changi Point Jetty Ferry Terminal. The property is around 8 km from 'Singapore EXPO Convention and Exhibition Center', 8 km from 'Changi City Point' and 15 km from 'Geylang Serai Market.' At the hotel, all rooms are built-in with a work area and a flat-screen TV, and free WiFi. All rooms at 'Changi Beach' Club incorporate AC and a closet. The accommodation also offers the guests an open-air pool. It focuses on being a unique resort, away from the bustle of city life while offering the gusts enjoyable, romantic and treasured moments Changi is an extraordinary decision for explorers inspired by diverse cultural food.
Suggested Read: Sugi Island: These Exhilarating Experiences On Will Make You Take A Detour From Singapore
How To Reach Changi Beach

The 'Changi Beach' is notably well-connected by community transportation service. The Beach is also nearby the Changi International Airport. Apart from this visitors can reach the beach by ferry through the Changi Ferry Terminal and deboard at the 'Changi Beach' Cp 2 bus station. Worth mentioning the 'Changi Beach' Cp 2 bus station neighboring bus stop to this place.
Further Read: New Year Celebration In Singapore 2022: Welcome The Next Year In The Lion City
'Changi Beach' in Singapore showcase and offers the tourist an invigorating and brisk encounter side of Singapore. If you enthusiasts of the ocean breeze, shorelines, nature, culture and history, and in mouth-watering native food, 'Changi Beach' and its nearby places contemplate all your urges.
Frequently Asked Questions About Changi Beach
Q. How to go to Changi Beach Park in Singapore?
A. One can find details about the direction to the beach park in the 'how to reach' section of the blog and it is also advised to carry a Changi Beach map while traveling there.
Q. Which is the best beach in Singapore?
A. The Changi beach, Palawan Beach, and Siloso Beach are all amazing beaches to explore in Singapore.
---
Looking To Book An International Holiday?
Book memorable holidays on TravelTriangle with 650+ verified travel agents for 65+ domestic and international destinations.
---