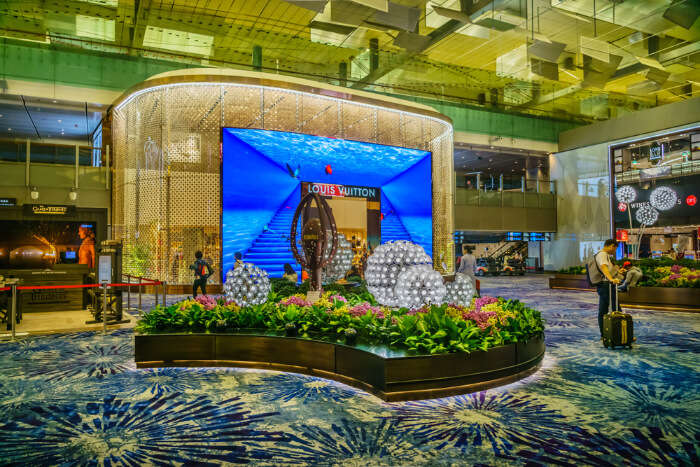 Changi Airport in Singapore is not only the common airport from where people take flights for all destinations, it is like a city on its own. The facilities that Changi Airport provides make it the best airport in the world. Since the airport operates only in international flights, you can see people mostly from other countries here at the airport. There are many things which you can do at the airport while you are awaiting your next flight. Instead of sitting idle and spending time at the airport, you can do many activities here that will give you the best time of your life. Activities like shopping, visiting entertainment centers, art galleries, and restaurants will surely keep you busy while you can shop for some amazing things at the airport or have delicious refreshments. There are many things you can do here and shopping in Changi Airport is the best amongst them.
10 Places For Shopping In Changi
Here's a list of the 10 best places where you can shop your heart out literally till you drop. Take a look so that you don't miss out on these gems during your next flight.
1. Changi City Point

Located in the area of the Changi Business Park, the Changi City Point is a shopping mall where you can shop your heart out. You can find branded outlets of the famous brands like Nike,Adidas, Lacoste, Pedro etc. for which this mall is famous. The mall is very beautiful both frominside as well as from the outside and the theme on which it is designed is to die for. The wet anddry playground on the level 3 of the mall which is also a rooftop garden is exceptional and you will love it.
What To Buy:Branded products at factory prices.
Must Read: Discover And Relish These Best International New Years Destinations On Budget
2. The Shilla Duty Free Shop

The Shilla Duty Free shop in Changi Airport has the largest offering of Beauty Products in Asia Pacific including a wide range of Korean Skin cares and other international brands.The shop started its operations in 2014 and since then it has been serving its customerswith excellence. The Korean Beauty products are very popular here and all the travellerspurchase these products from this shop. Since the shop is duty free, you will get costliest of
brands at very affordable prices.
What To Buy:Korean Beauty Products
3. DFS Singapore Changi Airport

DFS Singapore in Changi Airport is a mall where you will get things from costliest to cheapest prices as per your preferences. It is a place that offers exciting attractions for the whole family in a safe and pleasant setting. If you are a shopaholic, this is going to be a paradise for you and you will always remember the shopping experience you take back home from here. There are duty free products as well at affordable prices for you.
What To Buy:General shopping from costliest brands to duty free products.
Suggested Read: Make Note Of These 10 Tips To Follow Before Planning An International Trip From India!
4. UNIQLO

UNIQLO is a multi-branded store located at the Terminal 3 of Changi Airport. It is a chain of malls located around the world and most of you must be familiar with it if you have visited the place in other parts of the country. You can also buy things online from their websites later on if you missed out on any product at the store due to lack of time. From Casual clothing for men and women to the accessories, you can get almost everything here to make your shopping experience better.
What To Buy:Clothing and accessories
5. Zara

If you are a brand lover, you must have heard about Zara which is a renowned fashion brand and is probably the best in the world. This fashion brand name does not need any introduction as it has chains across the world. Located near the departure lounge in Changi Airport, Zara is there to quench your thirst for the branded shopping. The products are costlier but worth your every penny. If you are at Changi airport and have a thing for Zara, this place is a must visit.
What To Buy:Clothing and accessories
Suggested Read: 32 Budget International Trips For Your Holiday Which Will Cost You Less Than An iPhone!
6. Braun Büffel

The Braun Buffel is a famous fashion and accessories branded shop in Changi Airport where you can get excellent products of your choices. The styling products for both men and women are the attraction here and you get a wide variety of accessories to satisfy the hunger of your shopping. Braun Buffel is located on both Terminal 2 and Terminal 3 of the Changi Airport and you can visit either of these during their office hours. It has things that suit your personality with style and grace.
What To Buy:Bags and accessories specially for women.
7. The Planet Traveller

If you are in Changi Airport, it is a sure thing that you are travelling. If you are travelling and have a thing for travel accessories, The Planet Traveller is the place which you must not miss.Each and every travel accessory which you could think of, is available at the store and no matter if you are looking for a simple travel bag or Travel Duffle bags, this store has everything for you. The Planet Traveller are best in the business and you must surely pay a visit here.
What To Buy:Travel necessities and accessories
Suggested Read: Dare To Embark On These 20 Electrifying International Road Trips From India
8. Victoria's Secret

Victoria's Secret is a renowned brand in the field of lingerie and is famous worldwide for its stylish and attractive lingerie. Located in the Changi Airport, if you are planning to purchase lingerie, you can pay a visit here to see the huge collection of costliest lingerie that will enhance your inner beauty & confidence as well. If you are a woman shopping for yourself or a man shopping for your better half, the store has everything for you to give you utmost satisfaction.
What To Buy:Lingerie and inner wears.
9. Eu Yan Sang

Eu Yan Sang is a retail store in Changi Airport where you can shop for general items at very affordable prices. The store has various deals and offers through-out the year which is very pocket-friendly and whenever you are in Changi, make sure to check out the best deals and offers on that day ad shop accordingly. From food items to gift items, kitchen necessaries and many more, you can enjoy heavy shopping at discounted price. There is a special section for senior citizens as well from where you can shop for elders at your home or they themselves can shop according to their wish.
What To Buy:Grocery items
Suggested Read: 11 International Road Trips You Can Take With Your Indian Driving Licence
10. Challenger

Challenger is a duty free shopping centre at Changi Airport where you can purchase different products which are exempted from local duties and taxes and so you get them at very cheap prices. With over 350 stores, Challenger is one of the biggest shopping centres in Changi. You cannot only shop here but have the best dining experience in the restaurant which offer food of different cuisines. From different stores, you can purchase different products of your likings and rest assured that you will having the best shopping experience of your life. The store is crowded and packed throughout the year because of the duty free products it sells.
What To Buy: General shopping from different stores
Further Read: 10 Unexpected International Destinations That Are A Delight For Vegetarians
If you are a shopaholic, the above list of stores in Changi will definitely give you the best shopping experiences of your life. Choose the best one according to your preference and start shopping before you take off or come back home from your next international trip with TravelTriangle.
People Also Read:
Shopping In Singapore Sentosa Shopping Shopping In Hong Kong
---
Looking To Book An International Holiday?
Book memorable holidays on TravelTriangle with 650+ verified travel agents for 65+ domestic and international destinations.
---