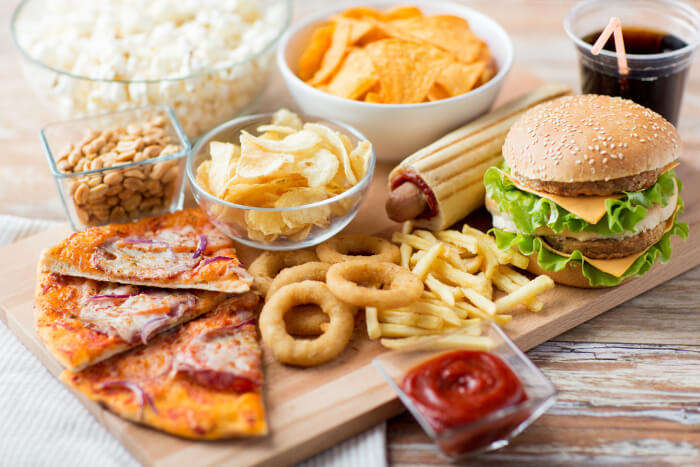 The third most populous city in the US is bound to have famous food chains. Being the most visited and important international hub, Chicago has also been known for its international trade, finance, technologies, etc. Apart from that, Chicago is one such city that has preserved its cuisine despite being an important international forum. The cuisine in particular is a reflection of the working class's ethnic roots.
Chicago is known for its authentic American cuisines along with an infusion of other cuisines such as the German, English, Irish, Greek, and Italian cuisines.
7 Best Scrumptious Chicago Food Items
To introduce yourself to the authentic American flavors, make sure you have some of these famous Chicago food specialties that might as well become the biggest reason for you to revisit the city!
1. Deep Dish Pizza
It's interesting enough to know about the city but even more interesting when you get to know
about it in the age-long pizzerias. One of the best pizzerias where one can find Chicago's famous deep dish pizzas are at Pequod's. With inch-deep golden and butter caramelized crusts along with the fillings and sauces that just take you to another world, this is a must-visit place in Chicago. More than a pizzeria, Pequod's is a two-storied low-key sports bar along the corner of a not-so-famous theatre. However, don't be bogged down by the area. For sitting at Pequod's, there have been waiting lines for as long as four hours. But there is a solution to this as well- you can have your drinks while in the queue. Apart from that, those who don't believe in waiting in long queues can also order from home. So plan your visit to this much famous and Chicago's pride spot in advance.
However, there are a few who have their favourite deep dish pizza places other than Peequod's (also located in Chicago), where they visit most diligently and back it up as well when an argument regarding the best deep dish pizza place in Chicago comes up. A few other places that prepare this dish are – Giordano's, Pizzeria Uno, and Lou Malnati's.
Must Read: Chicago Nightlife: 11 Exciting And Lively Places To Party All Night!
---
Looking To Book An International Holiday?
Book memorable holidays on TravelTriangle with 650+ verified travel agents for 65+ domestic and international destinations.
---
2. Hot dogs
The busy urban schedule of most living in Chicago has made Chicago a hub of several hot dog joints either on the streets or trucks. One of the all-time favourite hot dog stands in Chicago has been Fat Jhonny's, a shoddy shack that could easily fly off with the winds yet serves the most delicious hot dogs in town. Apart from just serving hot dogs, this place, out of everyone's utmost amazement, also serves tamale, tamale sundaes, mighty dogs, and their signature mother-in-law that is tamale with chili on a bun. Just in case you're planning to go here, make sure you are on empty stomach.
Suggested Read: 22 Best Things To Do In Chicago In 2022: The City With A Magnetic Charm
3. Gyros
Assortments of beef and lamb, neatly wrapped around soft pita and topped with onions, sour
tzatziki and juicy tomatoes correctly describe this pick and move savoury dish. By taste Greek and by origin Chicagoan, this iconic stand has engraved within the hearts of its local residents an absolute love for Greek food in general. It's considered to be one of the best, out of the many Greek restaurants around since its establishment in 1979. So don't think, just eat . It's food after all, it's meant to be eaten and enjoyed.
Suggested Read: Shopping In Chicago: 8 Famous Places In The City To Splurge & Shop Till You Drop!
4. Tacos
Tacos have become an important part of the city of Chicago where one can never have enough of them. Ranging from authentic Mexican to fusion Korean flavours, one of the best taco places to visit is Antique Taco run by a Mexican couple that cooks with heart and soul and presents amazing tacos to whoever steps at their door. Despite its name, this is more of a new-age joint serving the most scrumptious hand-held food loved by all. A few of their signature dishes are – grilled ribeye taco, crispy fish taco, pork carnitas tacos, and many more.
Suggested Read: 10 Best Restaurants In Chicago For A Delicious Dining Experience
5. Cheeseburger
Cheeseburgers and Chicago go parallel with each other. According to the Chicago Magazine in 2015, one of the most famous cheeseburgers are grilled in Community Tavern. What drives the crowd to this joint is not just a typical burger but a double patty cheeseburger layered with smoked cheddar, red onions, fries, and pickles. It may sound odd at first but when you take a bite, you will attain nirvana for sure. To dwell into this state of utter happiness, do note it down in your checklist of "must visit places"
6. Cakes
That little itch at the back of our tongue, after a hearty meal, is the itch to just have a spoonful of a perfect sugar dose that can make you forget all your worldly dues. Such is the sweetness provided most arduously and ardently by Formento's. As one enters this sweet paradise, there is an entire array of such luscious desserts that it makes it difficult to just choose one. Formento's is famously known for its chocolate cake, which in the most literal terms, melts in your mouth. This ten-layered cake filled with chocolate pudding is so fluffy and soft, that not having an innocent piece will actually be equal to committing a sinful deed.
Suggested Read: 10 Best USA Hotels For A Relaxing American Vacation
7. A Drink Of Course!
After all the food, the throat needs its drink. Chicago might be a highly busy corporate dwelling but that doesn't make it any less fun. Chicagoans believe in beers and ales just like the rest of USA does. It depends completely on the person which places they prefer to glug down their drinks. However, a few favourites still stand out. One such place is the Old Time Ale House. Don't go by its name, there is nothing old in this place, except the prices of your drinks. A super homely and welcoming joint, this house has the capability to make its customers laugh ftheir heart out with funny caricatures all over the place along with live comedy shows. It'll be the perfect ending to your day if you visit this place at night.
Further Read: 15 Best Places To Visit In Chicago That Add Charm To Your American Vacay!
It is rightly quoted by Bethenny Frankel, "Your diet is a bank account. Good food choices are good investments." Enjoy your favorite Chicago food by visiting the above mentioned places. After all, good food will always ensure the best trip to Chicago.
---
Looking To Book A Holiday Package?
Book memorable holidays on TravelTriangle with 650+ verified travel agents for 65+ domestic and international destinations.
---