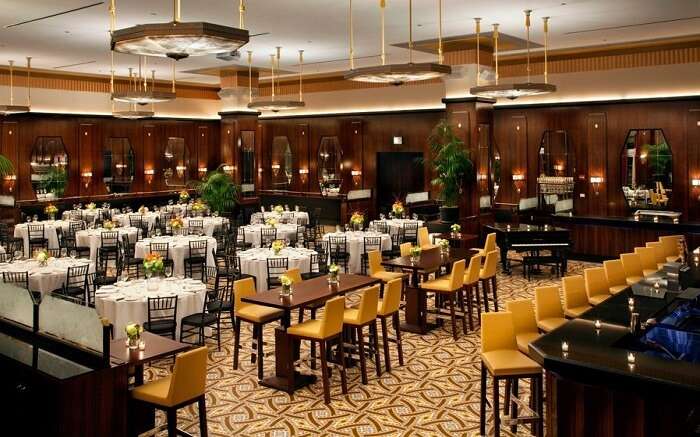 One of the largest and liveliest cities of US, Chicago on Lake Michigan, Illinois is a dream destination of many travellers. Apart from the huge skyscrapers, gothic structures, museums, monuments and art centres, Chicago sparkles with lively multi-ethnic culture, beautiful people, and this cosmopolitan ethos is truly reflected through its wide culinary varieties comprising of Italian, Indian, Continental, Oriental, French, Dutch and fusion cuisines.
From spectacular fine dining places to cosy pocket-friendly restaurants, here's the list of some of the best restaurants in Chicago for an unparalleled gastronomic delight.
Some of the best restaurants in Chicago for an incredible dining experience
1. Alinea – For once in a lifetime culinary experience

Location: 1723 N Halsted St, Chicago, IL 60614
Treat yourself to the divine dishes of American and global cuisines at one of best restaurants in Chicago. With a varied menu and vegan and gluten-free counterparts, Alinea has three different sections namely the Gallery, Salon and Kitchen Table. The Gallery is located at the first floor and provides a multi-sensory 16-18 course menu, whereas, the Salon is at the second floor and offers 10-14 course menu. The Kitchen Table is a private dining option and offers outstanding experience in terms of fusion food and its presentations.
Be it liquid nitrogen on orange juice, square shaped frozen egg or shrimps in an ice bowl, dining at Alinea is no less than a thrilling culinary adventure. The state-of-the-art approach towards contemporary dishes has helped to earn aplenty prestigious awards and recognitions to Alinea like Michelin 3-Star rating and 13th rank in World's 50 Best Restaurants.
Must try: Pork Belly in Mango Gravy, Black Truffle Potato and Orange Juice with Dry Ice
Opening hours: 5 pm to 10 pm. Only on Mondays and Tuesdays, the restaurant closes at 9:30 pm
Average cost for two: INR 10,000 – 66,667
2. Gibsons Bar & Steakhouse – Featuring authentic taste and classic decor

Location: 1028 N Rush St, Chicago, IL 60611
Gibsons Bar & Steakhouse probably serves the best steaks and seafood platters in Chicago and has earned lots of admirers due to its authentic recipes, classic décor and warm hospitality. You can enjoy sumptuous steaks, pork, beef, fish and crab dishes along with special desserts like carrot cake and turtle pie. The bar is well stocked and spacious and live band plays there every evening. The list of best restaurants in Chicago has Gibsons Bar & Steakhouse in it.
Must try: WR.'s Chicago Cut, Filet Mignon and Roasted Prime Rib
Opening hours: 11 am to 2 pm
Average cost for two: INR 5333-7500
3. Joe's Seafood, Prime Steak & Stone Crab – For some irresistible steaks and seafood

Location: 60 E Grand Ave, Chicago, IL 60611
One among the top-rated Chicago restaurants is Joe's Seafood, Prime Steak & Stone Crab. It is a part of the popular chain of restaurants that opened their Chicago branch in 2000. At this luxury dining place, one can enjoy delectable steaks and seafood platters like Dover sole, lobster tail, shrimp cocktail and of course their speciality 'stone crabs'. The freshly cooked Alaskan king crab served with asparagus and grilled tomatoes are surely sheer bliss for all foodies, especially seafood freaks. And if you skip the awesome desserts like lime pie and banana cream pie, you are surely going to miss a lot!
Must try: Crab Cakes, Oyster Rockefellers, Dover Sole and Alaskan King Crab
Opening hours: 11:30 am to 11 pm. The restaurant is open till midnight on Saturdays and closes at 10:30 pm on Sundays
Average cost for two: INR 2733-5333
Must Read: Honeymoon In USA: 10 Dreamy Escapes For The Couples To Experience Their Own Fairytale!
4. Cherry Circle Room – Enjoy the mesmerising dining experience

Location: 2 S Michigan Ave, Chicago, IL 60603
Perched on the second floor of Chicago Athletic Association hotel: Cherry Circle Room is another exemplary fine dining restaurant in Chicago. Showcasing various types of flavoursome cuisines like potato parsnip soup, scotch eggs, French onion soup and hamburgers and a huge bar with best of French wine and draft beer; Cherry Circle Room delights each and every foody who visits here.
Must try: Grilled Spanish Octopus, Chateaubriand and Steamed Mussels
Opening hours: 7: 30 am to 2: 30 pm and 5 pm to 11 pm
Average cost for two: INR 2011-8850
5. The Chicago Diner – A delight for vegan people

Location: 2333 N. Milwaukee Ave.Chicago, IL 60647
If you are hunting for delectable vegetarian and vegan dishes, come to Chicago Diner. Popular for varieties of vegan and gluten-free menu, this is probably one of the most popular places to eat in Chicago for vegetarians and vegans. The black bean burgers, hash browns and lentil loaf served here can easily give tough competition to any non-vegetarian dish.
Must try: Taco Salad, Black Bean Burger and Cinnamon Rolls
Opening hours: Monday to Thursday: 11 am to 10 pm. Friday: 11 am- 11 pm. Saturday: 10 am- 11 pm and Sunday: 10 am- 10 pm.
Average cost for two: INR 2500-3000
6. Girl and the Goat – Innovative dishes, fun cocktails and lot more

Location: 809 W Randolph St, Chicago, IL 60607
As funny and fancy as the name, this is one of the most iconic Chicago restaurants that specialises in tasty and bold flavoured foods with funky and lively ambience. Opened in 2010, this place is managed by chef Stephanie Izard, who prepares mouth-watering dishes and gives them a unique and exquisite final touch. If you are a real foodie and crave for some daring dishes, try their duck tongue, goat carpaccio, milk stout tiramisu, malt balls and goat belly.
Moreover, the lively bar with beer sourced from local breweries and exclusively named cocktails like banana in cabana and ring of fire and it's always sunny in Oaxaca, make the place all the more exciting and tempting.
Must try: Pig Face, Calamari Bruschetta, Goat Empanadas
Opening hours: 4:30 pm to 11 pm. On Fridays and Saturdays, the restaurant is open till midnight.
Average cost for two: INR 1000-2000
Suggested Read: 20 Popular Food Festivals Around The World For Your Unconditional Love For Food
7. Foodease – An inimitable restaurant where you pay as per food weight

Location: 835 Michigan Avenue, Chicago, IL 60611
Cherish a comfortable casual dining experience at one of the best restaurants in Chicago; Foodease. Located inside Water Tower Palace mall, this super cool place is famous for varied sushi, salads, sandwiches and wine. You can also get packed meals and groceries here. But the most unique and exciting feature of this restaurant is its stock of fresh vegetables, fruits and nuts and pay by weight system. Basically, you pick your combination of veggies, fruits and toppings, get it cooked and pay as per the weight of the food. Unique! Isn't it?
Must try: Chocolate Closet, Double Stuffed Potatoes, Maple Glazed Salmon and Mexican Torta Sandwich
Opening hours: 10: 30 am to 8 pm. The restaurant is open till 7 pm on Sundays.
Average cost for two: INR 603-1072
8. Batter & Berries – A favourite place for breakfast brunch

Location: 2748 N Lincoln Ave, Chicago, IL 60614
Funky décor, sunshine yellow walls and cordial staff await you at Batter & Berries. Enjoy your laid back mornings with their amazing all day breakfast and brunch options like chicken infused sweet potato waffle, cheesy hash browns and different flavours of Belgique. To enhance your gastronomic experience, ask for maple butter and 100% pure maple syrup.
Must try: Signature French Toast with flavours like strawberry, lemon, caramel and blueberry
Opening hours: 8 am to 3 pm
Average cost for two: INR 750-2011
9. Sabri Nihari – When desi food is your BAE

Location: 1970, 2502 W Devon Ave, Chicago, IL 60659
When mouth-watering food, great ambience and light on pocket rates is all you need; head to Sabri Nihari- one of the most prestigious Indian restaurants in Chicago. Since 1996, Sabri Nihari is a popular food joint, serving authentic and delicious Indian and Pakistani dishes. From nihari masala, butter chicken kebabs to biriyani- the restaurant has something for every food lover.
Must try: Frontier Chicken, Brain Masala and Mango Lassi
Opening hours: 12 noon to 11 pm
Average cost for two: INR 600-1500
10. Nookies – A popular and budget-friendly option

Location: 1746 N Wells St, Chicago, IL 60614-5807
Nookies first started in 1973 as a snack kiosk and has emerged and established itself over the years as one of the most popular pocket-friendly restaurants in Chicago. Set in the heart of Chicago Old Town, Nookies offers unmatched hospitality along with mouth-watering dishes that please every palate. Pamper your taste buds with hot turkey sandwich, Monte Cristo or a wide range of tossed salads. The menu has vegan and gluten-free varieties as well, so people looking for such options in Chicago, now know where to come.
Must try: Croissant French Toast Napoleon and Paris Benedict
Opening hours: 6:30 am to 10 pm. Only on Sundays, the restaurant is open till 9 pm.
Average cost for two: INR 250-800
Keep this list of best Chicago restaurants handy during your visit to the US. Relish varieties of cuisines and enjoy exotic culinary delight. And if you're still thinking of booking a trip to USA, we can help you create a an awesome package.
Further Read: 10 Unexpected International Destinations That Are A Delight For Vegetarians