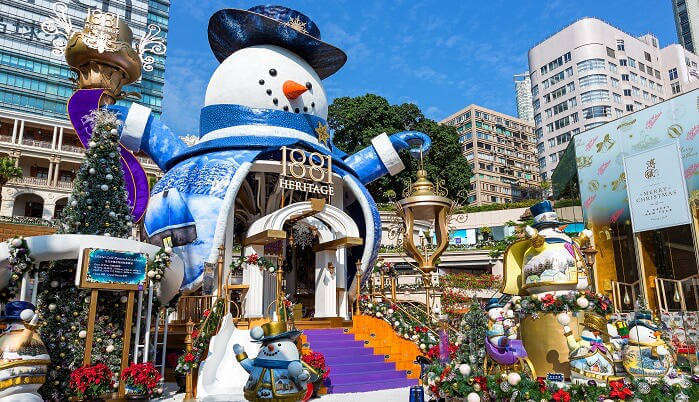 You haven't celebrated Christmas if you haven't celebrated it in Hong Kong. The grand processions, the eye catching and very beautiful decorations and the iconic displays and the many traditions makes a Christmas in Hong Kong what everyone should witness and experience at least once in life. Hong Kong is perhaps that one country in East Asia where Christmas is celebrated in the most special way and pomp and gaiety.
 With a two day public holiday and everyone around the city in a festive mood and a pleasant sunny weather, Christmas celebrations in Hong Kong are on a roll and December is considered to be one of the best months to visit the destination. If you are wondering what is so special about Christmas in Hong Kong well then you have come to the right place as we will take you through some of the best experiences you will have. From fine food to very interesting Christmas displays and many shopping options, you will find everything here.
Things To Do For Christmas In Hong Kong
ALthough there are many things that you can try for an awesome Christmas celebration in Hong Kong, we have listed out the best four that you must not miss.
1. Disneyland- A Nostalgic Disney Christmas

No, we won't judge you and no one will for Disneyland offers the most festive and exciting Christmas celebrations and anyone and everyone, be it kids, adults or old people should experience it. This very cutesy theme park featured "A Magical Twilight Snowfall" and "A Holiday Wish-Come-True" Tree Lighting Ceremony in 2022 and who knows what is in store this time.
Location: Lantau Island, Hong Kong
8 Spas In Hong Kong That Are All About Luxury And Soul Revival
2. Ocean Park- See The Decorations

Well, if you want to witness Christmas activities in Hong Kong with your kids or just want to embrace the child in you then hit Ocean Park and spend a fun and exciting Christmas. From world class performances to very beautiful Christmas decorations at Ocean Park you will get a dose of everything. Along with that you will find a whooping 40-feet tall Christmas tree and many exciting roller coaster rides.
Location: Aberdeen, Hong Kong
Make A Note Of 5 Spots For Scuba Diving In Hong Kong To Get The Best Of Experience!
3. Noah's Ark- Christmas Activities

Home to an exact replica of Noah's Ark, Hong Kong offers a very enriching and fascinating Christmas experience. With more than 60 pairs of animals and world's first life sized simulation and interpretation of the holy Bible's story, Noah's Ark is the best place to be at to get you Christmas celebrations in Hong Kong rolling.
Location: 33 Pak Yan Rd, Ma Wan, Hong Kong
These Hong Kong Airports Are So Lavish That You'd Never Want To Leave!
4. Winterfest- Attend

Recognised by the CNN Television network as one of the best places to spend your Christmas at in the whole world the Winterfest is something you should attend for having the best kind of Christmas in Hong Kong. Started in the year 2000, the Hong Kong Winterfest is quite popular and is more of a combined event around the city rather than at one place and some of these even offer ice shows and many other Christmas activities in Hong K
ong.
Location: NA
45 Most Delightful Tourist Places In Hong Kong On Your Trip In 2022
Best Displays For Christmas In Hong Kong
From a huge chocolate factory to the cutest Disney characters, these Displays in hong kong are cuteness goals and taking a selfie with them is what you should be doing.
1. Pacific Place

Floating staircases, auto playing piano and many other fantastical objects, Pacific Place is where you should be at if you want to witness the best kind of Christmas activities in Hong Kong, you know where you should be headed to. If you have children accompanying you, well then the good news is that they can indulge in many festive activities such as treasure hunts.
Christmas in Alaska 2022: Top 9 Places To Visit To Witness The Best Of Christmas
2. Langham Place

If you want to celebrate the cutest Christmas ever then Langham Place is the place for it. From Tsum Tsum characters such as Santa Micky to Winnie The Pooh, a christmas at Langham Place is a great idea for nostalgia hits you hard. Also, if you wish to try the best Christmas Dinner in Hong Kong then you can try one of the many cafes such as Beerline German Bar, The Beer House and i Cremaria Cafe for a good time.
Hong Kong In Winter 2022: A Little Guide To See The City In Merriment
3. Fashion Walk

Well, as they say it's not just about the shimmering lights and cutesy installations so we have a Fashion Walk that you must not miss out on your Christmas in Hong Kong celebrations. The local knitting studio La Belle Epoque comes up with very cute knitted Christmas special characters covering rails and poles along the streets. From Santa Claus to reindeers here you will find everything.
Hong Kong in October: From Adventure, Sightseeings To Festivals There Is A Lot To See!
With these many options for what you can do on a Christmas in Hong Kong you know what you should be doing. From the famous Winterfest to many other Christmas activities in Hong Kong, celebrating the festival where people know how to do it best is a very unique and different kind of an experience and a trip to Hong Kong during the Christmas period is totally worth it.
Frequently Asked Questions About Christmas In Hong Kong
How do they celebrate Christmas in Hong Kong?
In Hong Kong, you have chines Christians who celebrate their Christmas with church services in Chinese. There are flowers, tinsel, Christmas lights, nativity scenes decorate the homes and churches in Hong Kong.
Is Christmas Day a holiday in Hong Kong?
Yes, Christmas Day is a public holiday and generally, it is a day off for everyone too. The schools and the businesses are closed too. They do celebrate Christmas with a great festive meal.
Where should I go for Christmas in Hong Kong?
There is a big Christmas display at New Town Plaza in Sha Tin every year. You need to visit Hong Kong at night too. There are Christmas Carolers, Hong Kong Symphony of Lights, Hong Kong Disneyland, ICC tower lighting effects. You will find various places to visit in Hong Kong during Christmas.
What do people in Hong Kong eat for Christmas?
The Christmas day usually involves a family lunch or dinner. Instead, Chinese families like eating they're traditional like roast barbecued pork, chicken, dumplings, soup with cloud or with the combination of wood ear fungus.
What are the various things to do for Christmas in Hong Kong?
You can visit the Disney Land, Ocean Park, Noah's Ark, attend the Winterfest, Pacific Place, Langham Place among the others. You could also go and visit the Man Mo temple, and the Temple Street Night Market. You can take a ride a Double-Decker Tram and walk the Tsim Sha Tsui East Promenade. If you like hiking, maybe take a hike in the Hong Kong Trail. You can relax in Hong Kong Park.
How do you say Merry Christmas in Cantonese language?
In Hong Kong, you say "Sing dan fiy loc," and in Korea say "Sung Tan Chuk Ha." They are both in traditional languages. You can learn this simple phrase when you are out in Hong Kong and it is Christmas time.
Is it a good time to visit Hong Kong in December?
Well, this is mostly the comfortable time of year, where you do not have cold temperatures. The minimum is at 13°C and maximums at 19°C.
---
People Also Read:
Christmas In Denmark Christmas In Los Angeles Christmas In Vancouver