The towering skyscrapers, the jam-packed streets, the lights, the glitter, and the awesome food, it's all of this and more that makes Hong Kong a much-loved destination for all. Hong Kong has, but is not limited to, some of the most beautiful avenues for sightseeing in the world, owing to its glorious history. And the tourist places in Hong Kong are a true reflection of the culture and history of the destination.
With temples for the pilgrims, markets for the shopping maniacs, party places for night crawlers, and an unending variety of cuisines for the foodies, Hong Kong sightseeing has an endless array of experiences for everyone. This multi-cultured metro invites an ocean of tourists every year and mesmerizes them with its charm, such that they are left with the desire to come back again and again…
Top 45 Places To Visit In Hong Kong
Check out the most famous places to visit in Hong Kong with your kids, family, and friends. Get packed and explore these places with your loved ones to get closer to the culture of Hong Kong.
1. Hong Kong Disneyland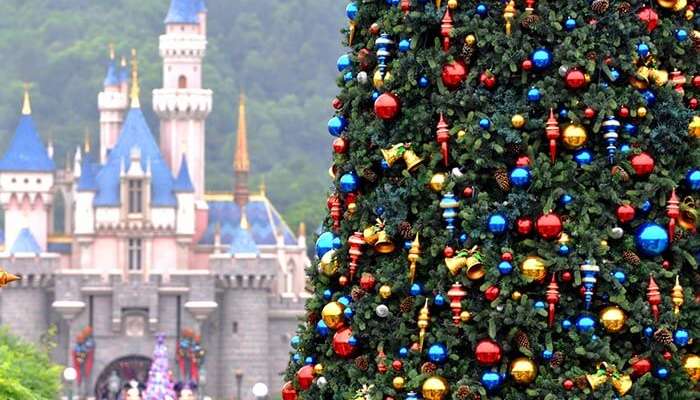 How can one go to Hong Kong and not visit this most favourite place of all kids and elders alike! Get to this magic land and experience the various colourful and musical shows they put up and revisit your childhood. To make sure you dont miss out on the best that Disneyland at Hong Kong has to offer, take the Disney Spectacular Tour that covers all major aspects of the theme park.
How to reach Disneyland: One can take the metro and get down at the Disneyland Resort MTR Station.
Opening hours: 10:30 AM – 9 PM (Monday to Thursday) & 10 AM – 9 PM (Friday to Sunday)
Admission fee: The Disney Spectacular Tour costs HKD 4,866, for upto 6 persons.
Suggested Read: 10 Festivals In Hong Kong That Best Showcase The City Culture
---
Hong Kong & Macau Holiday Packages On TravelTriangle
Visit Hong Kong and explore disney land, ocean park, wet land park, victoria's peak and Lantau Island. Further, explore Macau tower, the Venetian resort, Senedo square and more in Macau.
---
2. Ocean Park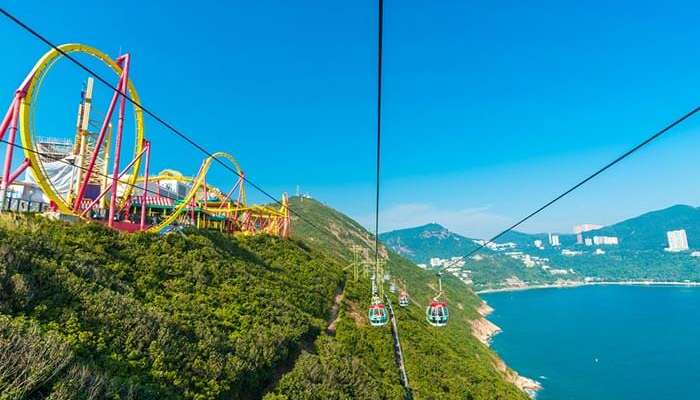 This marine-life based theme park is one of the most crucial tourist places to visit in Hong Kong for kids. Ocean Park provides children with a blend of educational exhibitions and interactive displays, apart from shows and thrill rides which it entitles it to be one of the best places to visit in Hong Kong.
How to reach Ocean Park: Hop on to a CityBus, Hong Kongs premium bus service
Opening hours: 10 AM – 7 PM (Monday to Friday) & 10 AM – 9 PM
Suggested Read: Here Is Why A Trip To Hong Kong and Macau Is Must In Your Travel Bucket List
3. Hong Kong Wet Land Park
The park is home to a collection of mammals, reptiles, fish, amphibians, birds, butterflies, & dragonflies. This flourishing biodiversity spot is among the eminent tourist places in Hong Kong, that aims at promoting eco-tourism through education and awareness regarding protection of the environment and conservation of wetlands.
How to reach Hong Kong Wet Land Park: Board the metro from MTR Tin Shui Wai Station, interchange for Light Rail 705/706 and get down at Wetland Park Station.
Opening hours: 10 AM – 5 PM. Open all days.
Suggested Read: 8 Must Know Hong Kong Travel Tips For First Time Travellers
4. Victorias Peak (The Peak)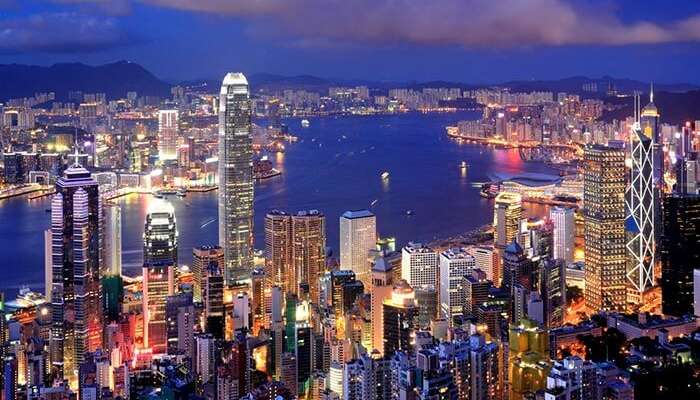 You simply cannot skip this one of the major tourist attractions in Hong Kong. The Peak is one of the most prominent tourist places to visit in Hong Kong. Being the highest point on the Hong Kong island, Victorias Peak provides breathtaking views of the cityscape with its skyscrapers glistening in the sunlight. Apart from witnessing the stunning views of the city, one can also enjoy other sightseeing titbits on The Peak like Madame Tussauds wax museum, the Peak Tower, & Sky Terrace 428.
How to reach Victorias Peak: Board the delghtful red Peak Tram, enjoying the stunning views of the city on your way up the hills and the twists and turns of the tram!
Opening hours:
Peak Tram: 7 AM – 12 Midnight (all days)
The Peak Tower & Sky Terrace 428: 10 AM – 11 PM (Monday to Friday) & 8 AM – 11 PM (Saturday & Sunday)
Madame Tussauds: 9 AM – 10 PM (all days)
Excited already- Book your holiday to Hong Kong NOW!
Suggested Read: 7 Best Hong Kong Temples Every Traveler Should Visit To Explore Their Spiritual Side
5. Symphony Of Lights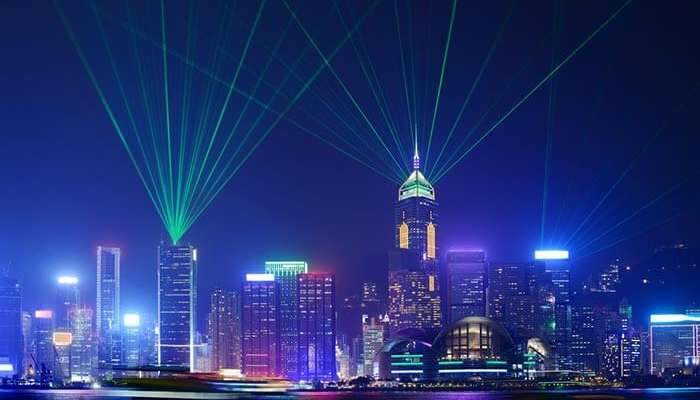 Every night at 8, Victorias Harbour in Hong Kong transforms into a stunning display of colorful lights reaching the skies out of 40 skyscrapers, synchronized with music and narration honoring the very spirit and diversity of this city through 5 different themes. Experiencing the Worlds Largest Permanent Light and Sound Show is an absolute must for all. Do not miss the iconic tourist place in Hong Kong.
How to reach Symphony of Lights: The nearest station is the MTR East Tsim Sha Tsui Station.
Opening hours: 8 PM (all days) |Website
Suggested Read: Destination Of The Month: 10 Reasons Why Hong Kong Is Perfect For A Family Vacation
6. Repulse Bay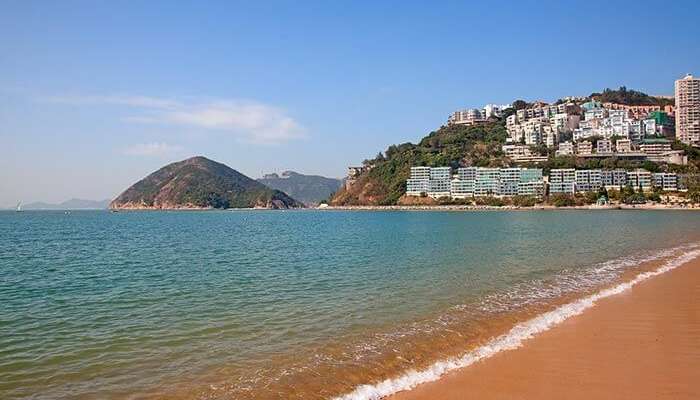 The bay got its name from the 19th-century war where the British troops repulsed the attacking pirates. Famous for its wide, crescent-shaped beach, Repulse Bay is home to the most expensive residential complexes in Hong Kong and is perfect for those looking for a lavish, high-class experience. The beach offers exquisite experiences to every kind of visitor, which is why it is one of the popular tourist attractions in Hong Kong among couples and kids alike.
How to reach Repulse Bay: Get down at MTR Hong Kong Station and take a bus (No. 6, 6A, 6X, 66, 260) from the Exchange Square Bus Terminus and get down at Repulse Bay.
Suggested Read: 15 Spellbinding Places To Visit in Macau For A Wow Holiday
7. Lantau Island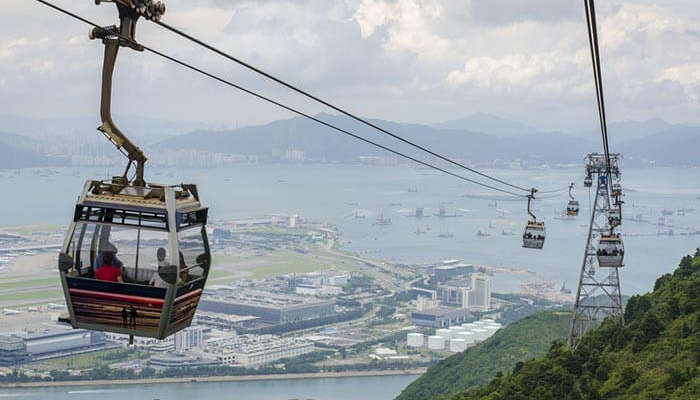 Though there are many ways one could get to Lantau Island, the Ngong Ping 360 Cable Car is undoubtedly the best one out of those. While the island is known for its rich ecological environment, its culture and customs, the cable car ride too is an absolute thrill in itself. Apart from giving one splendid views of the island and the Ngong Ping Village, the cable car ride would also provide mind blowing vistas of the famous statue of Giant Buddha. Owing to its profound natural beauty, Lantau Island is among the most preferred tourist places in Hong Kong.
How to reach Ngong Ping 360: The nearest metro station is the Tung Chung MTR Station.
Opening hours: 11 AM – 5 PM (Monday to Friday) & 10 AM – 5:30 PM (Saturday & Sunday)
Suggested Read: 7 Wonders Of Hong Kong That Will Leave You Jaw Dropped!
8. Lan Kwai Fong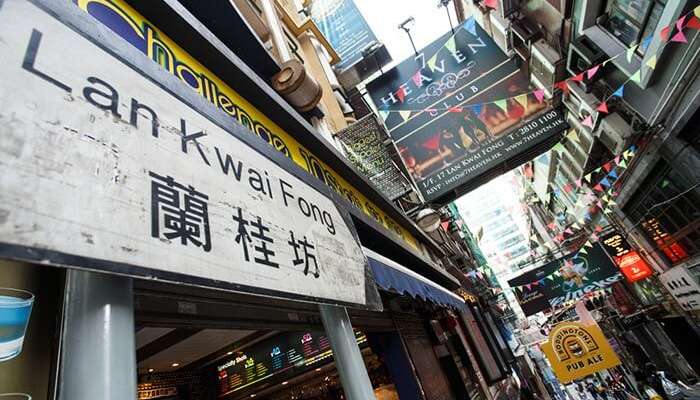 Hong Kong sightseeing doesnt just include attractions for kids, families, & couples, but has something in store for the wild and wacky youngsters too. With an awesome assortment of nightclubs, pubs, & bars like the Hard Rock Cafe, Lan Kwai Fong is that glamorous and happening part of the city that comes to life at night. It is one of the best places to visit in Hong Kong for those seeking a kick-ass nightlife in this metro.
How to reach Lan Kwai Fong: Walking distance from MTR Central Stations Exit D2
Must Read: Nightlife In Hong Kong: 10 Must Visit Places
Must Read: Nightlife In Hong Kong: 10 Must Visit Places
9. Star Ferry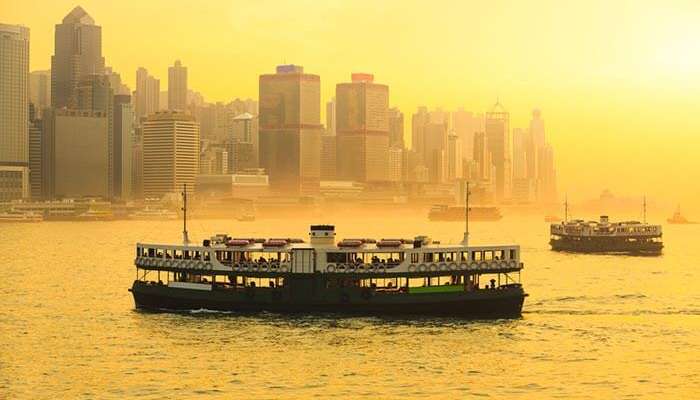 One of the most inexpensive ways to explore Hong Kong is via the Star Ferry that lets one ride between Kowloon and Central. Named as the 50 Places of a Lifetime to Visit by National Geographic, the 10 minute Ferry crossing ride gives one a stunning view of the city skyline and the worlds most photographed harbour. You can also take a ferry ride to Macau since there are a number of popular tourist spots in Hong Kong, Macau.
How to reach Star Ferry Pier: Walking distance from MTR Central Stations Exit A & MTR Tsim Sha Tsui Stations Exit L6 to the Star Ferry Pier.
Opening hours: 11:45 AM – 8:05 PM (all days) | Admission fee: Approx HKD 2.40 (per person)/p>
Suggested Read: Hong Kong To Macau Ferry Guide: Your Ticket To The Hub Of Glitz & Glamour!
10. Avenue Of Stars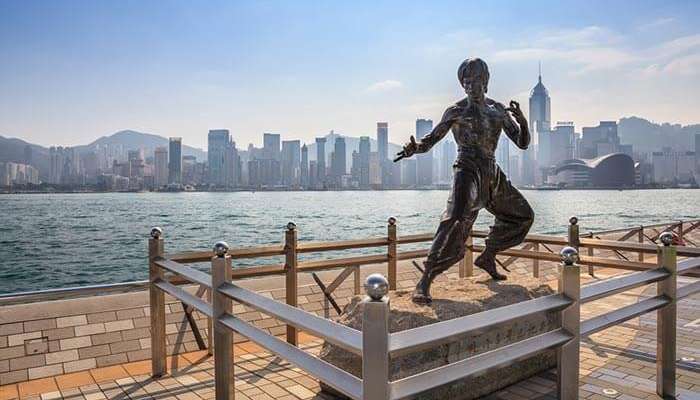 When in this city, top tourist attractions in Hong Kong like the Avenue of Stars is a must visit. Located along the Victoria Harbour waterfront in Tsim Sha Tsui and established on Hong Kongs version of the Hollywood Walk of Fame, the popular attraction featuring about 100 statues of celebrities, film stars, scriptwriters, & directors was created as a tribute to Hong Kongs film industry. Though temporarily closed, a selection of their best exhibits are on display at the Garden of Stars, the Tsim Sha Tsui East Waterfront Podium Garden, and at the Starry Gallery, a pedestrian subway under Salisbury Road.
How to reach Garden of Stars & Starry Gallery: Walking distance from the East Tsim Sha Tsui MTR Station Exit P1 for Garden of Stars and Exit J for Starry Gallery.
11. Big Buddha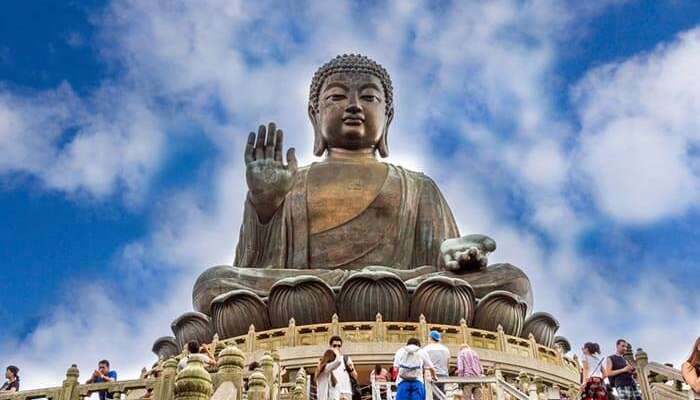 The worlds second largest outdoor bronze statue the Giant Buddha, is among the top rated tourist places in Hong Kong. In fact, the statue is so huge that you can easily spot this impressive 112 feet long figure near the Po Lin Monastery from your flights window seat! The Big Buddha, or Tian Tan, is also visible from the Ngong Ping 360 Cable Car, which gives an almost eye-level view of the massive statue. But in order to truly experience this sanctums peaceful, charismatic and enlightening influences, one should definitely climb the 268 steps leading to the statue itself!
How to reach Big Buddha: Get down at MTR Tung Chung Station Exit B, Take Ngong Ping Cable Car or New Lantao Bus 23 from Tung Chung Town Centre.
Opening Hours: 10 AM – 5:30 PM
Suggested Read: Ocean Park Hong Kong: An Attraction You Cannot Afford To Miss
12. Wong Tai Sin Temple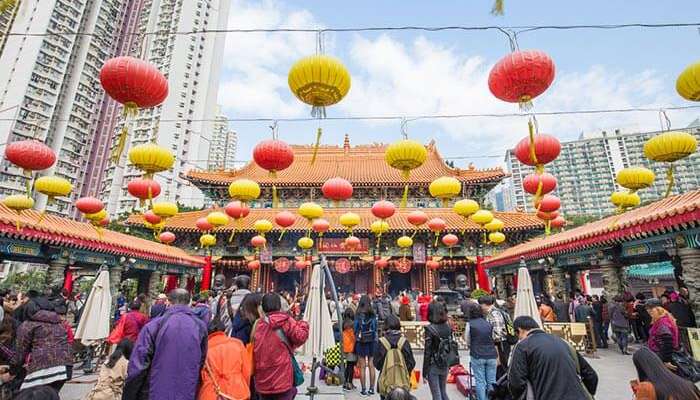 The Wong Tai Sin Temple, established as a dedication to the Great Immortal Wong, is known for granting any wish made before it, which is why a lot of people come back to the temple from far off to thank the immortal. Essentially among the religious places to see in Hong Kong, Wong Tai Sin is also listed as a great option for sightseeing owing to its architecture and colourful decorations. Wong Tai Sin Temple's architectural beauty attracts a large number of visitors every year, making it one of the major tourist places in Hong Kong.
How to reach Wong Tai Sin Temple: Take the metro and exit at the MTR Wong Tai Sin Station Exit B2.
Opening hours: 7 AM – 5:30 PM
13. Golden Bauhinia Square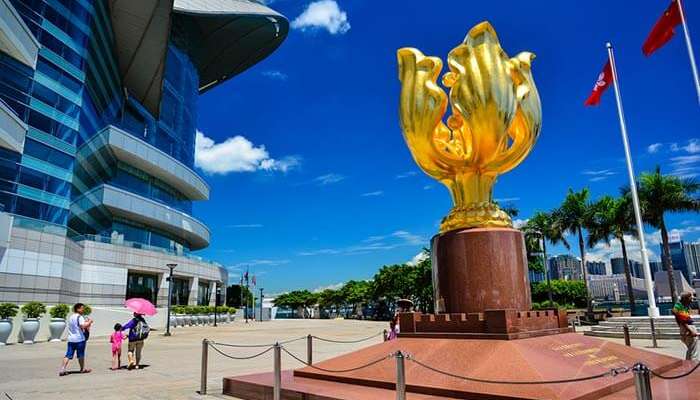 Established in 1997, this gilded Bauhinia statue was a token from Chinas Central Government to Hong Kong, and marked the conversion of the city from a British colony to a part of the Peoples Republic of China. Golden Bauhinia Square is one of the most popular tourist places in Hong Kong. The golden statue sits in the square next to the Hong Kong Convention and Exhibition Centre as a symbol of Hong Kongs glorious past. A flag hoisting ceremony takes place at the Square every day except the first day of the month and the daily event is a sight in itself.
How to reach Golden Bauhinia Square: Walking distance from the MTR Wan Chai Station Exit A5.
Opening Hours: 9 AM – 6 PM
Flag Hoisting Timings: 7:50 AM – 8:05 AM
Suggested Read: Disneyland In Hong Kong: A Tailor-Made Guide To Endless Fun For Everyone!
14. Tsim Sha Tsui Clock Tower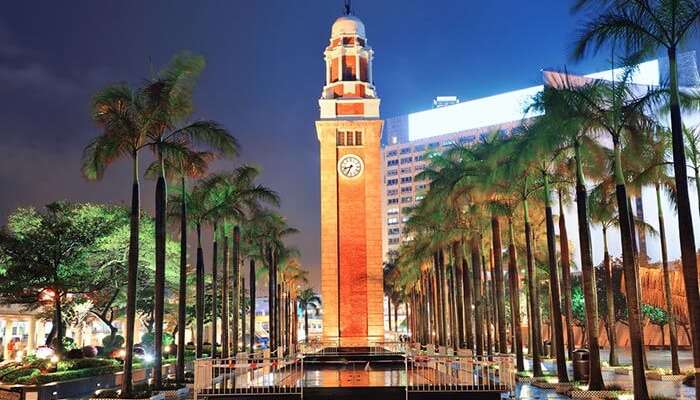 This 44 metre tall Clock Tower which was originally a part of the Kowloon-Canton Railway Terminus is now one of the significant tourist places in Hong Kong. The railway station has now been replaced with iconic landmarks such as the Peninsula Hotel, the Hong Kong Cultural Centre, & the Star Ferry Terminal, and acts as a reminder of the colonial rule that once prevailed in Hong Kong.
How to reach Tsim Sha Tsui Clock Tower: Walk from the MTR Tsim Sha Tsui Stations Exit E or take Star Ferry from Central or Wan Chai.
15. Tai O Fishing Village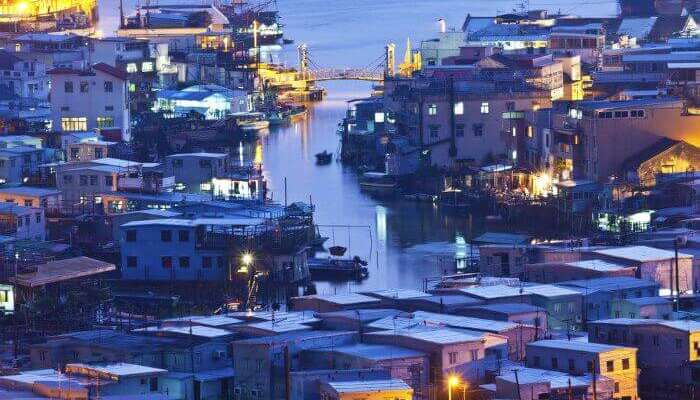 This small, quaint hamlet on Lantau Island is a complete contrast to the citys urban landscape & luxurious lifestyle. The village is one of the important places to visit in Hong Kong owing to the old, traditional Chinese culture that still dominates it, which is why it is also among the most loved tourist places in Hong Kong. The surrounding hills, the hustle & bustle of the harbour, life in those traditional stilt houses, the seafood market selling a vast range of dried seafood, souvenirs, & the famous shrimp paste provide such picturesque vistas for photographers and filmmakers that this village is among viitors favourite Hong Kong tourist places.
How to reach Tai O Fishing Village: Get down at MTR Tung Chung Station and take Bus 11 from Tung Chung Town Centre.
16. Man Mo Temple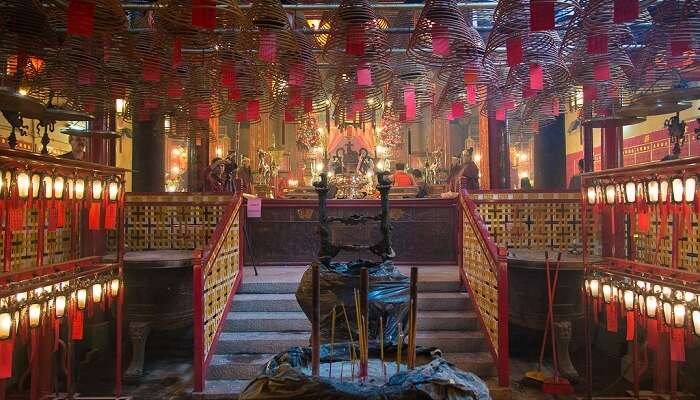 This temple cannot be missed out from the list of tourist places in Hong Kong. Pay your tribute to the God of Literature (Man) and God of War (Mo) at Man Mo temple which is one of the oldest existing Taoist Temple. Make a stop at the temple while sightseeing in Hong Kong and take respite under the giant hanging incense coils inside the temple. The aura of the temple is simply divine and peaceful which makes a contrast with the chaos of the city life around.
How to reach: Take the D2 exit from MTR Central Station and turn right to the Theatre Lane
Suggested Read: 8 Hostels In Hong Kong For A Leisurely Yet Lively Vacay
17. Ladies Market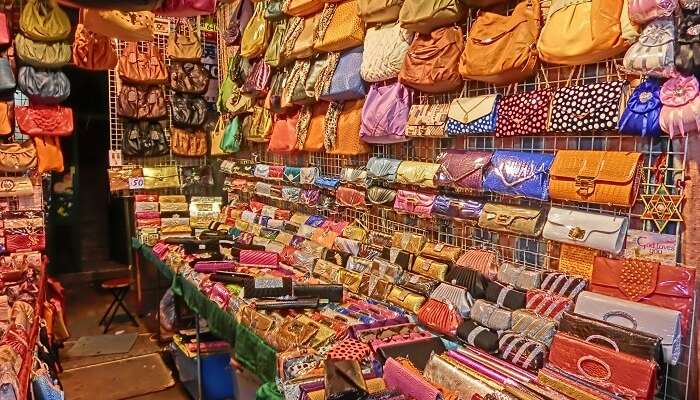 Image Source
A popular shopping place like this totally deserves to be on the list of
tourist places in Hong Kong
. Hong Kong is famous for its street markets and each one of them offers distinctive features of shopping. However, the Mong Kok market area outstands all the markets, it is always preferred on the hong kong attractions map. Here you will find a spectrum of things like quirky souvenirs, branded imitation items, and everything else which seems to be currently in trend. This place is cheap but beware of the overwhelming crowds as well as the passive aggressive and over-enthusiastic shopkeepers who will be ready to bargain with you. Apart from the Ladies Market, there are popular destinations like Jade Market, night market of Temple Street as well in Sham Shui Po and Yau Ma Tei.
How to reach:
You have to reach the fire station in the first place and then continue to the Canal Road West and board on the bus 171. You can also opt to take the MTR that go towards the Sheung Wan and the hop off Central Station. Now take the long inside walk to the Hong Kong station and then the route as is above from central.
18. Kowloon City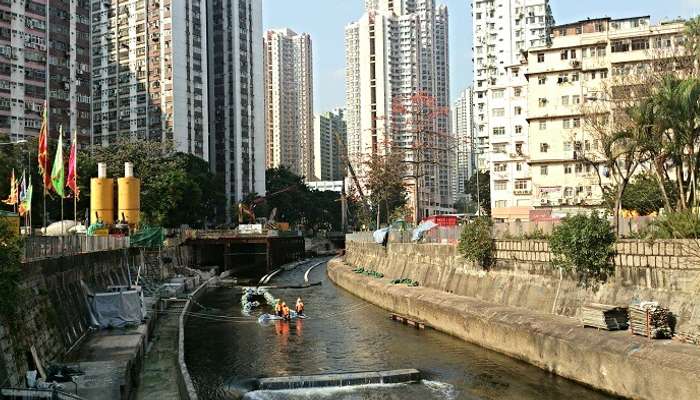 Image Source
An underrated gem, Kowloon city should be a must visit place in any travelers Hong Kong itinerary. Kowloon is an integral piece of this city's cultural history. Make sure to visit the Kowloon Walled City Park where you can take part in its local food scene which is full of eateries and restaurants which are famous amongst local foodies.
How to Reach: It takes merely 15 minutes walk from Lok Fu MRT Station to reach there.
19. Space Museum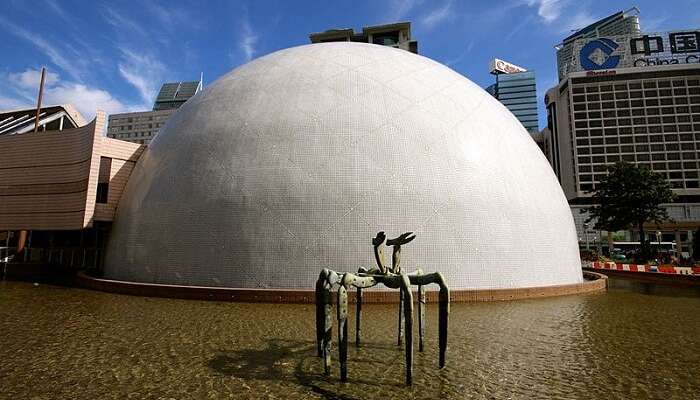 Image Source
The space museum is amongst popular Hong Kong tourist attractions to visit by families, space geeks, and astronomers who aspire for more. It is a beautiful dome-shaped building which is located at the Hong Kong Waterfront. The venue has two wings- the West and East wings respectively. The East wing has the nucleus of the place's planetarium. Below it is the Hall of Space Science and the Stanley Ho Space Theatre. The the hall of astronomy, lecture hall, and a gift shop are all located in the West Wing. In there is also a mock-up of the cockpit and nose of the space shuttle orbiter.
How to reach:
10 Salisbury Rd, Tsim Sha Tsui, Hong Kong
Suggested Read: A Walkthrough Of Tung Po: Wildest Restaurant In Hong Kong

20. Victoria Park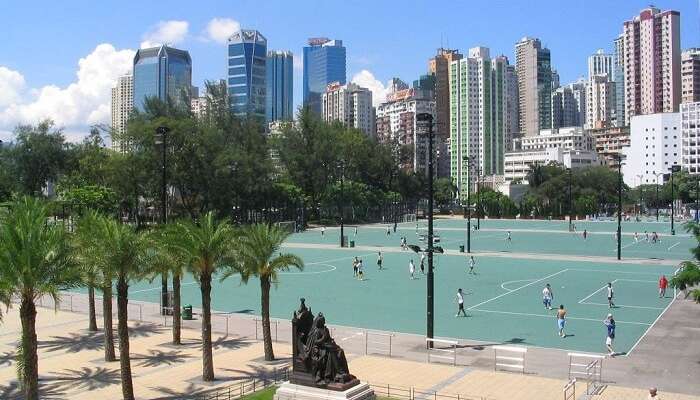 Image Source
Take a break from the constant travel routine and relax your mind in this serene park located in the Causeway Bay area. The causeway bay has a lot of shopping destinations and many come here to rest their feet after a day's worth of shopping.
How to reach: Take the MTR Causeway Bay Station, then Exit E. Now walk along the Great George Street until you reach the park. Next, turn left at the exit and continue ahead until you reach the park.
21. Dr. Sun Yat Sen Museum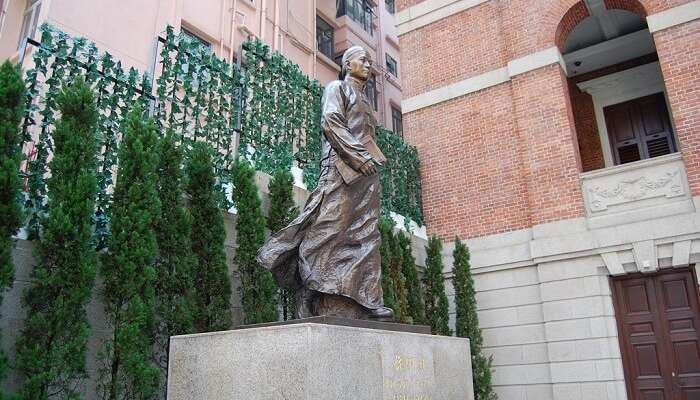 Image Source
There are many museums to be seen in the city, but the Dr. Sun Yat Sen Museum is special because it commemorates China's change from being a monarchical state to a Republic. The museum is named after the man who was responsible for building China into what we see today. Opt for a guided tour to see everything in detail.
How to reach: From Central MTR Station take the Exit D2 and then walk along Queen's Road Central. Now take the Mid-level escalator. On reaching Caine Road, take the right turn and walk for minutes and there you are, at your destination.
22. Chungking Mansions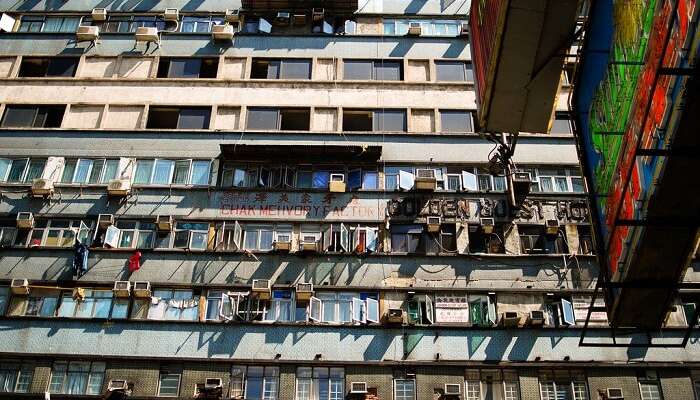 Image Source
Named as the heart of 'Asia's world city', this is the city's one-stop shopping place for virtually everything. If you are looking for a more budget stay then this is also the place to head to. It is formed by a conglomeration of lw budget shops and services. The mansions have curry restaurants, guesthouses, Clothing shops, African bistros, sari stores and more. It is also a large gathering area for the ethnic minorities in the city.
How to reach: b2, Chungking Mansion, 36-44 Nathan Rd, Tsim Sha Tsui, Hong Kong
Suggested Read: Camping in Hong Kong: 10 Best Sites In The Middle Of The Bustling City
23. Hong Kong Museum Of Art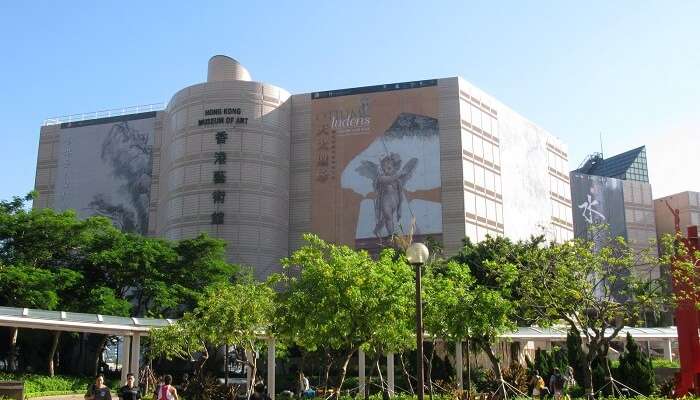 Image Source
Get ready for transcending into the past as this place houses Chinese paintings, antiques, and calligraphy from overseas and local artists both. This venue was first established as the City Hall Museum in 1962 and was then split into the Hong Kong Museum of Art and the Hong Kong Museum of History. The Museum was closed for a multi-million dollar renovations and expansion, but it is scheduled to open in 2019.
How to reach: Walk to 10 Salisbury Road, near the Hong Kong Cultural Centre and the Hong Kong Space Museum, in Tsim Sha Tsui.
24. Hong Kong Science Museum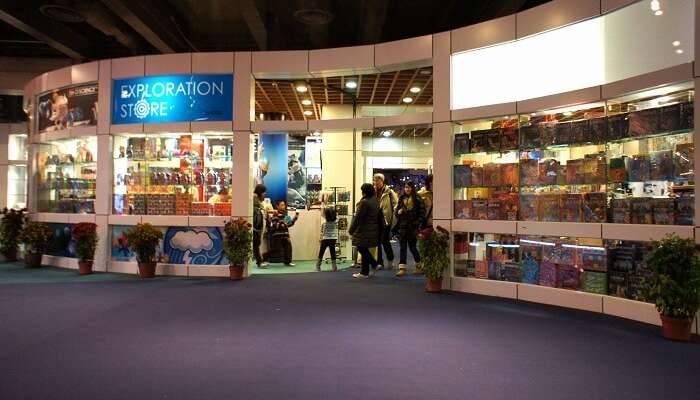 Image Source
A must visit for everyone who wants to play with science, this museum harbors more than 500 exhibits. It features Cathay Pacific's first DC-3 airline, but the amusing part is that it stays suspended in the air from the ceiling. The most famous exhibition items for kids are a computer area, a stationary but real car where visitors can attempt to drive while avoiding accidents, excessive fuel usage, and speeding. There is also a life-sized stationary aircraft which has a video of a flight of Hong Kong playing inside. There is also a 22m high twin tower Energy Machine which is the biggest in the world. Apart from this, there is a total of 18 galleries which cover a wide range of topics related to science and technology.
How to reach: The venue is within a short walking distance of the Hung Hom Station of the Mass Transit Railway (MTR). It's located at Science Museum Rd, Tsim Sha Tsui, Hong Kong.
Suggested Read: The Views From The Pinnacle Of Tai Mo Shan In Hong Kong Will Make You Feel On Cloud 9!
25. Hong Kong 3D Museum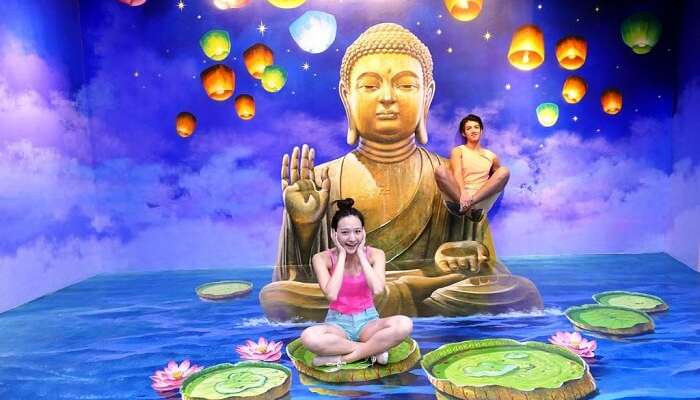 Image Source
Take yourself to the land of dreams by visiting the 3D museum. Visitors can witness the story of the city using a unique medium which also being able to add their own elements to the story. There are more than 70 original exhibitions here which are categorized into various zones. These include nostalgic landscapes, paintings, festivals, traditional customs, architecture, natural scenery and more. This museum has a local culture in its nook and corners which can be seen in all its exhibitions. There is one of the Tsing Ma Bridge where the planes felt so near that one could almost touch them- that's what you will get to touch and experience in everything here. It is a popular tourist destination in Hong Kong.
How to reach: It is located at The Peak Galleria, Shop No.1 on Level 3, 118 Peak Rd, Central and is within walking distance from the nearest metro station.
26. Sam Tung UK Museum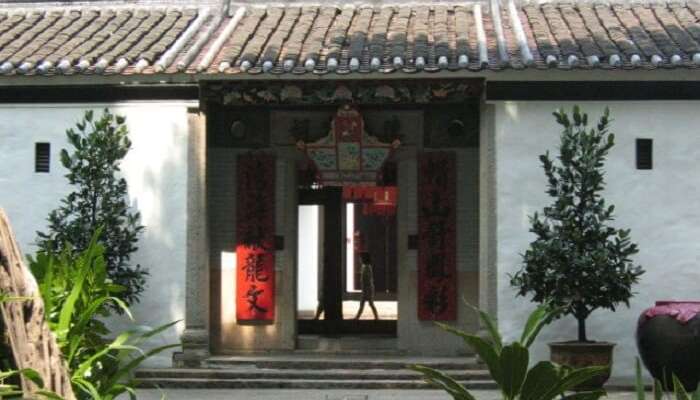 Image Source
This stunning 200 old village will let you take a peek at the rural life of the modern city of Hong Kong. In here, the ancestral halls, the assembly and the entrance along with 12 of the original houses are preserved. Other rooms in here have been modified to make room for a reception space, an exhibition hall, an orientation room, a museum office as well as a lecture theatre. I'm terms of display people will be able to see the agricultural implements and everyday objects of the Hakka village. The main exhibition hall is at the very far end of the building complex and the displays over there are changed every six months.
How to reach: Located at 2 Kwu Uk Lane, Tsuen Wan; you can use the Mass Transit Railway to Tsuen Wan Station to reach it.
Suggested Read: New Year In Hong Kong: 6 Exciting Ways To Ring In 2019
27. Noah's Ark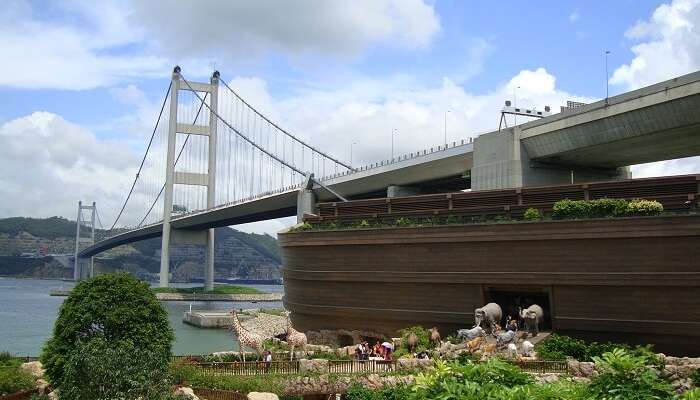 Image Source
Bring your kids and family here to this theme park where they will get to experience a theme park with all possible 67 animal exhibits. It's like gazing on the ark itself since there is the full size replica of the Noahs Ark which is also the worlds first one. Situated on the Ma Wan Island, this ark located on the waterfront has attractions which overlook the Tsing Ma Bridge. Here visitors can engage in the Ark Expo which is an amazing multimedia experience with state of the art facilities and that includes a theatre and educational exhibits. Next is the Solar Tower which allows to view activity going on the surface of the sun In absolute real time. The Treasure House has about 15 interactive games which offer the chance of liberal learning. At last, there is Noah's Adventureland which features an eight-metre humongous swing, a 3D ladder as well as other games which offer lots of high altitude excitement.
How to reach: Take a ferry from Central Pier 2 to Park island. Then walk to the Pak Ali Road before turning to Pak Lam Road.
28. Lamma Island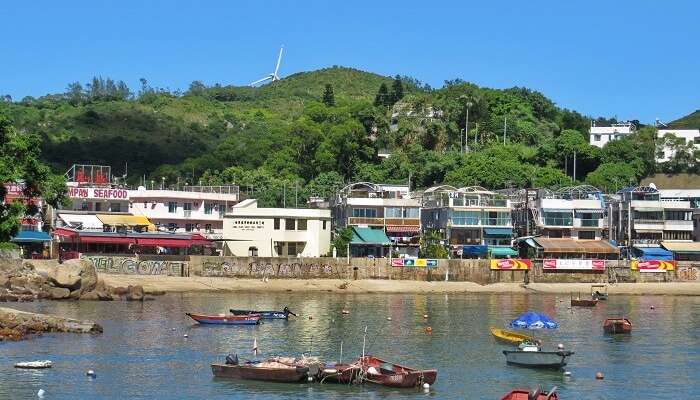 Image Source
In this lush green Chinese island, you will find signs of a traditional life based on fishing. Lamma island is a very free-spirited island which has a multicultural vibe to it. Ones with creative minds like artists and painters frequent it a lot. This hipsterish vibe can also be seen in the craft stores, indie boutiques and the mellow cafes which line up on the Yung Shue Wan Main Street. The hiking trails go through Kamikaze Caves which were a witness of WW2. Take your camera to get some amazing coastal views.
How to reach: To reach Lamma Island, board a ferry that leaves from the Central Pier 4 to Sok Kwu Wan and Yung Shue Wan. You will find ferries quiet frequently, every half hour or so.
Suggested Read: Victoria Peak In Hong Kong: A Guide To The Epitome Of The Country's Beauty!
29. Chi Lin Nunnery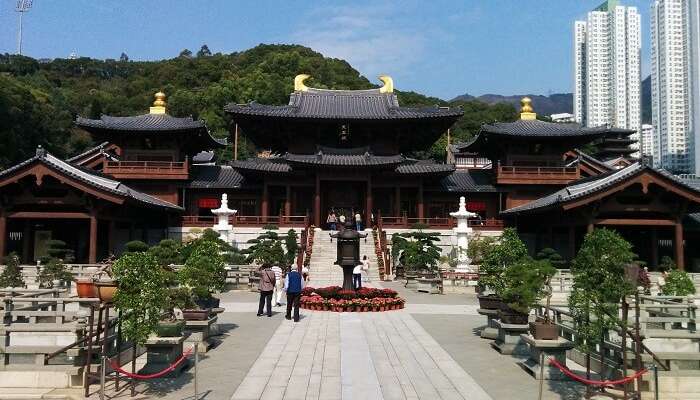 Here you can be in the presence of divinity and forget all your worries of your daily life for a while. The environment if the Chi Lin Nunnery is pure and beautiful with green trees helping in the tranquility. It's a great place for those who want to visit somewhere where the rush of life hasn't taken over the residents.
How to reach: Take the MTR and go to the Diamond Hill MTR station (MTR Kwun Tong Line). Then go out of the station through Exit C2. Head to the Plaza Hollywood Shopping Centre. From there, continue walking for a few minutes via Fund Tak Road and you will be there at your destination. The complex will be on your left.
Suggested Read: Discovery Bay In Hong Kong: A Fun And Recreational Hub In Hong Kong

30. Nan Lian Garden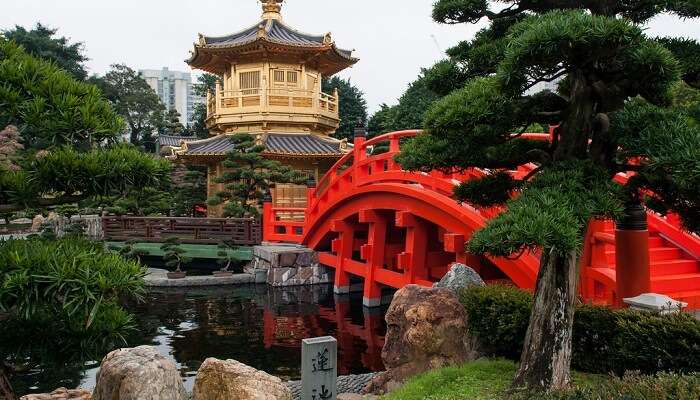 Image Source
Gardens are aplenty in Hong Kong and the Nan Lian Garden is another jewel in that crown. Its Tang Dynasty styled garden and meticulously planned structures add an aura of harmony to the uniform shapes of the garden. The perfectly lined trees and smooth rocks add to the serenity of the place. A great place to head to if you want a little break from all the sightseeing.
How to reach: Board on the MTR and hop of at the Diamond Hill MTR Station.Take the exit C2 and then just follow the signs. A short walk will take just a couple of minutes.
31. Hung Shing Yeh Beach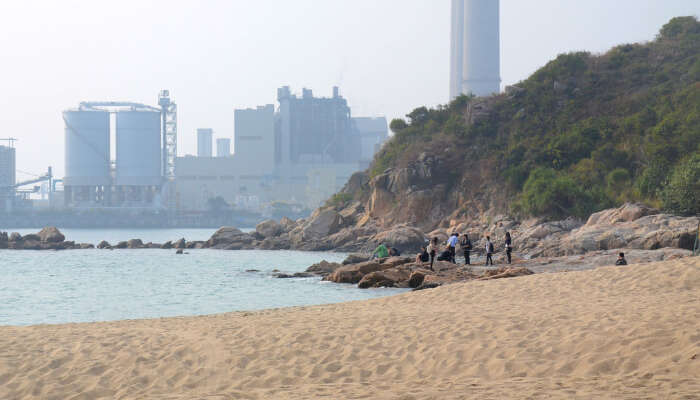 Image Source
Located at the tip of the Asian continent, beaches are expected to be plentiful in Hong Kong. Come here with your Beach towels, umbrellas and sunscreen to enjoy a relaxing day at the Hung ShingYeh Beach. Bring a volleyball as well if you are with friends and want to play a game. If you want the full Beach experience then get a barbeque done as well. The sun, the clear waters and the sandy beach all come together to make you feel like you are in heaven. Here's a tip- get in here early because it gets crowded.
How to reach: Board on the ferry at the Central Pier 4 till Yung Shue Wan which will take around 30 minutes and on reaching there, take a right turn while walking along the Family Trail and you will reach at the beach in 30 minutes.
32. Lo So Shing Beach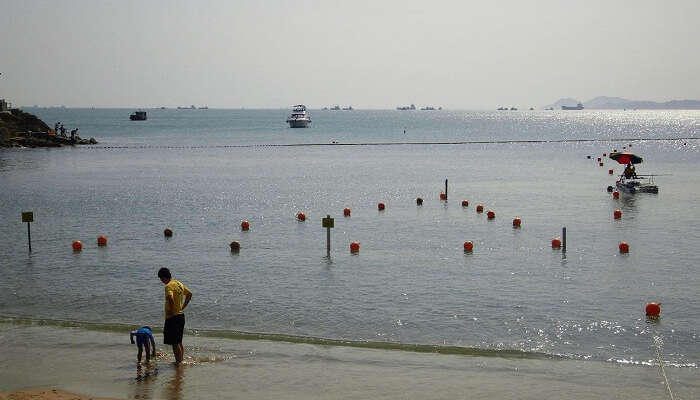 Image Source
Unlike the above Beach, the Lo So Shing Beach isn't frequented by the fun-seeking public. Which has left it deserted but on the upside to it has been the lush greenery which has started encroaching on it. While it may not be as happening as other more public beaches but the views from here are unparalleled. Come here to enjoy the waves lapping at your feet as you enjoy a walk in the sunset.
How to reach: Board on a ferry that leaves from Central Pier 4 till Yung Shue Wan. On reaching there, take a route along the Family Walk and you will reach to your destination in 15 minutes.
Suggested Read: 10 Rooftop Bars In Hong Kong That Everyone Must Visit For An Ultimate High!
33. Mount Austin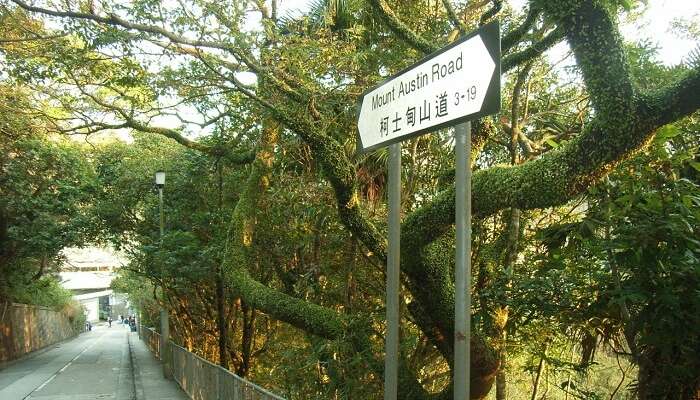 Image Source
Also known as Victoria Peak, this mountain is located on the western half of the Hong Kong island. It has an elevation of 1,811 feet or 552 meters and is the highest summit on the Hong Kong island. The peak here is occupied by a radio communication tower and is thus closed for the public but the surrounding areas are full of public parks along and there is also a residential land. Visitors can come here to look at splendid views of the Lamma Island, Victoria Harbour, Central and also of the surrounding islands.
How to reach: The nearest MTR station is Central. The garden is situated alongside the Mountain Lodge. It is the nearest summit that is open to public. You can reach there walking from the Victoria Gap to Mount Austin Road. The climb will take about 150 meters.
34. Edward Youde Aviary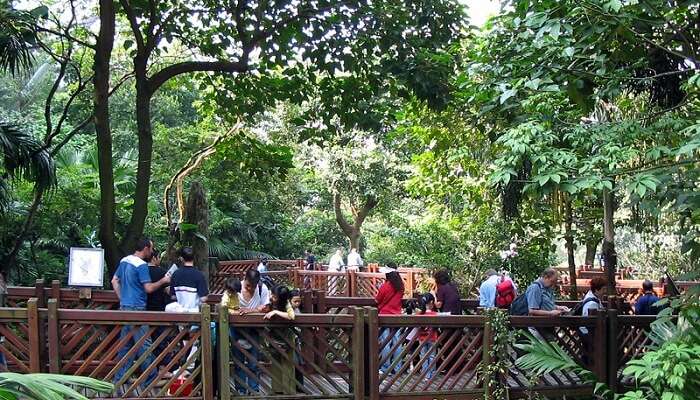 Image Source
A great place to get closer to get closer to birds, this is a perfect venue to bring your kids in. The Edward Youde Aviay houses 600 species of birds. Housed in this natural valley of the Victory Peak, the birds live in lush greenery while the park settings give the visitors optimum space to interact in them. There are a lot of exhibits going on here which will provide more information on the birds who are residents over here.
How to reach: 7 Kennedy Rd, Central, Hong Kong
Suggested Read: 7 Beautiful Islands In Hong Kong To Have An Amazing Tropical Vacay

35. Soho District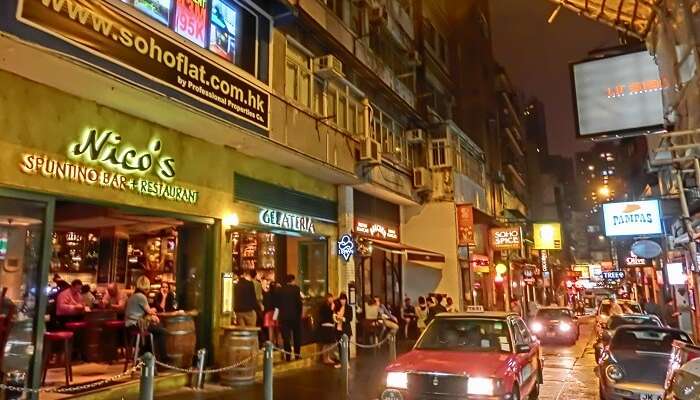 Image Source
It might remind you of the restaurant in L.A USA which is frequented by celebrities and similar to that, located on the South of Hollywood road is the Soho district where you will find everything big money can buy. This is a swanky patch of land lined with shopping centers and restaurants.
How to reach: First reach MTR Central Station and Exit from D2. Start walking along the Queens Road Central and reach the Center. From there, take the Central-Mid-Levels Escalator and hop of at Shelley, Staunton or Elgin Streets.
36. Hong Kong Park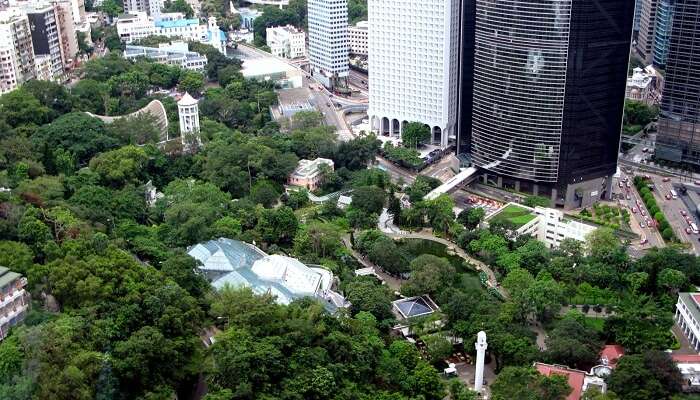 Image Source
It's no secret that Hong Kong is a concrete jungle which is lined up with high rise building, restaurants and a huge masa of civilian population. This place offers a little respite from it all. A small patch of greenery which also houses a number of hits species is just what one needs after a day of hustle and bustle across the city.
How to reach: MTR Admiralty Station exit C1. Tak the route of covered Footbridge along the Queensway. From there, go the the Pacific Place Shopping Mall and hop on the escalators on the right side and reach to the top floor and then cross the Supreme Court Road and you will be at your destination.
Suggested Read: Mai Po Nature Reserve: A Guide That Lets You Go On A Perfect Date With Nature In Hong Kong!
37. Flagstaff House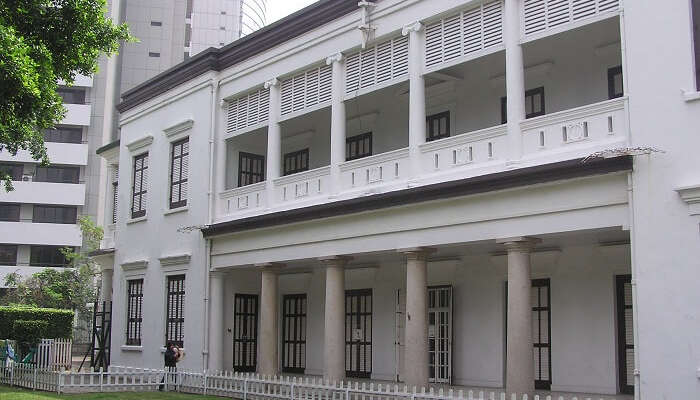 Image Source
A beautiful reminder of the once colonial era which overtook Hong Kong, this is definitely one of the most amazing places to set foot in. The colonial architecture alone is worth admiring for days. Even if you can fit it in your itinerary then make sure you have it as a background in some of your photos at least.
How to reach: Take the bus or the MTR to Admiralty Station. Take the Exit C1 and make your way to the Pacific Place located at 88 Queensway Drive. From there, hop on the escalator and reach the front gate. From there, take a left and you will cross your way from the Tall Clock. Address: Hong Kong Park, 10 Cotton Tree Drive, Central, Hong Kong Island.
38. Old Town Restaurant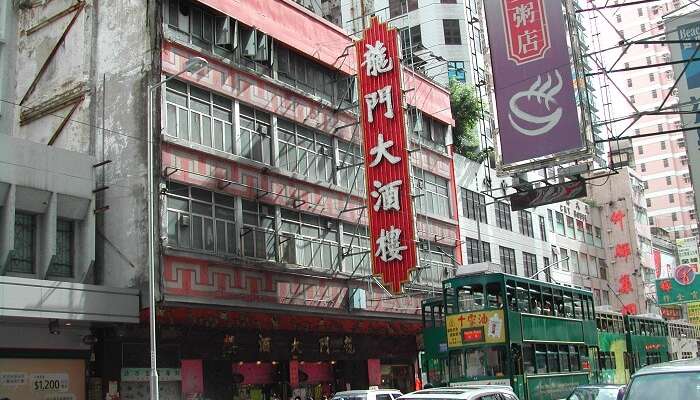 Image Source
So much sightseeing much include walking and strolling but after a while, you will look for spots to sit down, recharge and eat up. The old town restaurant offers all that. Don't go on the name, it might seem like all it offers are Hong Kong unique dishes but they have the world on their menu.
How to reach: Located on the busy 11/F, The Loop, 33 Wellington St, Central, Hong Kong; take any public transport to reach here
39. Parkview Art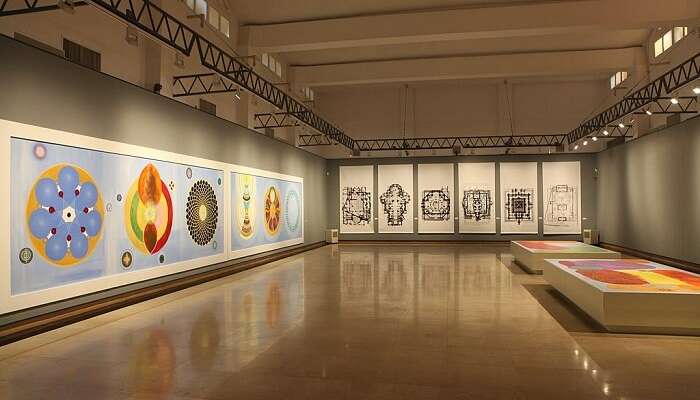 Image Source
This gallery will let you witness some of the most amazing pieces of abstract art sourced from China as well as from all over the wide world. A must visit for art fanatics and those interested in how art through the ages have changed.
How to reach: 27 Old Bailey Street | Shop n.6, Upper G/F, Sunrise House is the location and it's closer to the metro.
Suggested Read: A Guide To Spring Lantern Festival In Hong Kong 2019: All About Love, Lights And Legacy

40. Asia Society Hong Kong Centre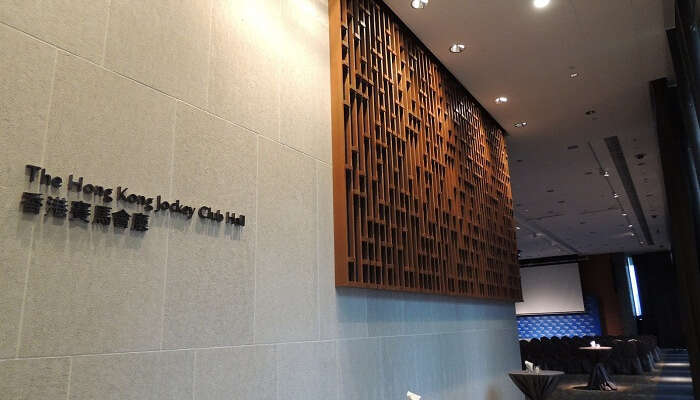 Image Source
What was once just a cluster of barracks under the long and hard colonial British rule, is now a center for a change. This center is a preserver of art, heritage, and culture of Hong Kong. A great place to spend the day at of you wants to know more about Hong Kong. For travelers who love to know about the culture and history of the destinations they visit, Asia Society Hong Kong Centre is one of the must visit places in Hong Kong.
How to reach: Get off at Hong Kong Electric Centre on Kennedy Road, then walk through the pedestrian tunnel to the main entrance of the Asia Society Hong Kong Center in about four minutes.
41. Ten Thousand Buddhas Monastery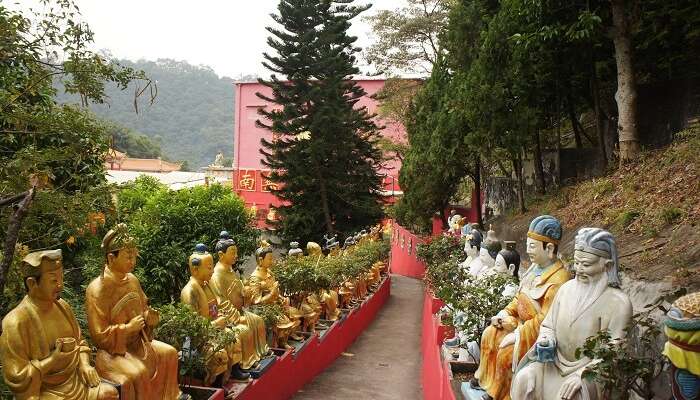 Image Source
Ten Thousand Buddhas Monastery is among the spiritually unique tourist places in Hong Kong. As the name says it is a house where even more than ten thousand Buddha miniature statutes reside in. But it's not a monastery and no monks live here. This place might not be as serene as other places of divine worship but the mini sculptures alone fascinate tourists a lot. Pack in a camera and click pictures to marvel over later on as well.
How to reach: Take the MTR to Sha Tin Station on the East Rail Line (Light Blue Line). The place is about 30 minutes from the Tsim Sha Tsui and only a few minutes from Central. The place is just a few minutes from the entrance path.
42. The Jumbo Kingdom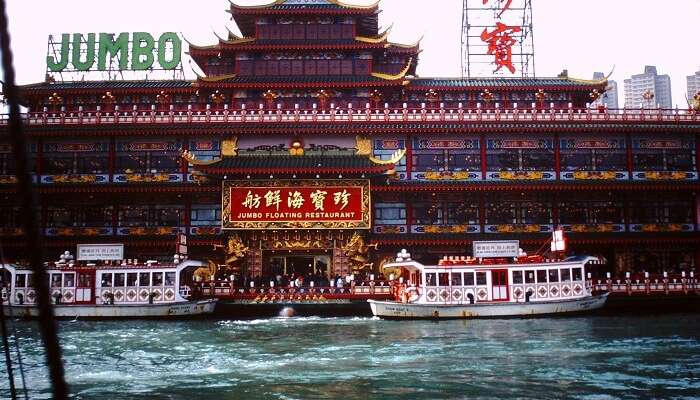 Image Source
If you are a combination adventure junkie and a foodie, this will be among your list of best tourist attractions in Hong Kong. This isn't a theme park but is actually a part of one of the world's biggest floating restaurants. How big- It can accommodate around 2300 diners at a time. Come here to taste some of the most amazing cuisines and a delectable wine selection to choose from.
How to reach: Take the MTR to Central/Hong Kong station and take Exit D. Then transfer to Bus 70 from the Exchange Square Terminus to Aberdeen. When you arrive at the Aberdeen Terminus you need to cross the highway. Then use the pedestrian tunnel, after that turn right and walk towards the pier for the free ferry shuttles to the restaurant.
43. Saffron Cruises Junk Charters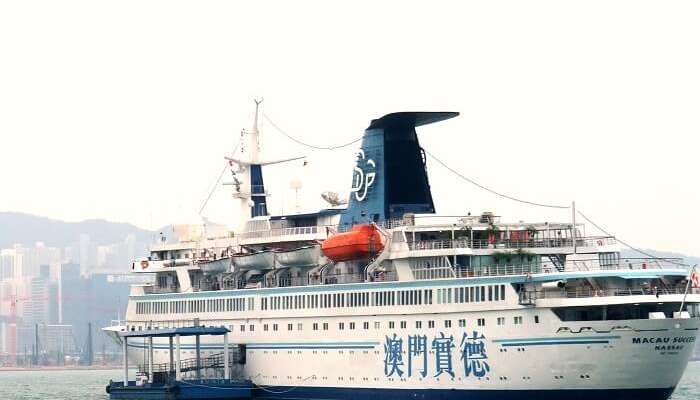 Take a short break from rushing to tick-off all the tourist areas in Hong Kong from your bucket list, and get ready for a relaxing experience. This is the city's biggest fleet of junk boats which are designed in traditional Chinese style. Take a ride in one of them to get a good view of the islands and even go on the ones you want. The blue waters spreading apart as the boat lunges forth is a quiet experience, no matter how many boats rides you have been on. You can even host dinners and parties in them.
How to reach: Contact them from their website number for precise details.
44. Tsim Sha Tsui Promenade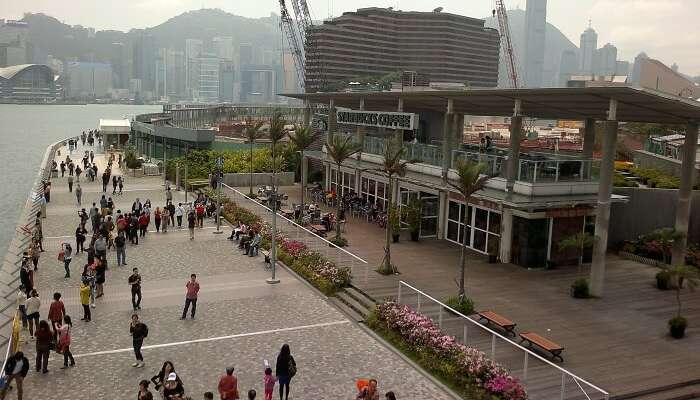 What makes Tsim Sha Tsui promenade one of the best tourist places in hong kong is that you can enjoy the breathtaking skylines of Hong Kong from this point. Starting from the clock tower and stretching to Hung Hom, you get the uninterrupted views of the beautiful, modern island. Lay your eyes on the dramatic architecture and topography of the city that will leave your jaw dropping.
How to reach: The promenade is located next to Star Ferry Pier. Take a subway to Hong Kong Cultural Centre to reach this part of the island.
45. Tai Mo Shan Peak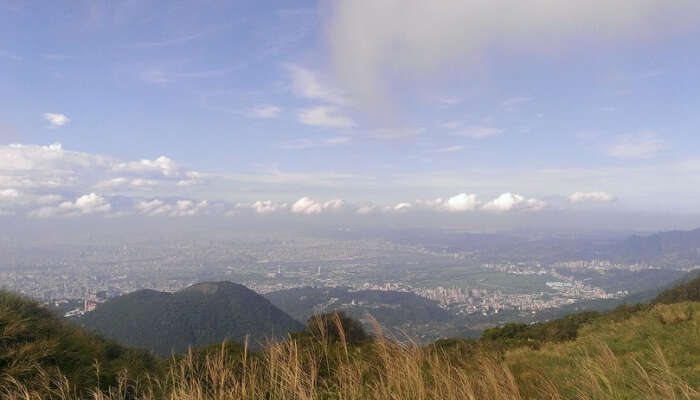 If you want to get away from all the hustle bustle and rather follow an adventure trail, then you should head to Tai Mo Shan trail. Not only it is a great retreat for nature lovers but also offers exhilarating views of the city. An extinct volcano, feel being on a cloud nine when you are on the pinnacle. Being one of the famous tourist places in Hong Kong it is also the most hiked mountain in Hong Kong.
How to reach: The last road point is the gat of Tai Mo Shan. You can either take a car or bus ride to this point and then hike all the way upto the peak.
Further Read: Macau vs Hong Kong For Honeymoon: What's Your Pick?
Hong Kong is a beautiful amalgamation of the traditional Chinese heritage coupled with modern technological updates. It's a great vacation city to head to do experience a culture which is completely different from anything ever experienced before. When there's so much to explore at this fascinating destination, shouldn't you be packing your bags already? Book your tickets to Hong Kong right away. But before that, don't forget to share this with your friends and let them too be a part of the fun!
Frequently Asked Questions About Tourist Places In Hong Kong
Q. How safe is Hong Kong for tourists?
A. Hong Kong is one of the safer cities in the world, with low crime rates and excellent standards of medicine and healthcare. Unless you're planning to join the riots or walk into the Central Government Buildings in Admiralty, Hong Kong is as safe today as it ever has been.
Q. Is Hong Kong dangerous at night?
A. Hong Kong is generally a safe city to travel around, even alone at night, but always use common sense. After dark Stick to well-lit streets if walking; note the MTR is perfectly safe to use at night.
Q. Is Hong Kong safe for female Travellers?
A. Solo female travel in Hong Kongis extremely safe, but it's always advisable to be extra cautious.
---
Looking To Book An International Holiday?
Book memorable holidays on TravelTriangle with 650+ verified travel agents for 65+ domestic and international destinations.
---
People also Read:
Hong Kong In December Cafes In Hong Kong Waterfalls In Hong Kong
Comments
comments