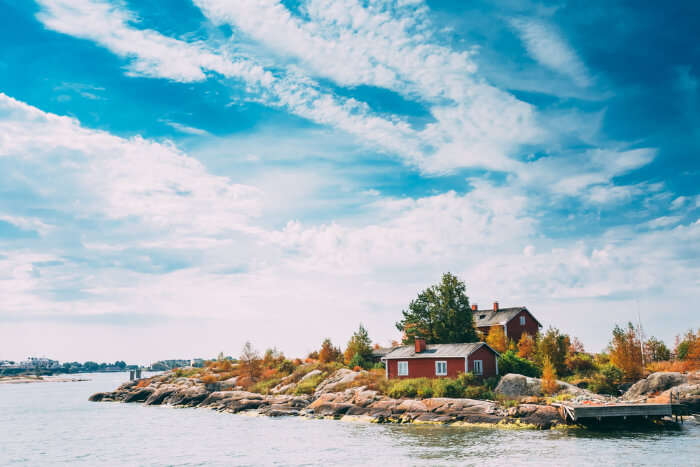 A northern European country bordering Sweden, Russia, and Norway, Finland is a country where people generally spend their holidays, or even weekends relaxing and enjoying at lakeside cottages. People visit these cottages and spend time fishing, skiing, swimming, and enjoying other activities. Also, with hotel accommodations being expensive, renting one of these cottages is a better and more preferred option for every traveler. Cottages in Finland are thus, a perfect getaway option for both winters and summers.
Cottages In Finland
This article provides you with a list of some of the best cottages in Finland, that are sure to make your stay in this fascinating country, a memorable experience:
1. Eemilin huvila
This cottage offers the beautiful views of lake Puula from every window and from the huge terrace of the cottage. Offering peace and solitude, this cottage is the best destination for a relaxing holiday throughout the year. Architecturally an old-fashioned cottage, it boasts of various modern facilities like free Wi-Fi, karaoke machine, and a sauna room. Tourists can also indulge in outdoor activities like boating, fishing or birdwatching.
Where: Kangasniemi, Southern Savonia, Finland.
Must Read: 12 Most Fascinating Places To Visit In Finland, The Unspoilt Paradise
2. Island cottages in the Baltic sea
One of the most prolific and best summer cottages in Finland, these cottages are situated on the private islands near the Baltic sea. Offering a quiet and luxurious place to live in, these Island cottages are a perfect relaxing holiday destination with dense forests surrounding it. People staying at these cottages can enjoy boating as well as fishing in the Baltic. Also, there are various shops and restaurants in the vicinity of these cottages.
Where: Nauvo, Southwest Finland, Finland.
3. Cottages in Nuuksio National Park
Offering a great summer cottage life, these are one of the best holiday cottages in Finland that every traveler should visit at least once. As these cottages are situated close to Helsinki, capital of Finland, one can cut short on expenses by staying here whilst exploring the amazing metropolis of Helsinki. Being inside a National park, the overall atmosphere and aura of this place is scintillating. You can also opt to spend a night in one of the lovely log cabins inside the national park.
Where: Nuuksio National Park, Helsinki, Finland.
Suggested Read: This Sled Hotel In Finland Lets You Move Around For The Best Views Of Northern Lights!
4. Pearl of the North in Koli National Park
Established in 1991, the Koli National Park in the Karelia region of Finland is a wonderful area with breathtaking scenic beauty on offer. This stunning National Park also boasts of some of the finest rental cabins. The Pearl of the North cottage is one such example of a great summer cottage. With spacious rooms and all the modern facilities, along with the ski resort being only 30 kms away, this is surely one of the best luxury holiday cottages in Finland.
Where: Finland Cottage Rentals, Joensuu, Finland.
5. Aamunkoi Cabin in Lapland
Lapland is visited by tourists from all over the world every year in order to chance upon the once in a lifetime opportunity to see the northern lights. As a result, the hotels here are very expensive and can prove to be a nightmare if you are on a shoestring budget. So, a better and more pocket friendly option while staying in Lapland is Aamunkoi cabin. Amongst the most beautiful Aurora viewing cabins in Lapland, Aamunkoi is stunning with a cosy interior and excellent architecture.
Where: Sipolanniementie 88, Lapland, Finland.
Suggested Read: 10 Must-Visit Places For A Finland Honeymoon As Romantic As The Northern Lights!
6. Lake Saimaa Cottage
Home to the most endangered species in Finland, the Saimaa ringed seal, Lake Saimaa is a beautiful lake where one can indulge in various activities like fruit picking as well as ice fishing throughout the year. Loikansaari offers various cottages on the shores of the Saimaa lake that provide tourists with warmth and comfort that helps them enjoy a carefree holiday.
The tourists can indulge in activities like swimming, fishing, and canoeing during summers while the winter offers them to participate in activities like skiing, hiking, and fishing through ice holes. Thus, these cottages are amongst those fishing cottages in Finland that offer fishing throughout the year to the visitors.
Where: Loikansaari, Savonlinna, Finland.
7. Inter Chalet in Tampere
Based in the exuberant city of Tampere, these cottages by German based Inter Chalet offer authentic traditional styled cottages with modern facilities like internet access and air conditioning. A large number of lakes and dense forests surround this city and hence, there are a variety of activities the visitors here can indulge in. The cottages are commodious and airy, making sure that there is always fresh air and enough light inside the rooms. These are one of the most popular holiday cottages in Finland.
Where: Inter Chalet, Tampere, Finland.
Suggested Read: Glass Igloo In Finland: A Dream Stay That Must Be In Your 2022 Bucketlist
8. Hiidenkivi
Built in 2002, Hiidenkivi is amongst the most spectacular cottages in Finland that is the perfect destination for all the tourists who love being amidst nature and who love peaceful and serene places. Amenities like TV, internet access, refrigerator as well as various other electrical equipment are provided in the cottages in order to give the tourists as much comfort and facilities as possible.
Where: Hiidenniementie 474, 51270 Kangasniemi, Finland.
9. Hanasaari
This cottage is on an island near Kangasniemi village and is the perfect example of a traditional Finnish lakeside cottage as there is no electricity and the basic amenities provided are gas cooker and gas fridge. Also, there are oil lamps and battery powered reading lamps for illuminating the cottage rooms. There is also a sauna building as well as a sleeping hut for the visitors to relax.
Where: Kangasniemi village, Southern Savonia, Finland.
Suggested Read: This 'GoT' Ice Hotel In Finland Is The Ultimate Place To Live Like The Lady or Lord Of Winterfell
10. Fairy Tale Cottages in Levi and Koli
Cottages in Finland are generally traditionally styled that offer a few modern facilities. But SuomenSatu offers unique 'fairy tale cottages' throughout the year in Levi and Koli. These modern cottages with spacious and luxurious rooms are every traveler's delight and provide them with the opportunity to participate in snowboarding and fishing activities. There are also local ski resorts in the vicinity of these cottages.
Where: Levi resort and Koli National Park, Finland.
Further Read: 10 Best Airports In Europe For An Enjoyable Journey To Your Dream Destination
These cottages would make for a great stay, to relax, and enjoy with your family and friends whilst exploring the amazing country of Finland. Book your trip with TravelTriangle and stay at these comfortable cottages in Finland.
---
Looking To Book An International Holiday?
Book memorable holidays on TravelTriangle with 650+ verified travel agents for 65+ domestic and international destinations.
---