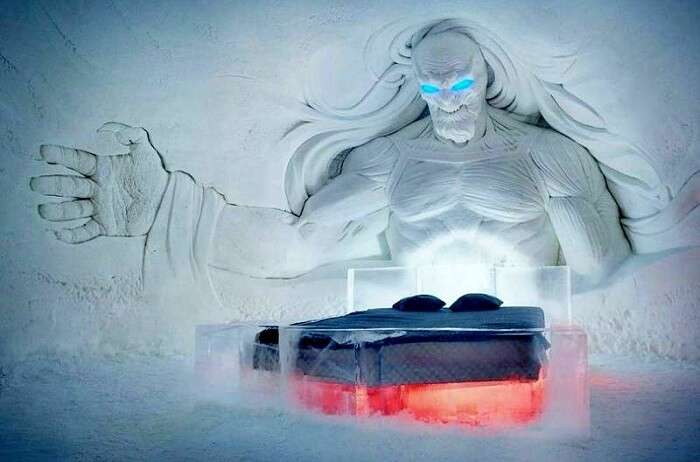 If 'Winter Is Coming' has been your favorite line ever since you fell in love with the popular TV series, then this 'Game Of Thrones' ice hotel in Finland is exactly where you need to holiday at this year. But, if by any chance, you're not a big fan of the heart stealing show, this is still the winter wonderland you have been looking for all your life. From staying here to witnessing the gorgeous Northern Lights, there's a lot to do!
Perfect for everyone who loves to embrace the chill and just cannot get enough of Winterfell, this Lapland Hotels SnowVillage in Kittila looks like a dream come true. While this concept isn't new as the shape & design of the SnowVillage changes every year, the theme for the hotel this year, which is a result of a partnership between the hotel and HBO Nordic is absolutely refreshing.
What's So Wow-Worthy About The Ice Hotel In Finland?
Well, if this has been a constant question on your mind, take a back seat because this isn't any ordinary hotel that has tried to adapt the beauty of the TV show. Made with 44 million pounds of snow and over 771,000 pounds of ice, this 'Game Of Thrones' ice hotel in Finland offers the ultimate 'North' experience.
Suggested Read: If You Can't Fly Like A Bird You Jolly Well Can Stay Like One At This Bird Nest In Kenya!
Within an area of 20,000 square metres, the SnowVillage boasts a Snow Hotel, an Ice Bar & Restaurant, and an Ice Chapel. The hotel specifically has rooms and suites that have been designed by sculptors from Russia, Poland, Latvia, and Ukraine. So, don't get too surprised if you find a white walker with glowing blue eyes around, a life-sized iron throne, or come across the scary Braavosi Hall of Faces.
Apart from enjoying a stay at the hotel, you could also take a guided tour of the village on a day trip, and enjoy a buffet breakfast.
How Comfortable Is The Accommodation?
Suggested Read: The Vipp Shelter In Sweden Brings You Closer To Nature By Building Your Private Hotel In The Forest
While the ice hotel might sound like a difficult place to stay at, it isn't. Thanks to the high-quality thermal sleeping bags that are given to the guests and a hot berry juice, the ambience feels warm even when the temperature drops to – 5 degree Celsius. Even though proper services are provided, it is recommended to stay here for a maximum of one night due to the icy conditions. However, you can take the plunge and stay in the warm log cabins for a longer time.
The beds made of ice, the frozen dining furniture, and a menu that has reindeer steak all would remind you of the beauty broadcasted on the show, and that's what makes this hotel in Lapland so exquisite.
Suggested Read: The Snow Lover's Ultimate Go-To Guide For Finland In Winter 2022
What Are The Opening Hours And The Price?
The SnowVillage is open for visitors throughout the day until April 8, 2021 because that's when the spring will arrive and the whole ice hotel would melt away. As far as the price per night is concerned, the hotel charges 220€ for a standard room and 294€ for a suite. For an experience like this, this sounds like a great price, doesn't it?!
Isn't this just the ideal place to live and feel like the Lord or Lady of Winterfell yourself? We just cannot stop dreaming about it. What about you? Let us know in the comments below!