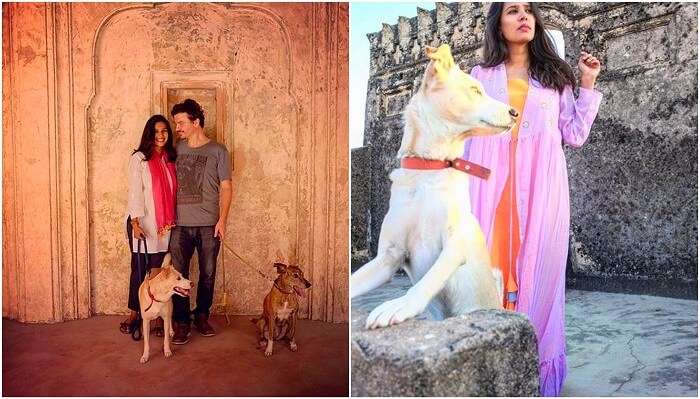 Delhi based couple, Divya Dugar and her husband are no ordinary travelers. They believe everything nice in this world should be shared with their most faithful companions – their pet dogs, Tigress and Marcopolo, and that means just like them, the pets get to travel A LOT too!
Tigress and Pondi were Divya's office dogs but once the office shut down, they were on road and Divya just couldn't see that. She adopted both the pups and decided to take care of them in the best possible manner. Unfortunately, Pondi passed away last year leaving her pup Marcopolo behind and that is when Divya and her husband decided to travel across India with their two faithful friends. The couple wanted to see how it feels like traveling with a family and also wanted to raise awareness about rescuing and adopting Indian dogs.
How Was Their Experience In India traveling with dogs?
Suggested Read: Travel Adventures Of A Dog
Based on their experiences, Divya believes India is not one of the most pet friendly countries in the world, however, that didn't deter them from taking their dogs wherever they wanted. Yes, there were many challenges on the way but sometimes things also went way more smoothly than expected.
There were people who laughed at us and refused a cab ride when they didn't want dog hair on their car seats but there were also a lot more people who were friendly and came forward to help us with smiles on their faces.
She also thanks Indian railways who proved to be a great help when it came to a train journey with her dogs. Their trip from Delhi to Madgaon of 32 hours was a huge success and the dogs loved spending their time looking out of the moving train while enjoying their treats. They did, however, prepare well before traveling on the train and took all the necessary meals, medicines and even made a list of stops for toilet breaks.
Which is the most pet friendly city/state in India?
According to the couple, Goa is one of the best places for traveling with your pets for it has a variety of accommodation options as per your budget and a lot more pet friendly places to chill at.
Suggested Read: 15 Best Travel Bloggers On Instagram You Need To Follow Right Away
Currently working on a travel guide for hotels and best experiences for pet parents, this Delhi couple exploring India with their dogs no longer believes in following a particular recommendation or a list but instead feels it is all about perspective and charting your way through the country with your best buddies. Oh and yes, their Instagram account is LIT with their pet travel pictures! Go check them out.