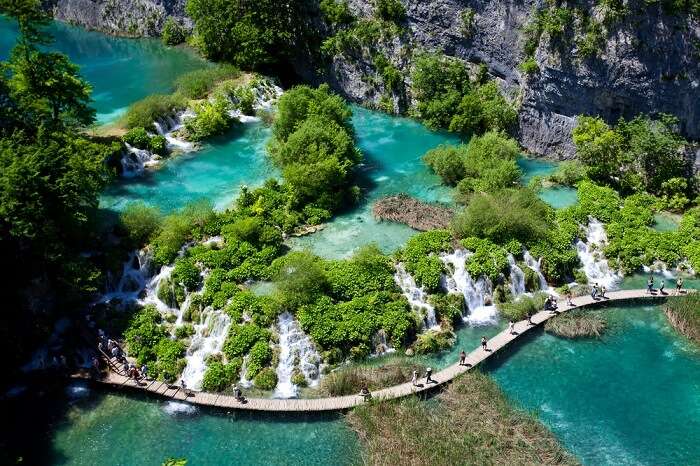 With a long and stunning coastline and exquisite cities dotting its shores, Croatia is a popular tourist destination that caters to several hundred hungry travelers year after year. The dreamy islands in the Adriatic Sea, the hot sun that bathes the valleys, lakes, and mountains leave travelers asking for more. This modern country with really modern features embraces a laidback vibe.
Top 10 Croatia National Parks To Visit On Your Croatian Holiday
It is an incredibly diverse country that is filled with history, culture, great food, and beautiful nature. The national parks in Croatia are a treasure trove of flora and fauna along with mesmerizing scenic views. Listed below are our best picks of Croatia national parks.
1. Plitvice National Park

Located in the heart of central Croatia, Plitvice Lakes National Park has a chain of 16 terraced lakes that are joined by stunning waterfalls that gracefully flow into a limestone canyon. There are a number of hiking trails and walkways that wind around the waters and offer scenic views. An electric boat available to tourists link the upper 12 lakes and 4 lower lakes. It is one of the best Croatia national parks and is home to some of the rarest species of flora and fauna.
Best time to visit: Year-round
Plitvice Lakes national park entrance fee: One day adult ticket INR 562 in winter; INR 1124 in April-June and Sep-Oct; and INR 1826 in July and August
Timings: 7 AM – 7 PM
Distance from Zagreb Airport: 139km
How to reach: There are a number of direct buses from Zagreb main bus station that ply to Plitvice Lake. The journey is about 2 hours and 20 minutes.
Must Read: 10 Best Adventure Sports In Croatia For Both Adventure Junkies & Rookies

2. Krka National Park

Situated along the bank of the beautiful Krka River in southern Croatia, Krka National park is a must visit when on a trip to Croatia. This Croatia national park near Split, has a series of 7 cascading waterfalls and a unique ecosystem. Skradinski Buk waterfall, that lies in the south of the national park is flanked by traditional watermills. This national park is only one of the two sanctuaries in Croatia that are home to both lakes and waterfalls. An outlaid promenade walkway with wooden planks and paths make way for an enjoyable stroll through the park.
Best time to visit: June & September
Entry fee: INR 1657 during peak season. INR 1215 during the middle season and just INR 331 in the winter.
Timings: 08:00 to 20:00 (Skradinski Buk entrance), 09:00 – 20 00 (Roski slap entrance).
Distance from Split Airport: 58km
How to reach: There are daily buses from Split Airport and also the Split Bus Station to Sibenik. From here, board a bus that takes you to Skradin, a small town just at the entrance of the park.
3. Risnjak National Park

Risnjak national park in Croatia is one of the most mountainous and heavily forested regions in the country, just a few miles from Rijeka. Most parts of the national park are lush virgin forests with barely any settlements. The vast park makes a great place for hikers, climbers, and trekkers to explore. Visitors can also enjoy strolls on a circular walkway which traverses through areas of vivid vegetation, beech and pine trees carpeted with wildflowers. The national park also organizes wildlife watching.
Best time to visit: Any time of the year
Entry Fee: INR 500 for adults, free for children under 7 years
Timings: 24 hours
Distance from Zagreb Airport: 118 km
How to reach: Board bus number 940 from Zagreb that will take you to Rijeka in about 2 hours and 33 minutes.
Suggested Read: 10 Best Places To Visit In Dubrovnik For An Authentic Croatian Experience

4. Paklenica National Park

This national park in Croatia is a protected area known for its two dolomite limestone canyons – Mala Paklenica, and Velika. One of the oldest after Plitvice National park, the park also has a number of karst rock formations and dense black-pine forests. If you have the legs for it, the trail in the park will take you atop the highest peak of Vaganski at 1757 m. Enjoy the guided tours and stay at many shelters and accommodations in the park. Tourists may also have a quick bite at Denko's café just outside the entrance to the national park.
Best time to visit: Early spring and late summer
Entry Fee: INR 440 for adults, Daily parking ticket is INR 110
Timings: 6.00 am- 8.00 pm
Distance from Split Airport: 137 km
How to reach: Take a bus from Split to Starigrad Paklenica and hire a car from Starigrad to the national park.
5. Kamenjak National Park

About 12 km to the south of Pula, you will find the entrance to one of the coolest nature parks in Croatia, Kamenjak national park. The 30 km long, rugged coastal line that surrounds the national park has close to 20 bays, beaches, and inhabited islands, making this sanctuary a rather popular haunt during summer. This national park is great for hiking, trekking, and diving. Located at the peak of the Premantura Peninsula, it also features a bike trail with signposts and a dinosaur path with actual fossil steps.
Best time to visit: Spring and autumn
Entry Fee: INR 883
Timings: 7 AM – 9 PM Working hours of toll points at the entrances to Lower Kamenjak and the Medulin Archipelago: 7 AM – 8 PM.
Distance from Pula Airport: 39 KM
How to reach: Get onto bus number 28 from Pula to reach Premantura. The journey will take about 40 minutes.
Suggested Read: 10 Best Things To Do In Split For Witnessing The Romanesque Wonders Of Croatia

6. Brijuni National Park

Brijuni, a group of 14 islands is yet another magnificent national park in the northern Adriatic Sea. Cycling enthusiasts can head out on the bicycle trails that stretch across 13 miles. There are bicycle programs available in the months of April, May, October, and November. The park is known for its many unique diving locations and cruise tours. Brijuni is home to over 700 types of vegetation and close to 250 species of rare birds that make it an ideal getaway for bird watchers.
Best time to visit: All year round
Entry Fee: Free
Timings: 8AM to 8PM
Distance from Pula Airport: 39 KM
How to reach: Take a local bus to get to Fazana the main bus station in Pula which is about 8 km away.
7. Mljet National Park

Mljet the southernmost and easternmost of the larger Adriatic islands of the Dalmatia region of Croatia, is home to the largest pine forest, large salt-water lakes, and an untouched national park – Mljet national park. Spanning over 5400 hectares of both land and sea, this national park offers a ruggedly magnificent coastline, cycling tracks, shady walkways, ancient ruins, and stunning saltwater lakes. Be sure to take a stroll along the shores of the two lakes that are shaded by beautiful trees.
Best time to visit: March to June, Sept to November
Entry Fee: INR 990-1100
Timings: 8 AM – 8 PM
Distance from Dubrovnik Airport: 125 KM
How to reach: By regular bus shuttle service from Dubrovnik airport to Prapratno ferry port.
Suggested Read: 10 Surreal Things To Do In Zagreb For An Unforgettable Holiday In Croatia

8. Northern Velebit National Park

Every national park in Croatia is unique and spectacular – but none as stunning as Northern Velebit. Located in the northern section of the magnificent Velebit mountain range, the park is known for its preserved biodiversity and pristine wilderness. Premužić's Trail, one of the most famous crisscrossed with mountain trails, runs past the most beautiful and interesting parts of the national sanctuary. This path also offers magnificent views of the vast Adriatic Sea and its many islands.
Best time to visit: May to November
Entry Fee: INR 500 per person
Timings: 8 AM – 7 PM
Distance from Zagreb Airport: 200 km
How to reach: The best way to reach this remote national park is by car. The most frequently used route is the one that passes through the town of Otočac.
9. Kornati Islands National Park

The Kornati National Park, often referred to as "nautical paradise", is a one of its kind park, that will leave you spellbound. Explore the many cliffs of the park whilst sailing among the stunning islands of Kornati national park, taking breaks to swim and snorkel in the crystal-clear sea. Sunbathe on sandy beaches and have lunch in the cozy restaurant inside the park. The park also has 8 cleared up and marked hiking trails from where it is possible to view the Kornati archipelago at its majestic best.
Best time to visit: Summer
Entry Fee: Individual entrance per boat starts at INR 1657.
Timings: Park is open for visits through the day all year round
Distance from Zagreb Airport: 200km
How to reach: You visit the islands on a day boat trip from Zadar by booking a full-day excursion in advance.
Suggested Read: Krka National Park: The Land Of 7 Mystical Waterfalls & Other Geographical Wonders

10. Biokovo Nature Park

Proclaimed as a nature park in the year 1981, Biokovo Nature Park is rocky, wild, beautiful and untamed. It has a number of snaking paths and trails that make their way through the rough terrains of the park, making it one of the best Croatia national parks in the country to enjoy some delightful trekking. The majestic mountains in the park offer panoramic views of the Adriatic Sea. Interspersed and tucked away between the cliffs and peaks, are a number of caves that tourists can explore. The nature park is home to over 1500 kinds of plant species.
Best time to visit: May – September
Entry Fee: INR 550, Children up to 7 years free of charge.
Timings: Open 24 hours
Distance from Split Airport: 120km
How to reach: By car only
Further Read: Bored Of Bali? Lombok Island Is The Next Best Place To Be For A Tropical Island Vacation
While there a number of other countries that boast of picturesque landscapes and undisturbed wild natural area, Croatia national parks has some of the best-preserved flora and fauna in the world. This beautiful country is the perfect place to enjoy a great wildlife vacation. Plan a vacation in Croatia to experience the beauty and splendor of the region.
People Also Read
Arizona National Parks Seychelles National Parks Queensland National Parks
---
Looking To Book An International Holiday?
Book memorable holidays on TravelTriangle with 650+ verified travel agents for 65+ domestic and international destinations.
---