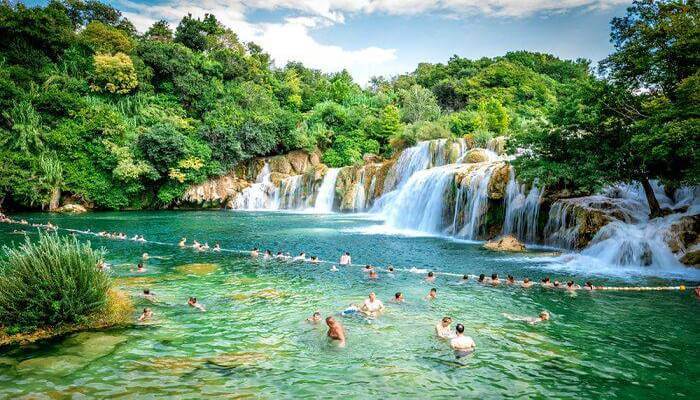 Krka National Park in Croatia is famous for its cascading waterfalls and most alluring landscapes serving as a cultural, educational, and informational center for the tourists.
If you are backpacking in Croatia and have a day in your hand while you are in Split, the best way to utilize that day is by visiting this national park which boasts of dreamy waterfalls and calm Krka River. Not only will you cherish the adventures in this park but also witness a number of geographical wonders that you have only studied in your books.
Here is everything you need to know to spend a fun-filled day in the Krka National Park:
Krka National Park Information

Location: Skradin, Croatia
Area: 109 kilometer square
Established: 1985
Coordinates: 43°48′07″N 15°58′22″E
Geography: Krka National Park is located about halfway in between Zadar and Split, right in the middle of Croatia's stretch along the Adriatic Sea. The Southern-European region has preserved ecosystems. Krka Falls inside the park has the second largest concentration of lavender per square kilometer which invites lots of bees and wasps in the area. Krka River flows through the region and falls into the Adriatic Sea forming a Ria, an exceptional phenomenon which happens when a river falls into the sea.
Krka National Park Entrance Fee
Tickets for Krka National Park can either be bought online or on arrival. The entrance fee in the peak season i.e. July-August costs 150 Kuna which is INR 1,600. The entrance fee includes the boat trip from Skradin Krka National Park.
During the mid-season i.e. September to October, it costs 110 Kuna which is around INR 1,110.
In the low season of winter months, the prices drop down to 30 Kunas which is INR 300. But most of the attractions and even boat rides are closed during this time.
Krka national park opening times: 8 AM to 8 PM
Top Experiences You Must Have Krka National park
1. Swimming in Skradinski Buk

Image Source
In Krka National Park, swimming in Skradinski Buk is one of the most refreshing experiences that you must partake during your visit. Skradinski Buk is Europe's one of the most beautiful calcium carbonate waterfalls which tumble into a swimming pool. The refreshing clear water pool with high waterfalls at one end looks so inviting to take a dip inside. Even if you do not wish to go inside the water, you would want to sit for hours in this places surrounded by lush green vegetation and contemplate about life.
Keep in mind: The best time to go swimming in the natural pool would be from July to August. Since it is the peak season, you would be sharing the pool with a lot of other visitors. In winters, the park does not provide the transport to the falls but you can come on your own if you wish.
Must Read: 10 Best Dubrovnik Beaches For Soothing Every Mood On A Croatian Vacation

2. Watching the Roski Slap waterfalls

Krka National Park, Croatia is famous for its seven enchanting waterfalls. The cascading waterfalls look so dreamy and are a popular attraction in the park. Roski Slap is one of the six waterfalls and is called 'necklace' by the natives because of the lush green vegetation around it. The visitors can watch the majestic attraction from the standing area near the falls.
Do not miss: There is even a water mill on the eastern side of the riverbank which is still in use to grind wheat. The restored mills will take you back to primitive times giving you a taste of simpler lives. You can even tread the old road which dates back to Roman times if you are feeling explorer enough.
Suggested Read: 15 Best Croatian Waterfalls That Are A Perfect Respite From Summer Madness

3. Finding peace at Krka Monastery

A popular attraction and also one of the entrance gates, Krka Monastery in the park is worth the visit. Take a stop at the faith station in Krka Monastery where you will find a unique combination of Byzantine and Mediterranean architecture. The monastery sits peacefully above the quiet river and a small lake. The serenity of the surroundings goes really well with the picturesque backdrop the monastery is located in. You can spend hours meditating here and getting to know about Christianity.
How to reach: There is a boat ride which leaves by arrangement from Roski Slap to Krka Monastery
Suggested Read: 10 Croatian Food Items That You Should Definitely Try Before You Die!

4. Taking a history lesson in Ozidana Pecina Caves

Stumble upon the Ozidana Pecina Caves which are located on the left bank of the Krka River above the Roski Slap. The cave will take you on a prehistoric journey where you will find human traces dating back to the Bronze Age. Learn how your forefathers used to live in the era with their stone and ceramic tools, artifacts, and preserved skeletons. It is one of the exciting and awestruck things to do in Krka National park.
Suggested Read: 10 Croatia Beach Resorts For Everyone Planning A Lovely Adriatic Vacation

5. Admiring the Remains of Burnum

One of the unusual yet interesting things you can stumble upon inside the Krka National Park are the Remains of Burnum. Just 6 km past the Krka Monastery, you will find the ruins of the only Roman military amphitheater in Croatia. All ruins have a story to tell, so does this one. The dilapidated structure will make you think about the life of troops station here. The vicinity also provides some awesome viewpoint for waterfalls.
Suggested Read: 12 Buzzing Croatia Festivals To Experience The Country's Culture & Enjoy Every Bit Of It

6. Visiting the Island of Visovac

As old as 1445, the tiny island of Visovac in the Krka River treasures a great amount of history and culture. The island was first settled by Franciscan monks who built a monastery in 1445 which was later demolished. Thankfully, the old monastery has been restored for the tourists and visitors and has well-preserved artifacts and a library. You will also find a church dating back to 1576 on the island of Visovac.
How to reach: You can take a boat from Lozovac to the island of Visovac. 30-45 minutes is enough time to spend on the tiny island.
Suggested Read: 10 Best Croatian Islands That Are Perfect For Your Next Beach Holiday!

7. Hopping on the boat ride in the park

One of the exciting things to do in Krka National Park is taking the boat ride. The park authorities organized boating excursions on the Krka River in the park which takes you to Visovac Island, Roski Slap, Krka Monastery, and the fortresses of Trošenj and Nečven. Enjoy the scenic vistas of mother nature during the exciting boat excursion.
Keep in mind: The boat excursions follow a timetable and all the bookings must be made through the organized groups with the Directorate of Krka National Park. Also, these excursions are only available during the peak season.
Suggested Read: 10 Artsy Places To Visit In Croatia To End One's Quest For The Archaic And The Lively

Krka National Park Map
How to reach Krka National Park

Krka National Park has five entrances; Lozovac, Skradin, Roški Slap/Laskovica, Burnum/Puljani, and Kistanje/Krka Monastery, of which Skradin is the most common one. If you are traveling from any part of the world, you should know that the nearest airports to the park are Split Airport and Zadar Airport which are both just hour's drive from the park.
Getting from Split to Krka National Park
There are daily buses available from Split Airport and bus station to Krka National Park and it only takes about 1 hour and 45 minutes to get here. The airport bus can be booked online from the website of Split Airport. If this bus is not available, you can take a bus from Split to Sibenik for Skradin where the park is located.
If you think you will get confused about changing buses on the route, you can join a pre-organized Krka National Park Tour which is a bit more expensive but are worth for their comfort and convenience.
Tips: know before you go
Though all the highlights in the park can be covered in two hours, it is suggested you spend half a day to have a full-fledged experience in the park.
It is advised you book your tickets online before visiting Krka national park, especially during the peak season to avoid standing in long queues. You may also join a tour to avoid all the hassle.
Most of the attractions in the park are wheelchair accessible except some waterfalls due to rugged terrain.
It is advised you wear comfortable shoes with good traction. Also, carry your own swimming suit if you want to take a dip in the natural pool.
Further Read: 10 Croatia Beach Resorts For Everyone Planning A Lovely Adriatic Vacation

Croatia is an interesting country to visit on your Europe Tour as it offers a variety of experiences and culture. Make sure you add Krka National Park to your itinerary during your visit to the country.

People Also Read
Fiordland National Park Cairngorms National Park Royal Manas National Park
---
Looking To Book An International Holiday?
Book memorable holidays on TravelTriangle with 650+ verified travel agents for 65+ domestic and international destinations.
---