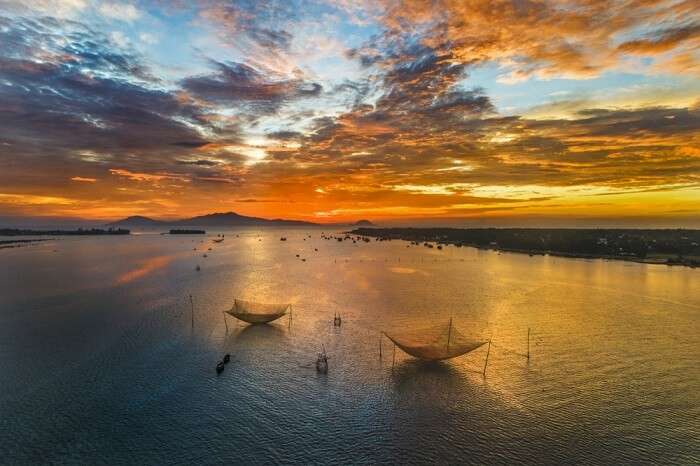 Located to the northeast of Hoi An in Cam An ward, Cua Dai Beach is at the intersection of Thu Bon River, Truong Giang River, and De Vong River before pouring into the South China Sea. It has the alluring three kilometers stretched white sandy shores and clear blue sea water with tender waves. It has the paradise view for a seaside relaxation from all hectic lives. Cua Dai Beach has water current which is gentle enough for swimming and floating around. Because of the monsoon cycles in Southeast Asia, swimming is really safest from April through October. There are places like huts made for you to change and get comfortable for the beach. There is not much residential around with countably few bungalows.
If you are imagining to have a vacation with your family or alone for some calming time with yummy foods and chilling cocktails, then this place assures you for satisfying your vacation feels. Cua Dai beach restaurants have the best seafood with very refreshing cocktails and drinks. It is always a good idea to have a good swim or take a nice sunbath and then find some tasty food to fill your hunger and thirst which are served directly by the vendors which are lined up around the shoreline. There are many other beaches in Vietnam but such amazing coastal shore and crystal blue seas are found particularly in Cua Dai beach Vietnam.
Exploring Cua Dai Beach In Vietnam
With its long and wide geography, this beach offers a private spot for everybody and can stay for as long as they want in the shade of plenty of palm trees lined around. The vendors around definitely have a lot of offers for you to buy souvenirs, foods, drinks and many more if you are looking for a good deal to purchase items to take back home as a gift or as memorable pieces as well. It always a good idea to visit the beach at sunrise for a morning freshening swim and to see the fishing boats to catch the fishes to sell to the restaurants later. In the day, the good sunbath under a palm tree is promising as you don't have to worry about your body spending a lot of time in the sun.
However, to complete;y ponder upon the beauty of the Cua Dai Beach, voyagers should go for a walk on the shoreline around evening time. Night resembles a light garden with hurricane lights of vendors and with the moon and stars shining, it's like a movie scene along with the sound of the waves, the place is just so much blissful. One can also enjoy some seafood for dinner. The seafood here is very fresh and different. The ones which are popular here are: salted crab roasted, baked clams with lemon salt, steamed red snapper, grilled tiger prawns and steamed millet. These delectable dishes can be enjoyed with famous wine-Phuoc Trach and vegetables-Tra Que to delight your trip even more.
Must Read: 10 Places To Visit In Da Nang That Must Be On Your Vietnam Itinerary In 2022
Restaurants & Hotels At Cua Dai Beach
There are plenty of restaurants out there near the beach with the best reviews that serve different types of cuisines. Cua Dai beach restaurants and cafes have menus that can satisfy the hunger of the visitor by serving from European to the Caribbean or from French to Australian. Some very close and famous restaurants are La Petite Pâtisserie, Phuong Thinh, The Old Man Restaurant & Bar, Mama Ly etc. You can also get yummy cakes and soups if you feel like them. Not to forget, the drinks are considered to be magnificent.
Also, there are multiple hotels from which some are very affordable whereas some are very luxurious. Lots of them considered being excellent with great food and facilities. Moreover, people have also reviewed how kind and accommodating the staff are. They are pretty close to the beach so you can visit whenever your heart wants to. Cua Dai beach hotels also have pools and great scenery of beach and rivers that'll just make your stay magnificent. Waking up to the sound of the waves and top notch staff welcoming you and helping you throughout the stay is just the best kind of facility you expect from a hotel.
These hotels listed below are some pretty expensive hotels in comparison to other hotels there but with great reviews:
1.Victoria Hoi An Beach Resort and Spa(0.7 km from the Cua Dai Beach)
2. Boutique Hoi An Resort(0.7 km from the Cua Dai Beach)
3.Palm Garden Beach Resort and Spa(0.4 km from the Cua Dai Beach)
4. Silk Sense Hoi An River Resort(0.4 km from the Cua Dai Beach)
Suggested Read: Enjoy Authentic Vietnamese Hospitality In These 10 Cheap Homestays In Hanoi
Cua Dai Beach After Erosion
There was a lot of discussions about if the Cua Dai Beach was disappearing after the erosion. The Cua Dai Beach erosion has been expected since 2004 but it has increased in recent years. It certainly has damaged some parts of the ocean that cannot be considered even walkable but the condition has improved very nicely as the locals have also supported in preserving it. The locals have used sandbags to protect whereas the resorts have built their own rock walls and breakwaters. There has been a lot of construction work going on lately to make the most out of what is remaining. Well, it is not that disastrous as it may sound, but this has definitely affected in the number of visitors and also the rates of hotels and restaurants have gone a little down. There are still many visitors enjoying around the beach and supporting the people there as much. The government is also doing best on its part for the betterment of the place as soon as possible. The palm trees still stand long and tall providing the best pictures and shades, one can literally choose a tree to rest upon.
Suggested Read: These 8 Waterfalls In Vietnam Are Beautiful Enough To Sweep You Off Your Feet!
Best Time To Visit Cua Dai Beach
The weather here is pretty hot normally during the dry season but the beach is only fun in the sun and it makes it all cool. Hoi An is a city that is commanded by a wet (storm) season and a dry season with little in the between. The dry season from February through May brings bunches of mellow warm climate combined with low stickiness, this is thus a period of time the travel is in its top in Hoi An so it may be worth booking ahead for your outing. Things get steadily hotter with temperatures hitting 38°C in July, developing to a season change in September. The yearly rainstorm conveys a lot of rain to the territory with consistent showers ensured basically consistently from September to January. Flooding is typical amid this time with substantial rain hitting in October, typhoons are also not considered unusual amid the rainstorm season. As the rain moseys and temperatures chill off to somewhere in the range of 19°C and 24°C in December, this makes for a pleasant visit with fewer travelers around, despite the fact that you may need to bring a light coat for the cooler nighttimes. Around February to April, there is low rainfall, making these months a great time to visit. If you are around the beach a lot, then time around June perfect to visit beaches as the days are more sunny and hot.
Suggested Read: New Year In Vietnam: 14 Experiences For A Lit Beginning Of 2022
Cua Dai Beach Map
It is only about 5 km West-North from the centre of Hoi An ancient town. From Hoi An ancient town – follow Cua Dai street – to the last stop of the road is Cua Dai Beach. To get to Cua Dai, straight take a fly into Danang International Airport then catch a cab. It takes around 30 minutes to reach to the beach and if you are taking the route from Hoi An then the taxi should take no more than 10 minutes.
Further Read: Paragliding In Vietnam: Top 10 Places That Are Perfect For An Enthralling Vacay In 2022!
If you are looking for a relaxing place in Hoi An where you can enjoy the wondrous views of the ocean, make sure you spend a splendid evening at Cua Dai Beach during your backpacking trip in Vietnam .
---
Looking To Book An International Honeymoon?
Book memorable honeymoon on TravelTriangle with 650+ verified travel agents for 65+ domestic and international destinations.
---