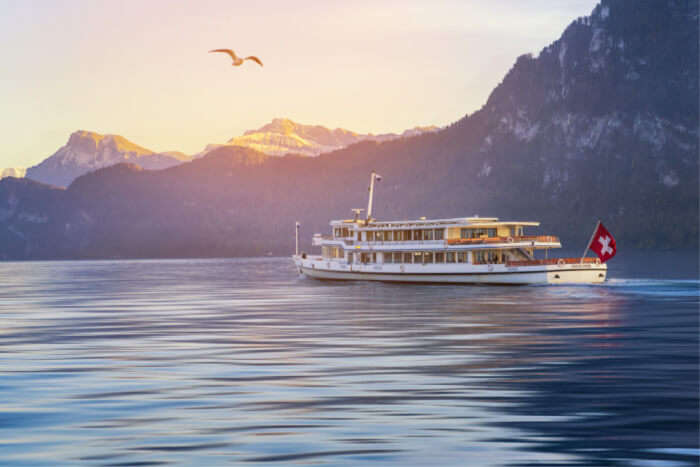 Lucerne, also known as the 'Gateway to Swiss Alps' is the central location for travelers who visit Switzerland. A land blessed with incredible scenic beauty of the snow-capped Swiss Alps in the backdrop, green grasslands of Switzerland and the Lake Lucerne all converging at the same place, this place is a heaven on Earth. Apart from this there are many other places which surrounds the region and offers a great escape if you're planning a leisure road trip. On your visit to the city, there are a number of day trips from Lucerne that you can take, to explore the nearby places.
15 Best Day Trips From Lucerne
While there are hundreds of itineraries that offering various amazing day trips from Lucerne,Switzerland it is important to choose the best of them. So, to make things easy and convenient for you, we have come up with a list 15 of the best day trips which you can take from the city of Lucerne.
1. Swiss Alps
2. Mount Titlis
3. Interlaken & Grindelwald
4. Kleine Scheidegg
5. Bern
6. Interlaken Rafting Tour
7. Jungfrau Region
8. Zurich Combo
9. Mt. Pilatus
10. Lucerne City Tour
11. Old Town Of Lucerne
12. Mt. Rigi
13. Lake Lucerne
14. Swiss Transport Museum
15. Glacier Garden
1. Swiss Alps: Jungfraujoch & Bernese Oberland

Ascend atop Europe's highest point located in the Swiss Alps. Go on an exhilarating full-day journey of the Swiss Alps, travel in luxury coaches and enjoy the scenic beauty of the most peaceful country in the world. Go through the famous Jungfrau Pass and explore the Ice Palace while you marvel at the incredible views from the Sphinx Observatory. This ride gives you the most magical views of the Swiss Alps, the picture-perfect farms and houses of the Swiss countryside.
Cost: Starting from INR 18000
Highlights: Bernese Oberland, Interlaken, Jungfraujoch, and the Sphinx Observatory
Suggested Read: Kapellbrücke Bridge: Your Personal Guide For Exploring This Charming Beauty In Lucerne
2. Mount Titlis

Ride inside a cable car to the summit of Mount Titlis from the village of Engelberg and enjoy the majestic view from atop one of the highest mountains in the world. Visit the many snow-themed attractions like the Titlis Glacier Park, Glacier Caves, Ice Flyer Chairlift and walk on the highest suspension bridge in Europe all in a day, phew! A visit to Mount Titlis also lets you explore the famous observatory on the top, from where you can soak in the grandest views of snow-covered Swiss Alps.
Cost: Starting from INR 10,100
Highlights: Mt. Titlis, Engelberg, Titlis Glacier Park, Glacier Caves, Ice Flyer Chairlift, Titlis Rotair Gondola, and the Cliff Walk
Must Read: Go Paragliding In Switzerland For The Most Amazing Swiss Alps Experience
3. Interlaken & Grindelwald

Experience the beauty of Interlaken and Grindelwald on a full day tour aboard luxurious coach starting from Lucerne. Marvel at the epic scenery as you travel to Interlaken at the foot of Bernese-Oberland Alps. Ascend to the summit of Mt. First by a cable car and see the panoramic views from atop the immense arrays of Glaciers in Grindelwald. You can also take a luxurious cruise ride in the delightful Lucerne Lake.
Cost: Starting from INR 6,500
Highlights: Interlaken, Grindelwald, Mt First, and the Bernese-Oberland Alps
Suggested Read: 10 Hostels in Switzerland That Are Every Backpacker's Haven
4. Kleine Scheidegg

Take a coach to the Kleine Scheidegg Pass in center of the Alps, enjoy some exquisite views as you travel on the luxury coach you board from Lucerne. Visit the resort town of Interlaken at the foot of Bernese-Oberland Alps and then take a ride to the famous mountain resort of Grindelwald and then board a cogwheel train to the Kleine Scheidegg. This place is a starting point for many treks up the Central Swiss Alps. Plan a trek if you wish and continue above from there for an exhilarating experience of hiking in the green and white landscapes of Switzerland as they change. This is one of the best places to visit for day trips from Lucerne by train.
Cost: Starting from INR 9,500
Highlights: Kleine Scheidegg, Interlaken, Grindelwald, Bernese-Oberland Alps, Peak of Eiger, Monch, and Jungfrau.
Suggested Read: Behold These 10 Magnificent Switzerland Waterfalls That Will Blow Your Mind For Sure!
5. Bern

Go about a historically as well as culturally relevant day tour of the capital of Switzerland. Visit the biosphere reserve of Entlebuch Valley and take a stop at the Kambly Experience to watch the delicious Swiss Biscuits being made through your own eyes. Explore the city of Bern as you spend time in the Old City and the medieval castle situated in Bern and see the sight of the world-famous Swiss cheese being made by visiting the dairies in the Emmental Region of Switzerland. It is surely going to be a unique experience for those who wish to explore this country beyond its famed Swiss Alps and landscapes.
Cost: Starting from INR 11,350
Highlights: Bern, Entlebucher Valley, Kambli Experience, and the Old Town of Bern
6. Interlaken Rafting Tour

The Bernese Oberland region of Switzerland is an area full of scenic landscapes like spectacular towering peaks, cascading rivers, and alpine scenery. Indulge in the exciting experience of rafting on the Lutschine River. Rejoice the shrills and thrills aboard the bouncing raft as it goes past numerous type 3 and 4 rapids during this white water rafting expedition via this alpine country. You'll surely be delighted to discover this adventurous side to the country popular mostly for its snowy peaks and cattle-strewn farms.
Cost: Starting from INR 15,000
Highlights: Rafting on Lutschine River, Lake Brienz, and Lake Eiger
Suggested Read: 7 Best Homestays In Switzerland That Will Leave You Spoilt For Choice In The Alps
7. Jungfrau Region: Beginners Ski Day Trip

Experience the thrills that come from steep hill skiing in the Jungfrau Region. Start this 10-hour-long beginners Ski trip from Lucerne to the Ski resorts of Grindelwald. Ogle at the pristine Alpine Scenery as you travel through the mountains of Central Switzerland aboard luxurious coaches. Master the ski techniques as you take the 2.5 hours mandatory skiing course. Skiing here will help you understand why the world's best skiing enthusiasts prefer Switzerland over any other ski destination to satiate their love for this adventure sport.
Cost: Starting from INR 22,500
Highlights: Grindelwald Ski resorts, Jungfrau Region, Bodmi Beginner Slopes
8. Zurich Combo

Journey on this guided tour of Zurich from Lucerne. This is one of the most popular and scenic day tours from Lucerne to Zurich in the northern region of Switzerland. You can experience the radiance of the largest city of Switzerland and visit the historical Laufen Castle when you're here. Also travel to the majestic and pristine Rhine Falls where you can take a ferry ride near the furiously gushing river that flows ahead into Germany.
Cost: Starting from INR 7500
Highlights: Zurich, Rhine Falls, Stein am Rhein and the Laufen Castle
Suggested Read: Top 7 Water Sports In Switzerland That You Must Not Miss Out On
9. Mt. Pilatus: Self-Guided Tour To The Lucerne Mountain

Experience the beauty of the mountain overlooking Lucerne through two different experiences, one aboard the gondola and the other aboard a cogwheel train. Take a 4 seater gondola ride to Kleine Scheidegg, continue to Frakmuntegg, and finally take a cable car ride to the summit of Mt Pilatus, all while enjoying the splendid views on your journey. The gondola as well as the cable car are sure to give you some unbelievable scenic views of the city and its surrounding hills.
Cost: Starting from INR 4400
Highlights: Kleine Scheidegg, Frakmuntegg, and Mt Pilatus
10. Lucerne City Tour

Take a tour of the pristine and scenic city of Lucerne with the Central Alps in the backdrop and the beautiful locations of Lucerne available for sightseeing. Take a trip of the Old Town and enjoy a boat ride across the Lake Lucerne. This luxurious cruise ride will take you through some of Lucerne's most magical and natural landscapes.
Cost: Starting from INR 4600
11. Old Town Of Lucerne

The Old town of Lucerne just appears as a painted picture with the amazing art, beautifully decorated buildings and tiny squares with fountains. This picturesque town is situated just along the right side of the River Reuss which is located between the Chapel bridge and city hall. This place has a very quaint setting and perfect for a day out at the streets.
12. Mt. Rigi

For a signature Swiss vacay take a tour to the Mount Rigi which is an easy to plan and a beautiful drive from Lucerne. Often called the "Queens of the mountains", standing at the peninsula of this majestic mountain one can enjoy the view of 13 lakes and spectacular snow-covered Swiss alps. The best ways to reach Rigi is by train or boat and this place can be visited almost every time of the year. This is one of the best places to go for half day trips from Lucerne.
13. Lake Lucerne

Spread across a distance of 38 Kms, Lake Lucerne is the 4th largest lake resting in Switzerland. Holding a scenic beauty, this lake is shaped in a complicated design featuring four arms and a slight bend. Covering an area of 114 Kms, this lake is 702 ft. deep situated at a height of 1,424 ft. above sea level. Surrounded by mountains and drains, the water comes into the lake from River Reuss. The beauty of this lake attracts thousands of tourists every year and its quite a popular attraction to explore in Lucerne.
Location: Central Switzerland
14. Swiss Transport Museum

Also known as Verkehrshaus der Schweiz, this transport museum in Switzerland is very diverse for its collection of transports reserve. This museum has a large collection of planes, trains, motorcycles, ships and automobiles. This large museum was established in the year of 1959, July and since then it has been a favorite places for people who love vintage items. Besides that the place also holds a large collection of artwork Hans Erni who was a local painter and sculptor.
Location: Lidostrasse 5, 6006 Luzern, Switzerland
Timings: 10AM-5PM (Open Daily)
15. Glacier Garden

A relaxing getaway from the city, this natural monument is Switzerland is indeed a relic of the Ice Age. Located in the heart of Switzerland, the Glacier Garden has showcased the glacierpolished rock, 32 potholes found at the base of a waterfall, and erratic blocks. With the beautiful view of the Lucerne and Mt. Pilatus, the glacier garden also gives a brief history of 300 year old geology. Apart from that there is a mirror maze, park and museum residing inside the garden.
Location: Denkmalstrasse 4, 6006 Luzern, Switzerland
Timings: 9AM-6PM (Open Daily)
Further Read: 24 Things That Make Visiting Switzerland In May An Awesome Experience
While taking the above-listed trips, you can also visit some of the major attractions of Lucerne including Lion Museum, Chapel Bridge, Picasso Museum and the old town of Lucerne. This city is conveniently located in the center of Switzerland. With all its pristine and serene locations, Lucerne redefines your Swiss love. Impressed already? Plan a trip to Switzerland now and take all these trip from Lucerne.
---
Looking To Book An International Holiday?
Book memorable holidays on TravelTriangle with 650+ verified travel agents for 65+ domestic and international destinations.
---