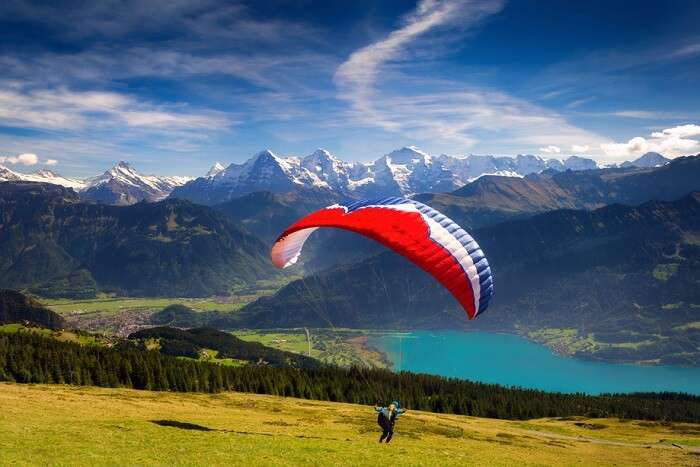 Flying in the sky excites you? But skydive seems like an option too harsh on the pocket? Paragliding is just the activity for an adventure enthusiast like you. Looking for a paragliding school in Switzerland? Confused what to wear when paragliding? How much would paragliding in Switzerland cost you? Read on and find answers to all the questions that might pop up in your mind about paragliding in this beautiful country. Gear up for the adrenaline rush and find out the most exciting places to enjoy paragliding in Switzerland.
Top 10 Places To Enjoy Paragliding In Switzerland
Switzerland is often addressed as 'a heaven on earth', for its unbeatable mesmerising scenic views. Now, imagine yourself viewing this paradise from sky, while soaring like a bird. What an astonishing feeling, isn't it? So, we have shortlisted for you, some of the cities that offer the best views when paragliding in the Swiss Alps. And do not think twice about the cheapest paragliding here, such experiences are priceless!
Zurich
Geneva
Lauterbrunnen
Interlaken
Davos
Engelberg
Klosters
Gandria
Kriens
Grindelwald
Wengen
1. Zurich

The thought of flying gets your adrenaline pumping faster? Do you crave adventure more than food? If you do, then Zurich is the place to set yourself lose. The amazing paragliding sites here would set you soaring high in the clouds. Zurich's local mountain of Uetliberg is one of the best from these sites of paragliding in Switzerland. Enjoy the panoramic views of the city and lake of Zurich here!
Must Read: 8 Enticing Festivals In Switzerland For Mirth And Merriment!
2. Geneva

Seeking an unforgettable experience? Take a leap of faith from the 'Balcony of Geneva', the Salève mountain. Experience the tandem paragliding in Geneva, Switzerland. Float above the beautiful city of Geneva and the daunting ranges of the Alps and Jura mountains. The clear blue skies above and the sparkling lake of Geneva beneath is once in a lifetime experience!
3. Lauterbrunnen

Anxious much? Well, this couldn't be any easier! All you have to do is to put your best foot forward and in no time you would be flying over one of the most magnificent valleys in the Alps amidst the colossal rocks and snow covered peaks. Paragliding in Lauterbrunnen, Switzerland, is one of the most sought experiences. Enjoy the sights of the beautiful alpine meadows while paragliding here.
Suggested Read: Top 6 Cottages In Switzerland For The Luxury And Peace Seekers
4. Interlaken

Interlaken is the adventure capital of Switzerland. Interlaken paragliding in Switzerland is quite famous as it has some of the best sites to paraglide. For best paragliding in interlaken, Beatenberg is one of the best vantage points here and one gets to paraglide against the backdrop of the towering Alps. So, what are you waiting for? Take the plunge and experience tandem paragliding in interlaken.
5. Davos

Davos is a beautiful terrain of rugged topography, mapped with scenic trails for the best paragliding in Switzerland. These trails during the winter months are covered in a sparkling sheet of pristine snow. Paragliding in winter in Switzerland is another adventure in itself. Fly over the snow-covered town of Davos as you enjoy a tandem flight with the skilled trainers. So take a step ahead as the edge of the cliff would become your best memory later of the bygone days as it is one of the best places to paraglide in Switzerland.
Suggested Read: 8 Magnificent Hill Stations In Switzerland You Ought To Explore Before You Die
6. Engelberg

Ever sit and think what freedom is like? If it is flying free like a bird above beguiling mountain slopes, gazing at the snow-capped sedentary peaks then head to Engelberg in Switzerland. Here you can enjoy one of the best paragliding in Switzerland. Watch the trails meander their way up to Mt. Titlis and enjoy panoramic views of the town below from the beautiful sky as it is amongst the best places for paragliding in Switzerland.
7. Klosters

Klosters is a beautiful Swiss village which is often frequented by tourists for its various outdoor activities. The village has plenty of adventures to partake in. Quite close to Zurich, the village is a hub of adventure enthusiasts. It is an extension of Davos and one can enjoy the serene views of both these Swiss places from sky high while paragliding. شحن نتلر بالكاش يو It is also known for skiing activities.
Suggested Read: Top 7 Water Sports In Switzerland That You Must Not Miss Out On
8. Gandria

This lakeside town is the last of the Swiss territory right before the Italian soils. The fun of paragliding here is totally different because other than just the Swiss glimpse, one gets to enjoy the Italian views too. The tandem paragliding in Switzerland can be experienced here and there's nothing to be scared as one flies with professionally trained pilots. So don't hold yourself back!
9. Kriens

If you are looking for some offbeat Swiss towns for an undisturbed paragliding experience then Kriens could be your pick. This is a town of Lucerne in Switzerland. Like all the Swiss cities, it offers the best scenic views. It is also one of the places to enjoy the cheapest paragliding in Switzerland due to fewer tourists. Watch the green valley and Mount Sonnenberg during your tandem flight from the slopes of Kriens.
Suggested Read: 6 Best Churches In Switzerland That Are An Epitome Of Glorious Architecture
10. Grindelwald

Mostly famed for skiing in winters and hiking in summers, Grindelwald is a treasure trove full of adventures. The village is the base point for the mountain climbers and a haven for nature lovers. The beautiful waterfalls and gorges attract tourists from all over the world. And this is not all because the best is yet to come. You can enjoy the best tandem paragliding with trained professionals hands down in this Swiss city of Grindelwald!
11. Wengen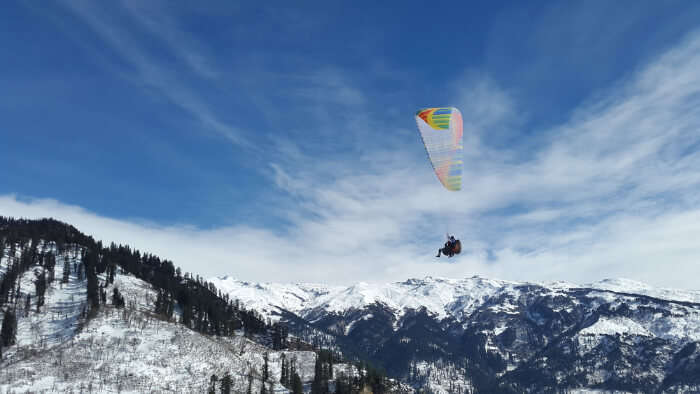 This village is famous for hiking and skiing all year-round along with paragliding adventure sports. You can visit during any time of the year and enjoy gliding in the sky amidst snow-capped peaks and witnessing the mountains and the surreal landscape from a different perspective. Paragliding happens to be one of the favourite sports at this destination.
Further Read: 7 Best Homestays In Switzerland That Will Leave You Spoilt For Choice In The Alps
Enough watching the Swiss Alps in Bollywood flicks. Now watch them for real and do not fret about the travel, stay, and cost of paragliding in Switzerland. Just go ahead and book a hassle-free trip to Switzerland with TravelTriangle now!
Disclaimer: TravelTriangle claims no credit for images featured on our blog site unless otherwise noted. All visual content is copyrighted to its respectful owners. We try to link back to original sources whenever possible. If you own the rights to any of the images, and do not wish them to appear on TravelTriangle, please contact us and they will be promptly removed. We believe in providing proper attribution to the original author, artist or photographer.
Please Note: Any information published by TravelTriangle in any form of content is not intended to be a substitute for any kind of medical advice, and one must not take any action before consulting a professional medical expert of their own choice.
Frequently Asked Questions About Paragliding In Switzerland
Is paragliding in Switzerland safe?
It is very safe. While not without risk, the training that Swiss pilots, including tandem pilots, receive is the most extensive that I have come across.
Where can I go paragliding in Switzerland? بطولة اليورو 2023
Zurich, Geneva, and Danos are some prime locations.
Can you paraglide in the rain in Switzerland?
It is considered unsafe and not recommended during the rain.
Is there a weight limit to paragliding?
There is no weight limit for paragliding tandems, as long as we have enough wind.
What is the most scenic sight to paraglide in Zurich?
Uetliberg is one of the best sites in Zurich to paraglide and view many scenic vistas. You get to see a panoramic view of the city and beautiful landscapes spread across the city.
Which is the best place in Switzerland to get a view of the Alps while paragliding?
This paragliding spot in Geneva is also known as the 'Balcony of Geneva,' which gives the breathtaking view of the Alps and the surrounding landscapes.
Where should you glide to get a beautiful view of the valleys and meadows in Switzerland?
Lauterbrunnen is the best paragliding site in Switzerland to get the best view of meadows and valleys in the Alps mountain range.
What is the maximum height you can reach while paragliding at Interlaken?
You will fly at a maximum height of 800 meters at this sight. Picture as well as video service is also provided at this site. اسرار الروليت
Which is the best site to paraglide in winter in Switzerland?
Davos has scenic landscapes and terrains. If you choose winter for paragliding you can glide at Davos and view the pristine snow-capped mountains and other picturesque vistas.
Which place in Switzerland offers cheap paragliding?
Kriens in Switzerland offers the best scenic vistas at a cheaper price. You can choose to glide over green landscapes, valleys, and Mount Sonnenberg.
{
"@context": "https://schema.org",
"@type": "FAQPage",
"mainEntity": [
{
"@type": "Question",
"name": "Is paragliding in Switzerland safe?",
"acceptedAnswer": {
"@type": "Answer",
"text": "It is very safe. While not without risk, the training that Swiss pilots, including tandem pilots, receive is the most extensive that I have come across."
}
}
, {
"@type": "Question",
"name": "Where can I go paragliding in Switzerland?",
"acceptedAnswer": {
"@type": "Answer",
"text": "Zurich, Geneva, and Danos are some prime locations."
}
}
, {
"@type": "Question",
"name": "Can you paraglide in the rain in Switzerland?",
"acceptedAnswer": {
"@type": "Answer",
"text": "It is considered unsafe and not recommended during the rain."
}
}
, {
"@type": "Question",
"name": "Is there a weight limit to paragliding?",
"acceptedAnswer": {
"@type": "Answer",
"text": "There is no weight limit for paragliding tandems, as long as we have enough wind."
}
}
, {
"@type": "Question",
"name": "What is the most scenic sight to paraglide in Zurich?",
"acceptedAnswer": {
"@type": "Answer",
"text": "Uetliberg is one of the best sites in Zurich to paraglide and view many scenic vistas. You get to see a panoramic view of the city and beautiful landscapes spread across the city."
}
}
, {
"@type": "Question",
"name": "Which is the best place in Switzerland to get a view of the Alps while paragliding?",
"acceptedAnswer": {
"@type": "Answer",
"text": "This paragliding spot in Geneva is also known as the 'Balcony of Geneva,' which gives the breathtaking view of the Alps and the surrounding landscapes."
}
}
, {
"@type": "Question",
"name": "Where should you glide to get a beautiful view of the valleys and meadows in Switzerland?",
"acceptedAnswer": {
"@type": "Answer",
"text": "Lauterbrunnen is the best paragliding site in Switzerland to get the best view of meadows and valleys in the Alps mountain range."
}
}
, {
"@type": "Question",
"name": "What is the maximum height you can reach while paragliding at Interlaken?",
"acceptedAnswer": {
"@type": "Answer",
"text": "You will fly at a maximum height of 800 meters at this sight. Picture as well as video service is also provided at this site."
}
}
, {
"@type": "Question",
"name": "Which is the best site to paraglide in winter in Switzerland?",
"acceptedAnswer": {
"@type": "Answer",
"text": "Davos has scenic landscapes and terrains. If you choose winter for paragliding you can glide at Davos and view the pristine snow-capped mountains and other picturesque vistas."
}
}
, {
"@type": "Question",
"name": "Which place in Switzerland offers cheap paragliding?",
"acceptedAnswer": {
"@type": "Answer",
"text": "Kriens in Switzerland offers the best scenic vistas at a cheaper price. You can choose to glide over green landscapes, valleys, and Mount Sonnenberg."
}
}
]
}