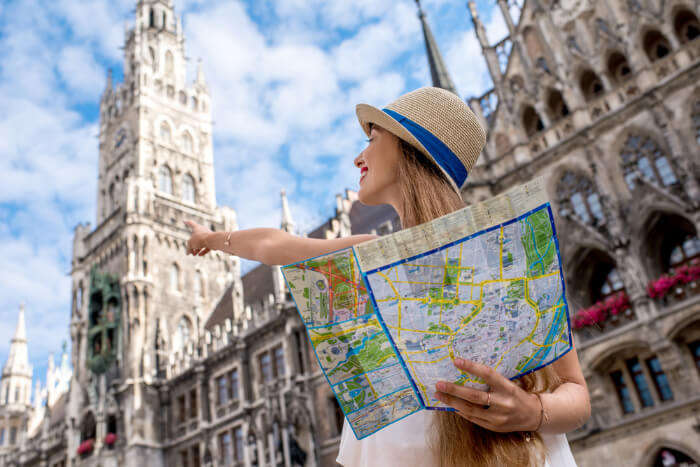 Munich is all about centuries-old buildings and various museums and no doubt it can be called their home rightly. Its annual Oktoberfest celebration is the live wire of this city and the good thing it is known for. Munich being the famous city in the world attracts more than 50,000 visitors. There are many places which every tourist should visit, but this place deals in really amazing places. Munich regarded as the best place of all monasteries, this place will surely exceed all of your expectations, while providing you peace and calmness. And not just in Munich, day trips from Munich are also worth going to. Don't believe us? Well, read along and get to know yourself!
10 Day Trips From Munich 2022
Take a look at the best full and half day trips from Munich that will help you explore everything this beautiful city has to offer and to give you an amazing experience!
1. Royal Castles of Neuschwanstein and Linderhof Day Tour
The chance to witness the fairytale castle of Neuschwanstein and Linderhof. Comfortable Traveling by air-conditioned coach allows one to admire Bavaria's magnificent scenery. The free time can be used during lunchtime to enjoy nearby Hohenschwangau village for lunch and also one can opt for the optional castle tour.
Location: KARSTADT Department Store at Bahnhofpl. 7
Pricing: $68 per person
Highlight: Transport by air-conditioned coach
Must Read: Guess Which European City Gets The Title Of World's Most Liveable City This Year!
2. Uni Dachau Concentration Camp Memorial Site Tour on Square Holiday Market
A chance to see all the memorial and exhibitions from all over the world. Gain deeper knowledge about the Holocaust of World War II. As per one's comfortability and preference, travel by either train or bus to the memorial site. No imitation in going around and explore the memorial and educated place.
Location: Munich Central Train Station (Hauptbahnhof)
Pricing: $ 30.53 per person
Highlight: Place is dedicated to those who were imprisoned and lost their lives between 1933 and 1945.
3. Half-Day Dachau Concentration Camp Memorial Site Walking Tour
This 5 hours trip, helps you gain insight into the knowledge and where and how about of the prisoners. The emotional documentary helps you know about the various life stories of the prisoners. The trip can enable to help you take a guided tour through the places like barracks and gas chamber. The stories of the atrocities carried under the Nazi regime can also atrocities carried out under the Nazi regime, are also been told as a part of this trip.
Location: Mun Tourist Information point of the City of Munich in the Gothic town hall on Marienplatz
Pricing: $ 29.63 per person
Highlight: A localite guided tour.
Suggested Read: A View From This Europe's Tallest Skyscraper Will Leave Your Jaw Dropped!
4. Romantic Road, Rothenburg, and Harburg Day Tour
Opportunity to admire the castles, countryside, and villages of Germany's gorgeous roads. Along the road, the coach drive can be enjoyed while passing the spectacular route through famous Bavaria's mountains and forests.
Location: KARSTADT Department Store at Bahnhofpl. 7
Pricing: $ 59.89 per person
Highlight: A localized guided tour.
Suggested Read: Places Near Munich 2022: 14 Unforgettable Places In The Heart Of Germany
5. Berchtesgaden and Eagle's Nest Day Tour
Plan a visit to the Adolf Hitler's famous mountaintop retreat and Eagle's Nest in Berchtesgaden.
Bavaria's lush mountain scrapes can be travelled through using an air-conditioned coach. The trip has places en-route, where Hitler entertained his dignitaries. Visitors can see the hall where weddings and conferences took place, and explore the terrace to appreciate the incredible Alpine views.
Location: KARSTADT Department Store opposite the main railway station
Pricing: $ 59.89 per person
Highlight: A localized guided tour.
Suggested Read: Top 9 Places To Visit In Zagreb To Savor The Best Of South Europe In 2022
6. Nuremberg Day Trip
This 10 hours trip will help you explore the lanes and streets of Munich. Visitors can discover beautiful Nuremberg — the site of Hitler's propaganda rallies. While relaxing on the comfortable train ride to Nuremberg a guided tour of city attractions like Congress Hall and the medieval old town can be taken as well.
Location: Munich Central Train Station (Hauptbahnhof)
Pricing: $ 57.54 per person
Highlight: A localized guided tour experiencing Hitler's best places.
7. Bavarian Beer and Food Evening Tour
Get to taste an irresistible taste of Bavaria's iconic beer. The culture holds for 3.5-hour. This is a guided food and beer tour. The famous, Oktoberfest along with the collection of famous beer halls and beer gardens, promises unlimited fun and camaraderie, beautiful capital invites visitors from across the globe. We recommend you to partner with a savvy and cool guide for an insight look of this tradition. You can take day trips from Munich to Bavarian Alps too.
Location: Munich Central Station (Hauptbahnhof)
Pricing: $ 38.75 per person
Highlight: A localized guided tour.
Suggested Read: 10 Best Airports In Europe For An Enjoyable Journey To Your Dream Destination
8. Salzburg Sightseeing Day Trip
Munich to Salzburg day trip is one of the best option for cities near Munich to visit. A visit to a famous place should always be accompanied by sightseeing activities. The Sightseeing trip as this takes you for a journey from Germany to Salzburg in Austria, through train. Get your tickets, hold your favorite drink and relax, that's all that's recommended! This trip associated with Mozart and 'The Sound of Music,' you can relax on a scenic 2-hour train journey to the historical Austrian city. Special attention is seeing the St. Peter's Church, Mozart's Birthplace, Mirabell Gardens. You can have some time for yourself to stroll the market and enjoy the shopping therapy all by yourself!
Location: Starbucks Coffee beside Platform 11
Pricing: $ 52.85 per person
Highlight: A Guided walking tour of UNESCO-listed Salzburg Old Town
9. Classic Munich Bike Tour
For the early bird of morning, this is a good option to walk through the streets of the city and explore the picturesque monks, monasteries, and corners of the beautiful place. The ancient churches can be seen and clicked from outside. Explore more other gems on the way! T is the best way to be the part of beer, culture, and history of Munich.
Location: Marienplatz 15/Spielzeugmusuem
Pricing: $ 34.06 per person
Highlight: get to experience and be a part of the monasteries and their emotional ties.
Suggested Read: 31 Festivals In Europe That Will Up The Fun Factor Of Your Euro Tour In 2022
Now, we hope, you're convinced enough about the places to visit near Munich. So, don't think too much and plan a Europe trip right away!
Frequently Asked Questions About Day Trips From Munich
Q: Are there mountains in Munich?
A: No, there are mountains half an hour away from Munich.
---
Looking To Book An International Holiday?
Book memorable holidays on TravelTriangle with 650+ verified travel agents for 65+ domestic and international destinations.
---