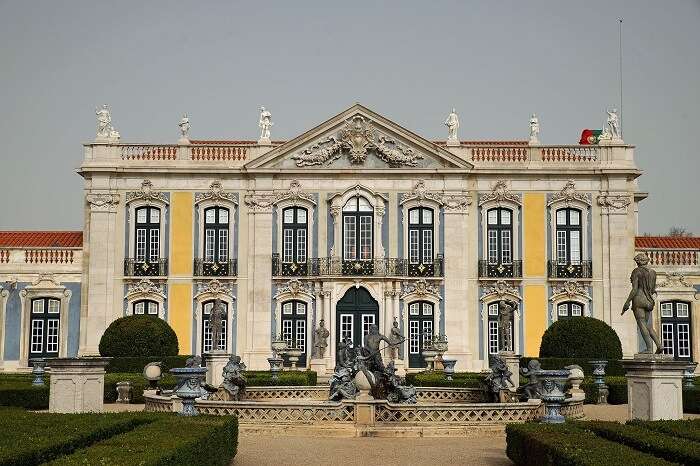 Portugal is situated on the western part of the Iberian Peninsula in Mediterranean Europe. Its legislative hall is Lisbon. In the north it has a stormy atmosphere, while towards the south it is a hotter and drier. Portugal is majorly composed of fields. There are three notable streams flowing through Portugal, which are Tagus, Douro and Guadiana. The general population of Portugal is for the most part Roman Catholic. If you weren't planning to embark on day trips from Portugal, now you will!
Top 11 Day trips from Portugal
We've shortlisted 11 fun excursions one can go on during the day while in Portugal. These day trips from Portugal will leave you with a truck load of memories:
1. Sintra

A resort town on the foothills of the Sintra Mountains, the most economical way to get to Sintra is from the capital city, Lisbon, via direct trains running daily out of Lisbon's Rossio railroad station. The adventure takes around 40 minutes. Sinatra's verdant magnificence, its antiquated manor, and the noteworthy royal residences are perceived as a UNESCO World Heritage. You can start your day of touring by visiting the Palácio Nacional de Sintra.
Google rating: 4.4
Must Read: 14 Terrific Things To Do In Portugal To Soak In The Rich Portuguese Flavor
2. Reserva Natural do Estuário do Sado

Located between Alácer do Sal, Comporta and Setúbal, the Sado Estuary Natural Reserve offers a wide scope of flora and fauna: from the innumerable species of birds to the bottlenose dolphins that frequent this place amidst a vast expanse of woods and reed plantations. If you visit Arrábida, this reserve is like a stone's throw away from there. It is also home to several endangered species such as the black bat and otter. It is therefore a protected area under the government, making it a must-visit place.
Highlight: The endangered black bat and the otter and of course, the picturesque scenery.
Google rating: 4.2
3. Cascais

A coastal resort town, Cascais is known for its sandy beaches and busy harbours. It is a popular destination among the Portuguese who flock to the town during summers for their vacations. It is conveniently situated at the end of the Cais do Sodré-Cascais railroad line. The route itself is rather scenic, navigating other towns en route, including Carcavelos and Estoril.
Location: 25 kilometers west of Lisbon
Highlight: From the recreation center, it's a charming stroll to the Marina de Cascais. The marina esplanade is populated with cafes and restaurants.
Google rating: 5
Suggested Read: 9 Best Churches In Lisbon That'll Make Your Portugal Holiday More Memorable
4. Évora

Popular among tourists and the Portuguese alike, Évora is the capital of the south-central Alentejo territory. It is filled with some of the most remarkable landmarks of Portugal. Subsequently, UNESCO has granted the old town World Heritage status for gothic structures such as the Cathedral of Évora, which is surrounded by whitewashed houses.
Highlight: The Casa das Histórias, an exhibition hall devoted to Paula Rego, who is known for her paintings and prints based on storybooks.
Google rating: 4.3
5. Batalha

Portugese for "battle", the town is one of the most peaceful ones in Portugal. The Monastery of the Dominicans of Batalha was built to commemorate the victory of the Portuguese over the Castilians at the battle of Aljubarrota. The town was built around this very monastery. Because of its historical and cultural significance, it has become a UNESCO World Heritage Site.
Highlight: Guests enter by means of a huge gate embellished with religious themes and statues in the late Gothic style.
Google rating: 4.8
Suggested Read: 5 Best Villas In Portugal That Will Add Stars To Your Holiday Experience
6. Fátima

Situated in the Beira Litoral Province, this central town is of theological importance to devout Christians. The Capelinha of Apparitions was constructed in the year 1920 to mark the exact location where three little shepherd children reported to have seen the apparition of Virgin Mary. The Sanctuary of Fátima is another theologically significant monument which consists of Catholic buildings and architectural structures. It was designed by Gerardus Samuel van Krieken.
Location: Estremadura district
Highlight: You can take a half-day Pilgrimage outing to Fátima from Lisbon to find out about the holy destinations.
Google rating: 4.3
7. Mosteiro Pálacio Nacional de Mafra

The Palace of Mafra is a palace-monastery built in the Baroque and Neoclassical style of architecture. Its vast magnificent presence is evident by the number of years it took to build this palace (1717-1755). The Mosteiro Pálacio Nacional de Mafra overlooks the residential area of Mafra, 40 kilometers northwest of Lisbon. King Joao V appointed the architect João Frederico Ludovice and was initially planned as a basic cloister. However as the TREasury prospered over the years, the king ordered the building of a lavish palace instead.
Location: 40 kilometers northwest of Lisbon
Highlight: Its Baroque and Italian Neoclassical inspired design and paintings on the interior walls.
Google rating: 4.6
Suggested Read: A Guide To Help You Plan Your Portugal Honeymoon
8. Costa da Caparica

Declared a city in 2004, this former civil parish located in Almeda, Europe along the western coast is a hotspot for the Portuguese populace during summers to get tanned in the sun, albeit virtually unknown to tourists. It is a 30km long sandy coastline where the Atlantic Ocean meet Portugal. You might have guessed already that its beaches are its highlight. You can either catch a ferry or board a train from Lisbon to get there. Make sure you visit its beaches during the summer and have some fun under the sun.
Location: 18 kilometers south of Lisbon
Highlight: The scenic beaches make for some excellent pictures.
Google rating: 5
9. Serra da Arrábida

One of the more extravagant places in Portugal, it is located 40 km from the Lisbon centre. Its beaches, medieval castles and the famous Serra da Arrábida Natural Park offer some visceral landscapes. Make sure to visit the Natural Park and its beaches- Galapinhos, Portinho da Arrábida and Figueirinha. These beaches are especially popular among the residents of Lisbon and Setúbal. Covered with verdant forests and pristine beaches, this staggering scene is home to a diverse assortment of verdure.
Highlight: Serra da Arrábida has got some amazing beaches.
Google rating: 4.5
Suggested Read: These Exciting Places To Visit In Portugal In Winter Will Make Your Trip A Memorable One
10. Sesimbra

The fishing town of Sesimbra is a must visit for passionate anglers. Lying at the foothills of Serra da Arrábida, it's a convenient vacation spot if you're already planning a visit to the mountain range. It's great for fishing since it's conveniently located near the mouth of the Sado River and its natural harbor, at the Setúbal bay. Make sure to visit the Fortress of Saint James of Sesimbra if you are interested in medieval structures, since it was inaugurated in 1648. The fortress is located on the beach and used to protect the village and its harbor. It also offers a panoramic view of Sesimbra, so do not forget your camera.
Location: 40 kilometers south of Lisbon
Highlight: The drive here offers scenic views and is a better alternative, in case you're interested in exploring nearby territories.
Google rating: 3.6
11. Palácio Nacional de Queluz

One of Portugal's more royal structures, it was the abode for King Pedro and Queen Maria I from 1747 - 1794. Initially designed by Mateus Vicente, a student of Johann Friedrich Ludwig who designed the Mosteiro Pálacio Nacional de Mafra, the Palácio Nacional de Queluz is a a milestone achievement.
Location: 14 kilometers northwest of Lisbon
Highlight: There are peaceful patio nurseries, which are decorated with topiary, wellsprings, and sculptures by John Cheere.
Google rating: 4.6
Further Read: 11 Best Places To Visit In Portugal, The Hidden Gem Of Europe
The aforementioned recommendations were made keeping in mind the various factors that make for a wholesome and memorable vacation. With Portugal, it doesn't take a lot of effort since its pristine natural landscapes, historical richness and cultural diversity make it a perfect destination for one to explore during their vacations. After all, several of its towns and monuments have been commemorated as heritage sites by UNESCO. Book a trip to Portugal soon to embark on these exciting day trips from Portugal.
---
Looking To Book An International Holiday?
Book memorable holidays on TravelTriangle with 650+ verified travel agents for 65+ domestic and international destinations.
---