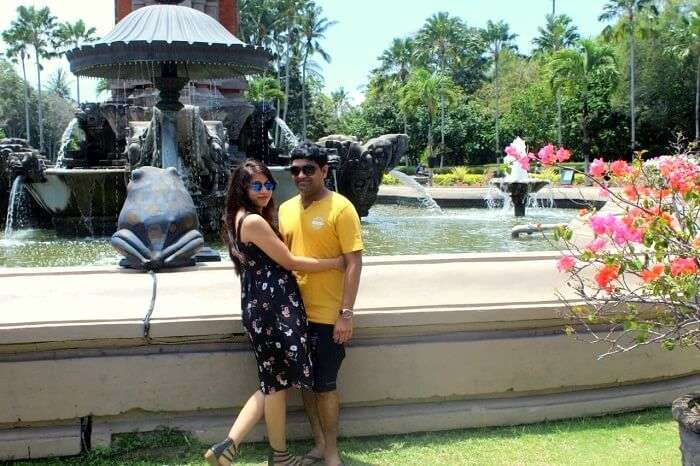 A romantic getaway to Bali was the perfect cure for Deepti and her husband's wanderlust. Their longing for a vacation and a break from the relentless pace of life spurred them on to explore the scenic Indonesian island with all its beauty and aplomb.
My husband and I promised ourselves one long vacation every year, and this time it had to be a romantic getaway to Bali. We heard a lot about Bali through our friends who went on a honeymoon, and it felt like an ideal place for an international that would fit in our budget.
Things To Do On A 6 Nights 7 Days Luxury Honeymoon Trip To Bali
Details of our romantic getaway to Bali
With that, our search began for a suitable travel package for a romantic getaway to Bali. Just then, I got to know about TravelTriangle through a friend who took a honeymoon package with them. Their successful trip with TravelTriangle helped me close the trust issue in going to a new travel company.
Trip Cost: INR 17,000
Trip Duration: 5 nights 6 days
Agent Name: Timeless Trips Private Limited
Inclusions: Transfers, sightseeing, water sports, and sim card
Exclusions: Flights, accommodation, meals, and visa
After living in a crowded city like Mumbai, we yearned for places with natural scenery, a laid-back attitude, and peaceful aura. Luckily, as our romantic getaway to Bali went on, we discovered that how this tropical heaven had all these qualities and much more.
Day 1: Jet-setting to Bali
Our adventure began with an overnight flight from Mumbai that arrived in Bali at 1 pm. From there, we were transferred to the Four Point Sheraton Hotel in Kuta. After resting in the hotel for a few hours, we ventured out and explored the lively marketplace around the hotel. It was only 7 pm, but the place was buzzing like one grand fiesta! After having dinner at a local restaurant, we returned to the hotel for the night.
32 Exotic Places To Visit In Bali For Honeymoon In 2022
Day 2: Thrill-seeking in Bali with beauty and adventure
The day began with a delicious breakfast, after which we proceeded for water sports in Nusa Dua. My husband was particularly excited to experience the thrill of jet skiing, banana boat ride, and paragliding. I wasn't a big fan of adventure sports until then, but I must say that Bali had my adrenaline pumping and spirit unleashed.
After this incredible adventure rush, we returned to the hotel to quickly change clothes and then move back out for the Tanah Lot sunset tour. It was incredible seeing such a beautiful temple perched on a rock in the middle of the ocean. The sunset was incredible as it formed a pristine silhouette of the Tanah Lot, making the hundreds of onlookers gasp in awe and amazement.
At that very moment, as we were heading back to the hotel for the night, I thought our romantic getaway to Bali had peaked. How wrong was I!
Day 3: Sunbathing at Kuta Beach
Even on vacation, a leisure day felt like an oasis in the desert. The prospect of not knowing what to do for a day in a surreal place like Bali worked on me like a charm. So after having breakfast, we improvised! We decided to spend time together at Kuta Beach.
Later on, we went out for souvenir shopping to the Discovery Shopping Mall. One thing I noticed about the markets in Bali was that all of them were made keeping in mind the western tourists visiting this mall. There were a lot of generic tourist souvenir items for sale that are already available in Mumbai (or any other big Indian city) at the same price. Following our shopping spree, in the evening, we returned to the hotel and called it a night.
 6 Romantic Things To Do In Bali That Will Turn Your Honeymoon Into An Epic Affair Like Ours!
Day 4: The incredible sights and sounds of Ubud!
On the fourth day of our romantic trip to Bali, we checked out of Kuta and visited the Monkey Forest in Ubud. A small forest area in the heart of Ubud where monkeys were not only protected but also worshipped. The good thing was that the monkeys were friendly and not as notorious as you would expect them to be.
Afterwards, we visited Kintamani volcano, a wooden craft exhibition, and a silver workshop near Ubud. The sightseeing continued with a visit to a coffee plantation where we tasted freshly brewed Kopi Luwak (Indonesian) coffee.
After the sightseeing got over, we were transferred to Astana Batubelig Suite Villa in Seminyak. A luxurious private villa which had all the amenities we could wish for. This night ended with a dinner at the famous Indian restaurant Queens in Seminyak.
5 Perfect Ways To Enjoy A Luxury Honeymoon In Bali
Day 5: A roaring Bali Jungle Safari!
Another leisure day for us meant another opportunity to improvise. We booked for ourselves, a Bali Jungle Safari on our own. Post breakfast, we traveled to the Bali Safari and Marine Park for an adventurous jungle safari. Over there, we had a chance to see many rare animals like the zebra, tiger, giraffe, and leopard.
In the evening, we thought of trying yet another Indian restaurant. Hence, we had a lovely romantic dinner at Tandoori Grill in Seminyak. A sumptuous end to our romantic getaway to Bali.
 Here's How We Planned A Perfect Romantic Vacation In Bali
Day 6: Refreshing memories and a nourished soul!
The next morning, we checked out from the hotel in Bali and proceeded to the airport for our return flight to Mumbai.
The common theme during this romantic getaway to Bali was that everything exceeded our expectations. Starting from the accommodation, sightseeing, and even the food. Initially, we thought finding vegetarian food will be a hassle, but to our surprise, we found many good Indian restaurants in Bali. Similarly, our private villa in Seminyak was outstanding. The huge wooden villa given to us was cozy, comfortable, and luxurious.
All of this really contributed to enhancing our holiday experience in Bali and helped us literally leave our lives aside and enjoy this amazing tropical island without any hesitation.
I Had Fun Breaking Stereotypes. Here's How I Traveled An Entire Week In Bali On A Budget!
High points:
Driving through the Ubud village towards Kintamani Volcano gave us some really spectacular views.
The spontaneous plan to go to Kuta beach and spend time with each other was the best thing we did on this trip.
Here's how you can enjoy Bali on solo travels. Book your Bali tour package for an unforgettable experience at a tropical island
---
Looking To Book An International Honeymoon?
Book memorable honeymoon on TravelTriangle with 650+ verified travel agents for 65+ domestic and international destinations.
---