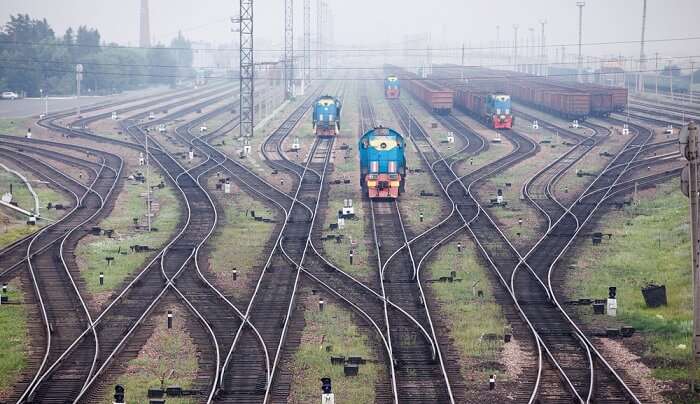 There are two types of people in the world, one who prefers to travel by air and others who love train journeys. If you fall into the latter category, this news is going to be a delight to you. Getting from Delhi to Mumbai in 10 hours is now very much possible as Indian Railways decides to give Rajdhani railway tracks an upgrade.
Don't believe us?
The Western Railways delivered good news on Twitter.
After approval of the Central Govt, Mumbai – Delhi route will be upgraded to run Rajdhani Express at 160 kmph to cut the travel time to nearly 10 hrs, under #MissionRaftaar pic.twitter.com/hSYFrSAii4

— Western Railway (@WesternRly) August 21, 2019
Earlier, Rajdhani Express Mumbai to Delhi (and opposite) used to take 15-16 hours to complete the journey but now it will only take 10 hours to reach Aamchi Mumbai from Dil wali Dilli. This development is a part of #MissionRaftaar launched by Indian railways back in 2017 to upgrade all the long route fast trains and make them faster and better. Delhi-Mumbai Rajdhani Express is one of the 100 trains to get the upgrade.
However, the operation will be completed by the year 2023. Currently, the train runs at a speed of 130 kmph. To reduce the travel time to 10 hours, it should run at a speed of 160 kmph which is only possible if the existing tracks are replaced with heavyweight ones to support the speed.
If Delhi is the heart of this country, then Mumbai is the soul of it. No wonder it is one of the busiest routes in the country. With Mumbai to Delhi Rajdhani travel time significantly reduced, more than one lakh people will benefit.
Indian Railways is also planning to electrify the whole rail network by the year 2022 to decrease the dependency on diesel and reduce the operational cost of locomotives. Good to see Indian Railways headed on a green track.
Suggested Read: Love Train Journeys? The First Railway Line In Andaman & Nicobar Islands Is A Dream Come True
With Delhi Mumbai Expressway nearing its completion and a faster Rajdhani under pipeline, nothing can stop you from taking that exciting trip to Mumbai. The 'city of dreams' is a fascinating place to visit.
Comments
comments