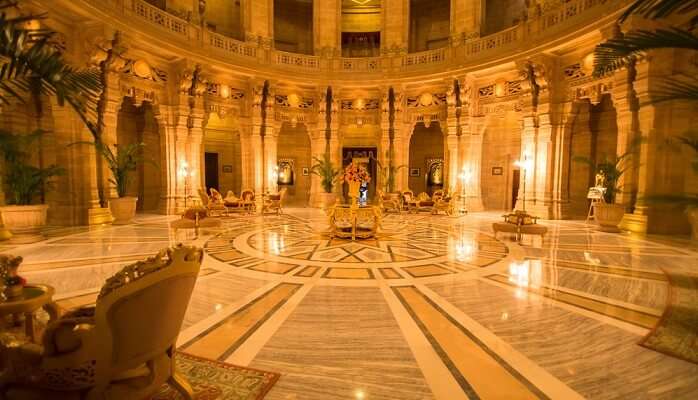 Some matches are indeed a "made in heaven" and to have a grand celebration you look for the perfect destination to seize the vibe, the happiness, the memories, the excitement, the vibrancy, and the feeling of satisfaction to have found someone truly special. But, to cherish that moment and savor the fairy tale feel, you look for the ideal space to execute the biggest day of your married life! We have curated a list of the gorgeous places to cherish a dreamy destination wedding in Dehradun.
Scroll through, to know all about these and shortlist them before finalizing the venue. Be it a grand celebration or a gorgeous party with only the closest friends and family members, it is affirmative that you'll find something of your type from listed destination wedding places in Dehradun.
6 Dreamy Places for Destination Wedding in Dehradun
Take a look at our listicle and be ready to enjoy the fanciest destination wedding in Dehradun.
1. Orchard Banquet

Image Courtsey: The Orchard Dehradun for Facebook
If you are looking for one of the popular wedding venues to have the most beautiful destination wedding in Dehradun then Orchard Banquet is one of the best options to consider. The place is known to provide the best services and organize the finest weddings in the whole of Dehradun. The fully air-conditioned space and it's aesthetic interiors are perfect for that epic wedding shoot you wish to have! Keep this place in your list if you and your partner are all about extravagant banquet hall weddings.
Location: 108, Haridwar Rd, Near LIC Office, Drone Puri, Dharampur, Dehradun
36 Best Places To Visit In Dehradun For An Incredible Trip To The North In 2022
2. The Solitaire

The Solitaire is one of the best destination wedding places in Dehradun. They have an in house wedding management team that caters all your desires and wishes. For your guests, The Solitaire offers many lavish facilities like spacious rooms, pools, halls, lawns, and much more. Be it colour schemes or decor or just the cutlery the number of options are so many. You can have a customizable wedding or pick from the themes and types they offer, the choice is yours to make. Commence the new phase of your life in the spacious, gorgeous, and dreamy setups.
Location: The Solitaire, Dehradun
3. Nine Palms Garden

Image Courtsey: Nine Palms Garden
Nine Palms Garden is indeed a heaven and each set up they have is a fusion of ultimate luxury and perfection. Have this place aside, while selecting your destination wedding place in Dehradun. The place is surrounded by hills and at night the place is surely a definition of a dream. Get ready to tie your knot inside a magical setting, filled with stars, hills and glamorous lights. The guests will be pampered with finger licking food, lavish amenities inside their spacious lawns.
Location: Jogiwala Chowk Off, Haridwar Road, Dehradun
11 Most Famous Temples In Dehradun For Those Who Seek A Spiritual Awakening In 2021
4. Regenta LP Villas

Largest banqueting space in Uttarakhand and an infrastructure which is influenced by the Rajasthan royalty, Regenta Lp Villas is a luxurious wedding venue for the couples who believe in celebrating their special moments in a royal way. Hosting a wedding is not easy and Regenta Lp Villas will craft for you a wedding which will not only turn out to be outstanding but also easy to plan. With stunning rooms for your guests to fancy decor, this venue will leave you and your guests totally impressed. Head here to take your vows in a royal way amidst serenity!
Location: Chakrata Road, Nanda Ki Chowki, Dehradun, Uttarakhand
5. Tulip Farm

Matches are made in heaven but the fairytale wedding you want to have can be organized easily in Dehradun. Tulip Farm in Dehradun is rated among the best wedding venues in Dehradun. If all you ever wished for was a fairytale wedding then Tulip Farm will make sure you have everything you wish for. A large banquet, big parking space, delectable food, picturesque view, and mesmerizing decor, are few of the things that this farm provides the best.
Location: Badripur Road, Haripur, Nawada, Dehradun
7 Marvellous Churches In Dehradun That Are Worth Visiting In 2021
6. Amrit Farms

A delightful extension of quality, tranquility and beauty. Nestled on Sahastradhara Road near Apollo International School, the location is well-connected. This sprawling venue houses a gorgeous lawn and a spacious banquet hall and bestows you with one of the finest hospitality services. It is also a stone's throw away from Police Chowki Mayur Vihar. Amrit Farm Dehradun is 20 minutes away from Dehradun Railway Station and 30 minutes from Harrawala Railway Station, thereby making it easily accessible.
Location: Rajpur Road, Dehradun
Begin this crucial phase of your life at one of the aforementioned places for destination weddings in Dehradun. Accommodate your guests and family members with the best, feasible, and budget friendly deals. The places mentioned are most rated when it comes to hosting the destination wedding in Dehradun. For your next trip to Dehradun keep them in mind and cherish a happening wedding.
For our editorial codes of conduct and copyright disclaimer, please click here.
Frequently Asked Questions About Destination Wedding in Dehradun
What do people wear at a Hindu wedding?
In a Hindu wedding ceremony, it is necessary to cover the head. So, the bride covers her head with a dupatta while the groom wears a Hindu turban. They both are decked up with new clothes and some jewelry. On the other hand, the people attending the wedding wear new clothes like lehenga, suit, saree, dresses, sherwani, coat, and pants
Is it safe to plan a destination wedding during Covid?
If you abide by the norms and precautions listed by the government and follow the guidelines issued for destination weddings then it will be safe. Having said that, your safety is always in your hands.
List of top wedding planners in Dehradun?
Although the list of wedding planners in Dehradun is long but out of them some of the top wedding planners in Dehradun are:
1. The Palm Plates Caterers
2. Pal Party Planners
3. Dream Weddings & Event Company
4. Let's Make My Events
What is the best time to plan a wedding in Dehradun?
If you wish to plan a destination wedding in Dehradun then you should know.the weather throughout the year remains pleasant here. You can plan the wedding during the weather you prefer, as all the months are pleasant and decked up with beautiful sceneries.
How to reach Dehradun?
You can reach Dehradun from anywhere in India without much hassle as the city is well connected to many railway stations and buses. The trains are cheap and even the roads are smooth for your long road trips.
People Also Read
Wedding Venues in Varanasi Wedding Venues in Chandigarh Wedding Venues in Gurgaon