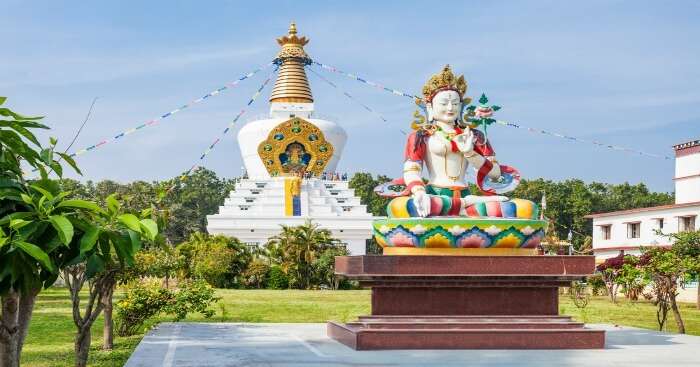 Fringed by the Himalayas on all sides, the capital city of Uttarakhand rests peacefully in a valley and is a popular travel destination. Lying in the Garhwal region, Dehradun is a perfect blend of metropolitan city and hilly station. Every year thousands of tourists travel across the globe to visit the bewitching marvels of this city. Interestingly, it is also the abode of divine Hindu temples. While some are located in the bustling lanes of the city, others are hidden amid green forests. Read below to know about the best temples in Dehradun.
11 Best Temples In Dehradun
Find the most revered holy shrines in this city to cleanse you of all sins on your trip to Uttarakhand in 2022. You'll find both Hindu and Jain temples in this list.
1. Buddha Temple

Famous as the Mindrolling Monastery, Buddha Temple of Dehradun was built somewhere in the mid-20th century by his eminence, the Kochen Rinpoche. A preserver of Buddhism and traditional beliefs of Tibetan culture, this temple is a sacred prayer ground for monks and a fascinating architecture for tourists. Verdant green gardens constitute the premises while cafes and shops outline the temple from all sides. A 220 feet Stupa stands tall in the center of its courtyard depicting the glory of Buddhist architecture. The walls of the temple are painted with exquisite murals depicting the life of Lord Buddha.
On reaching the top of the temple, one gets to feel the fresh breezes of hills and witness panoramic vistas of the bustling city of Dehradun. One can see a lot of tourists offering their homage to the giant statue of Lord Buddha as they pray devotedly to the tranquil atmosphere. Buddhist monks and Lamas can be seen attending the schools present inside the complex. Here one can experience the pristine Tibetan culture and go through the ancient religious texts on Buddhism. The entire compound of Dehradun Buddha temple resembles Japanese architecture and is a treat for photography lovers.
Location: New Basti, Clement Town
Timings: 10:00 am – 5:00 pm
Distance from ISBT: 5 km
Must Read: 20 Best Restaurants In Dehradun That'll Serve As A Paradise For Food Lovers In 2022
2. Tapkeshwar Mandir

Nestled inside the natural caves is a small effigy of Hindu deity, Lord Shiva, the center of the spirituality of Tapkeshwar Mandir Dehradun. Believed to be the meditation ground of the holy sage, Guru Dhronacharya, this temple is one of the most revered pilgrimage sites for devotees of Lord Shiva. According to the Hindi language, 'Tapak' translates to dropping, while 'Eshwar' translates to God or Almighty. The name of this temple comes from the drops of river Yamuna falling from the roof of the cave directly on top of the Shivling. Devotees offer milk and scented flowers on the idols.
The serene ambiance of the temple is what charms anyone who pays a visit. Large crowds gather and chant hymns to praise their lords and seek their blessings. Grand aartis are held on special festivals like Maha Shivratri and Navratri. Miniature temples of other Hindu gods are also present inside the complex. A seasonal tributary of River Yamuna flows through the complex. Pilgrims and tourists walk down the stairs and bathe their feet in the holy waters of this river. The simplistic architecture and tranquil environment encapsulating the landscape forms a perfect spot for praying and remembering God.
Location: Tapkeshwar Colony
Timings: 5:00 am – 7:00 pm
Distance from ISBT: 1o km
Suggested Read: 9 Homestays In Dehradun That Will Make You Want To Stay In This Paradise Forever
3. Shiv Mandir

As you travel on the winding roads up the hills of Mussoorie, you will come across a red-painted facade of little Trishuls (tridents) mounted atop various triangular domes. This resplendent facade is of Shiv Mandir Dehradun, one of the holiest shiva temples in India. Believed to be constructed by a Shiva follower, the origin of this temple is not known for sure. However, many locals can narrate the legends surrounding its religious history. Panoramic bird eye's view of the Doon valley can be seen from the temple.
Chilly winds brush through your hair as you enter the simplistic yet elegant premises. Inside there is a massive Shivling adorned with flowers and Bel Patra leaves. This forms the heart of the temple, where crowds of ardent devotees gather and worship Lord Shiva. Beautifully carved idols of Hindu gods are lined against the red and orange-hued walls. Sweets are prepared and served as prasad, symbolizing the blessing of the god in the form of food. Freshly prepared hot tea is also served to the tourists. Bhandara, or community feasts, are also organised every alternative day for the pilgrims and the needy. Any kind of donations or offerings is prohibited here.
Location: Mussoorie Road, Salan Gaon
Timings: 7:00 am – 8:30 pm
Distance from ISBT: 6 km
Suggested Read: 27 Hill Stations Near Dehradun For Your Wanderlust In 2022
4. Sai Mandir

Despite being situated on the populous Rajpur Road, the Sai Darbar Temple, or Sai Mandir Dehradun, is a peaceful shrine away from the commotion of the city. The pearly white infrastructure of this temple is filled with decorative glass paintings and marble stone carvings. Walking barefoot in the long corridors of the complex, you will reach a grand hall. And settled at the end of this hall is the magnificent effigy of Sai Baba. The idol is made entirely of white marble and is seated on a shiny throne.
This giant hall hosts heavy crowds of Sai Baba's devotees, who gather to pay their homage to the holy saint by offering fragrant flowers and textured chadars to his idol. While pilgrims chant prayers and sing hymns to seek his blessings, some even organize a Bhandara, a community meal, for the poor and needy. Since Thursday is the day of Sai Baba, it is the most festive and prestigious day of the week. Priests conduct maha aartis and kirtans. Prasaad, the blessed food of god, is prepared and presented to each devotee and Bhandara is held for the tourists.
Location: Rajpur Road
Timings: 9:00 am – 12:00 pm, 5:00 pm – 9:30 pm
Distance from ISBT: 14 km
Suggested Read: Shopping In Dehradun? Make A Beeline For These 10 Amazing Spots In 2022
5. Daat Kali Mandir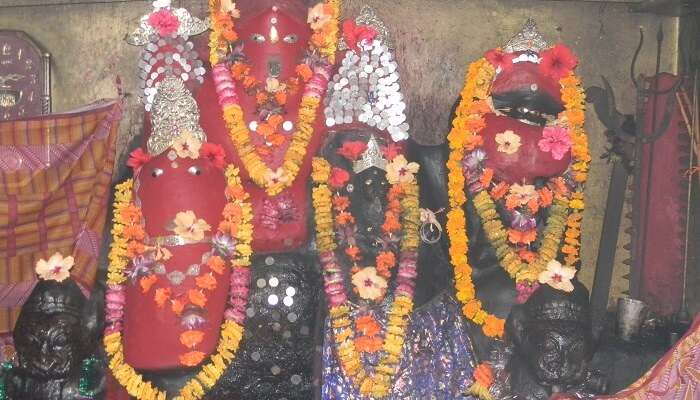 At the time when the highway from Dehradun to Saharanpur was under construction, legend says that Goddess Kali appeared in the dreams of a construction engineer working on the project. She instructed him to establish a temple in her honor and even gave him an idol to be placed religiously inside it. And this is how the Daat Kali Mandir came into being. Cradled peacefully between lush green mountains, this temple got its name from the valley it's located in. Kali Mata is regarded as the destroyer of evil.
Tourist en-route Saharanpur and pilgrims from various corners of the Indian subcontinent visit this house of prayer every year. Some visit to offer oil, flowers, and flour to the goddess. Some visit to witness the religious ambiance. Some visit to seek blessings for a new start in their lives. And some visit to perform prayers on their new vehicles that cast off the evil eye. A perennial flame burning continuously since its lightening in 1921 is the main attraction of this temple. During the holy week of Navratri, a grand celebration is held around the Mandir. Feasts are organized for the pilgrims, and Maha Aartis are held to praise the glory of the brave goddess. This is an extremely famous temple in Dehradun that is visited every year by a huge number of devotees.
Location: NH 72A, Ashkrodi
Timings: 6:00 am – 9:00 pm
Distance from ISBT: 8 km
Suggested Read: 20 Cafes In Dehradun That You Must-visit In 2022!
6. Laxman Siddh Temple

This is one of the most famous temples in Dehradun which is believed to be the holy abode of Swami Laxman Siddh. Travels take a refreshing walk through the forests of Lachhiwala hills to reach the holy spot where this temple was built. Two contrasting theories surround the origin of Laxman Siddh Temple. One legend claims this to be the site where prince Laxman (brother of Lord Ram) prayed for the atonement of the sins he committed by killing Ravana. The other legend claims this to be the place where the great saint Swami Laxman Siddh retired to lead an austere way of life till his last moments.
The pleasant aura inundates pilgrims who pay their obeisance to the gods at this place. You can hear the bubbling sound of the stream as River Song flows near the complex. The surroundings of this temple are an abode of many bird species, making it a delightful destination for photographers and bird watchers. The month of April also witnesses a grand celebration called Laxman Siddh Fair. Local tribes and villagers gather to celebrate the occasion with great zeal to glorify their culture.
Location: Lachhiwala Range
Timings: 9:00 am – 12:00 pm, 5:00 pm – 12:30 pm
Distance from ISBT: 13 km
Suggested Read: Wildlife In Dehradun: 5 Popular Sanctuaries And Parks You Cannot Afford To Miss!
7. Tapovan Temple

This is one of the most famous temples in Dehradun, where holy saints retired to practice meditation and austerity. Tapovan is an amalgamation of two words, 'Tapasya' meaning austerity, and 'Van' meaning forest. Since this place was located in the wilderness of the jungle, Guru Dhronacharya chose it to pray for his penances and meditate. Years later, the devotees of Lord Shiva constructed a charming temple in the memory of the revered saint. The greenery marking the periphery of the complex separates the holy site from the chaos of the city, making it a perfect spot for practicing meditation and worshipping with concentration.
The scenic beauty of its location attracts avid nature photographers. A tall idol of Lord Shiva stands inside the complex along with effigies of Lord Hanuman, Goddess Kali and many more Hindu gods and goddesses. A strong old tree shades the walks of the temple. This tree is considered sacred and has many threads tied to its trunk. The seeds of this tree are called Rudraksha and are used to form prayer beads. An ashram is also present inside the premises which are said to be the resting spot of Guru Dhronacharya.
Location: Lane-2, Raipur
Timings: 6:00 am – 8:00 pm
Distance from ISBT: 13 km
8. Santala Devi Temple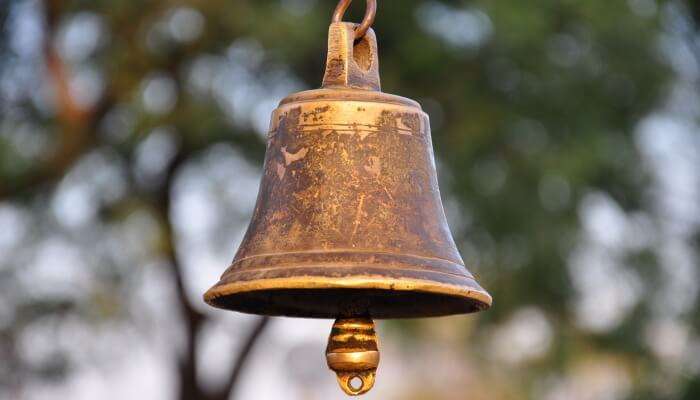 The temple is located right above the Nun Nadi in Dehradun and is a major center of faith. It is one of the famous temples in Dehradun for 2 reasons: the dense forest around giving scenic views and picnic spots nearby. You actually go on a short hiking trail to reach this mountain. Therefore, in one trip, you can enjoy adventure, some fun picnic as well as a religious trip.
Location: Village Jariwala, Uttarakhand 248190
Timings: 5:00 am – 7:00 pm
Distance from ISBT: 26 km
9. Sura Devi Temple

The Sura Devi Temple might not make it to the list of famous temples in Dehradun but that doesn't mean that a visit here is not worth it. Located in the forgotten regions of Dehradun, the temple is a sacred place and an auspicious shrine. Located atop a hill, it does offer tremendous valley views with absolute tranquility around. So, if you are really seeking peace from your trip, then visit this temple.
Location: Malsi, Dehradun, Uttarakhand 248009
Timings: 5:00 am – 7:00 pm
Distance from ISBT: 15 km
10. Sai Darbar Temple

One of the pious and popular temples in Dehradun is the Sai Darbar made up of white marble and Sai Baba's idol. The paintings of many gods and goddesses are placed in the temple which also has a large hall inside it. On Thursdays, the temple is full of devotees while other days have fewer crowds.
Location: 109, Rajpur Rd, IAS Officers Colony, Hathibarkala Salwala, Dehradun, Uttarakhand 248001
Timings: 5:00 am – 7:00 pm
Distance from ISBT: 15 km
11. Chandrabani Temple

Another of the famous temples in Dehradun is the Chandrabani temple dedicated to Goddess Chandrabani. Perched within the lush green Shivalik hills, the temple is also locally popular as the Gautama Kund. It is a popular pilgrimage center and sacred attraction for the locals.
Location: Chandrabani, Dehradun, Uttarakhand 248171
Timings: 5:00 am – 7:00 pm
Distance from ISBT: 3 km
Further Read: Dehradun In May 2022: A Guide For An Adventurous Vacay In The Enchanting Doon Valley!
So these are some of the most famous temples in Dehradun where you can seek the blessings of God, and you can experience divine bliss. These temples pave the way to divinity and peace, which we all are in need of in this digitally intoxicated life. So revel in an experience like none other by visiting these divine temples in Dehradun.
Disclaimer: TravelTriangle claims no credit for images featured on our blog site unless otherwise noted. All visual content is copyrighted to its respectful owners. We try to link back to original sources whenever possible. If you own the rights to any of the images and do not wish them to appear on TravelTriangle, please contact us and they will be promptly removed. We believe in providing proper attribution to the original author, artist or photographer.
Frequently Asked Questions About Famous Temples In Dehradun
How many temples are there in Dehradun?
There are countless small and big temples all over the city. All temples have beautiful idols belonging to different gods of Hindu mythology.
Are there any rules to be followed when visiting a temple in Dehradun?
Yes. When visiting any temple, there are a few general rules one should keep in mind. When stepping inside the temple complex, make sure to remove your shoes and walk barefoot. There are counters for safely keeping your footwear. After your tour, you can easily collect your shoes by giving back the token provided earlier. Make sure to maintain a peaceful ambiance. Do not create loud noises once inside the prayer hall. You can make donations and offerings to the idols, but make sure that it is permitted by the authorities.
Is there any dress code for visiting the temples?
There is no dress code in particular. Just make sure your clothes are decent. Skimpy and revealing clothes can hurt the religious sentiments of people, so avoid them when visiting a temple.
How many days are required to explore Dehradun fully?
Depending upon your mode of travel, you will require about 3-4 days to explore all the fascinating places of Dehradun fully.
What is the best mode of transportation to travel in Dehradun?
For local transportation, you can travel conveniently using the local buses or the autos. The best way, however, will be to hire a cab and then tour the city.
What are the famous tourist attractions can one visit in Dehradun?
Apart from the temples, one can visit Forest Research Institute, Robber Cave, Malsi Deer Park, Clock Tower, Sahastradhara and Pacific Mall.
What places near Dehradun is the best to explore?
Beautiful hill stations like Mussoorie, Dhanaulti and Chakrata are present nearby Dehradun. You can also visit religious cities of Haridwar and Rishikesh.
How far is Dehradun from Mussoorie?
Mussoorie is just 33 km away from Dehradun but lies on the mountains and usually takes more than an hour of travel time.
Are there any churches in Dehradun?
Yes. Some of them include: Morrison Memorial Church, St. Thomas Church, St. Francis Of Assisi Catholic Church and Central Methodist Church.
---
Looking To Book A Holiday Package?
---
People Also Read: