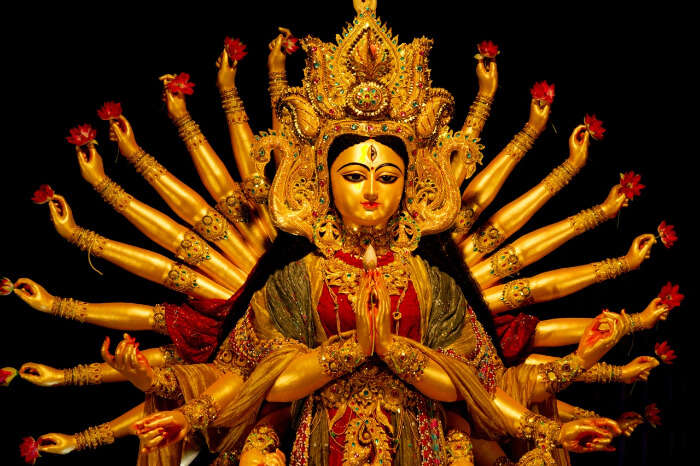 Nepal is a land of rich traditions and cultural practices, which are reflected during their major religious festivals. Dussehra in Nepal is called Dashain, which is a significant festival for the Hindus in Nepal but is celebrated with the same enthusiasm by people of all faith. Dashain celebrates the victory of good over evil, based on the belief that on this day, the demon Mahishasura was defeated by Goddess Parvati or Durga.
Highlights Of Dussehra In Nepal
Dussehra festival in Nepal is known as Dashain Festival. Here are the highlights of the grand celebration of Dussehra in Nepal. Take a look and make sure you attend the festivities on your vacation!
Day 1: The first day of celebrations is called the Ghatasthapana and on this day a Kalash or a pot is set up. The pot contains holy water and is covered with cow dung and barley seeds. The locals believed that Goddess Durga resides in this pot for 9 days and the barley seeds turn into grass due to her presence. The green grass is known as the Jamara.
Day 7: The seventh-day ceremony is called the Phulpati. In this ceremony, a red cloth is tied to the Kalash, Sugarcane, Jamara, and Banana Stalks. This bundle is then taken to the King's palace by the Gorkha Brahmins and then offered to the King. Today the President is present at the palace and the Phulpati is offered to him at his residence.
Day 8: The 8th day of the celebrations of the Dussehra festival in Nepal is called the Maha Ashtami. On this day animal sacrifices are offered to Goddess Kali and then the family prepares a meal out of the offering and eats it as Prashad.
Day 9: Known as Maha Navami, this day is celebrated in a grand way and finally the Taleju Temple is opened for all visitors. The locals worship their cars and vehicles to avoid any future accidents. A plethora of guests visit the temple on Maha Navami and attend the celebrations.
Day 10: Vijaya Dashami is the final day of Dussehra celebrations in Nepal and on this day a special Tika is prepared from yogurt, vermilion, and rice. The women of the house apply this Tika along with Jamara on the forehead of the younger members of the family. It is believed that the red tika is a symbol of unity.
6 Top Attractions Of Dussehra In Nepal
If you are planning to visit Nepal, then this is the best time around which you can plan your trip. Dussehra brings out the best traditional side of Nepal, letting you experience all of it in a very short span of time. The festival lasts for 10 days with each day having its own significance. Here are some experiences that would interest you as a traveller if you are in Nepal during Dashain.
1. Dashain Fairs
Dashain or Dussehra Festival in Nepal is the best time to attend numerous exciting fairs or 'melas'. The fairs are organized in different parts of Nepal but have similar attractions. Ferry wheels and other rides, food stalls, stalls selling clothes, jewellery, souvenirs, and several other fancy things are the highlights of these fairs. People come here with their family and friends to enjoy some leisure time.
Must Read: Kathmandu Nightlife: 10 Places That Bring It To Life Every Night
2. Dashain Music
"Malshree Dhun" is the Dashain music, just like there are carols during Christmas. Various musical programs are held in different parts of Nepal during Dussehra. It is a part of the six seasonal music which people of Nepal play, especially those from Kathmandu Valley, to symbolize the arrival of each season. Malshree Dhun is autumn music and since Dashain is the major festival during Autumn, this music is played during Dashain. People play musical instruments like Jyapu, Mali, Khadgi, Dhobi, going around the village and city attracting crowds who gather to listen to them.
Suggested Read: Top 10 Nepalese Food Items To Savor Beyond Momos & Pulao
3. Dashain Food
Every festival arrives with the aroma of some exclusive and traditional food items. And when the festival is related to the harvest season, the reason to eat and celebrate multiplies. If you happen to be blessed enough to be in Nepal during Dashain, food is one major factor that will keep you interested. This is the best time to taste some of the traditional authentic Nepalese food items. Even the Dashain song, "Dashain aayo, khaunla piunla" meaning "Dashain is here and we rejoice as we eat and drink" testifies the relevance of food and drinks during this festival.
Goat Pakku – A popular, highly flavoured goat meat dish
Mutton Sekuva – Grilled marinated goat
Dal Bhat Masu – A combo of Dal (lenticals), Bhat (cooked rice) & Masu (meat curry)
Cauli Aloo – A vegetable dish with potato as the main ingredient
Bhatmas Sadheko – A soybean salad usually consumed as snacks
Mula Ka Achar – A fermented radish pickle
Sikarni – Whipped yogurt flavoured with cardamom and garnished with nuts
Suggested Read: Langtang National Park In Nepal: A Nature's Treasure Hidden In Wilderness
4. Dashain Shopping
Dashain is one of the best times to indulge in budget or cheap shopping in Nepal. The markets are flooded with a variety of new goods of all kinds. You can shop for dresses like Kurtis, lehengas, sarees and other traditional outfits. Footwear is another best buy of this festive season. The markets also sell cutleries and utensils of various designs and styles and pieces of jewelry and accessories. These things are also a good option to be bought as souvenirs to take back home as a memory or to gift a loved one. The best places where you can shop during Dashain are:
Local market, Thamel
Mahendra Pul Bazar, Pokhara
Civil Mall, Sundhara
City Center, Kamal Pokhari
Putali Sadak, Kathmandu Valley
Suggested Read: Visit The Bardia National Park To Experience Nepal's Absolute Wilderness
5. Dashain Rituals
Travellers are often intrigued by festivals and rituals that are new to them. If you are one such traveller, you would surely be interested in witnessing the Dashian "puja" or worship rituals. The festival is a huge affair in temples and sees huge participation from the community. Apart from the worship at home, there are grand rituals held in major Hindu temples in Nepal. The 10-day festival has different celebrational ceremonies on each day. Temples are decorated throughout the celebration. You can head to these temples to experience the Dashain celebration at its best in Nepal:
Sankata Devi Temple
Kalikasthan Temple
Naxal Bhagwati Temple
Shova Bhagwati Temple
Taleju Temple
Bhadrakali Temple
Nardevi Temple
Dakshinkali Temple
Suggested Read: 7 Best Hostels In Nepal For A Relaxing And Budget-Friendly Vacay!
6. Kite Flying
Dashain witnesses an enthusiastic and unofficial kite flying competition among neighbours. Both adults and kids engage in flying colourful kites from the rooftops of their houses. They shout out, "changa cheit" whenever their kite strings get entangled with others. If you are in Nepal during the Dashain festival, this is one activity you must not miss to try. Roll in for Dashain Kite Flying events organised by FLY360.
Kite Flying Shows & Events
LED night flying kites
Kit making workshops
Further Read: 10 Pristine Lakes Of Nepal 2022 That Ooze Serenity & Tranquility
From shopping to food, to cultural events, the Dussehra festival will make your vacation in Nepal nothing less than a celebration. Make the most of your Nepal trip by planning a vacay around Dashain. So, do not miss out on the chance, plan your trip to Nepal right away.
For our editorial codes of conduct and copyright disclaimer, please click here
Frequently Asked Questions About Dussehra In Nepal
Why is Dashain important in Nepal?
It is one of the most important festivals in Nepal as it celebrates the victory of good over evil and reflects the cultural integrity of Nepal. It is essentially the Dussehra celebration in Nepal as it is in India.
What is Dashain Tika?
The Dashain Tika is part of the ritual followed during the Dussehra puja in Nepal. The Dussehra festival in Nepal is known as Dashain.
How many days do we celebrate Dashain?
The traditions of the Dussehra festival in Nepal, or Dashain, are celebrated for 15 days.
Do Nepalese celebrate Diwali?
Yes, Nepalese people celebrate Diwali. They will be celebrating Diwali as well as Dussehra in Nepal 2022 with as much enthusiasm as Indians do.
What is the famous festival of Nepal?
Dashain and Diwali are among the most famous festivals celebrated in Nepal.
When is Dashain Festival in Nepal 2021?
The Dashain Festival in Nepal will be celebrated on 26th October 2021.
People also read:
Dussehra in Delhi Dussehra in Sri Lanka Dussehra in Kullu