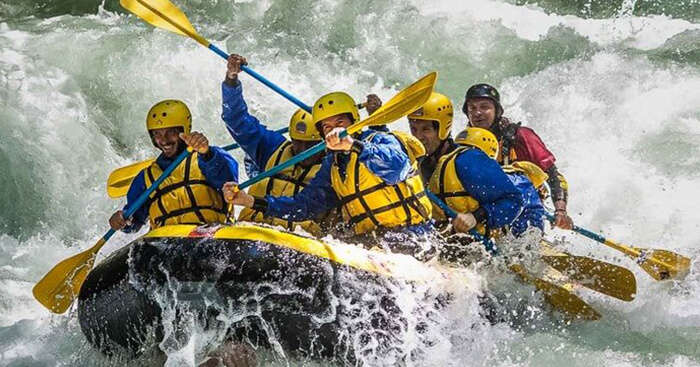 Manali has always been a hotshot travel destination for everyone, all through the year in the north of India. Skiing, paragliding, snowboarding, snow surfing, and ice skating have been the primary attractions of Manali. However, only a few know that Manali also possesses some of the best rafting stretches. And trust us they are among the best in the mountains of India.
If you've got a group of adventurous pals, head to the mountains this January or February. Though not the most amazing season to go river rafting in Manali, it is quite a rush for those who love winter and do not mind a dash of thrilling adventure anytime. But before that a few essentials that would help you freeze the perfect plan to this amazing trip.
Table Of Content
White Water Rafting Vs River Rafting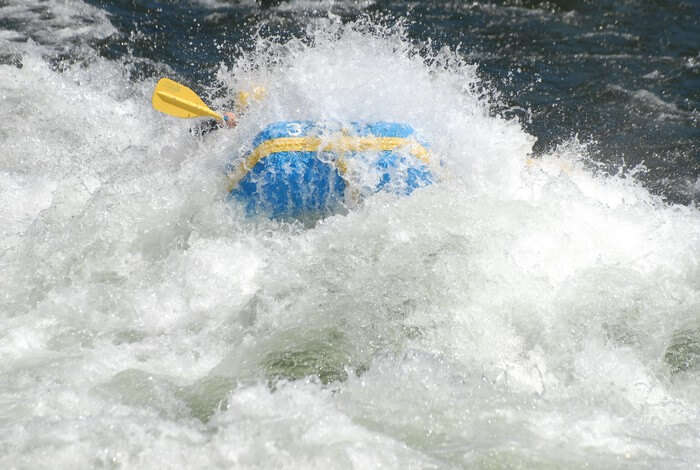 First things first! So white water is same as river water but with a tinge of froth formed in it due to rapid flow of water. The river water appears white as the current gets aerated and bubbly. This must clear the confusion for you that both – river rafting and whitewater rafting are the same.
Suggested Read:This Igloo House In Manali Is The Perfect Adventure For You This February
---
Himachal Holiday Packages On TravelTriangle
---
Why Choose Manali for River Rafting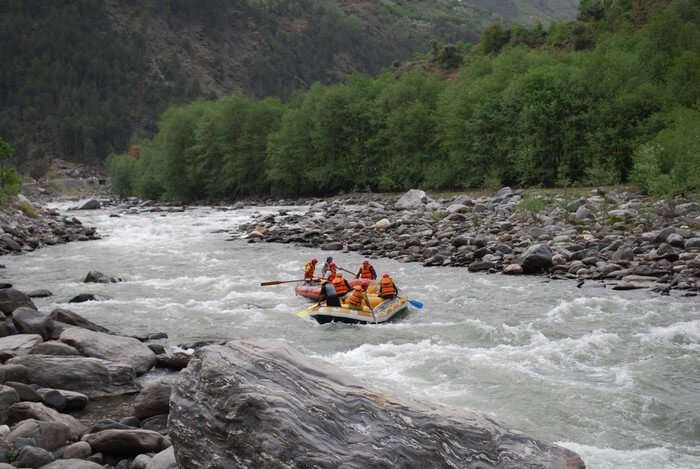 Now that there is no confusion, let's get down to Manali's scene of river rafting. In Himachal, there are four rivers that offer opportunities for rafting — Beas, Chenab, Satluj and Ravi. Manali rafting is usually classified in six categories on the basis of difficulty level. Beas happens to have the most ideal waters for different forms of rafting. The river has its origin in the Rohtang Pass and it blesses Kullu Valley on its way down. With the right kind of stability over a stretch of 20 km in Manali, the waters of Beas River thus become one of the most ideal rafting options in North India.
Best Time to Visit Manali for Rafting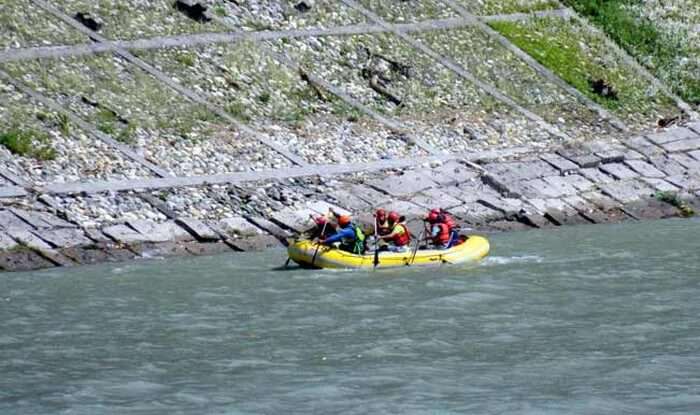 With the most ideal currents settings in Beas River, Manali rafting is done almost all through the year. It is only during the extreme winter months and months of heavy rainfall that the activities in the river are restricted. The best of the river rafting in Manali happens in June and July. Monsoon does restrict if for a couple of months and it restarts by late October and goes on till early February.
Suggested Read:20 Extreme Adventure Sports In Manali That Will Get Your Heart Racing
Manali River Rafting Location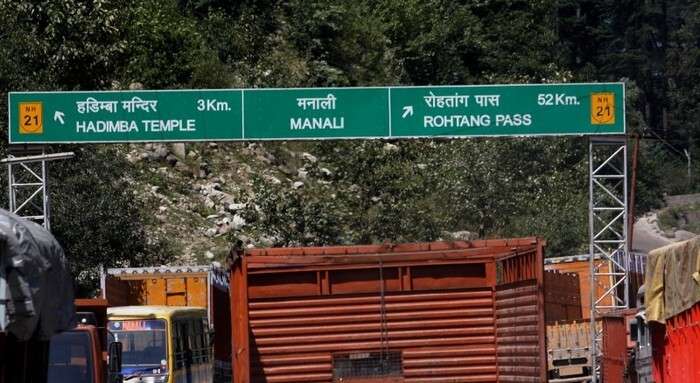 As shared, river rafting in Manali is done in the Beas River. The ideal 20 km stretch from Manaki to Jhiri near Bajaura en-route Manali from Bhuntar is one of the best stretches for rafting in India. However, there are short stretches in the Manali region for beginner's level rafting in the Beas River. Pirdi has a dedicated water sports center that provides for a wide range of adventure activities in Manali. The sports center also arranges for various courses in rafting, kayaking and canoeing. So, are you ready for best river rafting in Manali just yet?
Best Organizers for Manali River Rafting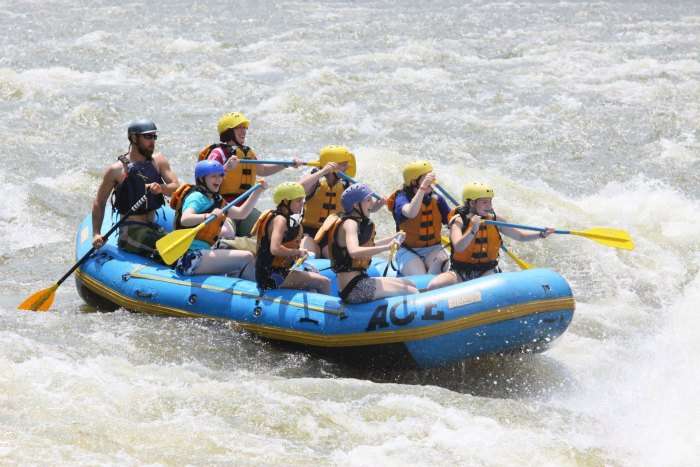 The entire route from Bhuntar to Manali is full of adventure operators on the roadsides. With an increasing footfall every year, such operators have made adventure sports pretty convenient in the region. Rafting In Manali. Visit Kullu Manali, and Adventure Manali are some of the online operators. There is no dearth of such operators in the region.
Suggested Read:34 Places Near Manali That Are Perfect For A Dreamy Holiday In The Hills
Safety Measures For Rafting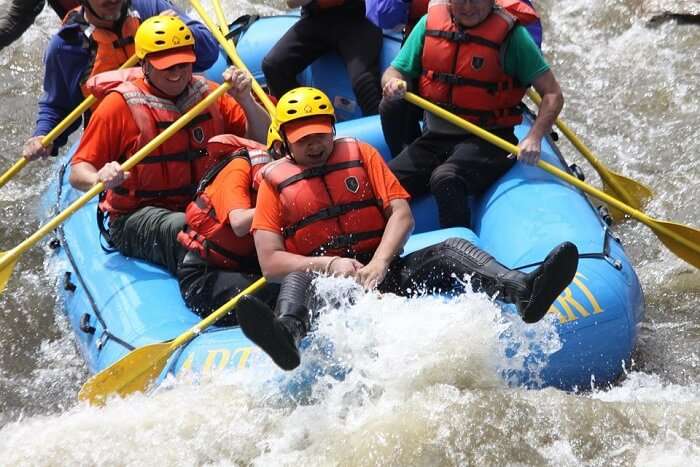 Image Source
There are abundant rafting offices located In Kullu valley. Not only does one get to wear all the safety gear on site, the respective rafting authorities also hire only trained professionals who have full knowledge of handling emergency situations. You'll also be given proper instructions of what to do and how to overcome the problem in case you encounter any. Just make sure you're wearing comfortable clothes in order to enjoy better and keep wearing the safety gear until you're off the boat.
Things To Carry For Rafting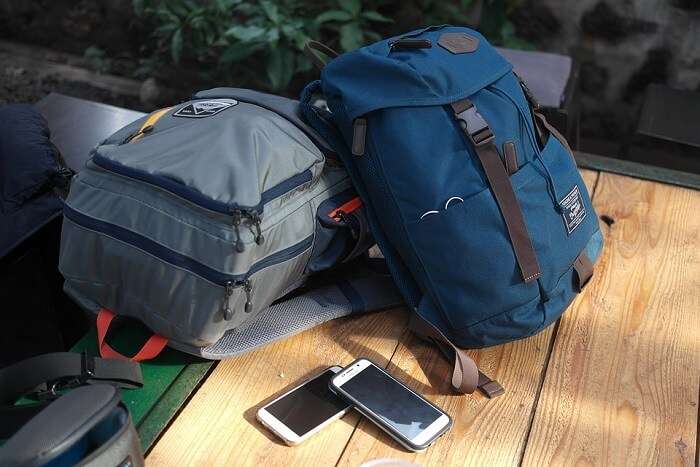 Image Source
There are certain things that are allowed and are also a must during your rafting experience. You need not worry about your belongings as they'll be kept in a rucksack throughout the high tides and you'll also be allowed the time to click pictures and make videos. Here's a list of what all you can carry but make sure you pack light.
Camera
Personal Medications
Valid Identity proof
Water bottle
Shoes/Chappals
Extra set of clothes
Waist pouch
Swiss knife
Facilities And Cost For River Rafting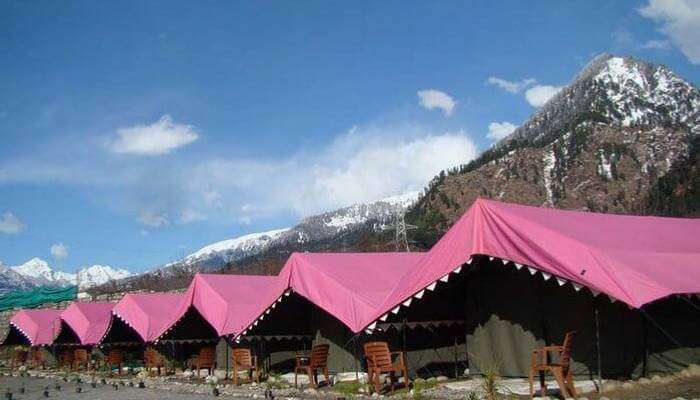 The river rafting in Manali is usually clubbed into various packages including overnight accommodations, food and a few other sports. Tented accommodations on the river bank are star attractions in the name of river camping and river rafting. Campfires and bonfires are arranged on demands to make nights full of memories. The cost of river rafting in Manali starts from INR 500 to INR 1,000. The rafting packages start from INR 2,000 which include accommodation and meals for one night.
Suggested Read:37 Awesome Things To Do In Manali For Solemn Joy
Now that you are equipped with all you need to know for Manali River rafting, set yourself for a Manali trip and row! So, what are you waiting for? Plan a trip to Manalifor an amazing holiday experience amidst the serene views of this land like never before! Make sure you pack a few extra clothes in case this place changes your mind and you extend you perfect vacay a little more!
For our editorial codes of conduct and copyright disclaimer, please click here.
Frequently Asked Questions About River Rafting In Manali
Is River rafting safe in Manali?
Rafting in Manali is comparatively safer as compared to river rafting in other locations of India. Though it has a medium risk, is highly advisable that you take help for highly trained professionals.
What is there to do in Manali at night?
If you are looking for some adventure at night, you can go camping at the Soland Valley amidst the wilderness and the open starry sky.
In which parts of India is rafting very popular?
You can find a number of river rafting sites in India. A few of the most popular ones are Rishikesh, Manali, Uttrakhand, Maharashtra, Arunachal Pradesh, Coorg, and Sikkim. Indus, Yamuna, Kameng, Lohit, Spiti, and Zanskar are a few more rivers where you can go river rafting.
What is white water rafting?
White water rafting is the term given to rafting in turbulent and frothy waters as it is usually seen in rapids or surfs. It is considered as the most difficult level of surfing.
Is there any chance of snowfall in manali?
Yes. Manali sees a moderate level of snowfall between December and February.
Which is the best time to visit Manali?
The best time to go river rafting in Manali is between June and July.
Which is the most dangerous white water rafting in India?
Some of the most dangerous river rafting places in India are Rishikesh, Bhagirathi River(Uttrakhand), Beas River (Kullu-Manali), and Indus River(Ladakh).
Which river flows near Manali?
The Beas River flows through the region. Its originating point is 4361 m high in the Himalayas. The holy river passes through forests and hills before reaching Punjab.
---
People Also Read: