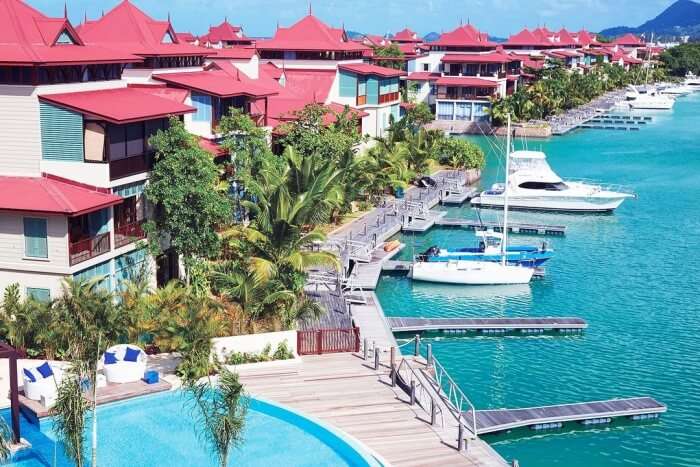 Overview
Eden Island is known as the first Garden of Eden in the world and is one of the most beautiful places that add value to Seychelles. Eden Island hotels is an ideal getaway for tourists who are looking to get more from Seychelles. Eden Island offers something that is unique to Seychelles that are a marina, small port, fine-dining restaurants, and a lot of magnificence. Some tourists get tired of staying by the poolside and the beaches, and for them the beautiful surrounding of Eden Island is refreshing. Eden Island is a hub for most people who visit Seychelles for fine dining and entertainment. This is also a must stop for several island hoppers.The proximity to the airport also invites a lot of tourists to the place. There is a lot to explore like spas, pubs, bars, and restaurants along with shopping and fishing. Eden Island also has a historical past that has not been revealed to many tourists so long. The harbour allows tourists to take a trip around Eden Island on the boat and view the entire island. For evening fun, there are pubs and bars and also lots of shopping areas.
Special Experiences
Eden Island's specialty is its modern façade coupled with the laid-back and relaxing beach experience. This place serves entire Seychelles experience in a plate for the tourists. An Eden Island hotel in Seychelles is easily accessible from all the important locations of Seychelles and also one is never too far away from the high life like nightclubs and shopping along with a relaxed holiday on the beach. Eden Bleu is the best hotel as per many travelogues in Eden Island that offers the tourists the best in terms of accommodation. People have the best choices between the beach fun and the actual touristy place by staying in Eden Island hotels Seychelles. There are several attractions apart from shopping and nightlife like botanical gardens and museums in Eden Garden. Several tourists who visit Eden Island say that they are reminded of Palm Islands in Dubai. The city is still expanding as more tourists flock to Seychelles for a holiday.
Facilities
The best hotels in Eden Island of Seychelles is Eden Bleu, which offers fantastic facilities to its guests. This is a low rise property located right on the beach and just a stone's throw away from the main town and all the main attractions. It has a sprawling garden and lobby that welcomes visitors to the first Seychelles experience. A sea facing pool also has a boardwalk that leads directly to the ocean. The suites are all built for comfort with saunas in the bathrooms, flat screen television, surround sound systems, private entrance to the beach and a world-class restaurant. All rooms sport a Japanese style décor and have all the modern gadgets installed in every suite of the hotel. Free Wi-Fi connection is a passé because entire Eden Island has a free high-speed internet connection.
Dining
Tourists, who enjoy dining in style and splendor, should visit Eden Island as there are a plethora of restaurants here which serve the best food in Seychelles. The fast-paced tourist activity in the city is appealing after enjoying the calm and peaceful environment of the beach. Vlad is a unique restaurant that serves Ukrainian beer and also some fantastic Ukrainian food. Eden Bleu restaurant also is a top class restaurant that serves different cuisines, and it offers a carefully chosen menu from around the world. Boardwalk Bar and Grill is for night bar hoppers who never get enough of one place. There are so many places like this throughout Eden Island.
FAQs
Q1. Why is Eden Island such a popular place?
A. A lot of visitors to Seychelles will have to pass from Eden Island to head to the rest of the destinations, and it is worth a visit.
Q2. Are pets allowed in beach hotels in Eden Island?
A. Eden Island is the business and tourist hub for Seychelles and is always bustling with activity. Pets are not entertained in many hotels, and also pets will feel uncomfortable in such an environment.
Q3. Which beach hotels in Eden Island are the closest to the airport?
A. Eden Island itself is very close to the airport, and Eden Bleu is the closest hotel to the airport.
Q4. What cuisines are served in hotels in Seychelles?
A. Eden Island has several restaurants that serve different cuisines like Creole, Italian, Spanish, Indian and continental. Some unique restaurants also serve Asian food like Japanese and Chinese as well. The Eden Plaza has many restaurants which represent several nations including Thailand, American, European, Indian and many more.
Q5. Which are some of the best resorts in Bel Ombre?
A. Eden Bleu is the best hotel and resort to stay in at Eden Island, and it has top rating in many travel websites. It is a five-star hotel.
The difference between the rest of Seychelles and Eden Island is that the island offers the beach and city holiday combined in one place. People won't miss the modern city attractions and also get their dose of beach experience in Eden Island. An Eden Island hotels Seychelles is at a convenient distance from the beaches and the shopping districts. So tourists can take their pick and plan their day based on what they want to do first. The airport is quite close and this is an added advantage. Eden Island is one of the unique cities of Seychelles which is a mix of town, beach destination, and tourist destination. It is also a hub for Seychelles business and tourism organizations. It is very close to the Seychelles International airport. This is a significant city for entire Seychelles for business and tourism. Though it is a small island, it is a significant part of Seychelles. Eden Island has a rich cultural and heritage past as well that tourists would like to explore. The botanical gardens and the museums are worth a visit.