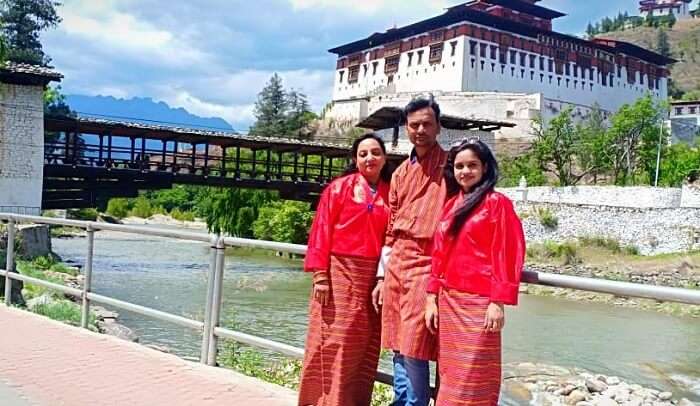 Commonly known as the "land of dragons", Bhutan is a place which is known for its surreal landscapes and the ancient museums and monasteries, which reflects the culture and heritage of the country. And all this makes Bhutan quite an extraordinary place to visit which is perfect for a family vacation. These cultural diversities and traditional Buddhist vibe intrigued Neha to plan a family trip to Bhutan. This country was on her mind since a long time now and finally she decided to travel with her parents and explore the beauty of this place with her own eyes. Read on to know her experience and also take down tips to plan your vacation to this beautiful Himalayan kingdom.
Details Our Family Trip To Bhutan
Trip Type: Fascinating Family Trip To Bhutan
Cost: INR 38,000
Duration: 5 Days & 4 Nights
No. Of People: 3 Adults
Inclusions: Transfer and Sightseeing by private car, Immigration Charges, Driver cum guide, Per Day 1DBL and extra mattress, Pick up and drop facility from airport, Breakfast
Exclusions: Personal tips, laundry charges, additional tour charges, Insurance, Medical and Emergency rescue costs, Specialized guide, entrance fees
Travel Agent From TravelTriangle: Himavat Destination Private Limited
Our Itinerary Looked Like This
Day 1: Arrival at Bagdogra/ Drive To Phuentsholing
Day 2: Transfer To Thimphu/ Sightseeing
Day 3: Trekking To Tiger's Nest
Day 4: Sightseeing At Paro/ Drive To Phuentsholing
Day 5: Departure
Experiences We Enjoyed During Family Trip To Bhutan
Must Read: 10 Invigorating Adventure Sports In Bhutan You Must Try In 2022
1. Phuentsholing: Wandering Around The Frontier Town


On the day we arrived in Bhutan, the first attraction to be explored was Phuentsholing which is situated at a height of 985 ft. This is called the commercial centre of Bhutan which had a lot of things for us to explore as a first time traveler. The place was quite vibrant and had a blend of ethnic groups in which prominently there were Indian's, Bhutanese and Nepalese. The first day of our family trip to Bhutan was easy breezy and relaxing.
2. Thimphu: Explored The Capital Town



Thimphu was our next stop after Phuentsholing and the capital town left no scope for us to not be surprised. It has a unique blend of modernity and the ancient traditions which made it beautiful to explore. The weird thing about the city was that it had no traffic lights at the road. After admiring the uniqueness of the place, we went to take a walk at Coronation park. This place is located by the banks of the river. Evening was quite chilling as we explored the Handicrafts Emporium and local crafts bazaar. With this the second day in this capital town came to an end.
Suggested Read: Top 10 Indian Restaurants In Bhutan You Need To Visit In 2022!
3. Tiger's Nest Monastery: Hiking To The Top






The main highlight of our family trip to Bhutan was trekking to the Taktshang Goemba which is a monastery resting at the cliff of the mountain. Hiking through the rough trails, when we finally reached there the view was just extraordinary. It was almost a 2 hour trek which was quite fascinating and added a bonus point to our trip and made it extraordinary. With the spectacular beauty of scenery, we gazed at the blue pine and rhododendron forest.
4. Paro: Take A Round Of The Ancient Ruins




The Paro sightseeing was one of the best things we did during our family trip to Bhutan apart from the Tiger Nest's trek. We later drove to the Phuentsholing which is known for its beautiful and ancient treasures like the National Museum. This place holds the vast collection of antique Thangka Paintings, textiles, weapons & armour, household objects and the rich assortment. Adding to that we also got a chance to explore the local market area of the country. The markets and museums gave us a glimpse of the culture and heritage of Bhutan.
Highlights Of Our Trip To Bhutan In June
Trek To Tiger's Nest
Exploring The National Museum
Walking down the crafts market
Suggested Read: 10 Things To Buy In Bhutan On A Vacation
Food In Bhutan
There were many restaurants which served delicious Indian food which was a win-win situation for us. And the taste of the food was also deletable which made our food experience quite good in Bhutan. If someone looks out for Indian veg restaurants in Bhutan, one can easily find one too.
Shopping Places In Bhutan
Bhutan is a country which can be counted as a paradise for shopaholics. There are craft markets in Phuentsholing which quite intrigued us, but apart from that there are local shops to enjoy a fascinating shopping experience. Some of the famous things to buy in Bhutan includes handicrafts, Hand-woven textiles, Gold and Silver Jewellery, Himalayan Beads, Cane and Bamboo Items and Wooden Products.
Suggested Read: Our 5 Days In Bhutan Were All About Bliss, Adventure And Tranquility!
Traveling Tips To Bhutan
Carry some of the winter wear to protect from sudden drop in temperature.
Take proper trekking gear for Tiger's Nest Trek
Don't miss out on the National Museum and it's artefacts
Our Experience With TravelTriangle
The experience was amazing as always. They ensured that we have the best accommodation to stay and also get the chance to explore the major attractions of the country.
Further Read: Bhutan Hill Stations: A Ride Into The Most Picturesque Landscapes
So where are you headed next for your next family vacation? After reading Neha's surreal experience, we hear the name of the destination is going to be "Bhutan". Still don't know where to start from? No worries, pack your bags and plan your fascinating vacation in Bhutan with us and rest all is done. Right from enjoying the view of the place, to enjoying a comfortable stay we have your back!
Questions People Ask Before Planning Our Family Trip To Bhutan 
Why is Bhutan so expensive?
To protect the culture and heritage of the country, Bhutan's government has imposed a minimum expense of $200 per person during the low season and $250 USD per person during the high season.
Is Indian currency accepted in Bhutan?
Yes, Indian currency is readily accepted in Bhutan and an Indian citizen can carry up to 25,000 cash with them.
Is there WIFI in Bhutan?
In Bhutan there are very few Internet cafes and beyond that there is the Bhutan Telecom and Tashi Cell which offers 3G and 4G networks. Alongside that there are hotels which offers free wi-fi which limits to the lobby and restaurant.
Is alcohol available in Bhutan?
Yes, Bhutan is a place where one can carry alcohol and its not prohibited to any particular brand of alcohol. People can also buy some of the expensive brands of alcohol at the duty free shops.
What should I wear in Bhutan?
Though there are no restrictions to the clothes to wear in Bhutan, but while visiting Dzong people are restricted to wear hats, shorts, skirts, flip-flops and t-shirts.
What do they eat in Bhutan?
Rice is one of the staple things in a Bhutanese meals served along with one or two side dishes which consists of meat and vegetables.