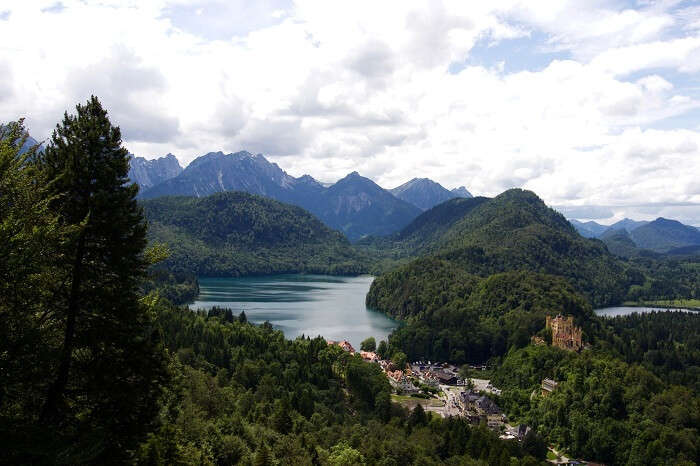 An escape from the daily struggles of life took Jeevan and his family to a 10-day family trip to Germany and Austria. 10 days spent in the European heartland surrounded by beauty and culture led Jeevan to explore many scenic and unforgettable places. He got a package via TravelTriangle booked at INR 249000 for 6 people which included their breakfast, accommodation, and sightseeing.
Initially, my family and I had planned for a trip to Netherlands and Tulip Farm. However, as my parent's visa did not come on time, the Netherlands trip never got materialized. Besides that, I was very fond of visiting the castles in Germany and Austria. Hence, I thought of going there with my family.
One of my friends traveled via TravelTriangle and simply loved the experience of having a customized holiday. So, I got onto their website where I requested for quotes. Soon, a travel representative contacted me and understood the needs of my trip. Following this, I got very competitive quotes from multiple agents and I selected the best deal given by Mk Holiday.
Day 1: Traveling to Frankfurt
I decided to start off our vacation with Frankfurt as it is a major connecting airport in the world and the flights to that city were pretty economical. We boarded our flight from Hyderabad, stopped at Delhi to catch our flight to Frankfurt. We reached our destination around 8:3o in the evening.
Naturally, we weren't left with much time to do anything as we were also a little tired. So, we simply checked into the hotel and slept for the night.
Day 2: Frankfurt City Tour
Suggested Read: Avalon River Cruising – Redefining The Way You Cruise
We woke up early next morning and had some breakfast. Our vacation began with a Hop-on Hop-off City tour of Frankfurt.
The highlight of our city tour was the boat ride on the river Main. It was a large yacht-type boat which had both the open and shade area for the tourists. Going along the Main river which cuts through the middle of Frankfurt giving us a glimpse of the city's composition was truly amazing.
The city tour ended at 5pm as we got off at Hauptbahnhof. This is the central station of Frankfurt from where we went back to our hotel via a small train ride and retired for the night.
Day 3: The Black Forest and Lake Mummelsee
The next day after breakfast, we took a train to Baden-Baden. We rented a Ford Galaxy from Baden-Baden and from there my family and I drove to see Lake Mummelsee and the Black Forest. It was a 75 km drive, which went through the world's fastest speedway called as the Autobahn, we reached the Black Forest.
Initially, it was tough driving on the German roads as the cars were left-hand drives, but soon enough I got the hang of it and began to enjoy the driving experience. The village near Lake Mummelsee in Baden-Baden is famous for it's Cuckoo Clocks.
It was here in this village, that the Cuckoo Clocks were invented. It is also interesting to note that the original Cuckoo Clocks are made from the wood of the fallen houses of villagers who used to live here. After an enjoyable and scenic visit to Lake Mummelsee, we drove back to Baden-Baden. We could not help but admire the picturesque landscape that Bavaria has to offer. The charm of the German countryside is truly unlike anything else I've ever seen.
After taking a train from Baden- Baden to Frankfurt, we reached our hotel at 10.30pm and then retired for the night.
Day 4: Traveling to Munich
Suggested Read: 10 Most Popular Europe Trips To Plan 2022's Ultimate Escape
My family and I were now scheduled to travel to Munich. Post a quick breakfast, we checked out of the hotel in Frankfurt and traveled to Munich. We arrived in Munich in the afternoon a bit exhausted.
In the evening, we visited the English Gardens which was nearby our hotel. It is a very beautiful public park located in the center of Munich. My children were very pleased upon visiting the park. Later on, we returned to the hotel for dinner and then called it a night.
Day 5: A trip to Bavarian Castles
For our next visit, I had planned a single day trip to visit the world renowned to Neuschwanstein and Hohenschwangau Castles. The former is the Castle which gets its fame from being a part of the Disney logo. The latter is famous for being home to the Bavarian Kings in the 19th and 20th century.
Again, the drive to the castle was heavenly. I felt so lucky to get a chance to explore such magical landscapes with the people I hold dearest to me. Being in the right place with the right people, gave me a sense of gratification that has been very rare for me to achieve. Our tour ended at 6.30pm after which we returned to our hotel.
Day 6: Visiting Austria
We checked out of our hotel in Munich and flew to Salzburg, Austria. The second part of our family trip to Germany and Austria was about to begin. We landed in Salzburg at noon and soon after checking- in to the hotel we proceeded to visit the gorgeous village of Hallstatt.
Often regarded as the most beautiful village in the world, Hallstatt truly has an aura of its own. Situated in between a mountain and a lake, the village provides a surreal view of a place straight out of a 8-year-old's fantasy.
The way to reach Hallstatt is either via train or bus. I booked the bus tickets separately for my family. After another enjoyable family outing in Hallstatt, we returned to the hotel in Salzburg and checked-in for the night.
Day 7: City Tour of Salzburg
Our second day in Salzburg was reserved for a city tour I had booked tickets for. My family and I boarded the Hop-on Hop-off City Tour of Salzburg.
The city tour started with a visit to the Mirabell Palace. It is a UNESCO World Heritage site also famous as the location where many scenes of the movie 'The Sound of Music' were shot. Onwards we went towards seeing a number of monuments dedicated to Mozart.
Mozart's residence, Mozart square with his statue and a bridge named after him were also a part of this very informative and delightful tour. The city tour ended at the Hauptbahnhof (also the central station for Salzburg). Later on, we returned to our hotel for the night for some family time and a good night's sleep.
Day 8: Visiting Vienna
As we were traveling further into Austria, our next day took us to the capital of Austria- Vienna. Famous for it's Schonbrunn Palace and Viennese Coffee, Vienna really heightens your aristocratic and luxurious experience on a vacation. Since we were there only for a day, we thought of hiring a cab for 4 hours that would give us a city tour.
It was indeed a good idea to cover Vienna in a cab, as the taxi driver was very informative and well versed with the things to do and places to visit in Vienna. It saved us on a lot of time as to where to go and what all means of transport to use to make full use of our day in Vienna.
Our city tour was soon over after visiting various Art Museums, Musical Parks and vineyards within the city. Later on, we to our hotel in Salzburg where we retired for the night.
Day 9: Bratislava cut short
For the final day of our vacation, we decided to take a short ninety-minute train ride to Bratislava, Slovakia. As it turns out, it wasn't a right decision we made on this vacation.
As we began our city tour to Bratislava, we encountered some petty thieves of Bratislava. As my family was with me, the situation was very challenging to handle and control. Thankfully, no real damage was done but we decided to cut short our trip to Bratislava immediately. I was pretty appalled at seeing the state of law and order in Slovakia. We returned to Salzburg via train during the day and then immediately back to the hotel to cool off some tension from the Bratislava experience.
Day 10 : Departure and onwards to Amsterdam
Our vacation with TravelTriangle had come to an end, as we checked out of the hotel in Salzburg for a flight to Amsterdam, where we planned to meet up with our relatives.
We had a very pleasant and unforgettable experience with Travel Triangle who helped us in exploring and visiting all the beautiful and mesmerizing destinations that Germany and Austria had to offer.
I really valued the family time spent each day at the hotels after we came back from visiting various places in a day. What made if different from a normal family time at home was the fact that here it was only us and no outside distraction of work, friends or any other household chores. For once, my parents, my wife and I kept our professions aside and just spent more time with each other on a personal level.
High Points :
It was a privilege to visit such enormous and beautiful castles in Germany.
The efficiency and accuracy of the German train system are unlike others.
Reaffirming the title of visiting the most beautiful village in the world- Hallstatt
Low Points :
Traveling to Slovakia with a family is not a good idea.
Tips to Travelers :
Preferable to find a hotel near the city centre. Saves a lot of money in taxi transfers.
It is recommended to buy a child seat when on a family trip to Germany. Taxis don't allow children under the age of 8 without a seat. Renting a seat can be expensive.
Good to buy meat, milk, bread, cookies for children from a supermarket as it is very economical.
Explore the beauty of the countryside and the artistic modernity in Germany and Austria For an experience unlike no other, Book your package to Germany now!
---
Looking To Book An International Holiday?
Book memorable holidays on TravelTriangle with 650+ verified travel agents for 65+ domestic and international destinations.
---