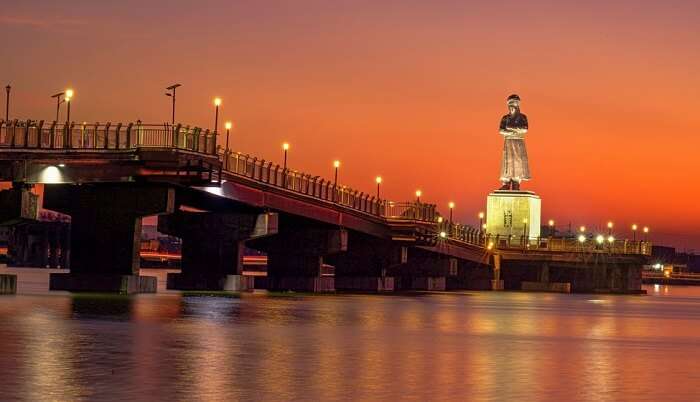 India is known for its vibrant cultures and traditions and one of the best ways to experience its diversity is by sneak peeking at the scrumptious culinary creations. From spices to techniques and eventually tastes, each state has its own specialty. Similarly, Jharkhand, the land of mouth-watering delicacies, especially with its variety of pickles and chutneys; allures epicures interested in tasting rare recipes. Prominence of mustard oil and seeds is quite evident here and an array of blended puris rules the heart of food lovers trying regional delicacies for the first time. Hence without wasting much time let's dive into the famous foods of Jharkhand.
11 Famous Foods Of Jharkhand
A traditional Jharkhand lavish meal would primarily consist of roti, sabzi, dal, rice, poori, bajka, raita, chutney, chokha, achar and ghee. The traditional food of Jharkhand is the same as any other State. However, there are other delicacies that steal the show with their authentic flavours and tastes. Below is the list of the top 11 delicacies of Jharkhand that must be tried by everyone.
1. Litti Chokha

This had to be the first one on the list when we talk about famous dishes of Jharkhand. Litti Chokha is not only a favourite food in Bihar it is also a loved delicacy in Jharkhand. Littis are basically balls made of wheat and roasted gram dough charred on coal. They are served dunked in desi ghee with baingan bharta (chokha), Aloo Bharta( Aloo ka chokha) and papad. Since Jharkhand and Bihar are majorly vegetarian states , this is the most common breakfast dish cherished amongst the local folks.
Street Food In Surat: 18 Must-Eats To Make You Swoon
2. Pitthas

The next on the list is 'Pitthas'. This dish is not only famous in Jharkhand but is also loved across many other neighbouring states of Jharkhand like Bihar, Orissa, and West Bengal. 'Pitthas' are basically rice or wheat flour dumplings stuffed with Aloo ka chokha, various kinds of dals, Khoa or thickened milk. They can be both sweet or savoury based on which occasion they are made. It is a special delicacy and is made during Makar Sankranti.
3. Dhuska

Dhuska is one of the most popular foods in Jharkhand, and it can be found in almost every home. Without trying Dhuska, your trip to Jharkhand is incomplete. It is often eaten for breakfast and is made with a rice and lentil batter that is then fried. It's usually served with traditional ghugni, which is a basic black chickpea stew. Dhuska and ghugni are a delicacy that should be on your list of must-try foods!
Kolkata Cuisine: From Traditional Curries To Sweet Specialities, Here's All You Need To Try In 2021!
4. Handia

This is the most famous beverage in Jharkhand. It's a rice beer made by the people of the area. It's produced with a ranu tablet, which is a mixture of 20-25 herbs that are combined with boiling rice and fermented. Within a week, this drink is ready. It is popular among the public and has less alcohol than rural liquors.
5. Chilka Roti

Jharkhand is a state in eastern India that was a part of Bihar until 2000, and rice is a staple meal here, as it is in Bihar. Rice and besan flour are part of most of Jharkhand's traditional food. Chilka Roti is made using Rice flour, chana dal, and urad dal, It is quite similar to Dosa prepared in South India, yet has a distinct flavour. This meal is served with mutton curry or Oal ki sabzi. Chilka roti is a popular supper meal in Jharkhand.
20 Best Restaurants In Hyderabad That Are Bound To Turn You Into A Foodie In 2022!
6. Rugra

Jharkhand has a must-try mushroom. A kind of mushroom found exclusively during the monsoon season, usually in the forest. Only the forest's inhabitants will be able to discover it because it grows beneath the earth. Although it is exclusively found on the Chota Nagpur Plateau, it is widespread across the state. Due to its seasonal and unique development, it may be described as a unique state cuisine that no one wants to leave. You will fall in love with the meal if it is prepared properly and with the right components.
7. Bamboo Shoot

Bamboo shoots, as the name says are the shoots of bamboo plants, however, they are completely edible and form part of Jharkhand's main diet. It is used in a variety of cuisines by the locals, and it is primarily used as a vegetable. It has a subtly sweet and distinct flavour. You must sample it to really appreciate its out-of-this-world flavour. It's also very healthy to eat because it's rich in fibre and nutrients.
Street Food In Bangalore: 20 Delicacies You Can't Miss In 2021
8. Aloo Chokha

Chokha is a term used for Bharta in the states of Jharkhand and Bihar. Aloo Chokha or Aloo bharta is a north Indian dish that is unique to the state of Jharkhand. It is regarded as one of Jharkhand's most beloved and cherished culinary pleasures. It's usually made with mashed potatoes, fried onion, and spices, and served with roti or rice as a side dish. This fiery dish epitomizes the expression "simplicity at its finest."
9. Thekua

This delicious dish is a part of the Prasad at the famed Chhat puja and is loved all over India. The dish cooked in Ghee, which has a Bihar influence, has a scent that will whet your hunger for superb cuisine. A delicious evening snack made with wheat flour, fennel seed, and sugar or jaggery syrup. It's a delectable Jharkhand delicacy that you'll never tyre of.
8 Street Food In Jalandhar That Will Make You Say 'Changa' In Every Bite!
10. Til Barfi

Till Barfi, is one of the most nutrient-dense Jharkhand foods. It is prepared during the Makar Sankranti festival and is the pride of the state of Jharkhand. It is also the signature dessert of Jharkhand. It is prepared using gud or jaggery and sesame seeds and served with water. Even though it is easy to prepare at home, people prefer buying it from the sweet shops during the festive season.
11. Malpua: The desi Pancake

The last but not the least on our list is Malpua-the desi pancake. The list of Jharkhand's famous foods will be incomplete without this. It is a very popular delicacy that can be found in various states across the country, but it is primarily a Bihar and now Jharkhand tradition. In Jharkhand, Malpua is related to Holi. On the eve of Holi, hardly a single-family in Jharkhand is devoid of the pleasant aroma of malpua. It's heavy in calories, like many good-tasting things, but the tempting taste of a malpua is worth it!
Best Street Food In Kolkata: 15 Dishes You Must Try In The City Of Joy In 2022
The famous foods of Jharkhand include numerous more mouth-watering dishes and flavours and we can go on and on about it. This cuisine has cooking styles that are amongst the oldest in the country. It has a perfect amalgamation of raw, charred, fried ingredients and spices. The taste of all these dishes is exceptional and you should definitely try them on your next trip to Jharkhand.
For our editorial codes of conduct and copyright disclaimer, please click here.
Frequently Asked Questions About Famous Foods of Jharkhand
What is the popular food of Jharkhand?
Some of the most popular dishes of Jharkhand are Litti Chokha, Dhuska, Til Barfi and Rugra. These dishes are the local dishes of Jharkhand which can be found very easily.
What is Jharkhand famous for?
Jharkhand is a treasure of minerals. It comprises 40% of the total wealth of the country. It ranks in the first position for producing minerals like coal, iron, mica etc.
How can I spend time in Jharkhand?
You can visit the major tourist attractions for spending some time in Jharkhand and indulge in fun activities like shopping, eating and strolling.
People Also Read:
Famous Foods In Chennai Famous Foods In Agra Famous Foods In Darjeeling