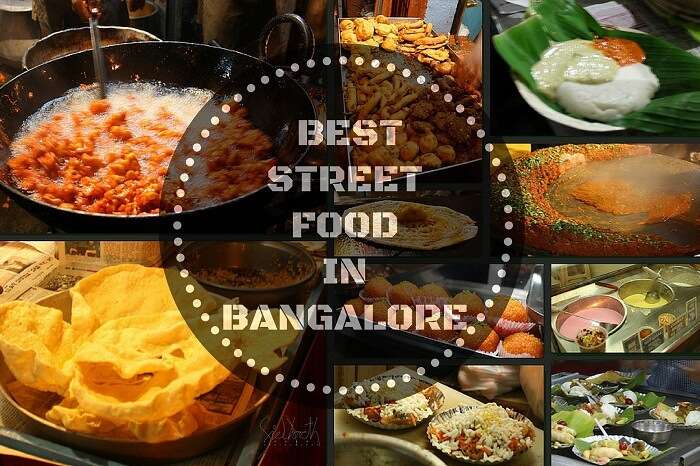 Silicon Valley and the hub of IT in India, Bangalore is a city of people, colors, and culture. It is also the city of sumptuous and mouth-watering delicacies that you just can't say no to! From its dazzling plethora of splendid gastronomy, we bring you the best street food in Bangalore that you must not leave without trying. We put together everything you must know — popular eateries, as well as their must-try delights — before trying the famous street food in Bangalore that will blow your mind!
Famous Street Food in Bangalore: 20 Cuisines from the Peninsula
Bangalore is known not only as of the IT Sector but also as a foodie's heaven. The street food here is amazing, fulfilling, and available at budget-friendly prices. Scroll down and check out the most tempting street food in Bangalore that will have you coming back for more!
1. Mangalore Buns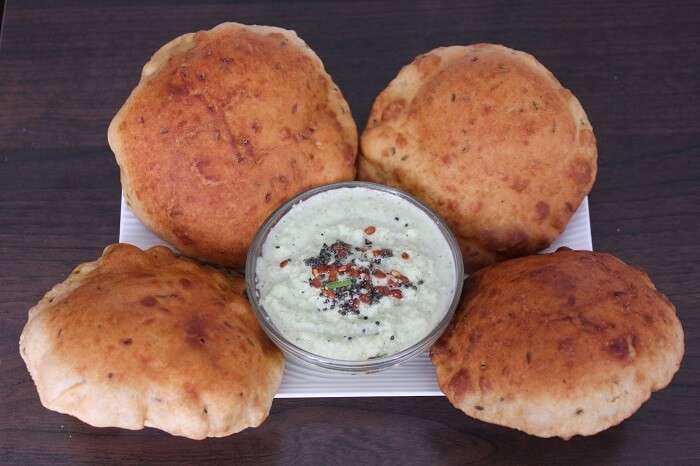 Image Source
A local delicacy of Udupi region, Mangalore Bun is sweet, tender and fluffy puri made of bananas. Easy to make, these Mangalore banana buns are generally relished with coconut chutney and sambhar. If you are looking for the yummiest street food in Bangalore, start with them.
Where to try: Chetty's Corner in Serpentine Road and New Krishna Bhavan in Sirur Park
Relish with: Nothing tastes like a day-old bun eaten with potato bhaji or kurma. Mangalore Buns can be served hot or cold.
Price: INR 20-200
Suggested URL: 25 Best Restaurants In Bangalore That Are Perfect For A Food Spree In 2023
2. Dal Obbattu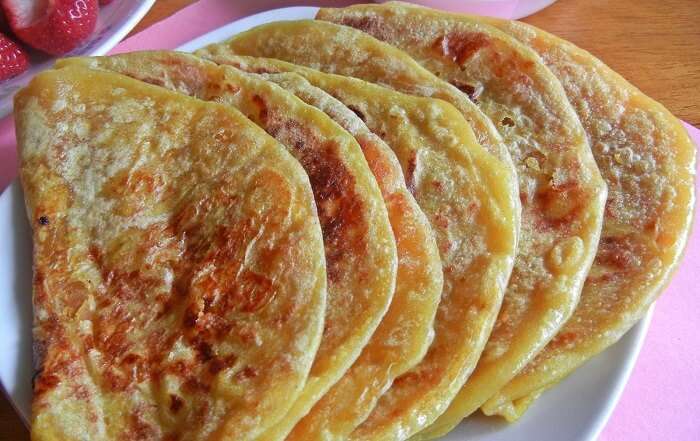 Image Source
Obbattu is a local dish of the Mysore region and popular street food in Bangalore. Locally called bobbatlu or puran poli, Dal Obbattu is made of toor dal, jaggery, cardamom powder, flour, and rava. It is one of the delicacies savored during festivals like Diwali and Ugadi. Obbattu is served piping hot with ghee sprinkled on it.
Where to try: Holige Mane in Malleshwaram
Shelf life: Dal Obbattu can be stored at room temperature for 2 days
Price: INR 20-200
3. Idli, Vada, And Dosa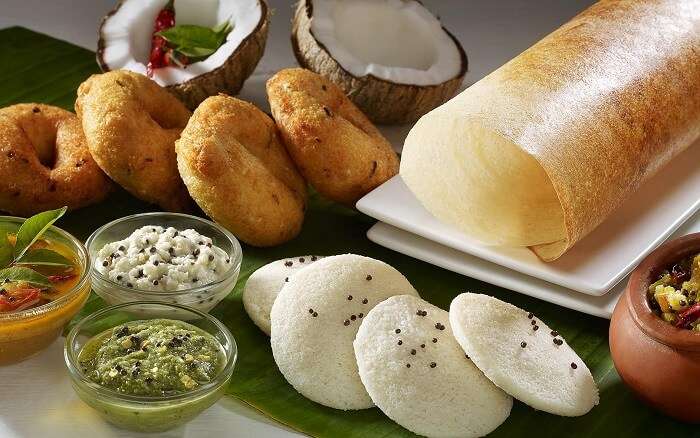 Image Source
The South Indian breakfast – piping hot idlis, soft vadas, and crispy dosas – is undoubtedly the best street food in Bangalore. These south Indian delights are easily available, affordable, and exceptionally tasty. They are best served with hot sambhar and coconut chutney. The neer dosa available at some outlets is an integral part of Karnataka cuisine. It's surely the best thing to try in the list of street food in Bangalore.
Where to try: Central Tiffin Room in Malleshwaram, Brahmin's Coffee Bar, Basavanagudi, and numerous roadside stalls on Thindi Beedi at VV Puram
Must-try dishes: Butter Dosa, Paper Dosa, Rava Dosa, Kesari Bath, Poori Saagu, Masala Vada, and Lemon Bath Dosa, which is made with a filling of lemon rice and potato Palya
Price: INR 20-200
Suggested URL: 35 Road Trips From Bangalore You Must Plan With Your Friends In 2023
4. Bhaji With Filter Kaapi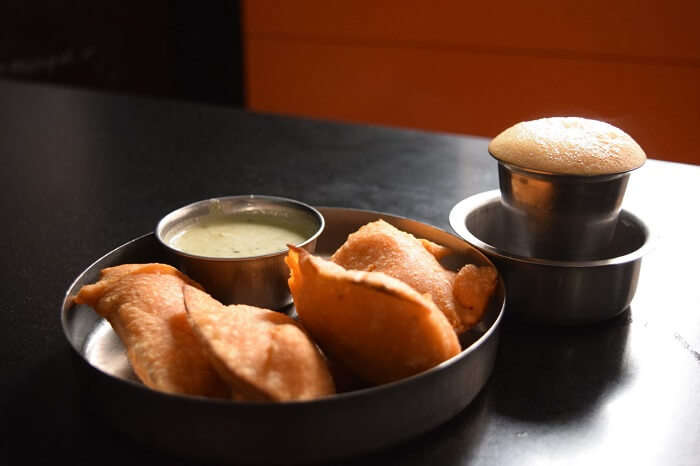 Image Source
Eating the hot and crispy bhaji is one of the best ways to enjoy the typical Bangalore 'Mausam'. A number of roadside stalls sell these deep-fried vegetable bhajis, winning the hearts of millions of foodies in Bangalore, or maybe try them on your Weekend Getaway From Bangalore.
Where to try: Shivraj Bhaji Cart in Vijayanagar, Basavaraj's Bhaji Bandi in JP Nagar, and Pramod's Jalebi & Bhajji in Koramangala
Must try variants: Mirchi bhaji, Raw banana bhaji, Aloo Bonda, Capsicum bhaji, and Uddin Vade (Vada made of Urad Dal)
Relish with: Sold with grated carrot and onion salad, and dhaniya-pudina chutney, they are the perfect rainy day snack, especially with a cup of refreshing filter coffee.
Price: INR 20-200
5. Vada Pav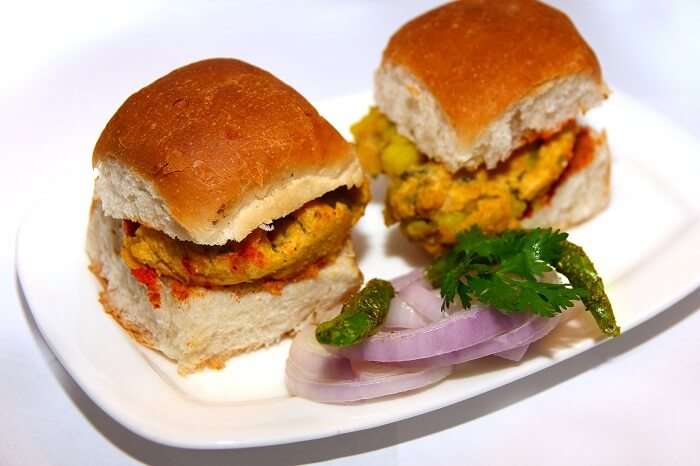 Image Source
Vada Pav, the popular street food of Mumbai, is quite loved in Bangalore too. Vada Pav is nothing but a sandwich made of bun-bread stuffed with vada. It is a spicy delicacy, served with gunpowder chutney and fried green chilies. In fact, there is a non-vegetarian version too. Replace the veg vada with stuffed minced meat and it becomes spicy and yummy keema pav. It surely is a great option if you are craving some midnight street food in Bangalore.
Where to try: Dadan Vada Pav in Indiranagar and Chatar Patar in Jayanagar
Must try: Aloo, Chatpata, Schezwan and Paneer Vada Pav
Price: INR 20-200
Suggested URL: Go Karting In Bangalore: 13 Spots To Visit And Play An Ultimate Challenge In The City In 2023
6. Uttapam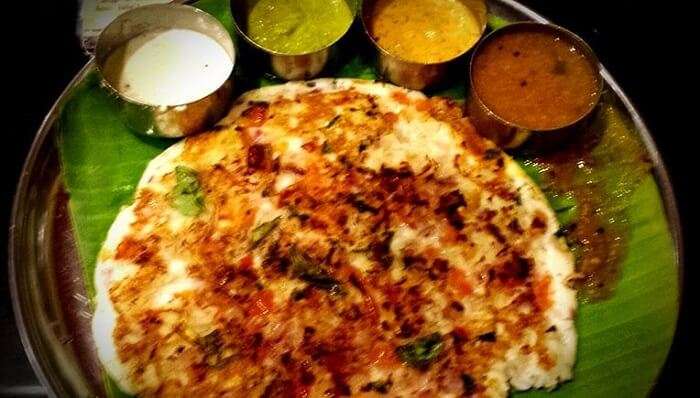 Image Source
Another one of the Bangalore special foods is Uttapam which is made with onions, rice flour, and tomatoes. It is very much like dosa but just a lot softer. The best way to relish Uttapam is with fresh Coconut chutney. Mouthwatering! From street-side stalls to top-notch restaurants in Bangalore, Uttapam is served almost everywhere.
Where to try: The Filter Coffee, Madurai Idly Shop, Nandhana Palace, Sai Sagar.
Must try: Dosa and Idli
Price: INR 20-200
7. Sandwich And Parantha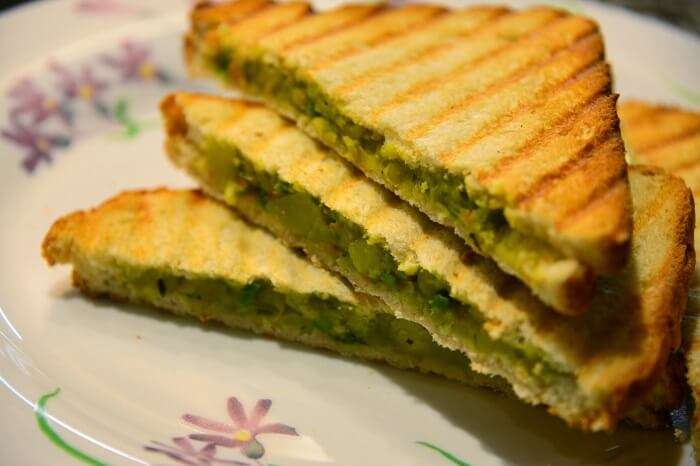 Image Source
The young population of Bangalore is always looking for a quick bite that is filling and yummy at the same time. Sandwiches and parathas are the best options for them. Bangalore has some awesome sandwich outlets that serve healthy and reasonably priced variants.
For those who don't mind a little butter, there are parathas – choose from gobi, aloo, mooli, pyaaz, and more stuffings. This lip-smacking street delight tastes best when served with melting butter on top, a tangy pickle, and green chili. Midnight hunger pangs? Order away some sandwiches and paranthas that is, without a doubt, the best street food in Bangalore at night.
Where to try: Hari Super Sandwich Zone in Jayanagar, Tiwari's Ghee Paratha & Chai in Banashankari, Paratha Plaza in Koramangala, and Golmaal Paratha in Jayanagar
Must try: Chocolate sandwich and Beetroot & Carrot Paratha
Price: INR 50-200
Suggested URL: 12 Amusement And Water Parks In Bangalore That Are Ideal For 2023 Summer Vacay
8. Kebabs And Rolls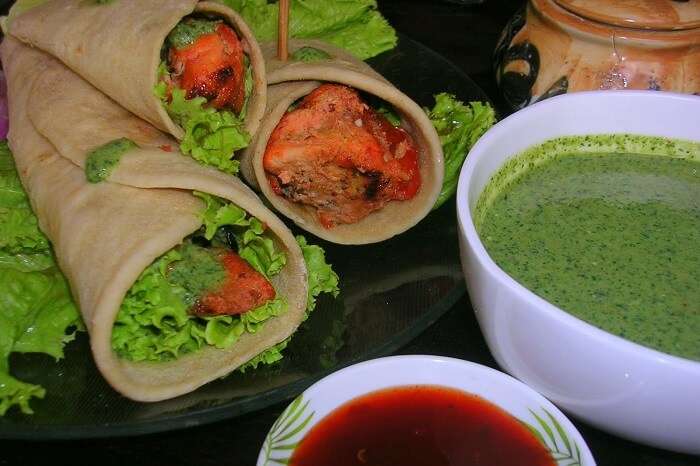 Image Source
Reasonably priced crunchy rolls and freshly grilled kebabs are also among the popular street food in Bangalore. These wraps, in the form of crispy parathas, have both vegetarian and non-vegetarian variants. Succulent and tender chicken rolls, mutton rolls, vegetable rolls, grilled tikkas, and juicy kebabs must not be missed. It is a popular Bangalore street food enjoyed by the locals.
For health-conscious people, there is an option to replace the paratha of the roll with roomali roti. However, taste-wise does not try to match with typical Calcutta Rolls as Bangalore has its own tasty version.
Where to try: Khan Saheb & Chakum Chukum Calcutta On A Roll in Indiranagar and Sha-E Darbar in Yeshwanthpur
Must try: Non-vegetarian delights include chicken Kathi wrap, mutton bhuna, double-egg chicken roll, mutton tikka, and reshmi kebab. Mixed vegetable-tikka roll, paneer roll and tikka, mushroom roll and tikka, baby corn tikka, and the veg roll are simply irresistible.
Price: INR 50-500
9. Gobi Manchurian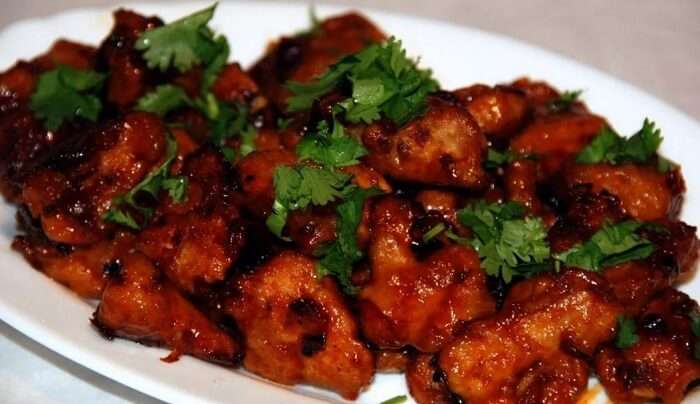 Image Source
The crispy, tangy, and spicy preparation of Gobi Manchurian is quite famous. Regarded as the best street food in Bangalore by the youth, it is a pocket-friendly delicacy made by deep-frying cauliflower balls and tossing them in dark soya sauce. Chopped spring-onion garnishing adds to the taste. Though the dry version is a popular snack, the gravy variant is also available. You can also enjoy this snack from the food carts near some of Bangalore's best picnic spots.
Where to try: Murli in Bellandur, Spicy Corner in Jeevanbheema Nagar, and Srinathji in Marathahalli
Price: INR 50-200
Suggested URL: 15 Romantic Resorts Around Bangalore For The Super Busy Love Birds In 2023
10. Chaat And Pani Puri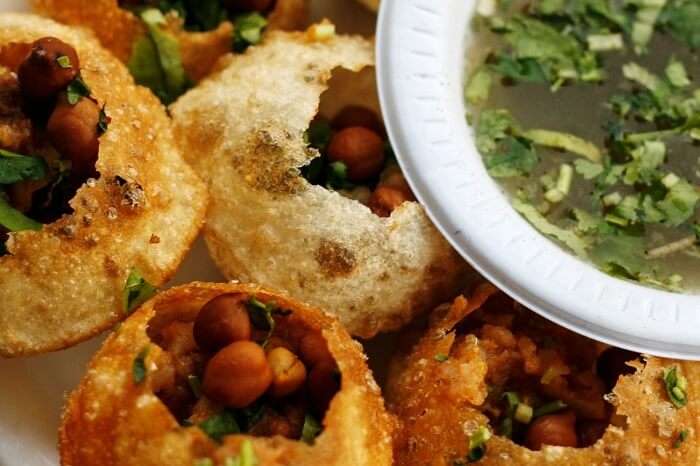 Image Source
Though chaat and pani puri are not native dishes, Bangalore has adapted the chaat culture. You will find many roadside stalls and small restaurants selling mouth-watering varieties of khatti-meethi pani puri and chaat. The yummy filling of chhole and aloo in pani puri and the awesome combination of wafers, chips, bhujia, dahi, black salt, and imli chutney will be a treat for your taste buds. Looking for some good street food in Bangalore? Try chaat and pani puri!
Where to try: Puchka in Marathahalli and Sri Sairam Chaats and Juices in Malleshwaram. However, the best Pani Puri is available at Rakesh Kumar Pani Puri stall in 3rd Block, Jayanagar
Must try: Dahi puri, aloo chaat, and papdi chaat. Also, try pani puri made of sooji or rava with meetha paani – it's heavenly.
Price: INR 20-200
11. Bhel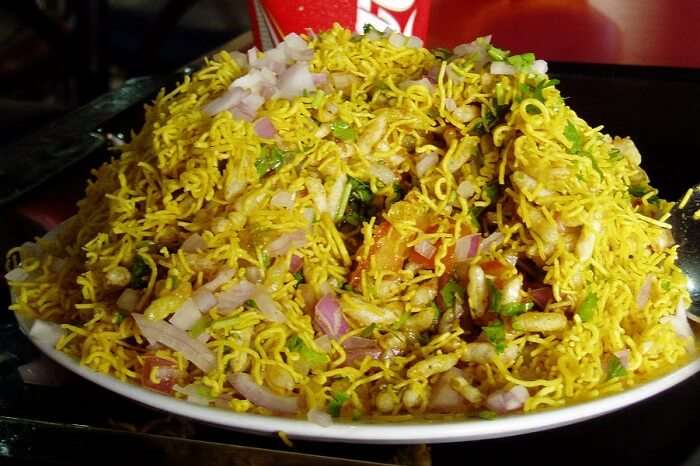 Image Source
Bhel puri is a delicacy from the chaat genre, made of puffed rice, vegetables, tangy imli chutney, and bhujiya, seasoned with chaat masala. A close cousin of this pocket-friendly street food in Bangalore is sev puri, famous food in Bangalore. It is a closer variation made of small pieces of potato, curd, garlic, and tamarind dip, garnished with small and crispy noodles or sev.
Where to try: Karnataka Bhel House in Basavanagudi, Tikki Tikki at Koramangala, and Sri Sairam's Chats and Juice in Malleshwaram
Must try: Aloo Dahi Puri and Masala Puri
Price: INR 20-200
Suggested URL: 20 Beaches Near Bangalore That You Have Got To Explore This Summer 2023
12. Pav Bhaji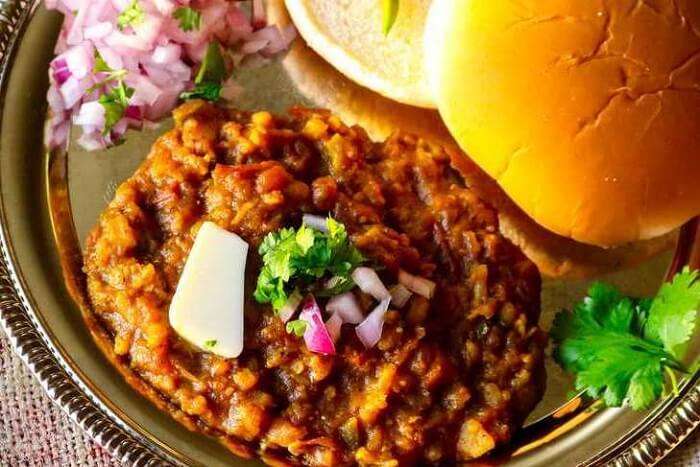 Image Source
This one dish is evergreen and gets a new flavor everywhere. Try Pav Bhaji in Bangalore for the soul-satisfying taste of it. One of the famous foods in Bangalore, Pav Bhaji is a delicacy made from soft bread and served with thick vegetable curry.  It is delicious and you must not miss it out on your trip to Bangalore.
Where to try: Village- The Soul Of India, Sukh Sagar, Sikori, and Chaat Street
Must Try: Dahi puri, Cheese Pav Bhaji
Price: INR 20-200
13. Shawarma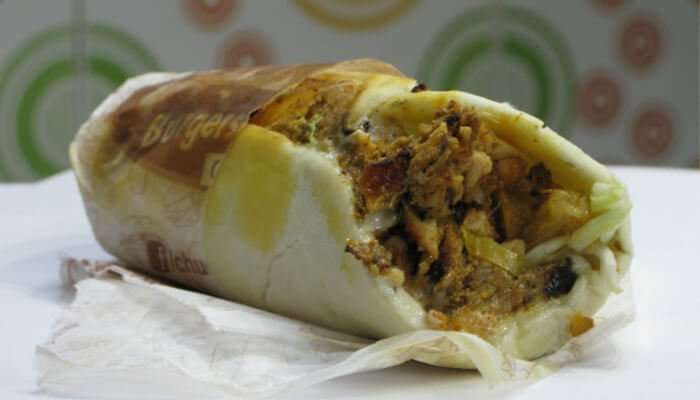 Image Source
Does this even need an introduction? One of the most famous foods in Bangalore Shawarma is mostly served with chicken as a filling. This Lebanese dish is actually very popular in the North Indian region so here it is. Shawarma is basically a Lebanese roll served with hummus and pickles. You can also try some of the food carts in Bangalore to find unique varieties of Shawarmas to enjoy.
Where to try: Just Shawarma, Jayanagara, Shawarma Inc, Faanoos, Kabab Magic
Must Try: Chicken Shawarma
Price: INR 20-200
Suggested URL: Here's The Perfect Guide To Reap The Best Nightlife In Bangalore In 2023
14. Samosa Chaat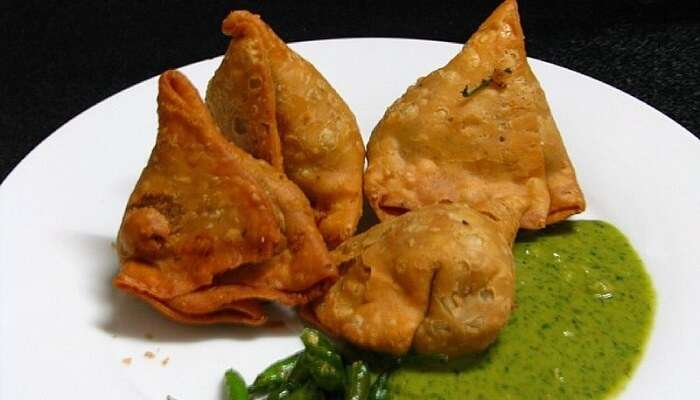 Image Source
One of the most loved and Bangalore special foods, Samosa Chaat is something you should definitely try. Samosa is a very popular dish all around the country and we all know why!  A famous 'chai – time' snack, in Bangalore they do Samosa differently. There is an added flavor of chaat to it which makes it so much better.
Where to try: VV Puram Food Street, Sai Samosa & Chaat Centre, Samosa Party
Must Try: Samosa Chaat, Chaat Papdi
Price: INR 10-200
15. Momos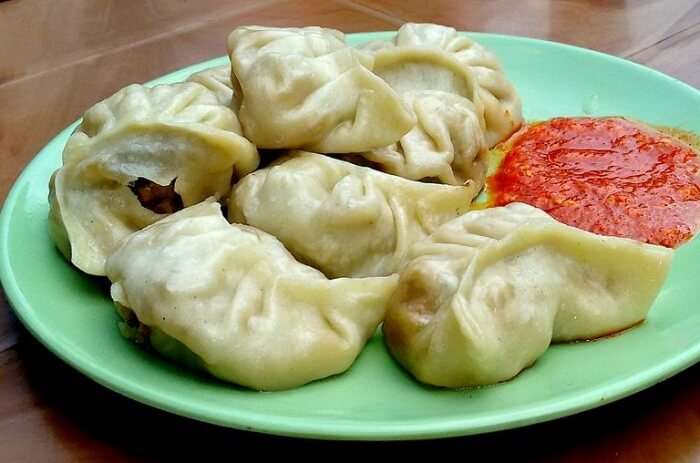 Image Source
Can any list for street food be complete without mentioning Momos? One of the most popular street foods in Bangalore, Momos dominates Bangalore's food scene and there are many variants of the same. Chicken, vegetables, paneer, and lamb are some of the popular variants that you can get in Bangalore. The delicacy is served with a tangy red sauce. Momos is a famous food in Bangalore and you'll never have enough of them.
Where to try: Momo Hut, Momoz, Infinitea, Delicacy
Must Try: Chicken momos and cheese momos
Price: INR 20-200
Suggested URL:12 Amusement And Water Parks In Bangalore That Are Ideal For 2023 Summer Vacay
16. Donne Biryani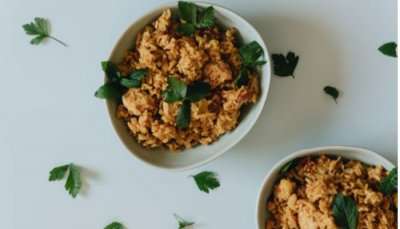 Image Source
It is really (read impossible) to find a foodie who isn't madly in love with this flavourful delicacy, and when in Bangalore, you have more than a couple of twists to try this popular dish. Make it a spontaneous lunch or late-night dinner, a good biryani in Bangalore is more than worth it.
Where to try: Gundappa Donne Biryani, Firewood Biryani
Must Try: Grilled Chicken Dum Biryani
Price: INR 100-500
17. Soya Chaap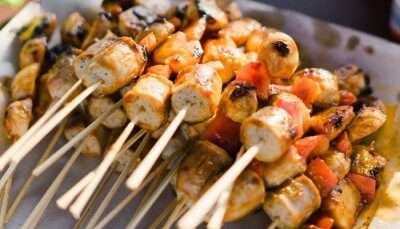 Image Source
The popularity boom for Soya Chaap in the last couple of years has bumped this food item on the top of our favorites list and there is no way you are leaving Bangalore with trying its Southern version. From Malai to Masala flavored mixes, you can enjoy them as street food or order them at a local restaurant.
Where to try: Chandni Chowk 2 Bangalore, Punjabi Chaap Corner
Must Try: Grilled Pudina Chaap
Price: INR 100-500
18. Lassi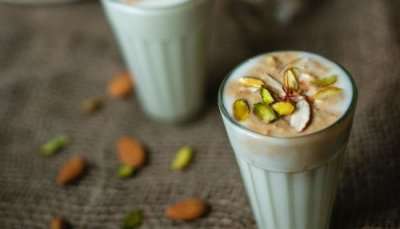 Image Source
This popular Northern beverage is a charmer in Karnataka too, especially in Bangalore where you can find a wide range of flavors to enjoy. The best way to savor a Lassi is by ordering it with or after a meal and tasting all the flavors fusing together.
Where to try: Patiala Lassi, Sreeraj Lassi Bar
Must Try: Mango Lassi
Price: INR 20-200
19. Sabudana Vada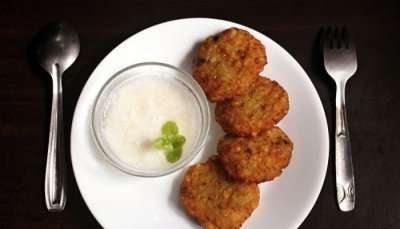 Image Source
The best way to satisfy your evening cravings in Bangalore is to go out and munch on these golden Sabudana Vadas. They are light, crispy, and are often served with an assortment of dips which makes the experience a special one. The classic way to try them is in central Bangalore where you can find them in street food shacks or in southern restaurants.
Where to try: Purnabramha Maharashtrian Restaurant, Rajvardhan Foods
Must Try: Sabudana Vada with green chutney
Price: INR 20-200
20. Kulfi Falooda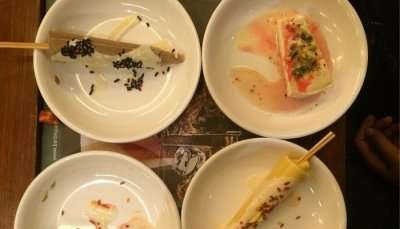 Image Source
Kulfi Falooda is something that you definitely want to try when in Bangalore, without which many would claim that their meals go incomplete. You can try it both at street food corners or in a restaurant after a fancy dine-in, the Southern charm of it never fades, bejeweled with pistachio and other dressings.
Where to try: Kulfi And More, Bombay Chowpaty Kulfi
Must Try: Malai candy and chocolate
Price: INR 50-200
Suggested URL: 25 Fun Places In Bangalore: Experience The Ultimate Whoopee At The Silicon Valley In 2023
To all the foodies of Bangalore, if you have not tried the street food in Bangalore, plan a trip to Bangalore immediately with friends and folks. If you know about some other street food in Bangalore, share them in the comments section below right away. Happy eating!
For our editorial codes of conduct and copyright disclaimer, please click here.
Frequently Asked Questions About Street Food In Bangalore
What are the famous street foods in Bangalore?
Some of the most popular street foods in Bangalore are Samosa Chaat, Bhelpuri, Dosa, and Uttapam. If you are looking for some home-cooked rare delicacies on the streets, ask around for some tips.
Which are the famous restaurants in Bangalore?
Some of the popular restaurants in Bangalore are Karavalli, JW Kitchen, The Only Place, and Smally's Resto Cafe. If you are planning a trip to some of these restaurants, make sure you call or book in advance as they are often fairly crowded.
What is the best time to visit Bangalore?
The best time to visit Bangalore is from March to May and from October to February as the temperatures are favourable during this time.
Is Bangalore worth visiting?
Yes, definitely. Bangalore is one of the world's major IT corporations and one of the cleanest cities in India. It is one of those places which has something for every kind of traveler which makes it a popular destination.
What is the famous sweet dish in Bangalore?
Halbai is an exotic and very famous sweet dish from Bangalore that you must try. You can find it on street carts, restaurants, confectionaries, and also in traditional sweet shops.
---
People Also Read:
Street Food In Ahmedabad Street Food In Haridwar Street Food In Jalandhar