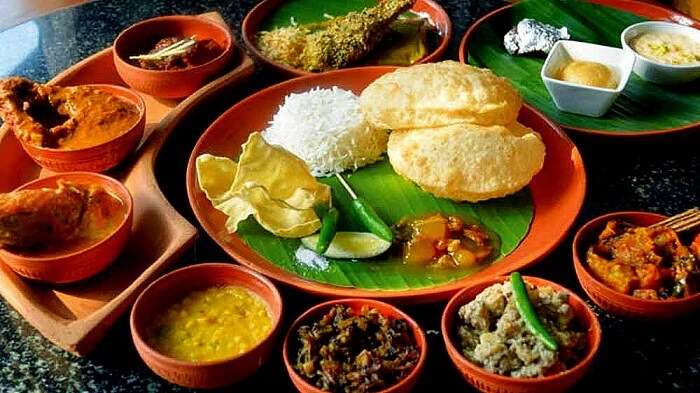 We are sure that you must have heard of Roshogullas & Sondesh, and may have even tasted the magic of these cultural inventions. But when it comes to Kolkata cuisine, there are endless surprises for foodies like you and us. Right from the starters to the main course followed by dessert, the city offers culinary treats on a silver platter, and we bet you can't just have one! (Shotti!)
So whenever you take a trip to this paradise, make sure you go out and relish these 15 Bengali dishes that would make for an absolutely lip-smacking full course meal!
Traditional Culinary Delights Of Kolkata Cuisine
These are some of the traditional dishes which one must taste and enjoy the authentic flavors of the ages old bengali delicacies. 
1. Macher Jhol (Fish curry)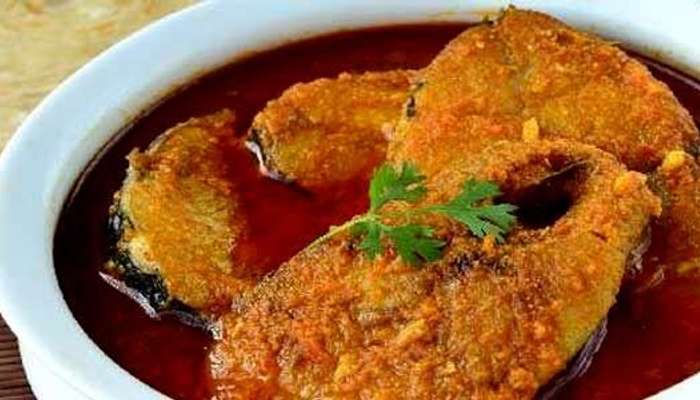 There is no doubt that both rice and fish are the staple Kolkata cuisines. Every restaurant with a Bengali food menu has the famous Macher Jhol. While this traditional dish is a spicy fish curry made along with potatoes & tomatoes, and usually seasoned with turmeric, garlic, onions & grated ginger, it is best relished with rice. If you're a seafood lover, make sure this is on the top of your list.
Best places to eat: Bhajahori Manna, 6 Ballygunge Place, Peter Cat, and more.
Must Read: 15 Best Romantic Restaurants In Kolkata For A Date To Remember!
2. Kolkata Biryani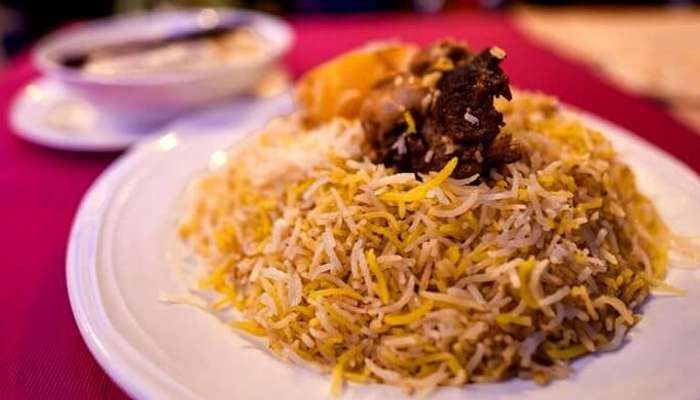 Inspired by the Awadhi style, the Kolkata Biryani is a heart winner! It's captivating aroma and the finely flavoured rice with potato cooked in rich spices is served hot with juicy mutton or chicken, which makes it a must-have when you're in the city. If you're not an experimental kind of a foodie, and wish to bet safe, rest assured and order this one from the menu.
Best places to eat: Arsalan Restaurant, Royal Indian Hotel, and more.
Suggested Read: 18 Historical Places In Kolkata That'll Walk You Through City's Artistic & Architectural Grandeur In 2020!
3. Kosha Mangsho (Mutton curry)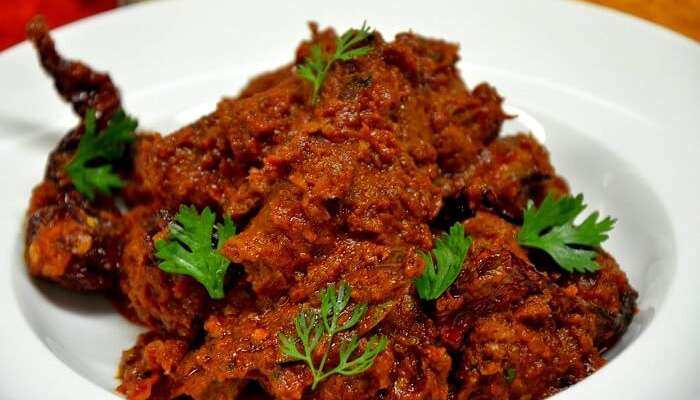 One of the famous Bengali food recipes, Kosha Mangsho is a curry cooked with mutton, a variety of vegetables like tomatoes and onions, and topped with a lot of different spices. It's dense brown color adds on to the feel, and there is no denying that it tastes like heaven, especially if one is a meat lover. To make the most out of it, you can savour it with steamed rice, luchis, or paranthas.
Best places to eat: Golbari, Koshe Kosha, Oh! Calcutta, and more.
Suggested Read: Best Street Food In Kolkata: 15 Dishes You Must Try In The City Of Joy
4. Alur Torkari with Luchi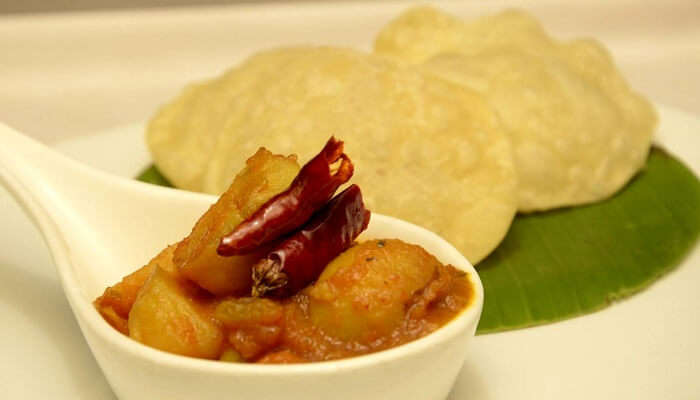 While it may come across as our usual aloo poori from the North India, know that it is not. With potatoes cooked in a thick tomato gravy, this scrumptious curry is the safest Kolkata food to try in the city. Served mostly with breads like luchi or chapati, it is an ideal toothsome snack to have for breakfast.
Best place to eat: Arsalan Restaurant
Suggested Read: 8 Best Wedding Venues In Kolkata
5. Shukto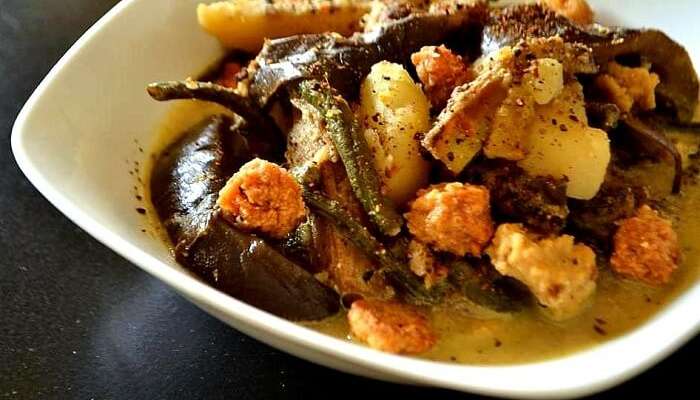 Counted as one of the best Bengali vegetarian recipes, Shukto is a traditional cuisine that consists of a variety of vegetables like potato, pumpkin, bottle gourd, bitter gourd, and more. Its partly bitter and partly sweet taste makes it a unique concoction, which can be had along with rice or a traditional flat bread.
Best places to eat: Bhajahari Manna, Oh! Calcutta, and more.
Suggested Read: 21 Surreal Hill Stations Near Kolkata For A Rejuvenating Weekend Getaway In 2020!
6. Chelo Kebab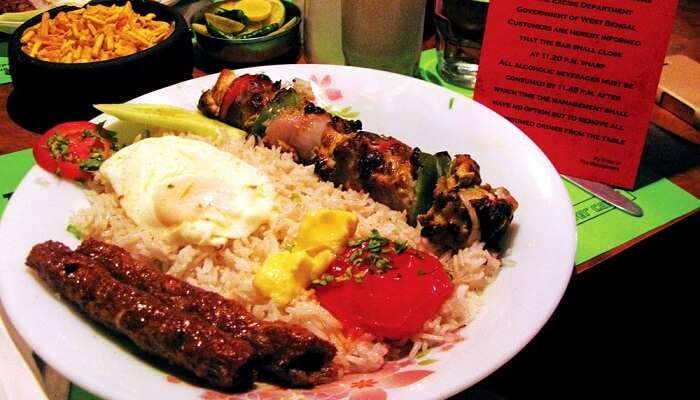 If you're a hardcore chicken lover, this platter of mutton seekhs and chicken kebabs is one thing you must definitely try in Kolkata. Served along with steamed rice and veggies, it is an exceptionally lip-smacking cuisine and can be enjoyed both as a starter or in the main course.
Best place to eat: Peter Cat
Suggested Read: You Don't Need To Skip Office To Visit These 10 Amazing Places Near Kolkata
7. Mochar Ghonto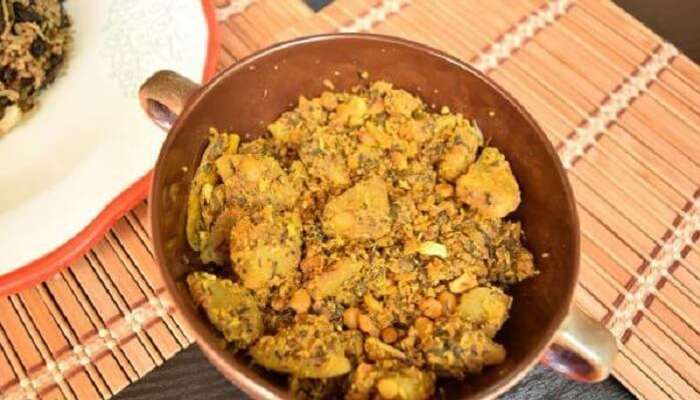 Image Credit: Secret Indian Recipe
This is one of the most famous household dishes in Kolkata which is a traditional add-on at every Bengali restaurant and home. Made with banana flower and grated coconut, this vegetarian tastes heavenly with rice. The meaning of "Mocha" in Bengali is flower which is cleaned properly and requires a lot of time and patience. After removing the petals, the flower is pressure cooked and later the spices are added to give a relishing flavor.
Suggested Read: Durga Puja In Kolkata 2020: A Guide To Feel The Joy Of This Festival!
8. Katla Kalia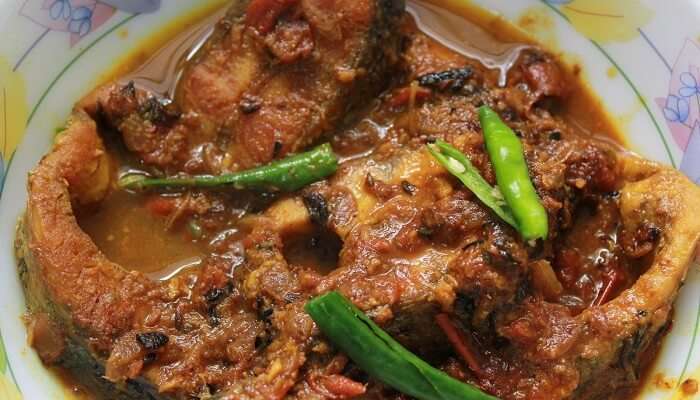 Image Credit: flavorsomeflavors
The Katla Kalia is a traditional delicacy which is made of 3 kg weighed Katla fish. This dish holds quite an importance in a bengali household. Cooked with onions, bay leaf, ginger and garlic paste which is further curd with spices, garam masala and ghee. This is one of the most preferred dishes for a Sunday lunch.
Suggested Read: 32 Thrilling Weekend Getaways From Kolkata You Must Visit In 2020
9. Macher Muri Ghonto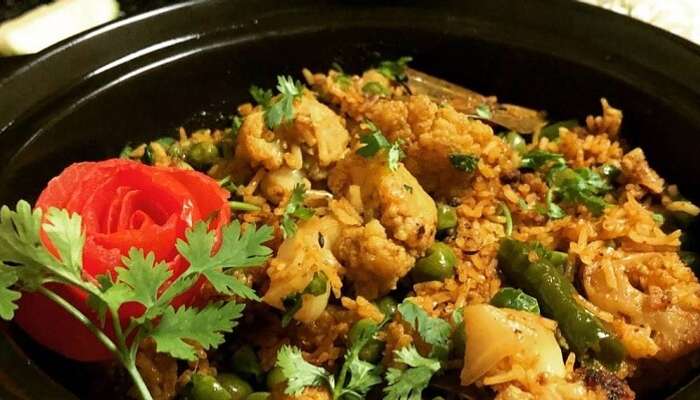 This is another traditional bengali dish and its recipe has been passed down by generation after generation. The Macher Muri Ghonto is made of Rohu fish and the gravy is made of onion, chili, cumin paste, ginger paste which adds all the authentic flavor to this ancient recipe. This fish dish is served with white rice and makes a delicious delicacy to enjoy in the city.
Suggested Read: Visit These 11 Haunted Places In Kolkata And Discover Their Real Ghost Stories In 2020
10. Aloo Posto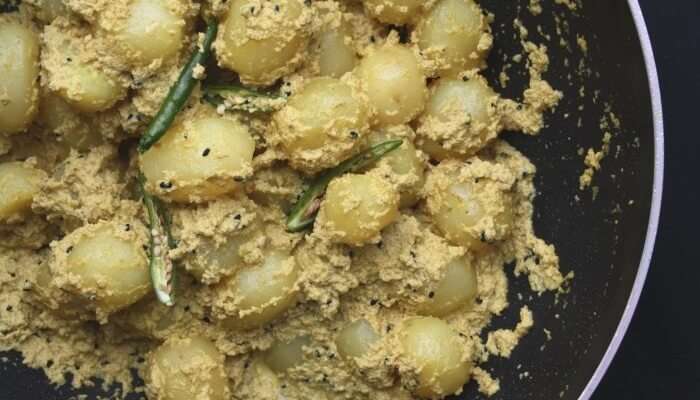 Image Credit: Maunikagowardhan
This is an old traditional delicacy which is served as a side dish in every Bengali household. This is considered as a saviour when the guest comes over surprisingly. Made of poppy seeds and potato, this is the perfect side dish with dal and white rice. In the Bengali cuisine, this is one of the best dishes
Suggested Read: Shopping In Kolkata: A Guide To Help You Spend Money At The Right Place, On The Right Item!
Streetside Specialities
Kolkata is particularly known for its delicious street food and from the traditional Bengali delights to other flavors, there is a lot to discover. 
11. Phuchka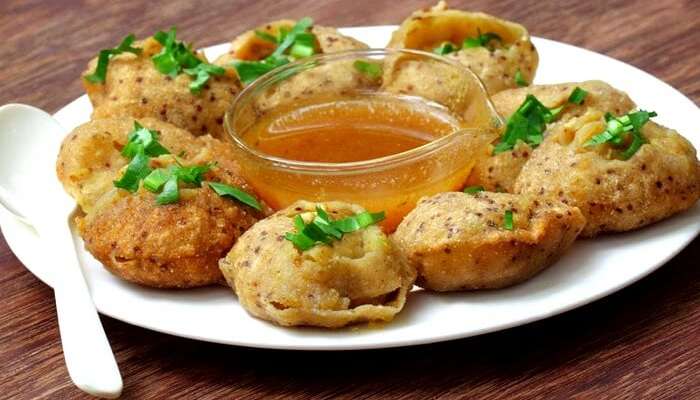 Also known as gol gappas and paani puri, these tiny water-bombs with spicy masala and meethi chutney are one of the best things to have in the streets of Kolkata. While they look light, they are quite filling and toothsome, and that is exactly the reason why you just can't stop at one.
Best places to eat: Dilipda's phuchkas in Vivekananda Market, Krisnakant Sharma's stall in Vardan Market, Kiosk near Triangular Park, Ram Gupta's Stall at Victoria Memorial, and more.
Suggested Read: 10 Best Churches In Kolkata That Beautifully Reflects The Spiritual Essence In 2020!
---
Planning your holiday but confused about where to go? These travel stories help you find your best trip ever!
---
12. Telebhaja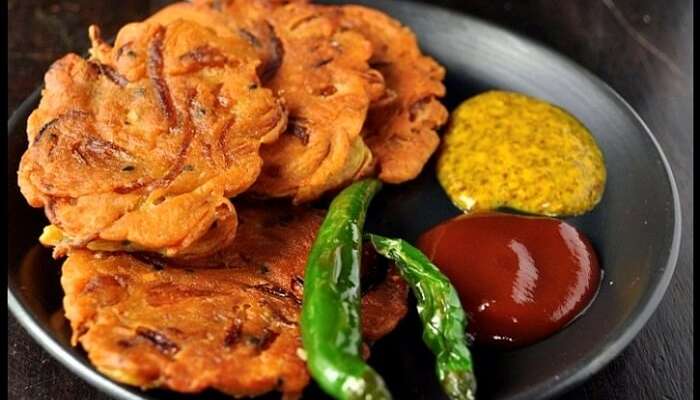 A famous snack in the city that continues to successfully retain the essence of Bengali cuisine, Telebhaja are best enjoyed in monsoons with a cup of tea. From beguni and phuluri to peyaji and alur chop, these crunchy snacks covered in besan (corn-flour) have something for everyone's taste buds.
Best place to eat: Kalika Mukhorochak at College Street, Dacre Lane, and more
Suggested Read: 16 Surreal Hill Stations Near Kolkata For A Rejuvenating Weekend Getaway
13. Jhalmuri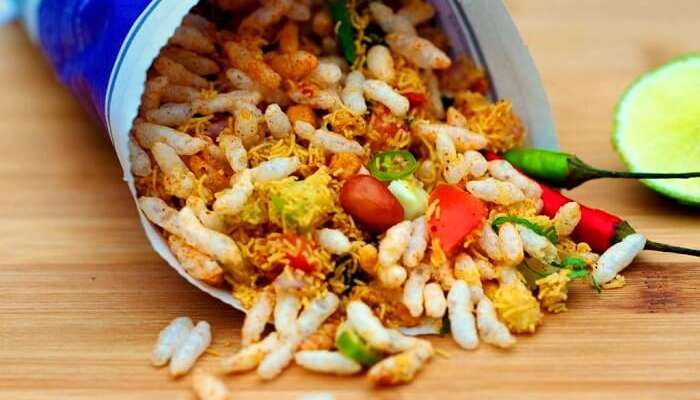 Amongst the best street food in Kolkata, Jhalmuri is the most perfect snack that you can relish whilst exploring the streets. These look like puffed rice or muri and are mixed along with peanuts, coriander and other spices, which make it an appetizing quick bite.
Best places to eat: Jawaharlal Nehru Road and Triangular Park
Suggested Read: 6 Luxurious Villas In Kolkata Which One Must Visit And Enjoy A Relaxing Stay!
14. Chop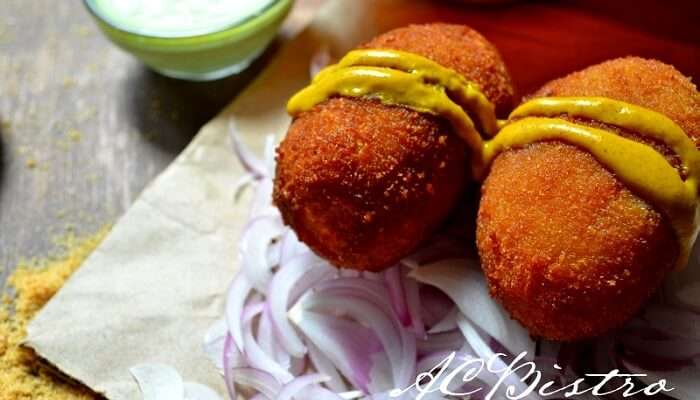 Also known as cutlets in a few parts of North India, Chop is one of the most filling yet delicious snack to have in the city. This Kolkata cuisine is prepared by stuffing alur, prawns, or chicken into a ball made of dough, which is then deep fried for attaining crispiness. You can enjoy it dry or have it served with your favorite chutney and tea!
Best place to eat: Dacre Lane, Mitra Café, and more.
Suggested Read: 10 Super Romantic Places In Kolkata For Couples Hit By Cupid's Bow
15. Kathi Rolls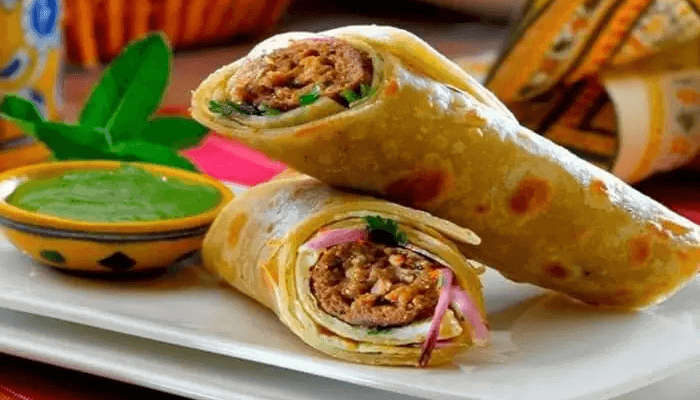 Unlike any other ordinary roll, the Kathi Rolls in this city are exceptionally lip-smacking. Egg, mutton, chicken, or paneer, you just name your favorite and you'll get it. They are mostly made like a flaky flour paratha, which is further rolled up with the chosen stuffing and is laced with irresistible sauces, spices, and veggies.
Best places to eat: Anamika Roll Center near Triangular Park, Hot Kathi Roll at Park Street, Nizam Rolls in New Market, and Kusum's at Park Street
Suggested Read: 6 Best Beaches Near Kolkata Which Are The Ideal Getaway For A Relaxing Vacation!
Sweet Delicacies
Sweets are the foremost items for which this city is widely famous. From the delicious Rasogullas, to the dry sweets, there is a lot to explore and get a taste of. 
16. Roshogullas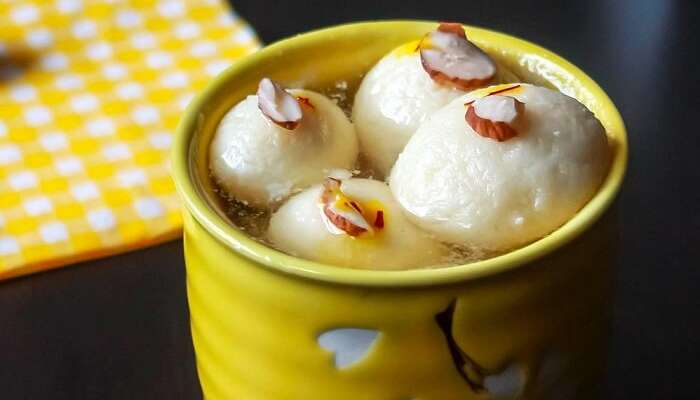 Popular across the states for being the best dessert in the city, Bengali rasgullas are like balls of cottage cheese and semolina dough, which are dipped in a sugary syrup to add sweetness to them. They are best had right after the main course, but it's true that if you have been born with a sweet tooth, one just won't be enough for you.
Best places to eat: K.C. Das & Bheem Nag, Balaram Mullick & Radharaman Mullick, Hindusthan Sweets, and more
Suggested Read: 23 Reasons Why I Would Rather Be From Kolkata Than Anywhere Else In The World
17. Sandesh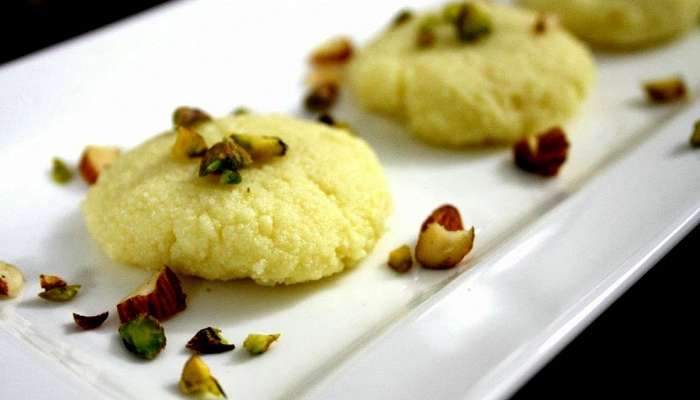 Sandesh is a popular dessert in Kolkata, which is made from milk or cottage cheese and sugar, and is one of the most famous snacks that you would come across in the city. Molded into a variety of shapes like the little balls and circular discs, this doughy and buttery sweet dessert puts a perfect end to our any main course traditional Bengali cuisine.
Best place to eat: Balaram Mullick & Radharaman Mullick
Suggested Read: 6 Luxurious Villas In Kolkata Which One Must Visit And Enjoy A Relaxing Stay!
18. Chom Chom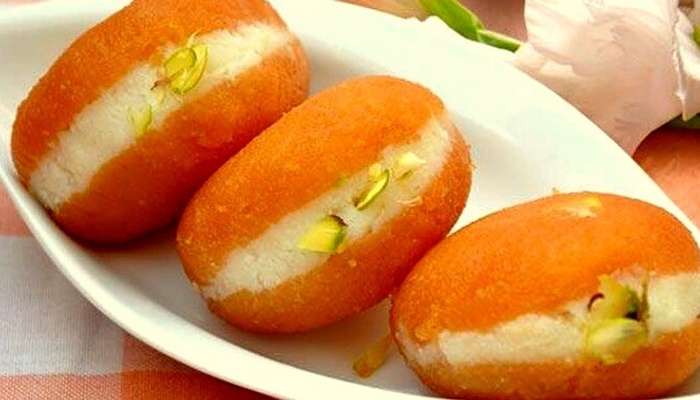 There is quite a high possibility that you may have heard of Chom Chom if you love taking a tour of the sweet shops. Also called as chum chums, this sweet is made of flour, cream, sugar, saffron, lemon juice and, coconut flakes, and is usually served during the festive season.
Best place to eat: K.C. Das
Suggested Read: The Ultimate Weekend Getaway Bucket List From Kolkata
19. Mishti Doi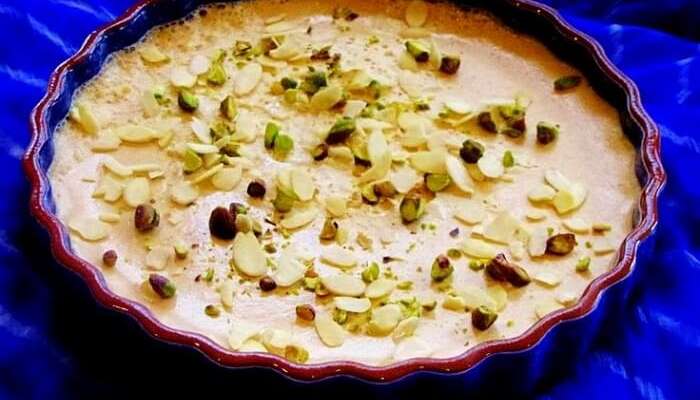 Consisting of a fermented sweet yogurt, Mishti Doi is one of the area's most famous culinary delight. While you can also buy packaged mishti doi in grocery stores in your own city today, the fresh ones from Kolkata's legendary sweet shops is definitely worth trying at least once.
Best places to eat: Bheem Nag & Jadav Chandra Das, Jugal's, Amrit Sweets, and more.
Suggested Read: 49 Best Places To Visit In Kolkata In 2020 That Reflect Its True Art!
20. Patisapta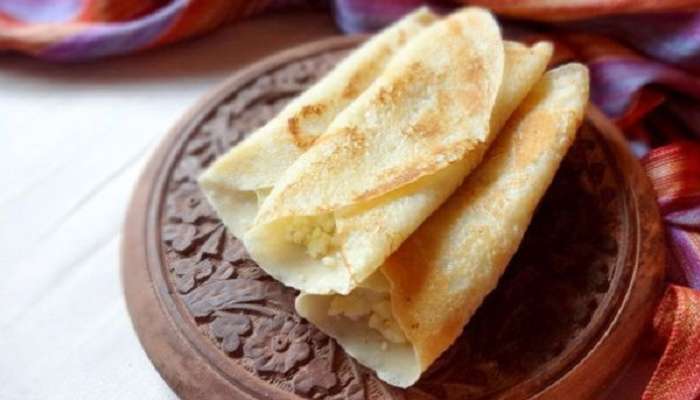 This is quite a famous sweet delicacy which is a favorite for every Bengali out there. Patisapta is made during the 'poush parbon' along with other traditional sweet delicacies like Dudh-Puli, Malpua and Kolar Bora. Made of milk and refined flour, this is made in a round shape and stuffed with coconut, dry fruit and mawa and served like a roll.
Further Read: 24 Picnic Spots Near Kolkata: Escape From The City Rush In 2020 For A Day's Retreat!
Both the food and culture of Kolkata speak volumes about it, and there is nothing that could even be a little close to its beauty. So, don't think too much and give your tummy a treat by heading on a gastronomical joyride to this city! Now when you plan your vacation in Kolkata, make sure to enjoy a gastonimical experience at this city of culture and also the Kolkata cuisine. 
Disclaimer: TravelTriangle claims no credit for images featured on our blog site unless otherwise noted. All visual content is copyrighted to its respectful owners. We try to link back to original sources whenever possible. If you own rights to any of the images, and do not wish them to appear on TravelTriangle, please contact us and they will be promptly removed. We believe in providing proper attribution to the original author, artist or photographer.
Frequently Asked Questions About Kolkata Cuisine
Q. Which is the most popular cuisine of Kolkata?
A. Macher Jhol is the most popular food of Kolkata and is usually had with rice. One can find it in any of the restaurants in the city as it's a staple food for the people.
Q. Where can you eat the best authentic Bengali food in Kolkata?
A. Restaurants like Arsalan, 6 Ballygunge Place, Oh! Calcutta, Peter Cat, and Koshe Kosha are few of the best places to have the best Bengali food in Kolkata.
Q. What is so unique or distinctive about the Bengali cuisine?
A. The uniqueness of the Bengali cuisine comes from the way it is prepared. The gravies or curries are usually cooked with spices and vegetable that are different to the ones used in North India. Most of the cuisines are innovations, and are a fusional art.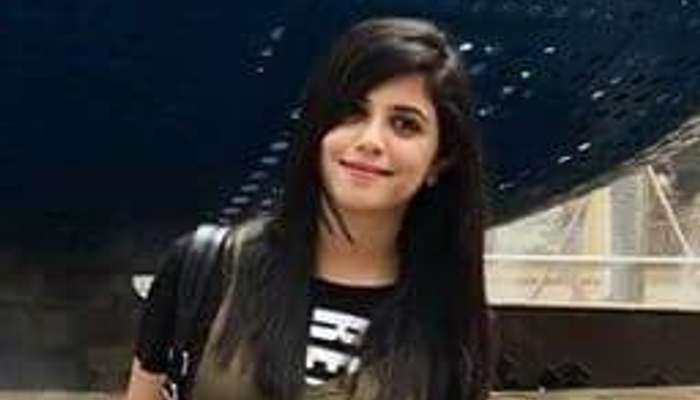 Comments
comments