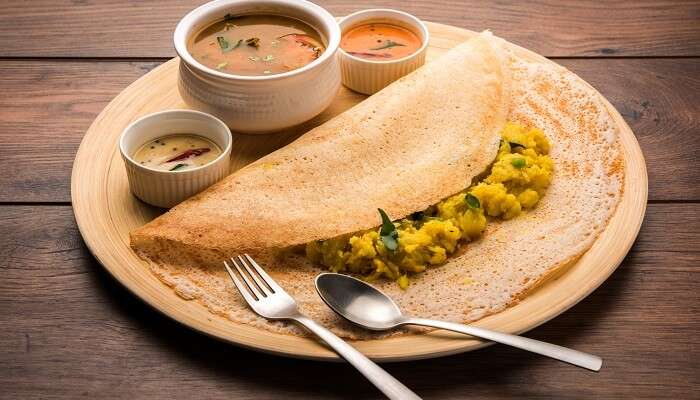 Southern India has always been known for its spices because of which it was a part of the ancient trade routes. Today these spices have combined in different forms, owing to the creativity of many minds, to give us some of the most delicious and lip-smacking dishes. Be it the omnipresent Masala dosa or Hyderabad's biryani or Tamil Nadu's Chettinad or Karnataka's Mysore Pak or Kerala's prawn curry, these famous foods of South India hit your palette in a similar yet unique way. Here are the 8 famous foods of South India which will make you come after them again and again.
7 Famous Foods of South India
South India can be gauged by the richness of the spices in its dishes, some of which are mentioned as follows.
1. Chicken Chettinad

Originating in the Chettinad region of Tamil Nadu, this lip-smacking recipe is one of the most famous foods of south India and has been passed down generations, culminating into the delicious recipe we know today. It is made by cooking marinated chicken with a special paste which gives the recipe its unique flavour. This paste is usually a mixture of coriander seeds, red chillies, coconut, poppy seeds, cumin seeds, fennel seeds and black pepper.
Places to eat: Anjappar Chettinad Restaurant, Coimabatore
Price: INR 300 – INR 400 per person
15 Indian Cities And Their Famous Dishes: A Guide For The Foodie Traveling Across India
2. Thalassery Biriyani

Originating from a place called Thalassery in Kerala, this biryani comes from a cuisine which is a melting pot of Indian, European and Persian influence. Instead of using normal basmati rice, a special type of rice is used to make this delicacy giving the dish its distinct flavour. Though biryani is of Mughal origin, this cuisine portrays the cultural amalgamation of Malabari and Mughal cuisines and is one of the most famous foods of south India.
Places to eat: Paris Restaurant, Thottathil hotel, Thalassery
Price: INR 200 – INR 400 per person
3. Pandi Curry

This delicious recipe comes from the region of Coorg in Karnataka which has a very rich cultural history of its own. In Coorg, game is available in abundance, hence there is a multiplicity of delicious non vegetarian dishes like Pandi curry. As opposed to Indian food which is full of masalas, this dish is relatively light and easy on the tongue but makes up for it in the spiciness and is revered as a famous dish of South India.
Places to eat: The Raintree, Folksy Food, Coorg
Price: INR 300 – INR 600 for two
Karnataka Cuisine: 22 Popular Karnataka Dishes For A Flavorful Culinary Journey In 2022
4. Konju Varutharaccha Curry

Literally meaning "Kerala Prawn curry", this dish originates from Kerala as the name suggests and is a luxurious dish served usually in dinner parties. This dish is made by mixing the prawns with coconut milk and aromatic spices. A dash of tamarind and other herbs provides that unique flavour that engulfs your mouth when you take the first bite of this dish.
Places to eat: Paragon Restaurant, Kozhikode, Trilogi Restaurant, Ernakulam
Price: INR 400 – INR 600 per person
5. Hyderabadi Biryani

The most famous biryani cuisine of India- the Hyderabadi dum Biryani is a dish made with aromatic basmati rice with dahi marinated chicken and a lot of masalas and spices. All of this is mixed and put on a slow flame so as to allow the 'dum' process to bring the recipe's flavour to its zenith. Tradition attributes the origin of Hyderabadi biryani to the first Nizam of Hyderabad- Nizam-ul-Mulk, Asaf Jah I.
Places to eat: Paradise, Jewel of the Nizam, Hyderabad
Price: INR 200 – INR 400 per person
Savor Lip-smacking Hyderabad Street Food At These Popular Stalls & Markets
6. Masala Dosa

Originating from the state of Karnataka, this dish is probably the most iconic and is one of the most famous foods of south India which can be found in all the corners of the country. Almost everyone has tasted Masala dosa once, which is made from cooking the batter of rice and lentils which was soaked overnight for fermentation. It is generally served along with a coconut chutney and sambar. Owing to its popularity, there are cultural variations in the recipe of dosa giving us a variety of dosas such as paper masala dosa, Mysore masala dosa, Madras special masala dosa etc.
Places to eat: Central Tiffin Room, Vidyarthi Bhavan, Bangalore
Price: INR 100 – INR 300 per person
7. Chicken 65

This deep-fried chicken dish is attributed to be a brainchild of AM Buhari of Hotel Buhari in Chennai, where it is served as an entrée. The dish derives its flavour from red chillies which also gives this food its colour. Since this dish is so lip-smacking, people have made vegetarian variants of the same such as Gobhi 65 or Paneer 65.
Places to eat: Hotel Buhari, Chennai
Price: INR 300 per person
Street Food In India: 17 Scrumptious Treats For Your Food Spree In 2022!
The thrill of tasting famous foods of South India is a magical experience for Epicureans staying in the region. You can plan and book your foodie trip to south India with TravelTriangle and have a memorable experience with your loved ones and by that we mean the dishes of course!
For our editorial codes of conduct and copyright disclaimer, please click here.
Frequently Asked Questions about Famous Foods of South India
What is the most famous South Indian dish?
There is not one but many famous dishes in South India including Pongal, Masala dosa, Chicken 65, Sambar, Pulihora, Appam, Upma, Hyderabadi biryani and many more.
What is the main food in Chennai?
The main food dishes of Chennai include Idli and Sambhar, Dosa Chutney, Onion Tomato Uttapam, Pongal with chutney, sambar, vada, Vada sambar chutney, Milagai Bajji, Biryani, Pista Kulfi etc.
Is it safe to visit South India during Covid times?
You need to follow all the mandatory travel guidelines suggested by the government. Always remain masked while stepping out and maintain social distancing. Complete both the doses of vaccination before planning your journey and get yourself tested at 48 hours before traveling.
Is South Indian food healthy?
South Indian food items are mainly fermented which are healthy for gut microbiota. They are rich in probiotics; especially idli, dosa, uttapam, etc. Fermentation improves digestibility, enhances B vitamins and boosts the immune system.
People Also Read:
Restaurants in Chennai Restaurants in Agra Restaurants in Ludhiana