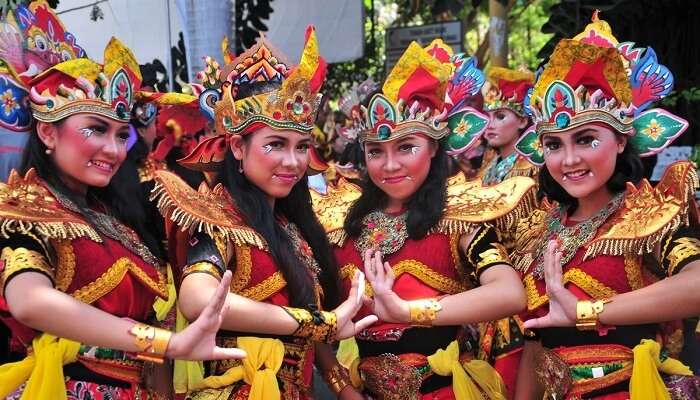 A vibrant megapolis whose streets are filled with grand celebrations, excitement, mirth, and merriment, Jakarta is undeniably a gorgeous city. Not only is it Indonesia's capital but also it's a cherished one. This enigmatic Indonesian city is known for the way its locals celebrate all festivals and for their friendliness. If exploring the tourist attractions of a new destination isn't your thing, then Jakarta has something special in store for you! Who said traveling is all about exploring the famous destinations, this time ditch the obvious and travel to attend the festivals in Jakarta!
For the foodies, this city organizes amazing food festivals and for music lovers, concerts are arranged. Those of you who want to attend an authentic Indonesia festival and become a part of the traditions and rituals of the locals, Jakarta has ample options for you as well. A festival overflowing with food or one which celebrates the existence of God, which one would you like to attend?
5 Best Festivals In Jakarta
From Jazz to Food, Indonesians are passionate about everything and their festivals depict that cleary. Find out which festivals in Jakarta lures you most and fills you with joy. Keep scrolling down!
1. Java Jazz Festival

The rhythm of life is the Jazz rhythm. If you agree to this statement then Jakarta is the place to be at. Jakarta International Java Jazz festival is one of the largest jazz festivals in the world. It is also Southern Hemisphere's largest festival where a lot of  players perform.
Jakarta International Java Jazz Festival was first held in 2005. Since then every year in March all Jazz fans are invited to this festival. Founded by Peter F. Gotha who was a rich businessman in Indonesia, this festival was attended by 47500 visitors in the first year. This year you can attend the 17th Jazz festival in March so plan your vacation accordingly.
Dates: TBA
Location: Simprug Gallery Blok A1, Jl. Teuku Nyak Arief No.10, Jakarta Selatan
Must Read: Winter In Jakarta: A Detailed Guide To Explore One Of The World's Greatest Megapolis
2. Jakarta Fashion and Food Festival

The Indonesian archipelago has a lot of talent hidden. To promote it the Jakarta Fashion and Food Festival is organized. The PT Summarecon Agung Tbk and the Provincial Government of DKI Jakarta organize this festival. Being one of the most famous food festivals in Jakarta, Jakarta Fashion and Food Festival is worth visiting. Participants from the whole world take part in this festival and even the audience is a mix of people from all around the world.
If you have an interest in fashion & culinary then you must add one of the largest festivals in Jakarta to your list. This festival is divided into two main events and on day 1, the Fashion festival is celebrated.  On the next day, the food festival is held. You can also become a part of races and dance performances held in this festival.
Dates: 8th August to 8th September 2021
Location: Sentra Kelapa Gading, Jakarta
3. We The Fest

Famed as 'the classy festival of Jakarta', We The Fest is for all those who are up for a summer festival. This festival is a blend of art, music, and food. We The Fest was inaugurated in 2014 and the venue was changed to Jakarta in 2017. Globally acknowledged bands perform at this festival. Some of the prominent names that have performed in the past years are The Kooks, Eva Celia, Anne-Marie, Troye Sivan, and San Holo. This fest is held for 3 days and all the days are full with an excited crowd and legendary bands performing their best numbers.
Dates: Yet to be announced
Website
Suggested Read: Bachelor Party In Jakarta: 8 Places Where One Should Go And Bid Adieu To Bachelorhood In Style!
4. Jakarta International Film Festival

Dating back to 1999, Jakarta International Film Festival is one of the most popular festivals in Jakarta. This festival is for people who are passionate about films and film direction. In 1999, 4 films were shown at this festival and the number increased to 100 in 2009. Since then the screening of a lot of International films is organized at this festival.
Every year this festival is held in November or December. If you are thinking about going on a vacation in the same months then you ought to attend this festival. The theme of this festival is inspiring people. They select movies that  are based on anything related to human nature and society. All talented directors and filmmakers are invited to showcase their work of art. If you are fond of art movies or the ones with a different concept then you must book your tickets right away!
Dates: TBA
Suggested Read: Jakarta Nightlife: 10 Best Places To Groove To The Indonesian Beats!
5. Jakarnaval

Get ready to have a quick look into the vibrant lives of the locals of Jakarta. Jakarnaval is considered one of the best festivals in Jakarta. You will find all the locals on the streets partying and celebrating on the anniversary. Jakarnaval is a colorful annual cultural nuance parade and it is funded by DKI Jakarta Provincial Government. In this parade, you can spot dancers wearing peppy costumes and unique masks. If you want to click insta-worthy pictures depicting Jakarta's culture and rituals then you must attend this festival on your vacation.
Further Read: Street Food In Jakarta : 7 Must-Visit Places For All Food Lovers
Jakarta is one place that has so much to offer to all travelers. If you want your vacation to be a mix of jazz and sass then you should attend these festivals in Jakarta. So, get ready to go on a fun-packed vacation in Jakarta with TravelTriangle and have a blast with the locals in this stunning Indonesian city!