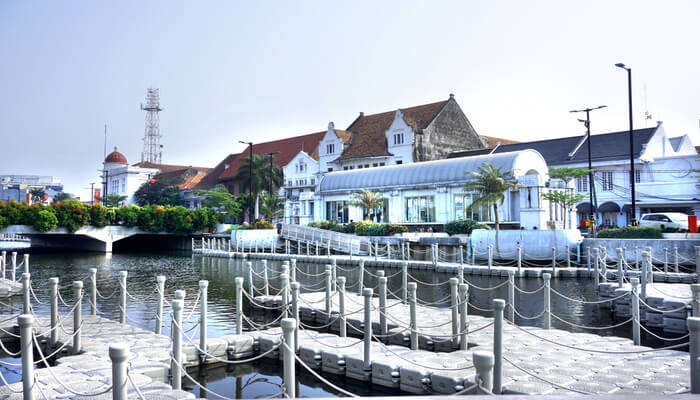 There is an Asian proverb that goes like "It is better to see something once than to hear about it a thousand times." and we think we completely agree with it. You might have heard so many people saying so many different things about Jakarta but we think now is the time for you to explore it and see what's your take on it. And, it doesn't get better if you explore Jakarta in winter, does it? Well, Jakarta is blessed by two seasons in particular and those are the dry season and the wet season. The dry season is considered as summer for Jakarta and the wet season is accounted for winter.
Weather In Jakarta In Winter
Jakarta is one of the most beautiful cities and visiting the city at any time around the year is a great experience. Jakarta is six degrees south of the equator which makes it have sunny and tropical weather year-round. There are two major seasons in Jakarta which are the dry season (June to September) and the wet season (October to April) which makes for the winter weather in Jakarta. The best part is that the weather in Jakarta never gets to the side of being bitterly cold and even in winter months, it rains at most, making it ideal for pluviophiles. The wet season in Jakarta can be considered as a part of winters, especially the months from December to February. The average temperature in Jakarta from December to March is around 25-26 degrees Celsius.
Top 50 Things To Do In Bali That Will Let You Explore This Island Paradise Like A Local
Places To Visit In Jakarta In Winter
If you thought rain might play spoilsport with your plans then you are so wrong. Jakarta's real beauty comes out during this season. We suggest you visit the place during the time to know what the fuss is all about.
1. Istiqlal Mosque
Istiqlal Mosque is the biggest mosque in Southeast Asia and the place will not disappoint. Be it architecture, or the historical importance or grandeur, the Istiqlal Mosque excels in everything. It is also known as the national mosque of Indonesia and was built to commemorate and mark Indonesian independence. The word 'Istiqlal' when translated means Independence and the mosque was opened for public on 22nd February 1978.
Location: Jl. Taman Wijaya Kusuma, Ps. Baru, Kecamatan Sawah Besar, Kota Jakarta Pusat, Daerah Khusus Ibukota Jakarta 10710, Indonesia
Timings: 4 AM-12 PM (Monday to Saturday); Sunday Closed
15 Places For Shopping In Jakarta That Will Give You A Shopaholic's High!
2. Dunia Fantasi
If you are a fan of amusement parks or if you are craving an adrenaline rush or even if you are on a trip to experience winter time in Jakarta with kids, Dunia Fantasi is one of the places that you must not miss out. Roller coasters, bumper cars, and Ice Age Arctic Adventure Ride are some of the popular rides at this exciting theme parks and there are many other attractions that will keep you hooked.
Location: Jalan Lodan Timur No.7, RW.10, Ancol, Kec. Pademangan, Kota Jkt Utara, Daerah Khusus Ibukota Jakarta 14430, Indonesia
Timings: 10 AM-6 PM
3. Jakarta Planetarium & Observatory
Jakarta Planetarium & Observatory is the oldest planetarium in Indonesia and was initiated in the 1960s by the first Indonesian president, Soekarno. Many changes have been made in the planetarium ever since but the main idea has remained the same. However, there have been many technological upgrades and changes making the planetarium a better place. You must visit this place in Jakarta in winter if you are a space enthusiast.
Location: Jl. Cikini Raya No.73, RT.8/RW.2, Cikini, Kec. Menteng, Kota Jakarta Pusat, Daerah Khusus Ibukota Jakarta 10330, Indonesia
Timings: 8 AM-3 PM (Tuesday-Sunday); Monday Closed
10 Jakarta Beaches That Are Bound To Make Your Indonesia Trip All The More Fun
Things To Do In Jakarta In Winter
There are many interesting things to do in the biggest Indonesian metropolis. Jakarta in winter is busy and offers something for everyone. Here we have listed some of the best things to do in Jakarta in winter.
1. Taman Mini Indonesia Indah: Explore & Get To Know More
You might have heard a lot about Taman Mini Indonesia Indah in Jakarta but would have not got a chance to explore the beautiful Taman Mini Indonesia Park. Well, make sure you do it this time on your visit to Jakarta. Taman Mini Indonesia Indah is a recreational area in east Jakarta and majorly highlights everything you should know about Indonesia's culture and its traditions and customs.
Location: East Jakarta City, Jakarta, Indonesia
Timings: 7 AM-10 PM
27 Places To Visit In Jakarta In 2022 That Showcase The Other Side Of Indonesia
2. Jakarta's Chinatown: Get A Slice Of China
If you wish to experience a Chinese flavor in Jakarta then Jakarta's Chinatown is where you should be at. Jakarta is a union of various Indonesian cultures and many cuisines. So, it does not come as a surprise when one says that there is a Chinatown in Jakarta and it is a totally different vibe that one gets here.
Location: Glodok, Central Jakarta, Indonesia
Timings: NA
11 Best Things To Do In Jakarta In 2022: The Indonesia Capital Buzzing With Life!
3. Nightlife: Experience The Crazy Side
Jakarta's nightlife is one of the best that you will ever experience and we are not kidding. Jakarta's nightlife is as vibrant as the city itself and it's not a task to find great bars in Jakarta. One of the best things to do in Jakarta in Winter is to dance the night away and have a drink or two with friends or just chilling and getting to know people at some of the best places. Jakarta has rooftop bars, lounges, and nightclubs. So, you can choose whatever suits your taste.
Location: Various
Cafes To Explore In Jakarta In Winter
If you are wondering what to eat in Jakarta and where all you can sip on the best coffee then here are your answers. As they say coffee always tastes better in winter, checking out these cafes in Jakarta in winter is worth it!
1. Trafique Coffee
If you are thinking that this place would give out authentic Indonesian vibes then we are sorry to disappoint, it will not. Nevertheless, you will feel you have been transported into a different world altogether here. Trafique Coffee as the very name suggests is quite famous for its coffee and vintage decor. Try their Arabica to know what heaven tastes like.
Location: Jl. Hang Tuah Raya No.9, RT.2/RW.6, Gunung, Kec. Kby. Baru, Kota Jakarta Selatan, Daerah Khusus Ibukota Jakarta 12120, Indonesia
Timings: 9 AM-9 PM
Step By Step Guide On How To Get An Indonesia Visa For Indians
2. Anomali
Anomali happens to be one of the most famous cafes in Jakarta. Known for its coffee, Anomali has established trust over the years and now has seven branches all around Indonesia. Coffee lovers and coffee enthusiasts swear by Anomali for true authentic taste. Be it espresso based or single-origin coffee, everything in Anomali is worth it.
Location: Jl. Senopati No. 9, Senopati, Jakarta
Timings: 7 AM-11 PM
3. BEAU By Talita Setyadi
Pastry chef Talita Setyadi's baby, BEAU is one hell of a cafe! You know what would be the highlight of this cafe. Pastries, of course! But that's not all. The chefs here know how to do it all with grace and taste. Be it sandwiches or sweet little cakes, everything is done with perfection here. Oh! Did we tell you about their freshly baked pastries? We think all these would be reasons enough for you to explore BEAU.
Location: Jl. Cikajang No.29, RT.1/RW.5, Petogogan, Kec. Kby. Baru, Kota Jakarta Selatan, Daerah Khusus Ibukota Jakarta 12170, Indonesia
Timings: 7 AM-10 PM
5 Adventurous Things To Do In Bali Indonesia For Your 2022 Vacation!
What To Pack For Winter In Jakarta
If you are wondering what you should pack or what to wear in winter in Jakarta then here are your answers. As mentioned before the wet season is considered to be winter for Jakarta so you should pack accordingly. Here are some of the things that you must carry.
Loose-fitting t-shirts and shirts
Jeans and pants
Light jacket
Tank tops
Shorts
Sarong
Comfortable shoes
Sunscreen and hat
Raincoat and umbrella
Cruises In Indonesia: 6 Enriching Small Ship Cruise Tours For A Vacay In 2022
We hope we have convinced you and given you reasons enough as to why you should consider visiting Jakarta in winter. Jakarta is every nature lover and pluviophile's paradise and a place that you should not keep off your itinerary. If you are planning for your Indonesian trip then check out these customizable options and plan your trip to Indonesia with TravelTriangle.
People Also Read:
Pamukkale In Winter Paris In Winter Bruges In Winter
Comments
comments