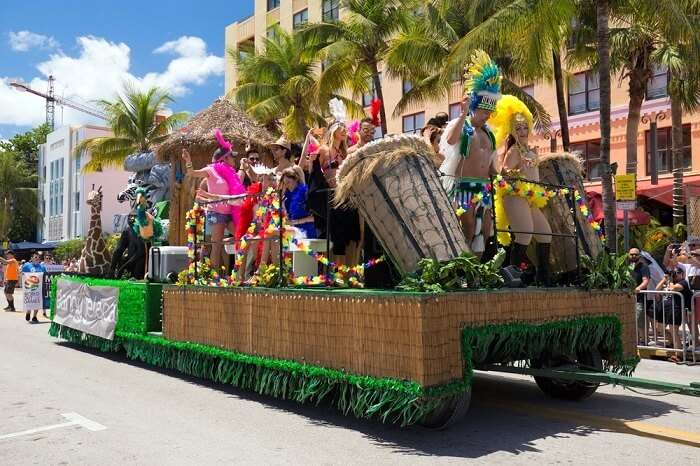 Miami, the most gorgeous city of Florida is not just a place of cultural and economic events, but also a major center and leads in arts & culture. This mesmerizing city is also known for its festivals and events. The best festivals in Miami are celebrated with full pomp and excitement, and the people of the city are always enjoying these with full spark and energy. So, there's no reason why you should miss out them.
Here is the list of some festivals in Miami 2023 that you can look forward to celebrate and witness on your next trip to the USA. بطاقة اونو
10 Best Festivals In Miami
These 10 festivities in Miami will add more color and joy to your holiday in USA. From the foodie in you to the lover of the art, these will surely pamper you to the core.
1. Live Haiti Style in Miami
Cool bars, hot restaurants, independent galleries has always been the reason for visitor's attraction. If you want to experience the Afro- Caribbean culture, this is the great place to visit. In this festival on every third, Friday of a month Haiti culture celebrate the big night in which a series of concerts cascading local brands, dance troupes and some of the good and big music. This festival is celebrated till long night.
Location: 212 NE 59th Terrace, Miami, FL 33137 USA.
Date: TBA
Must Read: 10 Best Miami Beaches That Will Make Your U.S. Holiday Even More Rejuvenating!
2. Go Greek: Miami Greek festival
This festival is celebrated by the Greek community of Miami. They showcase the highlighted features of their culture, cuisine, and church. باي بال الكويت In this festival, the Greek dancer's age from 5 years to 18 years performs their traditional folk dances. You will also find the good range of arts, crafts, homemade items, jewelry, and devotional items for sale also there is a play zone for kids where they can take a ride, play various games and many more. If you are fond of eating there are various items available such as eggplant, pastitsio, cheese pie & in desserts you will get Greek pastries.
Location: 7901 Southwest 88th Street.
Date: November
Suggested Read: 10 Things To Do In Miami To Add A Hint Of Excitement To Your Vacation
3. Latin nights in little Havana
If you have planned to travel Miami don't forget to get the taste of Cuban culture. This community was started a decade before. Hoy Como Ayer is a nightclub in Little Havana; if you want to immerse yourself in Latin music & Cuban tradition, this is the place where you need to visit. Latin nights is one of the best festivals in miami. You can see the best musicians acting on the Latin music scenes on any given night. Sometimes you might see Latin celebrities also joining this occasion.
Location: 2212 SW 8th St, Miami, FL 33135, USA
Date: February
4. Carnival Miami
This festival is celebrated in early March for 10 days. In Carnival Miami, the Latino community of Miami celebrates their culture, cuisine, and tradition. You will also find the events held for sports, entertainment, concerts and beauty contest which shows the Miami history and culture. This is one of the largest block party in the whole world. This cultural festival in Miami is celebrated in Miami since last 35 years in Miami. The grand finale held in Calle Ocho, 23 block street in Little Havana.
Location: 455 Southwest 8th street
Date: TBA
Suggested Read: 8 Best Restaurants In Miami To Treat The Gastronome In You
5. Cultural Friday
It is a local Miami in Little Havana. This is a place where local street vendors, restaurant, local artist get together for a cultural show on last Friday of every month. Local merchants and artist make set up on the street Calle Ocho, and the whole set up looks like a street fair.
There is also an event area next to the tower theater where people give live performance and dance for a whole day and night throughout the street. The event is full of DJ performers, artist and sellers who try to sell their products.
Location: 1637, Southwest 8th Street
Date: Last/Third Friday of every month
6. South Beach Strip
At this south beach you will find hotels available in candy colors, buzzy restaurants, luxury four vehicles and many more. At any time of the day you can walk from street 1 to street 15. Also if you are willing to sit and enjoy you have an option to sit in the outdoor café. You can enjoy sunset drinks on rooftops of a hotel or can dine in Gianni's as per your choice. The interesting part is that over top of this place has a mosaic pool with 24 karat gold tiles.
Location: Ocean Dr, Miami Beach
Festival name: South beach strip
Suggested Read: Top 10 Miami Resorts Where You Can Enjoy The "Good Life"
7. Nude Nite
If you want to have a fun and live art experience you must enjoy this place. It is an Americans largest nude art show & you can see here the work of many Florida artist including fine arts, painting, sculptures, world class body paintings and live installation to interactive pieces.
Location: 2400 NW 5th Ave Miami, FL 33127
8. Carnival on the Mile
Carnival on the mile is a street festival which takes the entire length of downtown Coral Gables. This becomes one of the busiest streets in Miami as the festival is celebrated for the whole week. They call all the sculpture, visual, photography, fine art, and other artists to participate in this carnival function. This festival in Miami 2023 is going to be celebrated dates are given below.
Location: Miracle mile at Coral Gables (24/22 street)
Date: March
Suggested Read: Top 10 Swankiest Hotels In Miami That Takes Classy On A Next Level
9. Ultra Music Festival
This festival takes in the month of March every year. It is one of the music festivals in Miami. This festival was founded by Russell Faibisch & Alex Omes in 1999. You will get the world-class performance of highly motivates musicians here. مباريات كاس العرب ٢٠٢١
Location: Bayfront Park, Miami, Florida, United States.
Festival name: Ultra Music Festival.
Date: March
10. International Chocolate Festival
International Chocolate Festival is the season's most delicious event. Lectures and demonstrations from world-class chefs are given on this occasion. You may be taken through the chocolate walk, and you can know everything from the experts you ever wanted to know about the chocolate.
Location: 10901 Old Cutler Road, Miami, FL 33156.
Festival name: International Chocolate Festival
Date: January
Further Read: 8 Nightclubs That Make Miami Nightlife Hip & Happening
As we know now, Miami is a melting pot for all cultural activities. All of the festivals may vary from the neighborhood but they always include ethnic music, traditional cuisine, and cultural traditions. If you're in Miami or visiting Miami in 2023 during your holiday in USA with TravelTriangle, make sure you don't miss out on the above fantastic festive celebrations.
---
Looking To Book A Holiday Package?
Book memorable holidays on TravelTriangle with 650+ verified travel agents for 65+ domestic and international destinations.



Gangtok & Darjeeling Tour Package 5D/4N @ Rs 13,000

Have Questions? Talk to our travel experts today.

Book Now




Enchanting Uttarakhand Tour 4D/3N Package @ Rs 7,199

Explore best destinations with our experts.

Book Now
var metaslider_57782 = function($) {
$('#metaslider_57782′).flexslider({
slideshowSpeed:3000,
animation:'slide',
controlNav:false,
directionNav:true,
pauseOnHover:false,
direction:'horizontal',
reverse:false,
animationSpeed:600,
prevText:"<",
nextText:">",
easing:"linear",
slideshow:false,
init: function(slider) {
$('#metaslider_57782 .msHtmlOverlay').each(function() {
$(this).css('display', 'block');
});
},
before: function(slider) {
$('li:not(".flex-active-slide") .animated', slider).not('.disabled').each(function(index) {
var el = $(this);
var cloned = el.clone();
el.before(cloned);
$(this).remove();
});
},
itemWidth:300,
minItems:1,
itemMargin:0
}); $(window).resize(function(){
$('#metaslider_57782').metaslider_scale_layers({
downscale_only: false,
orig_width: 300
});
});
$('#metaslider_57782').metaslider_scale_layers({
downscale_only: false,
orig_width: 300
});
$('#metaslider_57782 .msHtmlOverlay .layer[data-link], #metaslider_57782 .msHtmlOverlay[data-link]').each(function() {
var layer = $(this);
layer.css('cursor', 'pointer').on('click', function(e) {
if( ! $(e.target).closest('a').length) {
window.open(layer.attr('data-link'), layer.attr('data-target'));
}
});
});
$('#metaslider_57782 .msHtmlOverlay').each(function() {
$(this).css('display', 'block');
});
};
var timer_metaslider_57782 = function() {
var slider = !window.jQuery ? window.setTimeout(timer_metaslider_57782, 100) : !jQuery.isReady ? window.setTimeout(timer_metaslider_57782, 1) : metaslider_57782(window.jQuery);
};
timer_metaslider_57782();
---