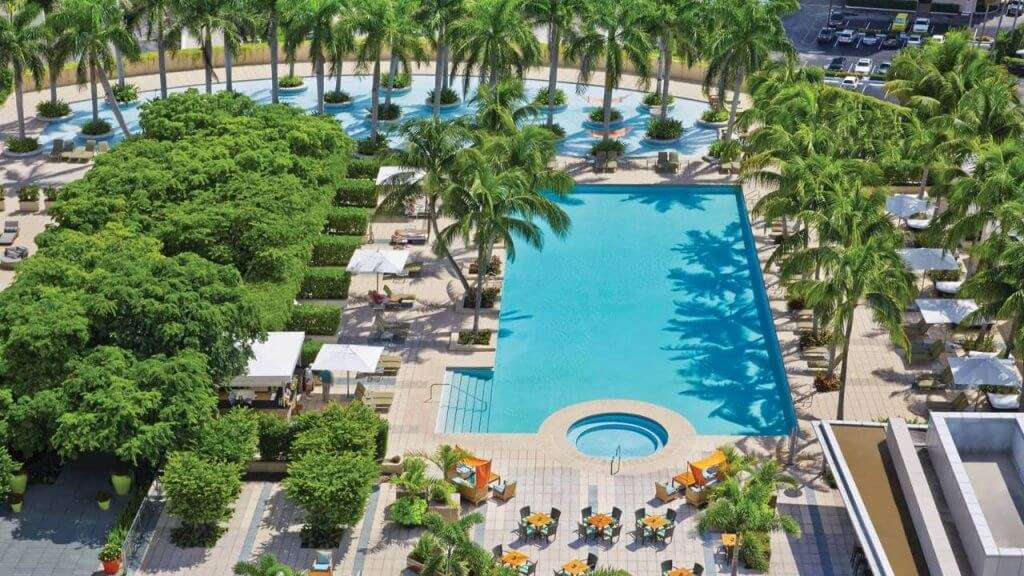 Awash with blue skies, crystal-clear waters, dazzling nightlife and a rich history, Miami is famously nicknamed as the Magic City of the U.S. Well, this is just a beginning, the city, however, has much more to offer apart from its Art Deco architecture, the amazing sunset cocktails at the Broken Shaker, Cuban sandwiches at Versailles and Wynwood Walls murals. While the list will go on and on, be assured that a visit in Miami will surely drive you nuts.
So, before you plan a trip to Miami, remember to do a little bit of research about the hotels in Miami. Here's a list of top 10 awesome properties in the city where you can chill and plan further to complete your Miami itinerary.
The Finest Hotels In Miami
Here are all the budget as well as luxury options in Miami that you can choose from. With so many options to pick from where each tops the other, we bet you'll be spoilt for choice!
1. The Setai

Suggested Read: Top 10 Miami Resorts To Visit In 2022 Where You Can Enjoy The "Good Life"!
If you are a heavy pocketed guy with a lot of moolah in your bank account, what can be better than a hotel like this? Marvellous rooms, stunning interiors, matchless services backed by three superb swimming pools with different temperatures, the Setai is perfectly located at an impressive beachside location. What more you want? Still, if you don't like the food as the restaurants housed here are more about classy designs than food, you always have an option to go to a slew of the best restaurants situated nearby.
What's special: yoga and tai-chi classes, a 60-minute Nepalese Body Polish
Tariff: Rs 48,135 per night
2. W South Beach

Situated on the northern outskirts of South Beach in Miami, this is considered as one of the best beachfront Miami hotels. It houses three hundred and twelve masterly designed luxurious rooms offering modern and best-in-class services that will ensure a stay full of endless ease and comfort. During the stay, don't forget to experience the freshly opened spa that will surely freshen you up.
What's special: largest rooms in the south beach
Tariff: Rs 28, 157 per night
3. The St. Regis Bal Harbour Resort

Suggested Read: The USA Gets Its First Dark Sky Reserve In Idaho & It's A Visual Treat For Stargazers
Looking for a classy stay in Miami? This is the answer. This hotel is considered as one of the most luxurious beachfront hotels in the region. While living in the lavish décor of the spacious rooms of the St. Regis Bal Harbour Resort, relish small sips of your cappuccino or cocktail, whatever you may wish by relaxing at the oceanfront balconies. There are three on-site options for dining and trust me, the food they provide here is truly delectable.
What's special: on-site fitness centre with ocean views
Tariff: Rs 46, 793
4. Four Seasons Hotel Miami

Suggested Read: 10 Best Miami Beaches That Will Make Your U.S. Holiday Even More Rejuvenating!
This hotel comprises two hundred and twenty-one rooms and is very popular in Miami for its top-notch services. After a vibrant stay in Four Seasons Miami, you will know what swanky means in real. It also houses an elite fitness centre, which is absolutely good news for all the fitness freaks out there. It also has an elegant steakhouse and two big swimming pools, among others. You can also experience amazing water views, but only some rooms have it.
What's special: Destination weddings & meetings venue
Tariff: Rs 34,608 per night
5. Mandarin Oriental

Suggested Read: 10 Exotic Panama Islands For Your Lg-Awaited Tropical Retreat In 2022
Situated at the astonishing Brickell Key, a man-made island in Miami, Mandarin Oriental is a beach less island hotel which is an interesting blend of aesthetics, modern designs and serenity. With beautifully and creatively designed rooms and striking artwork, this hotel is also ranked under 'one of the best hotels in Miami' list. During your stay, make sure that you don't miss out its extraordinary spa experience; it's truly soothing.
What's special: Secluded private island setting surrounded by picturesque water views
Tariff: Rs 30,188 per night
6. 1 Hotel South Beach

Suggested Read: 10 Destinations In U.S.A For That Perfect American Honeymoon!
One of the best Miami Beach hotels, 1 Hotel South Beach opened recently in 2015. It is fully equipped with eco-conscious features such as hemp mattresses, take-home socks and salvaged wood, to name a few. There are four swimming pools in total, but what's so special in that, right? Well, the direct beach access is what makes it so special. When in a mood to drink and get cosy, go to any one of the three classy bars, have some drinks and get some food at the fine-dining restaurant.
What's special: A Personal Guru to take care of your well-being and arrange VIP access
Tariff: Rs 27,719 per night
7. Hotel Beaux Arts

This hotel is known for its ultra-luxurious features. It has forty-four rooms in it and you will have an option to mark your entry in the special check-in area in the lobby. The rooms offer iPads and flat-screen TVs, bathrooms are pleasant with separate showers and bathtubs, and the cherry wood floors are really nice to see. Overall, a gentle hotel to stay and chill.
What's special: Mariano Bartolome Indoor Golf School
Tariff: Rs 17,168 per night
8. JW Marriott Marquis

It's again one of the most luxurious hotels in Miami with a swanky swimming pool, a huge basketball court, a 3D theatre room, a virtual bowling alley, a fitness centre and a sought-after fitness centre, among others. Mostly preferable for the business travellers, all the three hundred and thirteen rooms boast of its jaw-dropping facilities like giant fifty-two inch flat-screen TVs and desktop computers. BIG is the right word to express this hotel's class.
What's special: Stainless steel sky pool
Tariff: Rs 18,809 per night
9. The Tides

Again a classy choice, this amazingly designed hotel offers all the modern facilities of today's world. The immaculate rooms of The Tides make it one of the best hotels in Miami and I am sure your stay at this hotel will truly rejuvenate all your senses and make you feel revitalized, once again. The deep soaking tubs and the awesome ocean views make it more fascinating; you can go for it without any second thoughts.
What's special: Eclectic blend of international and American favorites
Tariff: Rs 17,206 per night
10. Washington Park Hotel

The one hundred and eighty-one room hotel is one of the classy Miami hotels which houses a great collection of five historic Art Deco and Craftsman-style buildings and are definitely a must watch, hence must stay. Very old, built in 1943, the hotel, which boasts of breath-taking interiors, has undergone numerous renovations and today is popularly known to be one of the best hotels in Miami Florida.
What's special: Awesome Art Deco aesthetics
Tariff: Rs 12,793 per night
Further Read: 25 Most Romantic Places To Visit In Los Angeles: Romanticize, Relish, And Revisit In 2022!
So, while you plan a trip to Miami, you can surely go for the above-mentioned hotels for a comforting and serene stay.