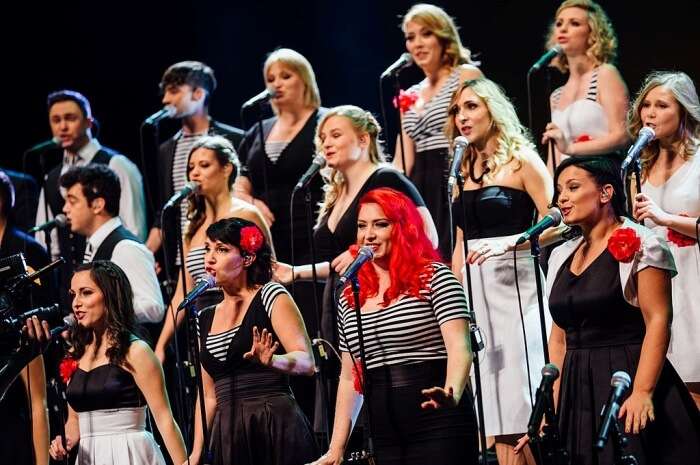 Slovenia, as a country is a perfect mix of historic towns, gorgeous greenery and amazing people that keep the ambiance lively is what makes it worth a visit. And while you are there, there are tons of activities that you should actively involve in for the joy of your heart and soul. Slovenia is a hub for ongoing festivals that take place throughout the year. The various cities and beautiful towns here host some of the most amazing festivals, throughout the country. The country is known to host unique, both international and local festivals for everyone to remember the country by. You will find these festivals to suit every mood of yours. From contemporary art to folklore and from theatre to cinema, there is an eclectic mix of festivities that will keep your soul afloat throughout your stay.
10 Best Festivals In Slovenia
If you have plans to visit the country or wish to suggest someone then do not worry, we have made a list of ten of the best for you to choose from. If you happen to drop by and do not have any plans whatsoever, you can surely take a stroll down to these following places to groove to the amazingness of the Slovenian festivals.
1. Grossmann Fantastic Film & Wine Festival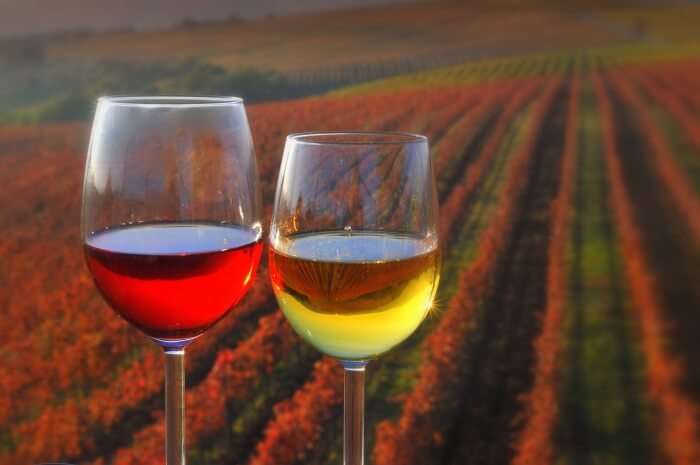 The Grossmann Fantastic Film & Wine Festival is a distinctive festival in the country. It takes place in the town of Ljutomer during the month of July. The genre or theme of this festival is fantasy and horror cum sci-fi movies that have been forgotten by the mainstream media. This festival came into existence back in 2005 and has been hosted every year since. It was named after Dr. Karol Grossman who is a pioneer of Slovenian cinematography. The film programs are accompanied by wine tastings, concerts, expeditions etc. the highlight being the traditional Zombie walks, making this one of the most intriguing Slovenia festivals.
Location: Ljutomer
Dates: 15th – 23rd July 2022
Must Read: Your One Stop All Inclusive Guide To Lake Bohinj In Slovenia
2. International Carnival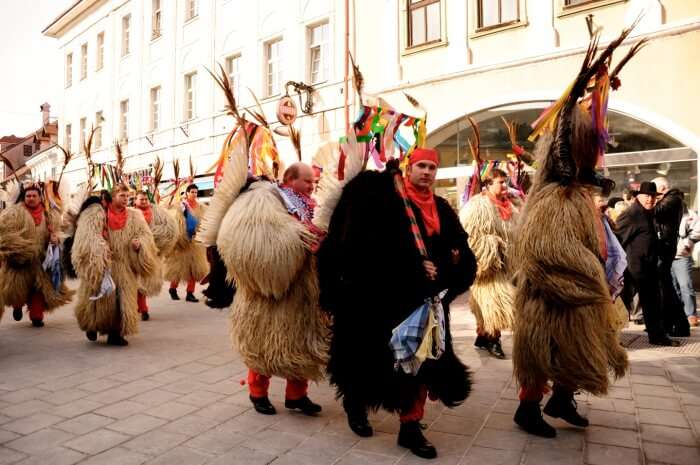 A festival of spring and fertility, Kurentovanje is the famous Mardi gras celebration in the country. It began in the year 1961 and has been hosted every year since its inception. The festival takes place between Candle Mass and Ash Wednesday, in the oldest town of Ptuj. The theme or main focus of the festival is the folklore character Kurent.
Location: Ptuj
Dates: 19th February to 1st March 2022
3. Lent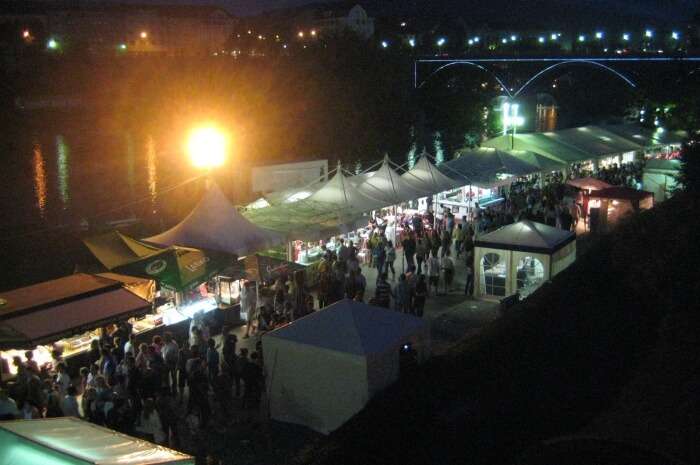 Festival of Lent or Lent Festival has been around the block for about 20 years now. Every year it changes the city of Maribor into a large outdoor venue. In the beginning, it started as a small festival on the banks of the Drava River. Whereas, in current day Europe it is among the largest open-air festivals in Europe, attracting over half a million festival-goers every year. Visitors can enjoy theatre performances, ballet, concerts, opera, and many other such recreational performances in over 23 venues sprawled over the city. Also, you can enjoy the fireworks over the Drava River.
Location: Maribor
Dates: 24th June – 2nd July 2022
Suggested Read: 10 Things To Do In Croatia To Treat Yourself With The Best Of Balkans' Offerings
4. Mladi Levi

At the end of summer, Ljubljana hosts the Mladi Levi since the year 1998. The Mladi Levi is an international festival of dance and contemporary theatre performances that take place in two primary venues, along with individual performances in the courtyards, streets and old buildings of the city. Taking place for over ten days, the festival offers attendees an outstanding section of Slovenian performances along with international performances, which is why it will be among the best Slovenia festivals 2022 to attend.
Location: Ljubljana
Dates: TBA
5. Ljubljana Festival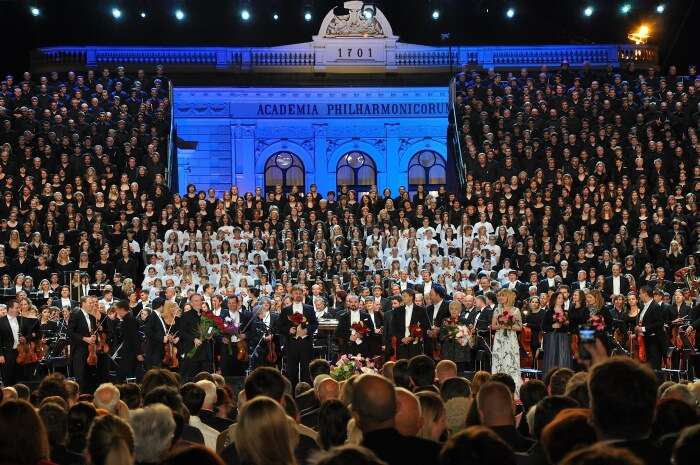 The Ljubljana Festival Is the main festival during the summer month. It takes place between June and September, in the Slovenian capital. There are about 80 festival events that take place during this period of time. Yes, you read it right, eight zero 80! The programs comprise of music, dance performances by leading international and Slovenian artists, theatre performances for everyone to enjoy. The origin of this festival dates back to 1952, making it one of the most music ancient celebrated festivals in Slovenia.
Location: Ljubljana
Dates: 15th June – 18th June 2022 (Estimated date)
Suggested Read: 10 Best Things To Do In Split For Witnessing The Romanesque Wonders Of Croatia
6. Ana Desetnica International Street Theater Festival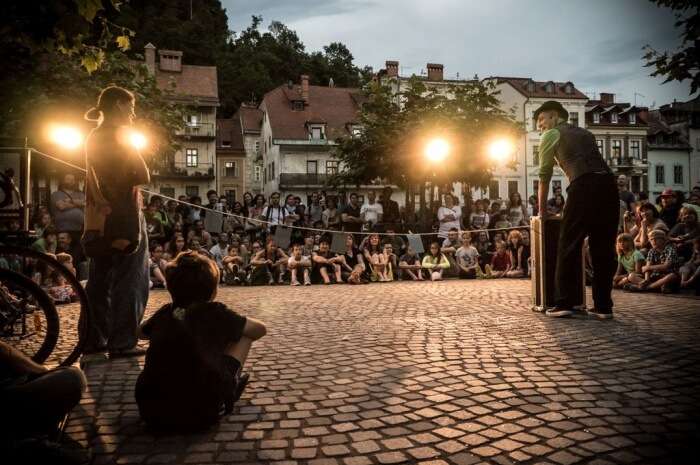 At the beginning of summer, on the streets of Ljubljana, this festival comes into being. The festival began back in 1998 and has since maintained its stature as being one of the grandest Slovenia festivals 2022. Audiences enjoy a wide range of performances that include dance performances, magic shows, mimes and theatre groups that are commendable at their task. The festival is known to take place in 10 different cities.
Location: Ljubljana
Dates: Annally end June start July (2022 – TBA)
7. International Festival Of Contemporary Arts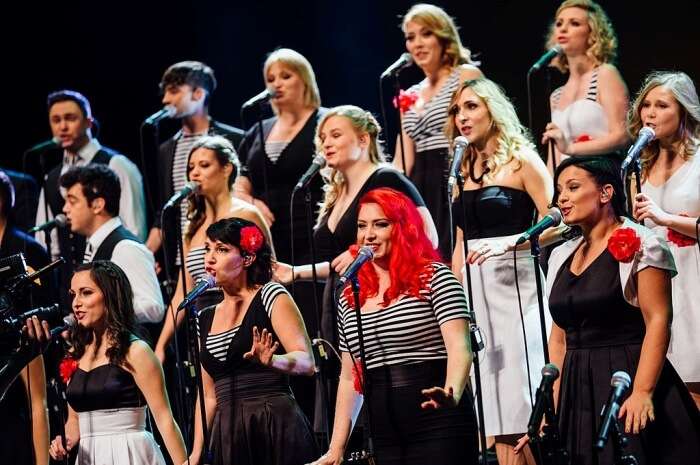 The City of Women is an annual festival that first took place in 1995. The primary aim of this festival was to draw attention to the relative lack of participation and presentation of women in the field of Arts. In a way, women were being celebrated by bringing them to light. The festival has ever since continued and progressed to betterment over the years. It is a 10-day festival that offers audiences with theatre, dance and music performances, exhibitions, workshops, debates by performers and scholars from both Slovenia and abroad.
Location: Ljubljana
Dates: TBA
Suggested Read: 10 Best Croatia Resorts That Offer A Soul-Satisfying Stay Amidst Nature!
8. Stand-Up Comedy festival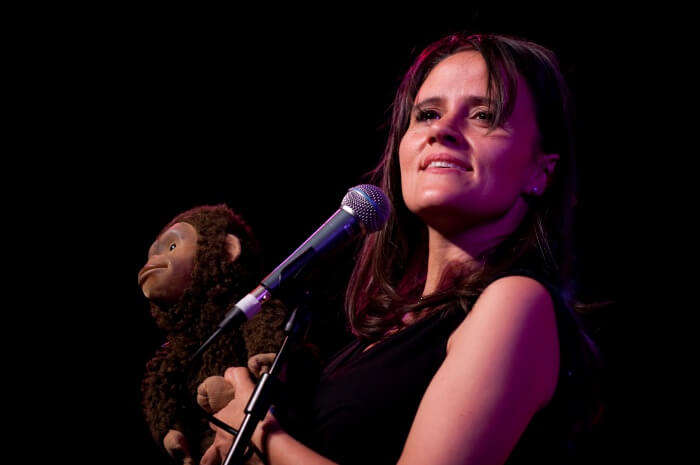 If you love stand-up comedy then you should visit this festival at least once when visiting Slovenia. The primary goal of this festival was to present the art form of stand-up comedy to the Slovenian audiences and to the visitors as well. It started in 2007 and luckily was an instant hit. It has ever since had sold out events, even before the festival begins. Also, since 2010, the winter version of the Panc festival has been added to the list of events.
Location: Ljubljana
Dates: August (Not Confirmed)
9. Days Of National Costumes And Clothing Heritage Festival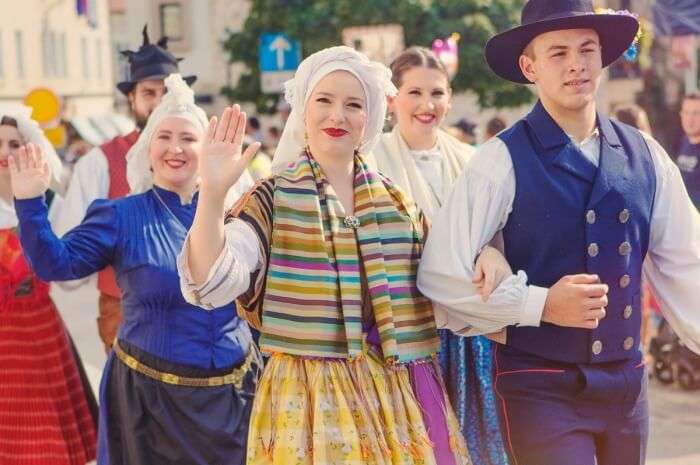 This particular festival witness over 30,000 visitors every year. It is the major ethnological festival to take place in Slovenia. For more than four decades now, in the month of September, the festival attracts visitors to the exquisite small town of Kamnik. The festival offers exhibitions of historical artifacts and attires, handmade art and crafts, programs for children and concerts. The Sunday parade showcases the national costumes over 2000 ones. It is popular in Europe as it attracts tourists from all around the world.
Location: Kamnik
Dates: TBA
Suggested Read: Shopping In Croatia: 5 Best Places To Let Yourself Loose On A Shopping Spree
10. Islo Cinema Festival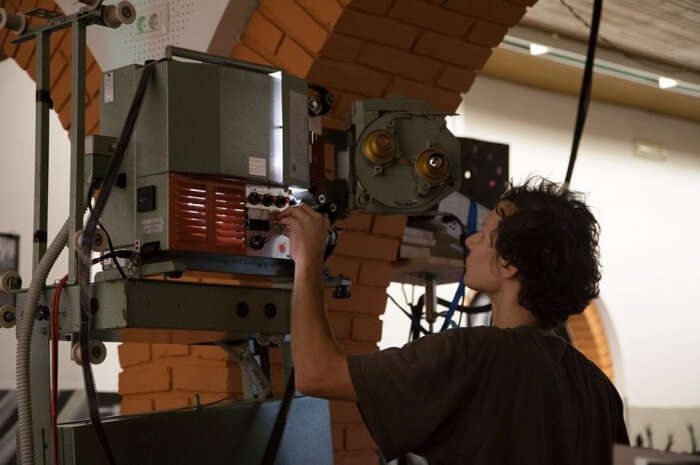 The Kino Otok festival takes place at the beginning of the month of June in the small town of Izola. The main attraction of this festival is the all about movies screening that are not available in mainstream cinemas. The festival came into being back in 2004 and has ever since had thousands of visitors every year. With international guests, speakers, the lectures and workshops are amazing along with the screening of exceptional movies.
Locations:
Manzioli Square
Izola Cultural Centre
Art Kino Odeon Izola
Dates: June
Further Read: 10 Surreal Things To Do In Zagreb For An Unforgettable Holiday In Croatia
Slovenia has a lot to offer in terms of theatre and dance performances along with amazing concerts. The best festival among all no doubt is the when people parade as Zombies. It is actually a fun event. That being said, the rest of the festivals are no less in terms of recreation and creativity. One must make sure to take a trip to Europe to get a first-hand experience of the flavours of art that the country proudly boasts of. Slovenia sure is a charmer!
---
Looking To Book An International Holiday?
Book memorable holidays on TravelTriangle with 650+ verified travel agents for 65+ domestic and international destinations.
---