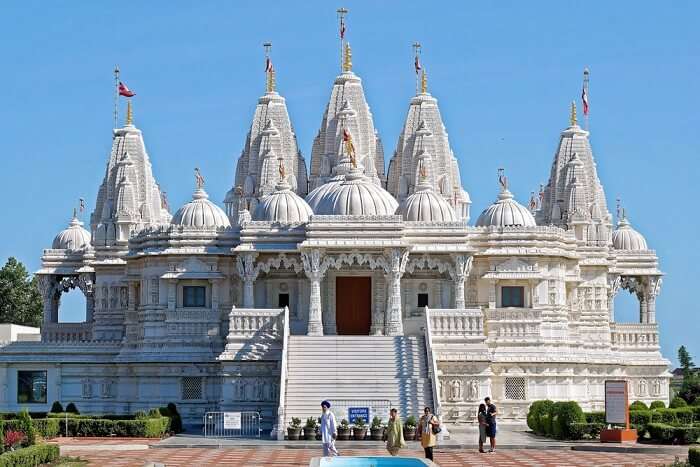 The time has come for all Hindu residents living in Abu Dhabi to celebrate the inauguration of something integral to their beliefs, especially when they don't have to travel much for offering their prayers. The first ever Hindu temple in Abu Dhabi is more than a happy news for all Hindus around the world.
The gorgeous architecture of the temple shares a close resemblance with Akshardham temple in Delhi. A hallmark of the handwork of Indian artisans, the temple is encrusted with the pink stones and marble imported from Rajasthan and Macedonia respectively.
It all started in 1997, when the president of BAPS Swaminarayan Sanstha, Pramukh Swami Maharaj, was taken to a desert in Sharjah by his devotees. Besides praying for world peace and the eradication of enmity between countries, he also wished for a Hindu temple in Abu Dhabi.
Must Read: 31 Places To Visit In Abu Dhabi For Those Who Want Everything From One City

Later in 2015, after several attempts had been made by BAPS devotees for obtaining land permission, the crown prince of Abu Dhabi donated 13.5 acres of land. In 2018, on his visit to Abu Dhabi, Prime Minister Modi laid the foundation of this temple. He is also expected to inaugurate it on 20 April 2019.
Several MoUs between PM Modi and the Crown Prince laid a solid ground for the establishment of this temple. This temple also includes seven spires that symbolize the seven emirates of the UAE, along with 5 ornate domes. Its design is also in accordance with the ancient Shilpashastras or the Sanskrit scriptures of architecture.
What's more, this temple is a masterpiece in its own right with beautiful gardens, gift stores, a library, and a separate area for kids to play around. There are around 6-7 prayer rooms, a hall for exhibition purposes, and food courts that serve vegetarian food.
Further Read: Desert Safari In Abu Dhabi: A Guide For Indulging In The Most Adventurous Experience Ever!
This one-of-a-kind temple in Abu Dhabi surely calls for a visit and why not when you wish to explore this enchanting land on your own too? A fun vacation to UAE is always a good idea when it comes to opening yourself to new and unique experiences on the many adventures that this place has to offer!