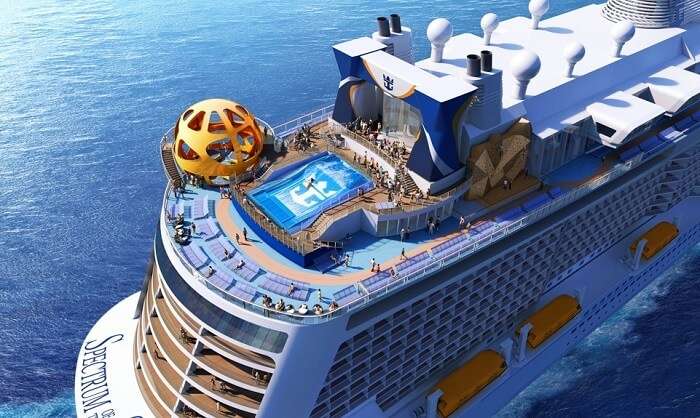 Royal Caribbean's new Spectrum of the Seas cruise has given another meaning to luxury and put all other cruises to shame! This royal boat allows guests to shower in lavish bathroom extending over the sea from the side of the ship. How cool is that!
No, we are not bluffing. The Ultimate Family Suite of the new Spectrum of the Seas cruise is suspended over the sea, giving guests the ultimate experience of showering right above the ocean!
But other than a huge bathroom hanging over the sea, what else does the Ultimate Family Suite offer? Well, the two-level, three-bedroom suite can accommodate 11 guests, features a slide as well as a recreation room where you can karaoke, play video games, and watch movies. Have more reasons to refuse?
The Spectrum of the Seas Launch Date
The cruise will debut in spring 2019 from Shanghai. What's more, it will be the largest sailing cruise ship in Asia capable of carrying up to 4,246 passengers. Other star features of the cruise include the Sky Pad and a virtual reality bungee jumping experience.
While select guests are already cruising onboard this beauty by the Royal Caribbean, others won't have to wait long to start booking.
A Shower Over The Seas!
Immerse in the experience of showering with "unparalleled water views", since your bathroom will actually be floating off the side of the ship, and there'll be nothing but bare sea underneath it! Sounds exciting, doesn't it?
The cruise takes you to amazing destinations across the world like Australia & New Zealand, Bahamas, the Caribbean, the Middle East, North America, Malaysia, and more. And while other cruise experiences don't really come cheap, that's not the case with Spectrum of the Seas. For instance, the cruise's 3-night tour of Malaysia from Singapore starting on 18th May 2019 is priced only at INR 46,000/- (£509) per person on double sharing basis. Still got second thoughts about booking?
Find more information on the official Royal Caribbean's website.
So, would you like to sail on this royal beauty and take a shower with surreal views before you and the sea roaring right underneath your feet? Tell us in the comments below.