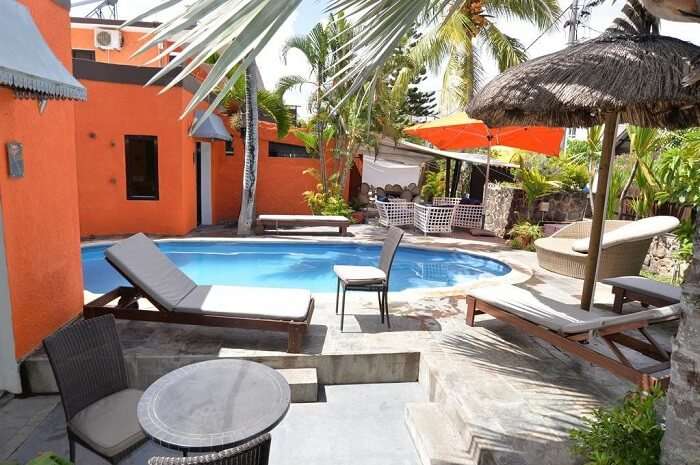 Overview
Flowers of Paradise Pereybere is a 3-star hotel which aims to bring out the natural scenic beauty in its aesthetic sense. The hotel is a beachfront accommodation located centrally with easy access to all the famous tourist spots. The Hotel is indeed a small haven with a mix of both peaceful and serene ambiance as well as a jolly and happy mood and is ideal for couples and families. The Hotel also boasts of a whirlpool jacuzzi. For guests looking to relax after a day of heavy water sports, this jacuzzi will do wonders. The indoor pool of Flowers of Paradise also has an indoor pool for its guest to enjoy as well as a garden to take a leisurely stroll in. The hotel has authentic, cute and very cocooning rooms. Staying in the tranquil and idyllic setting would be accompanied by rooms that are air-conditioned, equipped with amenities like a safe, a minibar, a WiFi connection.
Amenities
The jacuzzi is placed outdoors to provide an ambient atmosphere of being one with nature, however, it is a private and closed area providing the privacy necessary. The Flowers of Paradise Pereybere Hotel offers excellent service and a wonderful way to connect with people. The rooms are cozy and comfortable. A wide myriad of water activities at Flowers of Paradise like water skiing, scuba diving, and a lot more activities can be enjoyed by the guests due to the close proximity to the sea. For the adventure lovers, a trip to the land of seven colors is sure to bring out the love for flora and fauna. The hotel provides a multitude of services like a safe locker for all its guest, a well stocked mini bar, and a fast wifi connectivity.
Dining
Flowers of Paradise Pereybere also boasts of a restaurant, Flowers of Paradise Restaurant known for its unique food. It has an outdoor barbeque space as well as wood fire grill where every evening new and unique dishes are cooked to satiate the palate of the guests. Authentic flavors of the island are cooked to perfection by the chefs. It sure aims to provide an unforgettable experience for those who stay at the hotel. The restaurant is located next to the pool to provide an option of enjoying a poolside dinner for its guests. Indoor seating options are also available for the diners.
Located in one of the prime areas in Pereybere, Flowers of Paradise is a fine choice for people to stay. With amenities that equal some of the upscale and more expensive places, this place is sure and has a charm which makes it a must stay retreat for all.
Hotel Accommodation
Double Rooms
Family Rooms
Single Rooms
Flowers of Paradise Pereybere has 18 rooms for the guests. Each room is uniquely designed to match the decor a different flower. The bed in the rooms are canopy style for the guests to enjoy a truly pampered experience. Wood paneling and flooring is one of the specialties of the rooms in this hotel. Guests can choose between rooms with a garden view or the pool view. The private terrace is also available to enjoy some solitude. There is an option of air-conditioned rooms or non-air-conditioned rooms for the guests. As the rooms are well ventilated and receive ample sea breeze, guests can enjoy the natural fresh air during their stay.
Hotel Highlights
A cozy yet comfortable hotel in the prime locality with easy access to a lot of spots
Authentic wood fire grilled foods for the guest to enjoy, specially prepared by the chefs
Private outdoor jacuzzi for a relaxing hot session
An indoor pool and well-maintained garden for a tryst with nature
A number of water activities like water skiing, scuba diving is available
Enjoy a ride on the catamaran and visit the various islands on a day trip with ease
Indian Restaurants Near The Hotel
Maharajah Grill
Restaurant Le Benitier
Saveur Des Iles
FAQs
Q1. What is the distance from the airport to the hotel?
A. The International Airport is at a distance of 72 km and takes around 1 hour to reach. The hotel can provide pick up and drop facilities on request.
Q2. Is there wifi facility available?
A. Yes, wifi facility is available for all the guests and is complimentary.
Q3. Is it possible to accommodate guests with special requirements?
A. Yes, wheelchairs are available on request. It is necessary to mention in advance about the special requirements. Any other specific requirements may need to be discussed with the reception desk in advance.
Q4. Are there any special offers or discounts available for accommodation?
A. Yes, special seasonal offers are always available for guests, either in terms of food and drinks packages or in terms of stay discounts.
Q5. Are pets allowed at the hotel?
A. Unfortunately, the hotel policies do not allow the guests to bring pets as this can cause inconvenience to other guests.
Flowers of Paradise Pereybere is an apt, cozy and economical place for people vacationing in Pereybere. The hotel has a garden and a unique pool view which qualifies its name. Guests looking for a relaxing yet cozy experience of a vacation will find that the hotel fits their needs. Each room has an exotic different decor and the rooms have a beautiful canopy bed made with the finest woods of the islands. Armed with bars and a very famous restaurant, every guest is treated to heavenly food and drinks. A relaxing catamaran ride is one of the highlights which every guest usually looks forward to. Due to the close proximity to the sea, it is very easy to book and enjoy one of these rides. The helpful staff, prompt service and heavenly food combined with comfortable and beautifully designed rooms all make Flowers of Paradise Pereybere an ideal retreat choice for vacations without burning a huge hole in their pocket.