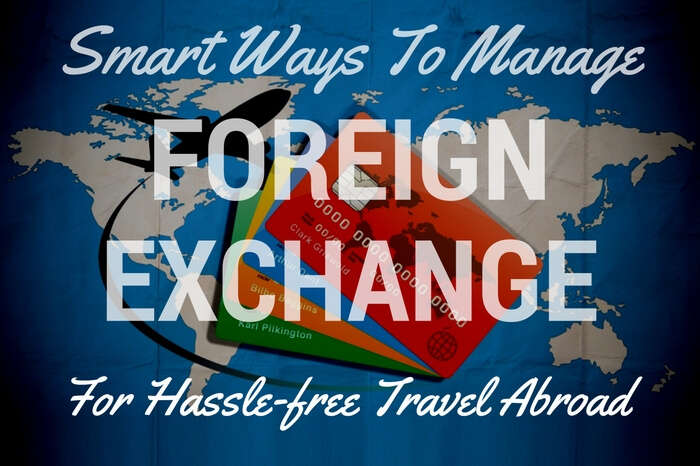 When the currency denominations of INR 500 & INR 1000 ceased to be legal tenders on 9th November 2016, people started debating on the ideation & implementation of demonetization. The surprise move taken by the Ministry of Finance, RBI, and Honorable Prime Minister Narendra Modi is an attempt fight the problem of black money, counterfeit currency, and corruption. However, Indians planning an international trip started facing difficulty in exchanging the Indian currency against that of foreign nations.
Let us look at problems that you might face while exchanging currency post demonetisation before moving on to the tips to make traveling abroad hassle-free for Indians.
The Main Problem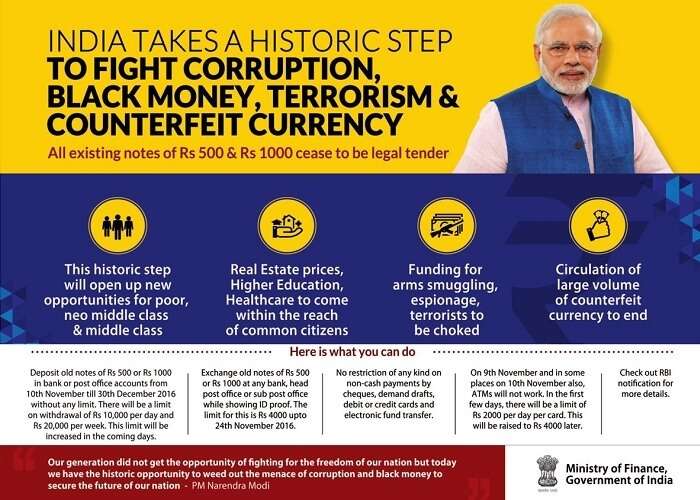 The impact of demonetisation of old INR 500 and INR 1,000 bills can be felt even abroad. The operations of foreign exchange post demonetisation have not been very user friendly. Shop owners, restaurants, and cab drivers who previously accepted the Indian currency don't want to even touch it. And it is not the old Indian currency that we are talking about, but the new INR 2,000 and INR 500 bills. Even local vendors who deal in foreign exchange are not accepting the Indian currency.
And then there is a limit on the foreign currency that can be carried outside India in cash. But that doesn't mean that one stops traveling abroad. Does it?
With the myriad ways to carry foreign currency, traveling abroad may not actually be difficult.
---
Looking To Book A Holiday Package?
Book memorable holidays on TravelTriangle with 650+ verified travel agents for 65+ domestic and international destinations.
---
What are the ways to carry foreign currency?

For those traveling abroad from India, there are many options to carry the foreign currency. Some of these ways are listed below:
Cash-in-hand: Money exchange can be done by directly buying foreign currency notes and coins with the Indian currency. Banks, local vendors, or other private foreign exchange counters provide the facility for the same.
International activation on Debit and Credit Card: Your own debit/credit cards maybe activated to support foreign ATM withdrawal. All you need to is call your bank's customer care and they will guide you accordingly.
Prepaid Forex Travel Cards: Banks and other Forex currency counters provide prepaid forex travel cards that act very much like the conventional ATM cards.
Traveler's Cheques: Traveler's cheques used to be a popular way to carry money abroad a long time back. Due to the strict approach to the use of money, it is getting little antiquated and hence is not used in many situations. However, they are quite immune to the possibility of theft.
Prepaid Forex Travel Cards vs Cash

Advantages of Prepaid Travel Cards over Cash
Prepaid travel cards have better exchange rates compared to cash.
For the same amount of money, one can buy more foreign currency in forex card than cash-in-hand.
Prepaid travel cards are safer compared to cash.
Forex cards come enabled with chip & pin technology that offers more safety features.
Prepaid travel cards provide safety in case of theft or loss.
Forex travel cards can be blocked if lost/stolen. The funds can then be transferred to a replacement card. The same is not possible with cash.
Prepaid travel cards give the travelers the option to load multiple currencies in them.
When transacting with forex card, it automatically detects which country the holder is in and pays using the preloaded local currency.
Disadvantages of Prepaid Travel Cards when compared to Cash
Prepaid Travel Cards may be subject to additional fees.
These include activation charges, ATM use abroad charges, inactivity fees, redeeming funds fee etc.
Cards may not be accepted as a means of payment in all places.
There are stores and shops even in developed countries that prefer to do business by cash.
Prepaid cards can be used only at places with the technology and hardware to support it.
Network connectivity and swiping machines are needed for payment through prepaid cards. In absence of these, the traveler is left with no option other than cash.
Best Strategy
Carry 70% of your total expected expense in forex card and the rest 30% in cash. Also, research about the different charges the card carries before buying it.
Prepaid Forex Travel Cards vs Debit & Credit Cards

Advantages of Prepaid Travel Cards over Debit/Credit Card
Foreign ATM Withdrawal Fee associated with credit/debit cards is higher than that associated with Prepaid Forex Travel Cards.
In addition to the Flat "Foreign ATM withdrawal" fee that is associated with forex travel cards, debit cards, and credit cards, an additional 1% – 3% of the money withdrawn and a currency conversion charge is charged on withdrawing with debit/credit card.
No extra amount is charged on swiping your prepaid travel card abroad for shopping or other transactions.
When using credit and debit cards abroad for transactions, Dynamic Currency Conversion (DCC) fee will be levied.
Prepaid travel cards have their exchange rate locked in advance.
This is not the case in credit/debit cards. With the value of rupee going down against most currencies, this is unfavorable for the customer.
Absence of overdraft facility in prepaid travel card prevents overspending.
Credit cards come with overdraft facility, thereby increasing the probability of overspending.
Disadvantages of Prepaid Travel Cards when compared to Debit/Credit Card
Prepaid travel cards can take upto 3 days to make funds available in them after reloading.
Debit/credit cards provide ready funds at your disposal. Additionally, credit cards allow you to borrow funds in times of need.
Forex cards can't be used in transactions where we need not pre-authorise the use of a card for billing charges.
Credit card is useful in such transactions and can be used as a security for the businesses.
Prepaid travel card earns no interest.
Unlike money in a debit card, the money available in a prepaid travel card is not linked to any bank account and hence is not earning any interest for you.
Best Strategy
Perform the majority of your transactions abroad via forex cards and carry credit/debit card along as backup. But do not forget to keep some cash-in-hand for shops with no card facility.
---
Planning your holiday but confused about where to go? These travel stories help you find your best trip ever!
Real travel stories. Real stays. Handy tips to help you make the right choice.
---
Emerging Trends in Foreign Exchange

Multi-currency Forex Prepaid Card
For people who travel frequently, multi-currency prepaid cards are available at very competitive rates. These can be used at most places with swiping machines.
Forex Counters at Airports
Most international airports in India have forex counters before and after the customs area. Both bank-run counters and those run by private travel firms are available 24×7. The exchange rate is usually the same.
Difference: Bank-run currency exchange counters don't charge any commission whereas those run by travel firms do.
Doorstep Delivery of Forex
Long gone are the days when one had to stand in line and make sure ze had all the travel documents ready to buy even a small amount of foreign currency. Now, travelers can have it delivered at their doorstep.
TravelTriangle, an online marketplace that connects a traveler to multiple local travel agents and provides customized holiday tour packages, has partnered with vendors who provide doorstep delivery of forex products upon making online payments. Travelers can ask for this service while booking their holiday with TravelTriangle.
Foreign Exchange FAQs
What's the foreign exchange entitlement (limit) for travel?

As per the new Liberalized Remittance Scheme (LRS) stated under the guidelines given by the Reserve Bank of India (RBI):
An individual is entitled to foreign exchange currency worth USD 250,000 in a financial year.
This limit is independent of the period of stay, frequency of visits, and purpose of visit – personal/leisure, business, medical, education, etc.
If an individual has already remitted some amount under the LRS in a financial year, then the applicable limit for travelling purpose for such individual would be reduced from USD 250,000 by the amount so remitted for the subsequent visits in the same financial year.
Is there a separate limit for carrying currency notes?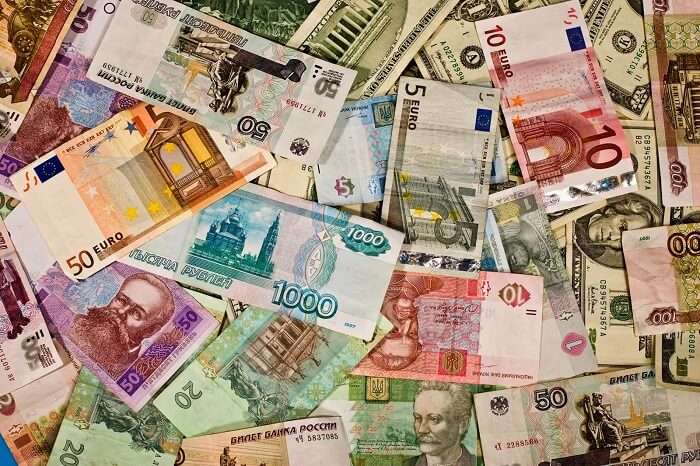 Travelers are only allowed to purchase foreign currency notes/coins worth USD 3,000 individually. The remaining amount can be taken in the form of Traveler's cheques, banker's drafts, or prepaid travel cards. A traveler may also opt for an international activation on debit/credit card.
Exceptions to this rule are as follows:
Travelers heading to Iraq and Libya can draw foreign exchange in the form of foreign currency notes and coins up to USD 5,000 or equivalent.
Travelers heading to the Islamic Republic of Iran, Russian Federation, and other Republics of Commonwealth of Independent States can draw entire foreign exchange in the form of foreign currency notes or coins.
For travelers going for Haj/Umrah pilgrimage, the full amount of BTQ entitlement (USD 250,000) in cash or up to the cash limit as specified by the Haj Committee of India, may be released by the ADs and FFMCs.

Has there been a change in the amount of foreign currency that an Indian can buy in cash after the demonetisation ruling?
Yes! After the demonetisation ruling, the Indian Nationals can buy foreign currency up to INR 50,000 in cash from any authorized money changer, provided that they have completed all the KYC/AML formalities. The direct buying of foreign currency in cash is limited to an even lower amount of INR 5,000.
Will the old Indian currency notes of INR 500 and INR 1,000 be exchanged at the forex counters?
No! From now on, the now-obsolete old Indian currency notes of INR 500 and INR 1,000 will not be exchanged.
How much prior to the date of travel can the forex entitlements be drawn?
The date of travel must not be later than 60 days from the date of purchase of foreign exchange.
Exception: Airlines staff against staff ticket may be exempted from this rule.
Are children entitled to foreign currency exchange for travel abroad?
Children of all ages are allowed same entitlements (limits) as adults. However, children below the age of 14 years cannot carry Forex card/Traveler's cheque.
What is the Indian currency exchange rate against other currencies?
The exchange rates are highly dynamic and change frequently. Hence, it is essential to keep a check on the prevailing currency exchange rates at the time of buying foreign currency.
Money exchange rates | Currency converter and calculator
Tips for hassle-free foreign exchange after Demonetisation

For a hassle-free travel, we suggest you to carry ample amount in foreign currency from India itself.

Of your total expected expense, carry 70%  in forex card and the rest 30% in cash.
Perform the majority of your transactions abroad via forex cards but carry credit/debit card along as backup.
Also, the limit of foreign currency that can be bought in cash has been further reduced. Thus, prepaid multi-currency card is definitely the best way to exchange currency for traveling abroad.

Another option could be to convert the currency from INR to USD in India itself and later convert USD to other currencies; either at airport or in the new destination.

USD works in many destinations at a lot of shops. Eg. One can pay for watersports in Bali in USD itself.

Buy multi-currency prepaid travel cards for UK, Australia, USA, Europe, and other countries. These are offered even at the airports by various banks and leading travel firms.

Purchase forex prepaid travel cards from the bank counters because, at the same exchange rate, they do not charge any commission.
However, the best place to exchange currency for travel is neither of the two. Instead, one can do so online. TravelTriangle has partnered with local vendors to provide doorstep delivery of forex products upon making online payments.

While there are bank counters at the airport as well, it is suggested to exchange currency before travel.
There's no denying in that the demonetisation has affected tourism and made foreign exchange slightly difficult. But thanks to the prepaid multi-currency forex cards, traveling abroad can still be hassle-free.
Further Read: Traveling Right Now? Worry Not! Here Are A Few Tips To Travel Cashless #NoteBan
---
Looking To Book An International Holiday?
Book memorable holidays on TravelTriangle with 650+ verified travel agents for 65+ domestic and international destinations.
---