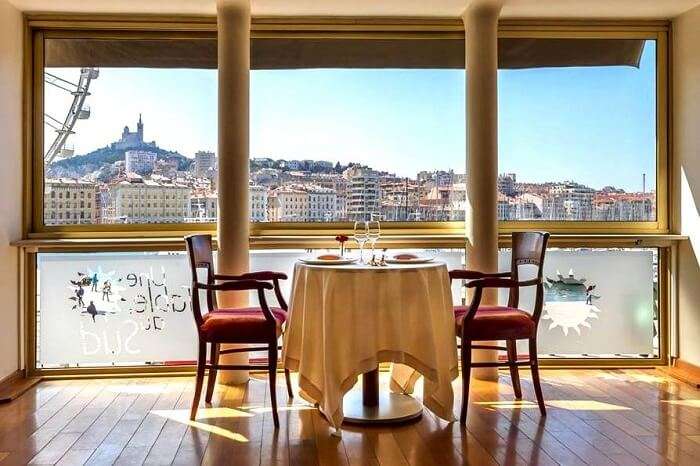 The words 'class' and 'elegance' are quite synonymous with anything that is French and the restaurants in France prove that too. Offering lip-smacking delicacies amidst the world's most exquisite and lavishly-styled places, all of these eateries are the ultimate spots to stop by for a hearty meal. But which ones should you visit first? Well, you won't have to worry about that because we've got you a list of the best French restaurants.
Serving sumptuous authentic food either beneath the Eiffel Tower or in the most classic rooms, these 10 places will satiate your hunger pangs and delight your eyes!
10 Best French Restaurants For A Classic Dining Experience
While there are a lot of places to sit and dine in France, here the best restaurants that would offer you a glimpse of the French beauty and culture like never before. Also, you'd be glad to know that most of these are located in Paris, so that means you wouldn't have to travel too far either!
1. Septime
Septime is the best French restaurant in Paris which is believed to have set the trend for innovative cooking in the eastern region. It is the most known amongst all the top French restaurant names and getting a table is not an easy task here. Also, because the hospitality and ambiance of this place is truly spellbinding!
Timings:
Tuesday to Friday: 12:15 PM – 2:00 PM and 7:30 – 10:00 PM
Mondays: 7:30 – 10:00 PM
Location: Septime, 80 rue de Charonne, 75011 Paris
2. Chez Casimir
Suggested Read: 10 Best Villas In France That Offer An Authentic French Connection
Chez Casimir is one of the most renowned restaurants in Paris, France, especially for awesome and a budget meal. It's quite a marvel for those looking for an affordable dining and a great time. The locals consider this place to have the best cheese plate in the city and the best spot to have bistro food.
Timings:
Monday to Friday: 11:30 AM – 3:00 PM and 6:30 –11:00 PM
Saturdays and Sundays: 10:00 AM – 6:00 PM
Location: Chez Casimir, Gare du Nord, 6 rue de Belzunce, 75010 Paris
3. Le Chateaubriand
Le Chateaubriand is an interesting and very unique place. This French restaurant's menu is never fixed and keeps changing with the ingredients available in the morning. Every day they create a new and daring dish, innovatively combining the spices and other ingredients in hand. Even though getting a table here is not easy at all, waiting in the queue is worth it!
Timings: Tuesday to Saturday: 7:00 PM – 11:00 PM
Location: Le Chateaubriand,129 avenue Parmentier, 75011 Paris.
4. Verjus
Suggested Read: Top 6 Things To Do In France That May Sound Cliché But Are Totally Inevitable
Verjus is among the most famous French restaurants circling romance and engagement. Situated just behind the Palais-Royal, this restaurant in France serves the best of seasonal delicacies and flavors on your plate with utmost welcoming behavior.
Timings: 7:00 PM onwards
Location: Restaurant Verjus, 52, rue de Richelieu 75001 Paris
5. L'Atelier de Joel Robuchon
This French restaurant is one of the best Michelin star restaurants in the country. Due to its affordable food, heartwarming hospitality, and the classic ambiance, you'll totally love the place. Also, this place is run by Joel Robuchon, who is one of the most loved chefs in France.
Timings: 11:30 AM – 2:00 PM and 6:30 PM – 10:00 PM
Location: L'Atelier de Joel Robuchon, 5 rue Montalembert, Hotel Pont Royal, 75007 Paris
6. Les Papilles
Suggested Read: 10 National Parks In France For The Perfect Escapade Into The Wilderness In 2022
Originally a wine shop, this is also one of the top French restaurants that is run with utmost passion.It is also notably one of the places where chefs from different restaurants frequently visit to enjoy themselves. The servings are placed in a very classic manner, adding to the welcoming spirit here.
Timings: Tuesday to Saturday: 12:00 PM – 2:00 PM and 7:00 PM – 10:00 PM
Location: Les Papilles, 30 Rue Gay-Lussac, 75005 Paris.
7. Auguste
Suggested Read: Shopping In France: 6 Best Cities That Serve As A Perfect Escape For Shopaholics!
Auguste is the coziest French restaurant in the country. This comfy and modern restaurant serves incredible dishes and is pretty expensive when it comes to the main meal. But you can still stop by to indulge in the starters or in a pudding or a fish if you're looking for an affordable place.
Timings: Monday to Friday:12:00 PM – 2:00 PM and 7:30 PM – 10:30 PM
Location: 54 Rue de Bourgogne, Paris, 75007, France
8. Ze Kitchen Galerie
Ze Kitchen Galerie is among the best restaurants in France when it comes to its open-kitchen. You'll get to taste the best fusion of French-Asian food here and the lunch menu is very decently priced. Though the dinner costs the twice, it is still worth every dime.
Timings: Monday to Friday: 12:15 PM – 2:30 PM and 7:15 PM – 10:00 PM
Location: 4 Rue des Grands Augustins, Paris, 75006, France
9. Une Table Au Sud
Suggested Read: Honeymoon In France: 10 Gorgeous Places That'll Make You Wish Time Stood Still, Forever!
This place is quite a heritage and is immensely popular with the French people. The chefs are regarded as the best in the country. You'll experience the most lively and funky atmosphere here as the restaurant also offers scintillating views of the sea.
Timings:
Tuesday to Saturday: 12:00 PM – 1:30 PM and 7:00 PM – 9:45 PM
Sunday: 12:00 PM – 1:30 PM (Closed on every Monday)
Location: 2 Quai du Port, Marseille, 13002, France
10. Keisuke Matsushima
Suggested Read: 10 Best Beaches In France Epitomizing An Idyllic European Vacay
Keisuke Matsushima is an amalgamation of the Japanese and French and is amongst the top one star Michelin restaurants in France. The restaurant is located on a beach and offers a chance to go on a mesmerizing walk post the meal. The food is decently priced with the cost varying for different main course options.
Timings:
Monday and Sunday: 7:30 PM – 9:30 PM
Tuesday to Friday: 12:00 PM – 2:00 PM and 7:30 PM – 9:30 PM
Location: 22 Ter rue de France, Nice, 9000, France
All these places to eat in France are so authentic that it would be hard for you to leave your seat. So, don't wait much and make sure you visit these restaurants on your next Europe holiday with TravelTriangle for a truly gastronomical affair!
---
Looking To Book An International Holiday?
Book memorable holidays on TravelTriangle with 650+ verified travel agents for 65+ domestic and international destinations.
---