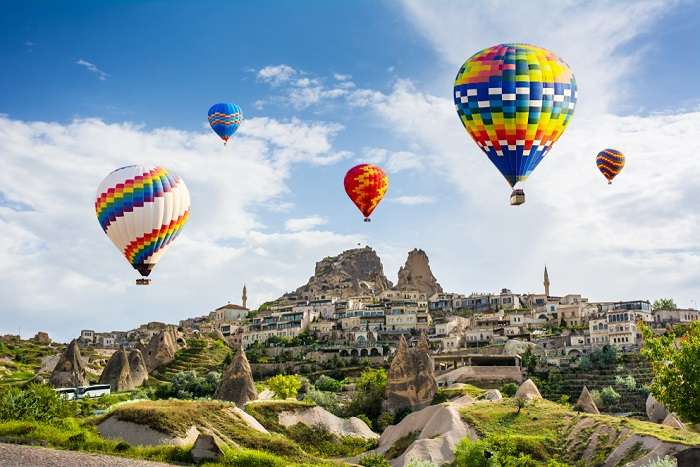 The Goreme National Park is one of the dreamiest places you will ever visit. Surrounded by the Hasan and Erciyes mountains, gushing river, alluvial stream, river valleys, and awe-inspiring picturesque landscape, this park houses a rock-hewn sanctuary which takes you back to the iconoclastic period of the 4th century. The underground cities, archaic churches, and ancient houses showcase the fossilized depiction of a province of the Byzantine Empire.
About Goreme National Park

This miraculous natural wonder took the whole world by storm when it was declared as a World Heritage Site in 1985 by the UNESCO. This park is located in Cappadocia, central Turkey. It features the artistic rock formations which are quite unusual as they are created by nature and are widely known as Fairy Chimneys. This rocky landscape is honeycombed with networks of ancient underground settlements and outstanding examples of Byzantine art. Spread over an area of over 9146 hectares, the whole region is covered with hilly terrains and volcanoes.
Best Time To Visit

Since the Goreme National Park is located in Cappadocia, the perfect time to visit this place would be between April to May or September to October. These are the best months to visit this park as you can indulge in some outdoor activities and also for sightseeing. You can also spot some vibrant wildflowers blooming around you. Also, you can opt for bird-watching, hiking, trekking, and cycling.
5 Places To Visit In Goreme National Park
We have shortlisted 5 places to visit in Goreme National Park with your family and friends on your Turkey getaway. You will have the time of your life and will not be disappointed by the bevy of awesome attractions here:
1. Open Air Museum

This museum consists of seven magnificent churches and cave dwellings which used to be the residence for the refugees of the Byzantine Christians. As you enter into this museum you will get to see a lot of evidence that dates back to centuries old. They also have several exhibits where you can enhance your knowledge of this place.
Must Read: 10 Iconic Places To Visit In Kusadasi On Your Turkey Trip
2. Deverent Valleys

Visiting theses valley will be the best decision you will ever make. They feature spectacular rock formations sculpted by nature herself. Several of these resemble a humane figurine or that of an animal. Some of them look so lively that you will be left completely spellbound. You will be astonished by the beauty of this place.
3. Fairy Chimney

The main reason why this park is so popular is because of its fairy chimneys. These are those remarkable rock formations which have been attracting tourists from all over the world. Crafted by the volcanic eruptions, heavy blowing winds and rivers flowing down, you will find yourself in a surreal ambiance.
Suggested Read: Top 5 Mesmerizing Temples In Turkey Which Are Absolutely Worth Visiting On Your Next Trip!
4. Bezirhane Churches

You can't come to Gerome National Park and not visit its beautiful cave churches that are the ultimate holy place of this town. The history of the religious traditions dates back to centuries-old beliefs and the churches still carry the essence of this place. You will love the magnificence of the church structures.
5. Avanos

For all the history enthusiasts out there, this place will make all your dreams come true. This historical site features several things that were found during the archeological scavengers. Some of these date back to the 4th century. They are also known to make things like clay jugs, biscuits, and jars. This art of making things has been popular from prehistoric times. Visit this place to know more about the rich history of Goreme.
Suggested Read: This Year, Celebrate Christmas In Turkey – 'Land of the Crescent Moon'!
4 Things To Do In Goreme National Park
We have shortlisted 4 things to do in Goreme National Park with your significant other or family, like taking a hot air balloon flight with your partner and popping the question while you're surrounded with white fluffy clouds. The possibilities are endless:
1. Hot Air Balloon Flight

One of the best things to do in this land of caves and magnificent rock formations is to witness the breathtaking view of the whole town from the sky. With hundreds of hot air balloons that fly here, you can book one for yourself and try this once in a lifetime experience. Trust me the view from the above is even more dramatic and is going to leave you spellbound for days.
2. Cave Suites Stay

Relive the moments of the iconoclastic period when people used to dwell in caves back in the 4th century. You get to live in the four-walled rooms that were built by the ancient cave dwellings and today futures all the modern day luxury while still minting the soulful essence of the history. You will have the time of your life living in one of the suites.
Suggested Read: 7 Turkey Waterfalls That Are Counted Among the World's Most Stunning Waterfalls
3. Sunset Watching

The picturesque landscape of Goreme turns into a heavenly paradise as the sun goes down. The entire sky changes color like it is being painted by nature itself in vibrant colors. Witness this breathtaking view from the top place of the town and as the darkness overtakes the sky you get to see the twinkling stars and the illuminating lights of the hotels beneath creating a perfect contrast.
4. Photography

After seeing the beautiful rock formation right in front of your eyes you simply can't resist taking some good photos. As you visit the park make sure that you click some awe-striking insta-worthy pictures which will take your social media by storm. You will have a blast going clickety-click here.
Suggested Read: Theme Parks In Turkey: 10 Places That Will Bring Out The Adrenaline Junkie In You
Where To Stay In Goreme National Park
If you're wondering where to crash in and around Goreme National Park, do not fret. We have shortlisted a bevy of amazing hotels and suites where you can get a good night's sleep and also get a great view of the caves in the morning. Isn't this what everybody wants?
1. Aydinli Cave Hotel

This is a hotel located in a great location in the small town of Goreme from where you get beautiful views of the cave formations. The rooms are quite spacious and comfortable. You get several facilities like free breakfast, free parking, and free wifi. This is a non-smoking hotel. The rooms are well facilitated and fully furnished. And the best part is that the staffs are so warm and welcoming. They are one of the most hospitable and helpful people and make sure that you enjoy your comfortable stay.
2. Cappadocia Cave Suites

This is one of the most unique hotels in Turkey. The rooms are not ordinary. The rooms are spacious and the interiors will make you feel like you are actually living in a cave but only with all the luxuries one can't possibly imagine in a cave. They have got Jacuzzi to add even more charm to your delight. Other than that they provide free wifi, free parking, air conditioning, free breakfast, and even a beautiful restaurant.
3. Chelebi Cave House

This is yet another unique hotel whose interiors are influenced by cave designs. So even when you are staying inside a room, you can still soak in the vibes of the iconoclastic period of the 4th century in the hotel though man-made! Their breakfast is an ultimate delight. They have no smoking rooms and provide free wifi. The best part about this hotel is that they also provide airport facilities to make sure that you enjoy all the comforts and a nice holiday trip.
How To Reach

Since there is no direct transport available, getting there can be a little time-consuming. But, it is all worth it once you visit the park. So first, you have to take a flight and then you can take any normal transport facility in the town of Goreme:
Flight
Cappadocia has two main airports. One of them is Kayseri Airport located in Kayseri and the other one is Istanbul Atatürk Airport (IST). First, you have to take a flight from Kayseri Airport to reach Cappadocia.
Train
After you have reached Cappadocia you can take a train to Gerome which has a direct route.
Bus
After you have to reach Gerome, you can either take a bus or book a private cab and reach your final destination which is Goreme National park.
Further Read: Cruises From Turkey: 9 Liners That Will Set Your Luxury Records Straight
Thus the Goreme National Park is one of those places that you must visit once in your lifetime. Here you don't just get to see the caves from a distance but you can actually get to spend your night in them in the cave hotels. Visit this place to dive into the rich Byzantine art and relive the thousands of year old era. Book a trip to Turkey now to explore this beautiful park.
---
Looking To Book An International Holiday?
Book memorable holidays on TravelTriangle with 650+ verified travel agents for 65+ domestic and international destinations.
---