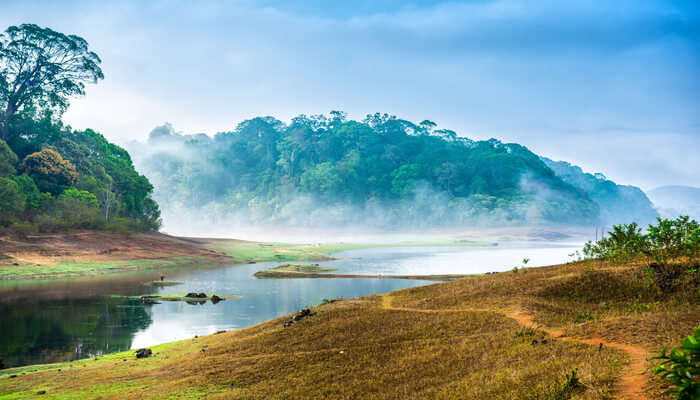 A village in Pathanamthitta district of Kerala, deep inside the Ranni reserve forest, Gavi is a beautiful village that offers you a peaceful getaway from the city life and your daily grind. The village is surrounded by Cardamom plantations which the KFDC (Kerala Forest Development Corporation) looks after. An ecotourism program is managed and offered to visitors by KFDC which includes various activities such as boating, trekking and a Jeep Safari at the beautiful destination
About Gavi Forest
If you are a nature-enthusiast, a wildlife lover or just simply want to freshen up your mind and take a break from the monotony of your daily life then a tour to Gavi Forest is all that you were looking for.
Gavi Forest: Wildlife

A part of the Periyar Tiger Reserve and covering a part of the large, continuous forest from Thekkady to Agasthyarkoodam forests in Trivandrum district, Gavi has a variety of more than 200 birds and over 35 mammals. Some of these birds are: White bellied fishing eagle,blue winged parakeet, malabar whistling thrush, white shouldered kite, crested serpent eagle, forest eagle owl, bulbuls, kingfishers and more. The mammals include elephant, tiger, Indian giant squirrel, jungle cat, sloth bear, Nilgiri Tahr and barking dear among others. Gavi is also a home to over 150 species of butterflies and 40 species of reptiles. Not just this, the forest also has 140 species of orchids and 170 species of grass.
Must Read: Top 10 Places To Visit In Kerala During Monsoon For A Mesmerising Trip In 2022
Things To Do at Gavi Forest
There are many things that one can do at this amazing destination which will make your trip worth it. Here is a list of activities you can try!
1. Gavi Trekking

A trek to Gavi usually takes 2 to 3 hours. There are multiple routes that you can take. A trekking path of approximately 25 km goes in and around Gavi. Provided you take a silent walk you will come across a wide variety of wildlife. A tip for you is, always follow your guide's instructions because Elephants can be really dangerous if you are too close to them.
Suggested Read: Monsoon In Kerala: Explore The Coastal Gem Like Never Before In 2022!
2. Gavi Lake: Boating

Gavi lake is extremely beautiful and awaits you with the surprises it has to offer. Life jackets are compulsory. Boating offers a silent way to get an experience of Gavi lake and the surroundings. These boats are eco-friendly but getting into them can be tricky. Make sure the weight and balance of the boat is maintained.
Suggested Read: 4 Days In Kerala: Best Places To Visit And Amazing Things To Do In 2022
3. Sabarimala View Point: Visit

Very close to the Gavi reception building is the Sabarimala View Point is located on the top of a meadow and one needs to walk uphill to reach there. The mist is very high at all times in turn making the visibility poor. We will suggest you to keep binoculars for the best experience.
Suggested Read: Here's Why Off Season In Kerala Is The Best Time To Travel, Explore, And Chill!
4. Anghamoozy: Take A Jeep Safari

Elephant sighting, usually in herds is pretty much guaranteed during this Safari. KFDC arranges for an early morning safari as a part of their stay over program. The Safari is 2 hours long and passes through Kochupamba, Gavi village and other places heading Towards Anghamoozy. The jeeps they offer can usually be converted into open jeeps and you can stand for a better view of the wildlife around you.
Suggested Read: Trekking In Kerala 2022: A Short Guide For Beginners To Have An Ultimate Experience!
Programs At Gavi Forest

Apart from exploring the wildlife and taking the safari you can enjoy the day program or the stay over program at Gavi Forest to have a complete experience.
Bus Trip: Organised by the Kerala Forest Department this trip will take you around Gavi and other viewpoints in a mini bus. The per person cost is just Rs 300 and there's not a need for prior booking. The duration of the trip is 3 hours.
Gavi Day Program: Anyone who is looking for a picnic at Gavi should take this trip. It is best for people staying in and around Thekkady to take this trip. The usual timings for this trip is 7 Am to 4 PM and breakfast and lunch are all inclusive. The day program costs approximately Rs 1000 per person and you can take your own vehicle to Gavi.
Gavi Stay Over Program: The name being suggestive enough, this program is intended for those who want to spend a night at Gavi. There are tents and camps available. These can be booked online. The pricing is around Rs. 2000 per person on twin sharing basis. For children between the age of 6 to 12 years, its half the price.
Suggested Read: 57 Best Places To Visit In Kerala For A Vacation To Remember In 2022!
How To Reach
Two roads lead to Gavi village. You can approach it either from the northern side from Thekkady road near Vandiperiyar or from Pathanamthitta via the Angamoozhy village. Gavi is about 55KM from Angamoozhy and about 28KM from Vandiperiyar. As Vallakadavu belongs to PTR there are limitations on the entry of vehicles Only the vehicles that have prior permission can enter the Vallakadavu check post.
Travel Tips
Carry trekking shoes. Its highly recommended. Also, make sure you have an extra pair of footwear.
Try staying inside between 6 AM and 6 PM. Plus, always be alert because you are deep inside a forest.
If its winters, it can be very cold. Carrying wollens is recommended.
Leeches are present in these forests, all around the year. Carry a small pouch of salt. Just in case, they stick to your skin pour it over them to eject them.
Avoid taking alcohol with you as its banned in most of the forest areas.
Further Read: 12 Famous Churches In Kerala That Can Take You By Surprise With Their Magnificence
Feeling like taking a trip to Kerala and dive straight into the Gavi Forests? Well, we got you covered. Take a look at these amazing customizable options for a vacation in Kerala and plan your trip with TravelTriangle.
People Also Read
Rain Forests In India Forest Near Goa Kanchanaburi Forest Reserve