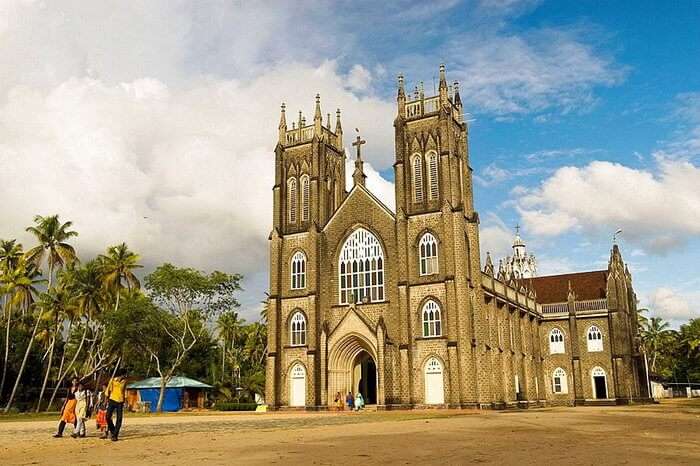 Kerala is known for its gorgeous Western Ghats, lush green valleys, hidden lakes, silvery waterfalls, and the breathtaking backwaters, but once you are done explroing the naturak wodners of God's Own Country, then it is time to pay a visit to some of the most famous churches in Kerala. Whether you're the religious type or not, you'll surely love the stunning archietcture of these churches.
Here's a list of churches that you must explore on your Kerala visit
1. Santa Cruz Basilica, Kochi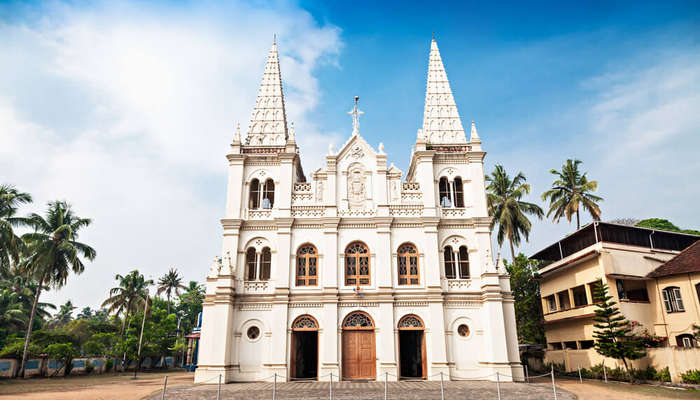 One of the most famous churches in Kerala and one among the 8 Basilicas, Santa Cruz Basilica is a beautiful church located in Fort Kochi. Known for spectacular Indo-European and Gothic architecture, historical paintings, murals and frescos, this church is more than 500 years old and was built during the arrival of Portugese in 1500 CE. The church had been revamped several times and the present structure was sanctified in 1905.
Timings: Monday-Saturday: 6 am, 7 am and 6 pm and Sunday: 5:30 am, 6:45 am, 8 Am, 9:30 am and 5:30 pm. Special wedding masses at 3:30 pm on Saturday and 10-11 Am on Sunday.
---
Kerala Holiday Packages On TravelTriangle
A holiday in Kerala will fill you with memories. Witness pristine backwaters with comfortable houseboats, lush green hill stations, waterfalls, and plantations of tea and spice. Indulge in an ayurvedic massage or taste exotic cuisines. Book a Kerela holiday on TravelTriangle. Best prices guaranteed.
---
2. St. Francis Church, Kochi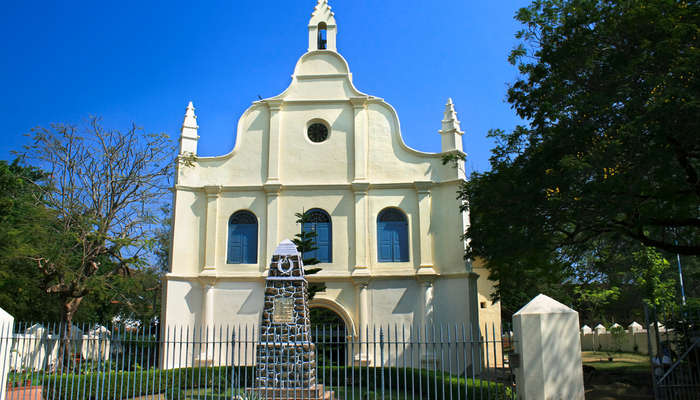 St. Francis Church, is one of the top most tourist attractions of Kochi, dating back to 1503. Vasco da Gama was buried here in 1524 and 14 years later, his holy remains were relocated to Lisbon, Portugal. The timber-framed roof covered with tiles, white façade, frescos and stained glasses throw a dash of amusement on each visitor, making it one of the most significant churches in Kochi. In the middle of the lawn, there stands a cenotaph, built in the loving memories of Kerala people who laid down their lives in First World War.
Timings: Monday to Saturday: 7 am- 6:30 pm and 8:30 am to 6:30 pm on Sunday.
3. Nadamel Marth Mariam Church, Kochi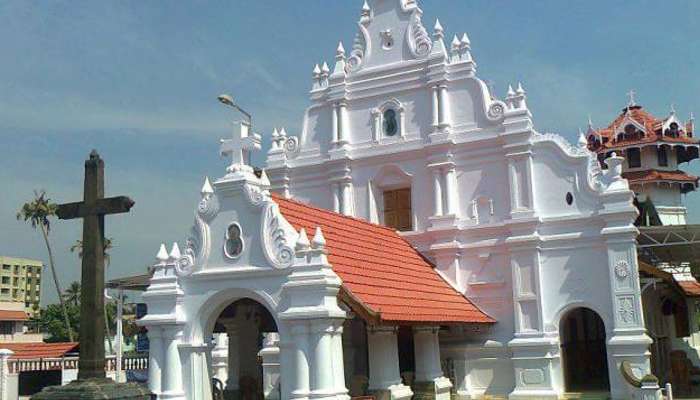 Image Source
Nadamel Marth Mariam Church is a notable tourist attraction near Kochi. Located at the outskirt area, the Nadamel church was patronised by Cochin Royal Family and is one of the significant names in the list of Jacobite churches in Kerala. One of the most common traditions was whenever a new successor in the Royal family of Kochi, he would make an offering known as sharkara thattu veypu at the church and meet all the bishops and leaders in person.
Timings: Only Sunday; 8:30 am, 9:45 am and 10: 50 am
Suggested Read: 14 Fascinating Tourist Places To Visit In Cochin
4. St. George Church, Ernakulam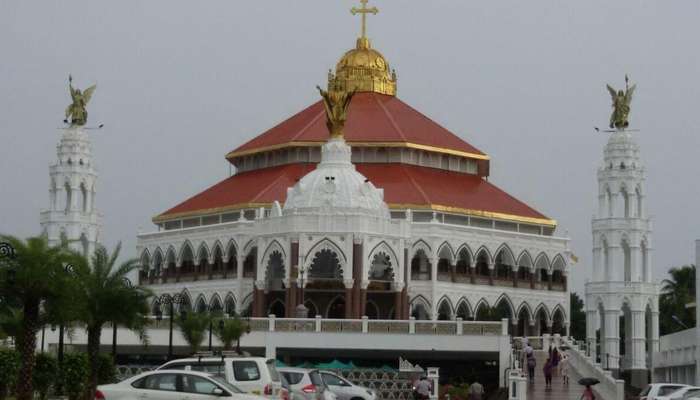 Image Source
St. Gregorios of Parumala established this church in 1905 in Ernakulam district of Kerala. This is one of the popular names on the list of churches in Kochi. Possessing divine Girdle of Mother Mary and sacred remnants of Manjanikkara Bava, along with Thronose- the main alter, shrines like Pulicamaly, Pangarappilly and several chapels such as Mar Gregorious chapel at Oozhakode and St. John the Baptist at Memugam; this church attracts admirers and devotees from all over India.
5. Lourdes Forane Church, Trivandrum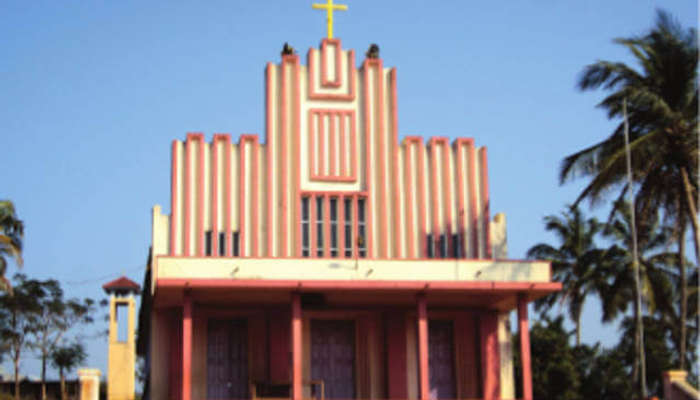 Image Source
As one of the famous churches in Trivandrum, Lourdes Forane is bestowed with overwhelming serenity and elegance. The interior wood work, framed alter, arches and paintings reflect the glories of the past and enhance the charming quotient of the church.
Timings: Weekdays; 5:45 am, 6:30 am and 5 pm. Sunday: 5:30 am, 7:15 am, 9 am, 11 am and 5 pm
6. Arthunkal Church, Alappuzha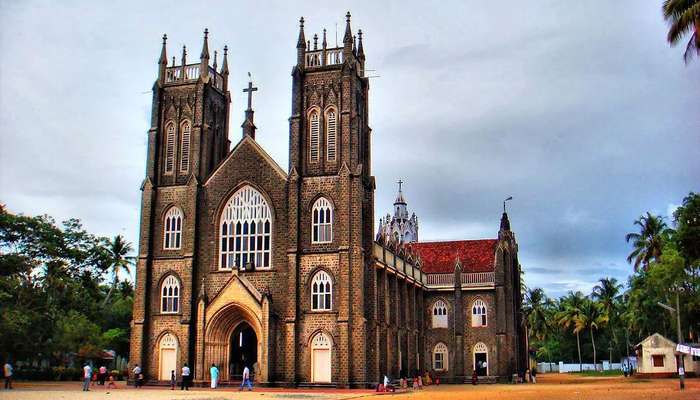 Image Source
Situated 22 kms north of Alappuzha, the St Andrews Basilica, also referred as Arthunkal Church is one of the famous sights in Kerala. Built by Portugese missionaries in 16th century, this church boasts of the biggest Shrine of St Sebastian in the world, hence locally known as St. Sebastian Church. Crowned as a basilica in 2010, this Arthunkal church attracts numerous Christians and non-Christian devotees throughout the year, particularly during Arthunkal feast, organised annually in mid-January.
Timings: Monday-Saturday: 5:30 am, 7 am and 4 pm and Sunday: 5:30 am, 7 am, 9 am and 5 pm.
7. Pallikunnu Church, Wayanad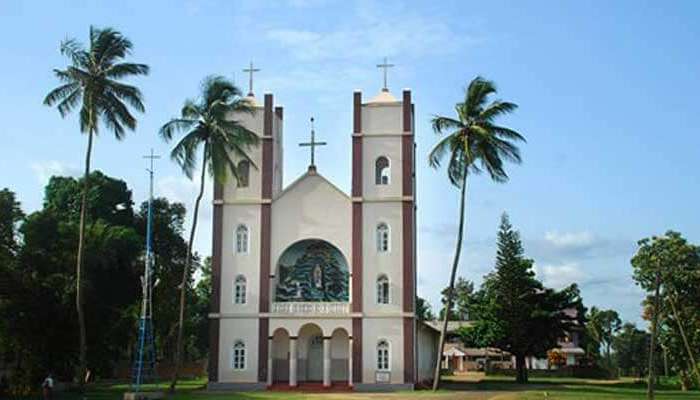 Image Source
Pallikunnu is a beautiful Latin catholic church, constructed in the name of 'Our Lady of Lourdes'. Located at Meenangadi region of Wayanad, this church offers mesmeric views of lush green surroundings and the serenity of the place is surely a bonus. The church is built by French priest Fr. Jefreno in 1908 and unquestionably considered as one of the important churches in Kerala. Strikingly, many of the church's ceremonies and traditions resemble that of Hindu temples.
Timinings: Open all days of the week from 7 am to 7 pm
Suggested Read: 10 Wayanad Tourist Places For An Extended Delectation
8. Vimalagiri Church, Kottayam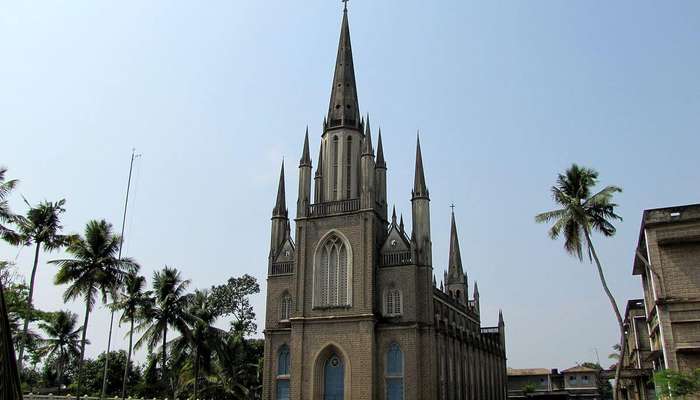 Image Source
Vimalagiri Church is dedicated the Immaculate Heart of Mary. The church is popular as Angathattu Palli and the deity of Mother Mary is known as Vimalabika. Featuring beautiful Gothic style architecture, Vimalagiri Church is one of the famous churches in Kerala, with tallest church towers (172 ft) in the entire state.
Timings: Open on all days of the week from 7 am to 7 pm
9. St. Alphonsa's Church, Bharananganam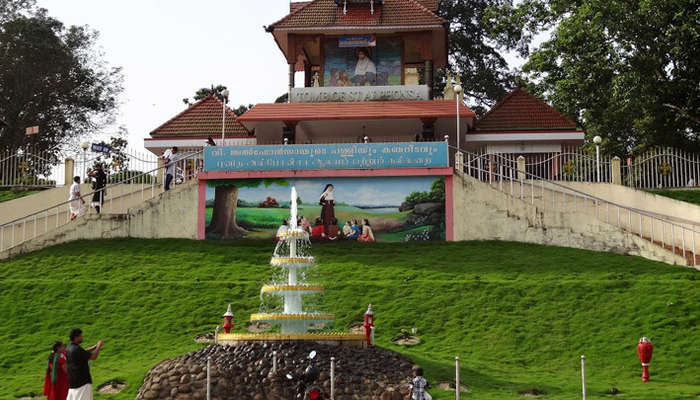 Image Source
The gracious brick red building of St. Alphonsa's Church is one of the beautiful Kerala Christian church, situated in Bharananganam in Kottayam district. The church was established after the canonization of St. Alphonsa- a famous saint in India. The mortal remains of the saint was buried here in 1946 and the tomb is now considered as an important pilgrim site to people coming from different parts of Kerala. With the glass portrait of the saint, placed inside the church and the beautiful garden fountain, this is surely one of the most famous churches in Kerala. St. Alphonsa's feast is a very famous event here, organised in July.
Timings: Monday-Saturday: 5:30 am, 6:30 am, 8:30 am, 11 am and 5 pm and Sunday: 7:30 am, 9 am, 10:50 am, 12 noon and 2:45 pm
10. Catholic Rosary Church, Thalassery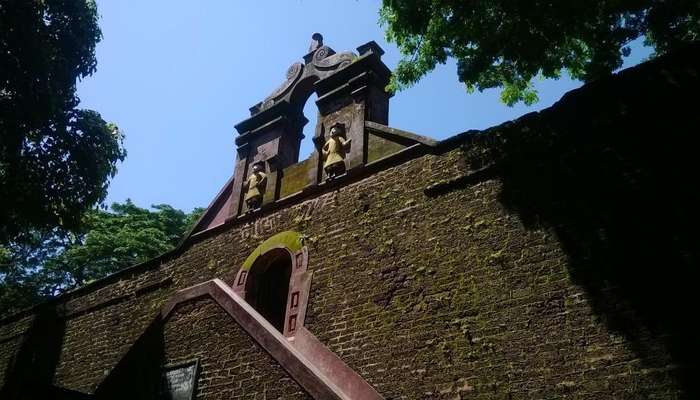 Image Source
Owing to its incredible craftsmanship, Catholic Rosary Church is another delight of the state. The colonial architecture, stained glasses, frescos and the wide façade are highly admirable, making it one of the must-see names in the list of churches in Kerala. The church is located near Thalassery fort and beach, hence offers unobstructed sea views as well.
We hope this list of famous churches in Kerala help you explore some of the most beautiful architectural pieces of the state.
Further Read: 23 Best Places To Visit In Kerala For An Enchanting Holiday
---
Looking To Book A Holiday Package?
Book memorable holidays on TravelTriangle with 650+ verified travel agents for 65+ domestic and international destinations.
---
Comments
comments