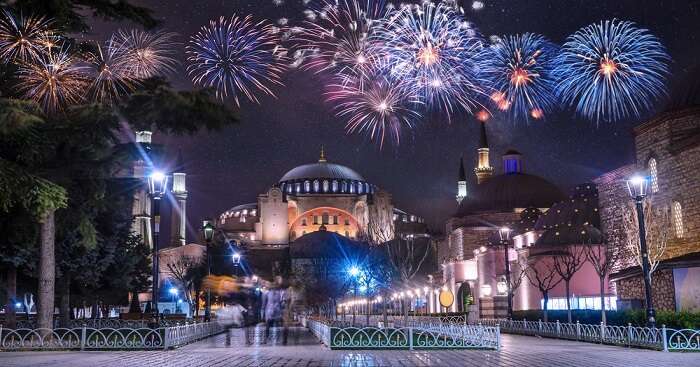 Turkey may not strike you like a traditional place to celebrate Christmas. But the salubrious weather and unique celebration styles will give you all the more reasons to celebrate Christmas in Turkey this year!
As the winter sets in, we know that the most awaited festival is approaching. And, this season of the festival is going to last long from welcoming Santa Claus to celebrating the beginning of a new joyous year. And, if you wish to escape the snow and chilly weather, there is no better way than celebrating Christmas in Turkey.
Turkey sounds a bit different from the regular ones, right? Yes! Turkey is a popular destination during the winters with milder temperatures when compared to the remaining parts of Europe. And the best part is Turkey is much calmer during the winters compared to the summers. Summers are mostly preferred by tourists to visit Turkey, thus giving you a very little place to survive while strolling around the city.
Quick Summary
About Christmas In Turkey 2019
Wednesday is the day on 25th December 2019, the day of Christmas, when the whole world will celebrate the most awaited festival of the year. A normal business day for the Turks while an awesome stress buster and festivity locator for tourists. Considering the Turkish Christmas traditions, the celebration of this festival almost seems impossible right? Because we tend to think that Turkey is a Muslim country and why would it celebrate Christmas! It is a Muslim country but it is not impossible or something weird to celebrate Christmas. Turks have a fine art of making money and started becoming popular amongst expats since 2004. And Christmas is a season to give an opportunity to the restaurant owners and bars a chance to make some currency.
Suggested Read: Head To San Marino Now: The Fastest Growing Travel Destination In Europe
Things To Do During Christmas In Turkey
Christmas celebrations in Turkey is more of like a 'Do it yourself Christmas'. You might not find a crowd catering particularly to the Christmas celebrations but you will find people catering to you as an owner. Turkey is one of the best places to visit for those wish to have a much lighter and a merry Christmas in Turkish style this year. Here are 5 things to do during the Christmas holidays in Turkey:
1. Pamukkale
Pamukkale is believed to be the 'Cotton Castle'. An amazing and stunning sight of mineral rich thermal pools and remains of ancient city Hierapolis is what you get during the winters. It is considered to be one of the most treasured sights in the world. The thermal pools are naturally structures in the form of terraces. Make sure you carry some extra clothes with you if you are willing to take a bath in the pool.
Must Read: 20 Best Places To Spend Christmas In Europe 2019: Where Festivities Breathe Magic Into The Air!
---
Europe Holiday Packages On TravelTriangle
Explore the most beautiful places to visit in Europe, from Paris to the Venice canals and from the Greek islands to the Swiss alps. Book customized packages by expert agents on TravelTriangle. Inclusive of airport transfers, cab, resort, sightseeing and meals. Best holiday experience Guaranteed. Book Now
---
2. Ephesus
The ancient city of Ephesus is preserved well and visiting this place during the winters means you can visit the remains without a hustle. This city was once the epicentre of trade and religion and till date has a distinct sense of grandeur with abundant temples, houses, and basilicas. Interestingly, Ephesus was one of the seven churches of Asia that have been mentioned in the Book of Revelations.
Suggested Read: Indian Restaurants In Vienna: A Taste Of Home In The Heart Of Europe
3. Istanbul
You might have already seen a gist of this wonderful city of Istanbul in multiple Hollywood and Bollywood movies. And trust me, the city holds the same amount of beauty as it has been portrayed. A visit to Turkey is incomplete without visiting Istanbul. You must visit the Old City if you are looking forward to a culture trip this Christmas. The city gives you an awe-inspiring view of the beautiful cityscape, mosques, hippodrome, Topkapi Palace and the Grand Bazaar. Istanbul should definitely be on your bucket list of countries to visit.
4. Cappadocia
Cappadocia is one of the most remarkable places in Turkey. The strange stacked rock formations, surrounded by multicolored fairy chimneys, gives an eerie landscape to a visitor. The place also has many secret caves which were inhabited by the ancient humans thus giving you an insight of the life in this hostile terrain. Take a hot-air balloon ride in Cappadocia, for the most picturesque aerial views in Turkey.
Suggested Read: 10 Churches In Netherlands Which Offer A Glimpse Of The Ancient Structures Of Europe!
5. Gallipoli
It is the 103rd anniversary of Anzac Day in the year 2019. Gallipoli is a place with a large piece of heroic history between the Aussies and Kiwis. This place reminds of the bravery of soldiers and the massive loss of lives. Christmas can be a great time to visit this memorial and pay homage to the lost souls with a very little crowd and enough place to concentrate. You would love the serene sight of clear blue waters and white settlements lining the shore.
6. Marmaris
Christmas is majorly about the night celebrations so its a smart idea to head to a place which has a great nightlife in Turkey. The Mediterranean resort town of Marmaris is popular for its Bar Street that has multiple open-air clubs and music venues. The city rests in a valley surrounded by pine-forests, clear water and pebbly beaches, thus making it a preferred diving and sailing destinations too. The place also has some interesting water parks and castles that you can visit.
Facts About Christmas In Turkey
Here are some of the important facts about celebrating Christmas in Turkey you should know before you plan your trip to this beautiful country.
1. Decorations
Turkish Christmas decorations are subtle. Starting mid-December, the streets of Turkey are decorated just the way how Western countries are. One can find plenty of Christmas trees, lights and Santa Claus. Not that Turks celebrate the birth of Christ, but they are only preparing themselves for the new year celebrations. And to attract customers or give the visitors a true feel of Christmas, they make up things just the way an actual Christmas is celebrated.
2. No Hype
You can enjoy the beauty and the festivity around but you would not find much of a noise for the festival. Instead, more preparations are done for the coming new year celebrations. So, a Christmas day in Turkey is a blessing for those who are seek for a place with lesser Christmas bustle. Christmas celebrations are usually low toned and only a few parts of Turkey witness celebrations on the day.
Suggested Read: 7 Stunning Villas In Germany For A Luxurious Holiday In Europe You've Always Dreamed Of
3. Lesser Queues
Istanbul may be not for Christmas hype, but it is always a place to view the great historical evidence. Istanbul round the year favors lot many visitors, and the visitors are so much in number that you end up viewing one place for more than a couple of hours- because of the queues. However, during the winters, Istanbul is less crowded and you can touch around the city just the way you like. You wish to celebrate Christmas, you can do that calmly or if you wish to roam around the city, then you can also do that without any queue.
Best Experiences Of Christmas In Turkey
Plan your Christmas vacations in Turkey in advance and keep this important thing in mind to avoid
1. Christmas Weather
The Turkish Christmas weather in December can be a good time to plan a vacation in Turkey, if not great. You can do a lot during your European vacation in Turkey. While the climate in Istanbul and Ankara may not truly be in your favor, the south coast is warmer and more pleasant. You can also avoid the tourist crowds which flood here usually in May-September. Enjoy hamams, the cultural baths, and sipping on fresh pomegranate juice.
Suggested Read: This European Country Will Be Offering Visa Free Travel For 30 Days. Guess Which One?
2. Christmas shopping
Turkey is unlike the West during this time of the year. So you may not find the streets flooded with Christmas trees and Santa Claus's. But definitely yes, you need to know the exact places to celebrate Christmas. There are some places which cater to this time of the year and make you feel at home. Just depends on the amount of money that you wish to spend. Grand Bazaar in Istanbul is a great place for shopping during Christmas at Turkey.
3. Christmas dinner
This is something where the Turks are ready to cater to you. There are multiple streets and restaurants that serve your purpose and provide you mindblowing food delicacies. Food is which will help you celebrate the day of Christmas. Dishes vary and the prices vary. So choose what you want to eat at your best. You must try Tamales, which is a popular dish that is eaten during Christmas in Turkey. Ask for a Tamales meal, which is served along with roast pork leg, Torrejas (french toast) for dessert and eggnog.
Frequently Asked Questions About Christmas In Turkey
---
Looking To Book An International Holiday?
Book memorable holidays on TravelTriangle with 650+ verified travel agents for 65+ domestic and international destinations.
---
Comments
comments