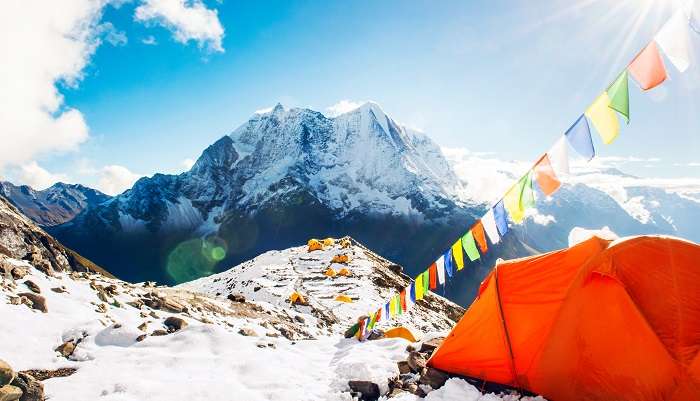 Nepal, a landlocked country, finds its abode in the spectacular Himalayan region. Replete with peaceful lakes, mountain ranges, extensive valleys, this picturesque destination borders China to the north and India to the south, west and east. While featuring the staggering Three Passes Trek trail, Everest Base Camp, and Manaslu Circuit, Nepal has garnered its reputation of being one of the most incredible trekking destinations. From easy treks like Dhampus Trek and Rara Lake Trek to the most challenging ones like Upper Dolpo Trek and Cho-La Pass Trek, one can enjoy numerous kinds of treks in Nepal. And, with this guide to trekking in Nepal, we have summed up the best ones that are perfect for beginners as well as for pro-trekkers. Read on to find all the deets. 
Guide to Trekking in Nepal with 6 Best Treks
If you are planning to go on an adventurous trek, check out this comprehensive guide to trekking in Nepal. Among these 6 treks, pick any while going through their difficulty level, elevation, route, and more.
1. Everest Base Camp Trek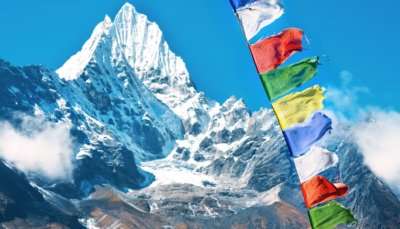 Boasting an elevation of 5,364 m, Everest Base Camp Trek lets one bask in the magnificence of the tallest peak in the world. This challenging, yet adventurous trek offers you spectacular views of snow-capped mountains and rich greenery. To start the trek, you need to fly from Kathmandu to Lukla. During the trek, you can also witness the charm of places like Tengboche, Namche Bazaar, Kala Pathar, Dingboche, and more. The trek passes through Buddhist Sherpa villages allowing one to see the culture and traditions of the natives.
Region: Khumbu Himalaya Range in Central region
Duration: 12-17 days
Difficulty level: Moderate
Max elevation: 17,585 ft
Best time: March to April and October to November
Trek length: 130 km
Base camp: Lukla
Trek price: ₹1,20,500 approximately
Places to visit: Kala Patthar, Sagarmatha National Park, Namche Bazar, Khumbu International Library
Required permits: TIMS Card, Gaurishankar Conservation Area Permit, Sagarmatha National Park Permit, and the local permit in Lukla
Trek route: Kathmandu—Lukla—Phakding—Namche—Tengboche—Dingboche—Lobuche—Gorakshep—Pheriche—Namche—Lukla—Kathmandu
10 Indian Restaurants In Kathmandu Where You Can Have Delicious Indian Cuisine
2. Manaslu Circuit Trek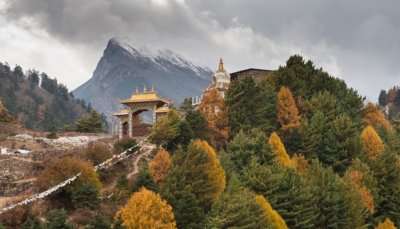 Manaslu is the 8th highest mountain that reaches its highest point at Larkya Pass, from where trekkers can enjoy the striking views of the Manaslu mountain. The trek runs through restricted areas and hence it is considered to be a less explored place as compared to other treks in Nepal. Surrounded by Ganesh Himal in the east and Annapurna in the west, this difficult trekking trail is a perfect pick for adrenaline junkies. Resembling Annapurna Circuit Trek, Manaslu Circuit Trek lets one experience six climatic zones. Furthermore, there are a few villages, stupas and monasteries that fall on the route.  Since this is a difficult trek, you must go through a guide to Trekking in Nepal before heading for your journey.
Region: Manaslu
Duration: 13-18 days
Difficulty level: Hard
Max elevation: 17,103 ft
Best time: February to May and September to December
Trek length: 177 km
Base camp: Manaslu Base Camp
Trek price: ₹1,15,169 approximately
Places to visit: Pungyen Gompa, Birendra Lake, Nubri and Tsum Valleys
Required permits: ACAP, MCAP, RAP
Trek route: Kathmandu—Soti Khola—Maccha Khola—Jagat—Pewa—Namrung—Lho—Sama Gaun—Samdo—Dharmasala—Bimthang—Dharapani—Kathmandu
3. Langtang Valley Trek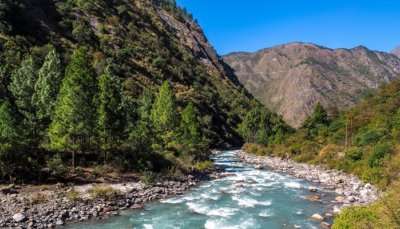 Offering spectacular views of famous mountains in Nepal such as Annapurna, Langtang Ri and Makalu, Langtang Valley Trek is a perfect choice for beginners as it's a relatively shorter trek with lower altitude. To start the trek one can board a jeep/cab from Kathmandu to Syabru Besi and complete the 6-7 hour journey peacefully. The trek takes you through striking Langtang Valley and gives you a chance to peep into the culture and livelihood of Tamang community of Nepal. From walking through the rhododendron and bamboo forests to visiting old Buddhist shrines like Langtang Gompa, the trek allows you to indulge in blissful experiences.
Region: Langtang
Duration: 7-10 days
Difficulty level: Moderate
Max elevation: 15,655 ft
Best time: September to mid-December
Trek length: 65 km
Base camp: Syabru Besi
Trek price: ₹45,897approximately
Places to visit: Tserko Ri, Langtang Gompa and Kyanjing Gompa, Gosainkunda
Required permits: TIMS
Trek route: Kathmandu—Syabrubesi—Lama Hotel—Mundu—Kyanjin Gompa—Tserko Ri—Lama Hotel—Syabrubesi—Kathmandu
8 Mysterious Places In Nepal: Explore Beyond The Uncanny, Unexplainable, And Unfathomable
4. Mardi Himal Trek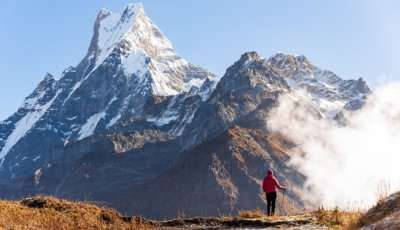 One of the shortest and easiest treks in Nepal, Mardi Himal trek offers you to traverse through the Mardi Himal peak lying beach Machapuchare mountain in the Annapurna region of Nepal. You can join this trek while enjoying Annapurna Base Camp Trek and begin it from several locations like Dhampus Phedi, Kande, and Siding. This fun-filled trek covers the alluring pines, oaks, and rhododendron forests. Furthermore, trekkers can catch sight of Mt. Fishtail, Hiunchuli, Annapurna, Machhapucchre mountains. Like many other treks, you need the Annapurna Conservation Area Permit (ACAP) and TIMS card to complete Mardi Himal Trek.
Region: Annapurna
Duration: 10-11 days
Difficulty level: Easy
Max elevation: 14,599 ft
Best time: March to May and September to November
Trek length: 41 km
Base camp: Phedi
Trek price: ₹45,000 approximately
Places to visit: Pothana village, Dhampus village, Badal Danda, Sidding village
Required permits: TIMS, ACAP
Trek route: Kathmandu—Pokhara—Pothana—Forest Camp—Lo Camp—High Camp—Mardi Himal Base Camp—Siding Village—Lwang Village—Pokhara—Kathmandu
5. Kanchenjunga Circuit Trek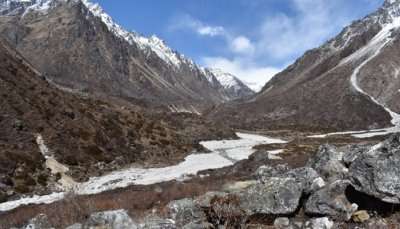 The third-highest peak in the world after Everest and K2, Kanchenjunga sits at an elevation of 28,169 ft and lies near the border with Sikkim. Known to be one of the most strenuous trekking routes, Kanchenjunga Circuit Trek takes you to the Alpine meadows that experience extreme temperatures down to -24°C. This 15-30 long day trek lets you explore the Eastern mountainous regions of Nepal. Kanchenjunga Conservation Area or KCS protects the Kanchenjunga area and you need special KCAP and RAP permits to enter the area. Since this Nepal trek difficulty level is high, one needs to take extra precautions during the journey. Besides this, if you're lucky, you can spot snow leopards and Himalayan black bears.
Region: Kanchenjunga
Duration: 15-30 days
Difficulty level: Difficult
Max elevation: 16,929 ft
Best time: March to mid-May and October to late November
Trek length: 220 km
Base camp: Taplejung
Trek price: ₹2,74,000 approximately
Places to visit: Ramtang Monastery, Oktang Monastery
Required permits: RAP and KCA
Trek route: Kathmandu—Bhadrapur—Ilam—Taplejung—Chirwa—Lelep—Amjilosa—Gyabla—Ghunsa—Kambachen—Lhonak—Kanchenjunga North Base Camp—Ghunsa—Sele Le—Cheram—Kanchenjunga South Base Camp—Torongding—Yamphuding—Khebang—Khamdime—Bhadrapur—Kathmandu
Nepal In December 2022: What It Feels Like To Visit During This Time Of The Year
6. Annapurna Base Camp Trek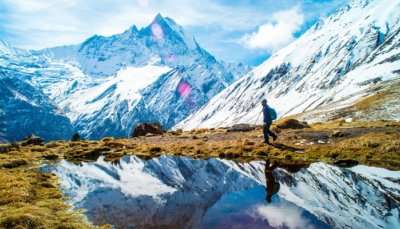 Popularly known as called Annapurna Sanctuary Trek or ABC trek, the Annapurna Base Camp trek is a week-long trek that covers a maximum altitude of 13,549 ft. One of the most famous trekking routes in Nepal, ABC treks takes you through the rhododendron forests, paddy fields, and natural charm of the Annapurna region. As you hike through this region, you come across beguiling flora and fauna and majestic views of Machhapuchhre, Dhaulagiri, and Manaslu mountains.
Region: Annapurna Region
Duration: 7-9 days
Difficulty level: Moderate
Max elevation: 13,549 ft
Best time: April to May and September to December
Trek length: 67 km
Base camp: Pokhara
Trek price: ₹60,987 approximately
Places to visit: Natural Hot Springs, Poon Hill, Machhapuchhre Base Camp
Required permits: ACAP, TIMS
Trek route: Pokhara—Nayapul—Ghandruk—Lower Sinuwa—Deurali—Machhapuchhre Base Camp—Annapurna Base Camp—Bamboo—Jhinu—Nayapul—Pokhara
Reasons for Trekking in Nepal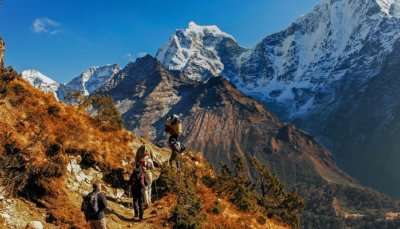 Nepal offers some of the best treks in the world that beginners, as well as pro-trekkers, can enjoy. Here are some reasons why you should choose Nepal for your next trek:
Nepal offers from the easiest 3-day trek to the most challenging 3-day trek
Nepal is home to 8 of the 14 world's tallest mountains
Most treks in Nepal let you witness spectacular flora and fauna
You can find wholesome food options during your trek
One gets to enjoy a glimpse into the Nepalese traditions and culture
Comfortable lodging/teahouse and camping options are easily available
Friendly locals and a low crime rate make Nepal perfect for trekking
Nepal houses some of the most stunning lakes that lie on trekking routes
How to Reach Nepal from India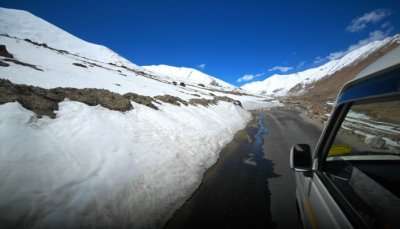 Nepal is easily connected through the network of roadways, railway stations and airways to cover a distance of 1,012 km. While you go through this guide to Trekking in Nepal, check out all the travel 3 modes :
By air:
This is the fastest and most convenient transportation to reach Nepal. There are regular flights from all the major cities like Varanasi, Kolkata and New Delhi, to Tribhuvan International Airport in Kathmandu which is the only International airport in Nepal. Air India, Nepal Airlines, IndiGo, and Buddha Air have regular flights on this route. Besides this, India to Nepal flight duration is around 1 hour 45 minutes.
By train:
There are regular trains that operate Raxaul and Gorakhpur to Sirsiya which is in Southern Nepal. Trains including Kashi Express, Chauri Chaura Express, and Sapt Kranti Superfast Express run on this route. Upon reaching the train station in Nepal, there are taxis and public buses available for further journeys to Kathmandu or any other place.
By bus/car:
Reaching Nepal via roadways is one of the most convenient and fun-filled ways. You can reach from Delhi to Kathmandu via roadway in around 21 hours. The most-used India-Nepal border is the one at Sunauli, Uttar Pradesh. You can reach out here via Gorakhpur by train from Delhi. Other borders that you can pick to reach Nepal are Raxaul from Kolkata or Patna. Notably, Raxaul and Gorakhpur are the nearest railway stations to Nepal in India.
Zoos In Kathmandu: Visit The Central Zoo To Explore Wildlife In Nepal
Best Time for Nepal Trek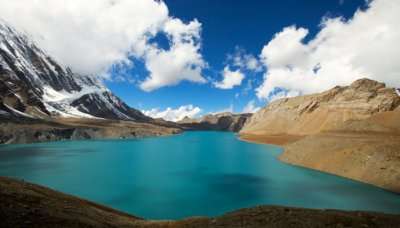 Spring and Autumn are the two seasons that can make your Himalayan trekking experience simply phenomenal. Since each season has its own pros and cons, this guide to trekking in Nepal will help you pick one according to your preferences. Check out the season details below:
Spring (March-May)
Spring makes a perfect season to enjoy trekking in Nepal if you are looking for warmer temperatures and abundant flora and fauna. During this season, the temperature hovers around 16 to 23ºC, leading to clear skies and pleasant weather. If you wish to go on Annapurna Circuit Trek and Everest Base Camp Trek, you can plan your trek to Nepal in April or May.
Autumn (September-November)
Autumn brings ideal weather conditions with clear skies and moderate temperatures ranging between 22 to 27ºC. The departure of Summer leads to a clearer atmosphere and lesser dust & pollution. During this season, you can enjoy the best experience in the Annapurna region.
Winter (December-February)
A challenging yet adventurous time trek, winter in Nepal translates into snow. During the daytime, the temperature ranges between 9-12ºC however, and in the evening, it can drop down to 0ºC or below. If cold weather and snow fascinate you, winter is the perfect season to go on a trek, especially in the Everest region.
Note: Summer usually brings heavy rains from June to August leading to humid and wet weather conditions and muddy trails. Therefore, it is not advisable to trek in these unfavourable conditions.
Accommodation Types for Trekking in Nepal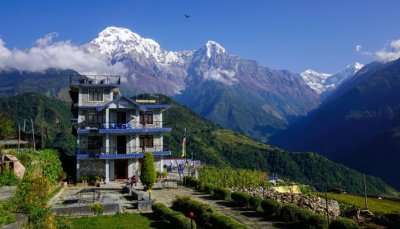 There are two kinds of accommodations that you'll find during your Nepal trek. Here's some quick information about both of these:
1. Tea House/Lodge Trekking
Tea houses are mainly lodges providing accommodation and food as well. Although the amenities are basic, you get a comfortable space to rest and a hygienic place to enjoy your meals during the trek. Tea clean room, hot showers. These stone and wooden buildings/huts include basic bedrooms, a kitchen, a bathroom area, and a communal eating hall. A tea house would cost you around ₹250-500 and the charges may go up in high altitude regions.
Popular teahouse treks: Everest Base Camp, Annapurna Circuit, Langtang Valley, Manaslu Circuit, Gokyo Lakes, Upper Mustang
2. Tented/Camping Trekking
With this basic style of camping or tented trekking, one gets to stay in a temporary camp. A guide, Sherpa (Nepali ethnic groups native), and team members help with supplies including tents, dining tent, sleeping mats, kitchen equipment, etc. Furthermore, porters take care of necessary trekking gear including fuel, food, and other goods.
Popular camping treks: Makalu Trek, Rolwaling Trek, Manaslu Tsum Valley Trekking, Manaslu Trek
Nutrition for your Nepal Trek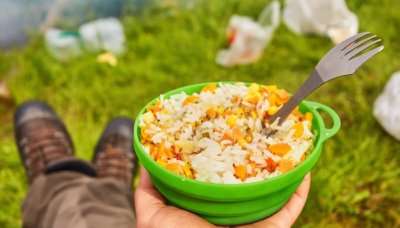 Below we have summed up some general food habits that you can embrace for successful trekking in Nepal:
Start your day with a wholesome breakfast, avoid caffeine as it may lead to dehydration
Eat carbohydrate-rich food for lunch and dinner to stay energised during the time trekking
Have energy booster in form of dry fruits including dates, almonds, walnuts, raisins, etc.
Hydration is the key while trekking, so stay hydrated at all times and drink 5-6 litres of water every day
Avoid carrying high-sugar foods like candies, energy bars, chocolates and cream biscuits
Do not carry any kind of alcoholic drink that can result in dehydration, later causing Acute Mountain Sickness (AMS)
Avoid carrying proteinous foods as they take a longer time to digest in higher altitude zones
Annapurna Base Camp Trek: What Makes It One Of The Most Sought-After Treks
What to Pack for Trekking in Nepal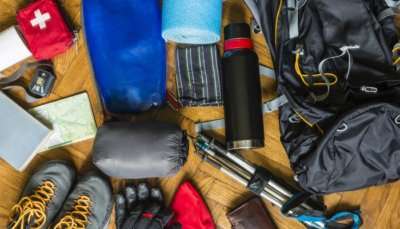 Here is a list of some essentials that you must carry on your trek to Nepal:
Sunscreen, sanitiser, insect repellant, and other toiletries
Warm jacket, gloves, caps, and earmuffs
Comfortable trekking boots
Warm sleeping bag
Torch and camera with extra batteries
1-2 litre water bottle
Rain gears
Powerbank
A mini first-aid kit with general medicines
All You Need To Know About The Airports In Kathmandu
Physical Fitness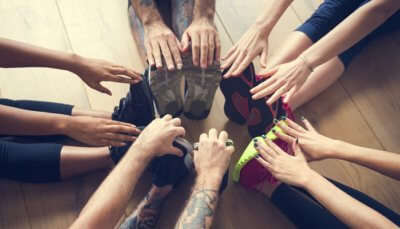 Whether you are going for a short 4-day Poon Hill Trek or a long 20-day Everest Base Camp trek, you need to be physically fit to successfully complete the trek. Hence, it is advisable to have a strict fitness regime 2 months prior to your final trek in Nepal. You can start with daily 6-7 km walking and jogging. Besides this, swimming, squats, step climbing, and biking will strongly prepare you even for the strenuous high-altitude treks.
Tips for Trekking in Nepal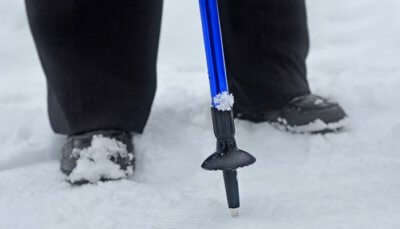 Before heading for an adventurous trekking experience in Nepal, read these helpful tips for a smooth trek:
Avoid trekking solo and have a group or a guide
Maintain a fitness regime at least 2 months prior to your trek
Take necessary vaccinations like Diphtheria, Tetanus, Typhoid, Hepatitis A, etc.
Research and learn about the trek you choose
Be aware of altitude-related illnesses and learn local remedies
Carry a portable water filter, if possible
Educate yourself on Acute Mountain Sickness
Do not overpack and carry items as per requirements
Bring your extra passport size photos and keep your identity proof
Carry enough cash at all times
Prepare well for all weather and trail conditions
Always check weather conditions before heading for the trek
Carry comfortable shoes that have apt soles for trekking
Don't forget your permits, TIMS card, and national park fees
Read the detailed guide to Trekking in Nepal for a smooth trek
Carry enough general and medications
Langtang Valley Trek: For The Most Mesmerizing Views On Your Nepal Trip
Apart from the above-mentioned ones, there's Upper Mustang Trek, Makalu Base Camp Trek, Dhaulagiri Circuit Trek, etc. that are equally exciting. So, if this comprehensive guide to trekking in Nepal has encouraged you, gear up for a Nepal trip with TravelTriangle and indulge in some soulful experiences.
For our editorial codes of conduct and copyright disclaimer, please click here.
Frequently Asked Questions About Guide to Trekking in Nepal
Which are the best treks in Nepal?
Some of the best treks in Nepal are:
1. Kanchenjunga Base Camp Trek
2. Manaslu Circuit Trek
3. Annapurna Base Camp Trek
4. Upper Mustang Trek
5. Annapurna Circuit Trek
6. Dhaulagiri Circuit Trek
7. Makalu Base Camp Trek
8. Langtang Valley Trek
9. Rara Lake Trek
Do I need a guide while trekking in Nepal?
Although most of the treks don't require the help of a guide, it is recommended to have one if you are a beginner or visiting a risky area. Furthermore, guides are accustomed to the weather conditions and routes and hence, they will help you explore the en-route attractions and take care of all the permits required to complete the trek.
Can I visit Nepal during the current Covid situation?
Yes, Nepal is one of the safest places to plan a holiday as the no. of Covid cases are relatively lower. However, you need to take extra precautions while visiting the country. Make sure to wear a mask when out or surrounded by people, sanitize hands at certain intervals, and maintain the required social distance whenever possible.
How do prepare for trekking in Nepal?
In order to prepare for trekking in Nepal, first, you need to be physically fit while embracing daily exercise accompanied by walking and jogging. Besides this practice deep breathing and do meditation if possible. Also, make sure to go through the detailed guide to Trekking in Nepal to enjoy your expedition.
Which are the best treks in Nepal for beginners?
You can consider these easy treks in Nepal if you are a beginner:
1. Ghandruk Trek
2. Balthali Village Trek
3. Pikey Peak Trek
4. Ghorepani Poon Hill Trek
5. Panchase Trek
6. Langtang Trek
7. Solu Trek
Which is the perfect season for trekking in Nepal?
The Autumn season that remains from Mid-September to Mid-November is the ideal time for indulging in trekking. During this time, there are no rains and the weather is immensely pleasant making trekking as well as sightseeing experience all the more worthy.
Do Indians need visas to enter Nepal?
No, Indian passport holders do not require a visa to travel to Nepal. Notably, this exception is only eligible for Indian citizens.
People Also Read: