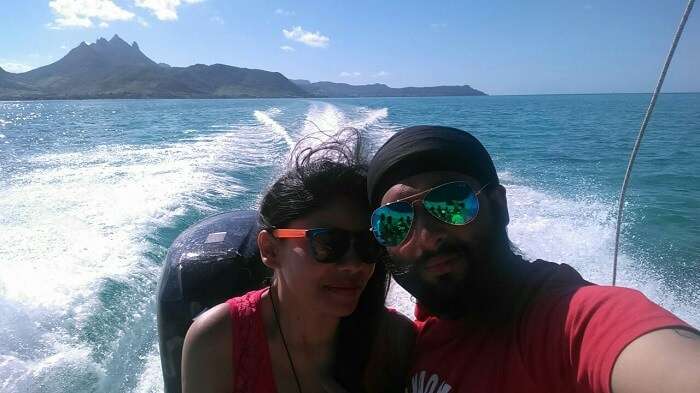 For some people, everything falls in the right place when the right person comes along. And so it did for Gurjyot who along with his wife experienced nothing less than a magical honeymoon in Mauritius. Comprising of their flights, transfers, accommodation, sightseeing, breakfast and dinner their entire tour package fit in a budget of INR 1,46,200.
Post reading some travel experiences and searching enough on Google, I was convinced to go ahead with TravelTriangle. Since I had been to Europe earlier, I chose Mauritius for our honeymoon trip. The ability of customizing your own trip is something I was really convinced of.
Having understood my needs of a perfect honeymoon itinerary, Amit from TravelTriangle put me through multiple agents out of which, I chose "Memorable Vacations & Holidays Pvt. Ltd." to continue my journey with. They seemed pretty economical and their quotes fit in our budget too.
With everything in place, there was no limit to our excitement and we waited in anticipation to begin our journey together at Mauritius.
Day 1: The luxury of Long Beach Resort at its best!

We boarded our flight from Hyderabad and reached Mauritius at about 2 pm. The driver greeted us on arrival and transferred us to the Long Beach Resort. It was a beautiful resort with great services and cooperative staff who guided us through the lavish property.
We went to the hotel, freshened up and rested for a while. Later on we spent some quality time in the evening all by ourselves. We relished some really delicious dinner and enjoyed the performance of a live band at the resort. Tired from all the traveling we came back to our rooms and called it a night.
Day 2: Charmed by the Ile Aux Cerf Islands

We started out the next day at around 10 am after a sumptuous breakfast. Our day was booked to visit the Ile Aux Cerf Islands in the first half. Everything from the island tour to the water activities was an amazing experience at Ile Aux Cerf Islands. We enjoyed water activities like snorkeling and underwater sea walking.

It was indeed a thrilling experience and we finished our tour by 3 pm. After the island tour we went to visit the waterfalls nearby along with five other couples which was again a good experience. We reached back to the hotel by 6 pm. Post that, we freshened up, enjoyed our dinner along with live music and retired to bed early.
Day 3: The blooming Casela Nature Park

The next day we ditched the regular itinerary and chose to explore Casela Nature Park instead. Mr. Ravi of Long Beach Resort cooperated with us and made private arrangements for visiting Casela Nature Park. The flora and fauna was so amazing that we strolled around and explored the nature for about four to five hours.

In the evening we came to the resort by 6pm. Since everything in Mauritius closed down by 5 pm, we hung out and spent time together at the resort beach and pool area. We would take a walk along the shores of the beach in the evening and retired to bed after treating ourselves to delicious international buffet dinner.
Gagandeep's Honeymoon To Mauritius Shows Us How To Live Every Moment To The Fullest!
Day 4: An enthralling Underwater Scooter adventure

The next day too we cancelled the activity from regular itinerary as we chose to visit the seven-coloured earth over the temples. We went there post breakfast and the drive was quite tiring as it took about 90 minutes to reach there. Though we could only spot three colours, the place dazzled us! We explored that place for some time and then left to enjoy our underwater scooter adventure at Blue Safar.

It was indeed an enthralling experience in the North West. The scooter had adjustable seats and my wife sat behind me while we experienced the 360 degree view from the glass dome. This was indeed a fantastic experience as we felt so alive underwater and explored the vibrant marine life. We reached back to the hotel by 6.30 pm, freshened up and had a delicious dinner. We called it a night after enjoying live music for a while.
Day 5 & 6: Refreshing our senses, regaining strength, & reminiscing

We had two days of leisure all to ourselves. We relaxed to the core, spent time at the beach and indulged in parasailing at the Long Beach. Long beach was more flexible with water activities and gave more time to experience everything at its best.

The next day we spent our time exploring the beach and the resort property. It was quite a luxurious and huge resort. It's close proximity to the beach lifted our moods every evening in addition to the live band performance and music. Not only the pools and restaurants were good but the staff and other guests at the resort were friendly too.
Shopping in Mauritius In 2022: 12 Spots That Offer Both Luxurious & Crafty Items!
Day 7: Hasta La Vista Mauritius

There was a little miscommunication on the last day. There was no prior notification given to us about the checkout timings. Since our flight was at 9.30 pm, we had our breakfast, checked out at 12 noon and the resort officials allowed us to continue with our packing. We left the resort at about 5.30 pm and were transferred to the airport by 7 pm and we set on our journey back to India.
High Points: Blue Safar Underwater Scooter Adventure, Parasailing at Long Beach and Casela Nature Park
Low Points: There was some miscommunication and we didn't realize everything closed down by 5 to 6 pm due to which we had to stay at the resort for a large part of our trip.
Tips:
Opt for water activities at the Long Beach Resort as the timings are flexible and it is free of cost.
The food is delicious and one must experience the live band performance.
Do not miss the underwater scooter adventure.