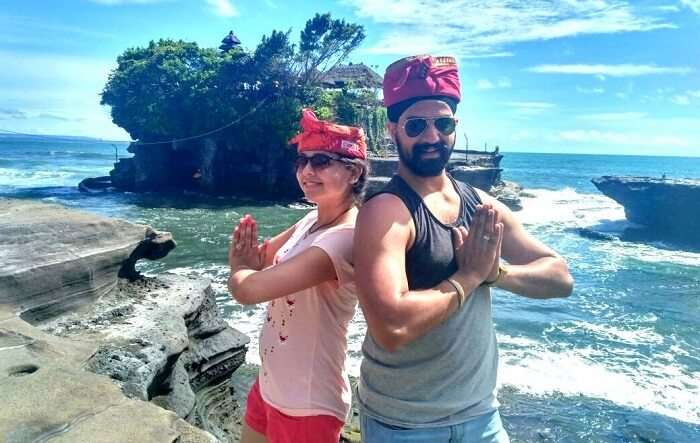 Gurpreet and his wife go on a captivating 10 days/9 nights honeymoon trip to Singapore and Bali, highlighting a luxurious and fulfilling vacation to begin their married life. As they make their way East from one scenic destination to another, they witness the modern marvels of Universal Studios and cruise ships to the hidden treasure of the Balinese culture.
Trip Duration: 9 Nights/10 Days
Trip Cost: INR 2,28,500
Month of Travel: February 2017
Agent: Traworld Holidays Unit of Khushi Tours & Travels
Inclusions: Accommodations, flights, transfers, sightseeing, breakfast, singapore visa, Bali sim card, travel insurance, watersports in Bali, Universal studios normal ticket, and cruise tickets
Exclusions: Seminyak water villa, lunch and dinner, and marina sands tour
While I was searching for honeymoon packages, one of my friends recommended to try TravelTriangle. The main selling point about this was the ability to customize your own package at a bargainable and competitive price.
 Honeymoon In Singapore And Bali: A Magical Trip Full Of Love And Adventure!
My first preference for our honeymoon was Europe. But since, we were going for a honeymoon in February, we had to drop the idea of Europe because of the cold weather during these months. The prospect of having cold, gloomy, and rainy days on a honeymoon just didn't feel as the right setting for sightseeing in Europe.
Hence, our next best option was South-east Asia wherein we combined two major places- Singapore and Bali. Two islands with distinct cultures and plenty of places to explore and enjoy.
Here's a brief look at our itinerary we selected for our trip to Singapore and Bali
Day 1: Arrival in Singapore – Check-in to hotel – Night safari – Dinner
Day 2: Breakfast – Singapore city sightseeing – Cable car to sentosa island – return to hotel
Day 3: Breakfast – Universal Studios – return to hotel – Dinner
Day 4: Leisure – Board High seas cruise at 5 pm – Cruise journey begins at 8 – Magic show night
Day 5: Leisure day at High seas cruise ship
Day 6: Deboard cruise ship at noon – Check in to the same hotel – Sightseeing by ourselves
Day 7: Flight to Bali – Check in at Seminyak – Dinner
Day 8: Breakfast – Watersports in Nusa Dua – return to Seminyak – Bali Hai cruise dinner
Day 9: Check out- Visit to tea plantations & Tanah Lot temple – Check into Intercontinental
Day 10: Visit to the private beach – Check out – Flight back to Hyderabad
Singapore and Bali are blessed with lots of stunning places to visit. However, there's a certain limit to which a person can explore a place in 10 days.
Here are a few of my best places and experiences on my trip to Singapore and Bali:
Singapore: A modern mecca of different cultures
 Family Trip To Singapore: Fun, Entertainment, & A Lot Of Fun!
Our trip to Singapore and Bali began with a visit to the melting pot of asian cultures – Singapore. A small island country located off the southern coast of Malaysia. Arguably the most metropolitan city/country we've seen on our travels, Singapore enveloped the essence of Asia and compressed it into a modern avatar of a megacity.
Our Review of Village Hotel Bugis:
We enjoyed our comfortable stay at the Village Hotel Bugis. The staff were very courteous and helpful, and they were present in case we required any information or help of kind to get around the city.
Our Rating of Village Hotel Bugis is: 4/5
Places To Visit
 Gurpreet's Family Trip To Singapore And Malaysia Will Unleash The Child In You!
A giant Ferris Wheel located in the heart of the city, Singapore Flyer attracted a bulk of tourists like us who want to witness and marvel at the Singapore skyline. We saw the skyline visible ever so amicably and perfectly from the viewing pods of the ferris wheel.
Entry Fee: INR 1520 per head for adult
One Rotation Cycle: 30 minutes
Timings: 8:30 am to 10:30pm
Merlion Park is one of the few tourist attractions in Singapore that attracts as much as local population as it does the foreign tourists. Merlion Statue, a mythical creature that had the body of a fish and a face of the lion, is located within the park. It is considered to be one of the iconic symbols of Singapore.
Entry Fee: Free
Timings: Open always
My favorite attraction in Singapore, Universal Studios rightfully holds the prestige of being one of the finest entertainment theme parks in Asia. Its roller-coasters are world class and the value for entertainment within the amusement park is unmatched. We upgraded our normal pass to the express unlimited pass to avoid rush and long queues.
Entry Fee: INR 3500 per person (normal pass)
Park Timings: 10 am – 7 pm
Popular Rides: Transformers, The mummy, and Harry Potter
On our second day, we stopped by at one of the most oldest temple of the native Hokkien people into the country. The temple is made in the memory of a Chinese sea goddess. We visited this serene national monument which also practices and preaches Buddhism.
Entry Fee: Free
Timings: 7:30 am to 5:30 pm
A resort cum casino facing the Marina Bay, the building is famous for it's entertainment value and architectural design. We traveled to the 59th floor (observation deck) of Marina Bay Sands on the 6th day of our trip to Singapore and Bali to enjoy and relax in the lounge and infinity pools.
Entry Fee: INR 1060 for adults
Timings: 9:30 am to 11:00 pm
Things to Do
We proceeded for the night safari at 7.30 pm in the evening. We were taken around for a tour in the jungle on a small train to view all the various rare animals, for whom their natural habitat has been replicated.
After witnessing the main safari, we visited the creatures of the night show in the amphitheatre at 9.15 pm. The show was a mixture of interaction and comedy where the show presenters made sure that they get maximum crowd participation.
Entry Fees: INR 2710 per person
Timings: 7.30pm to 12 midnight
Cable car ride to Sentosa Island
A scenic and adventurous way to travel to Sentosa Island, is by using the cable car ride that runs from mainland Singapore to Sentosa Island. We used this mode of transport whenever we wanted to go the attractions on the island on our second and third days.
Entry Fee: INR 1530 per person
Timings: 8:45 am to 9:15 am
On the 4th and 5th day, we decided to take a cruise in Singapore. High Seas cruise took us out to the far outer reaches of the Indian Ocean for 42 hours. Half of the cruise had Indians, out of which majority were honeymooners. Hence, there was a Bollywood night on the second day at the cruise which the people enjoyed a lot.
I was very pleased with the location of our room which was on the upper deck and from where we could view the front of the ship.
Best Places To Eat In Singapore
A muslim neighborhood located near the Queen Street Bus Terminal, was one of the most happening and vibrant places we discovered on our trip to Singapore and Bali to experience nightlife and indulge in local cuisine.
A predominantly muslim neighborhood, the Arab Street offered a wide variety of local cuisines, coupled with foods which had arabic influence.
Famous food joints: Kampong Glam Cafe, BluJaz Cafe, and Working Title
Restaurant Timings: 2 pm to 2am
As the name suggested, Little India was a hub for Indian restaurants, souvenir shops, retail shops, and shopping centers. We found a lot of the hotels for incoming Indian tourists to be concentrated there. A good place for us, if we ever felt like having a taste of Indian food in Singapore.
Famous shops: Little India Arcade, Chandna Mart, and Buffalo Road
Timings: 11 am to 11 pm
Useful Travel Tips For Singapore
Once we enter the night safari, there is a train that takes you around the major places on the night safari. However, there is a superb leopard trail that no one took because you have to actually get off the train midway and walk. My suggestion would be to definitely check that trail out.
No need to worry about the safety in those night safari trails as the animals are well separated by glass walls and barriers.
A lot of people I know found Singapore to be a very expensive place to roam around and do a vacation. However, if you plan well in advance, the miscellaneous expenses can be managed easily.
What I loved about Singapore:
The trip to Universal Studios in Singapore was an unforgettable experience
Going on the Singapore Flyer and witnessing the city skyline was a romantic moment
The most relaxing days of our trip to Singapore and Bali were spent on the High Seas Cruise
Bali: The mystical island with serene beaches and magical temples
 Temples, Volcanoes, & Beaches: Bali Was A Stellar Honeymoon Experience This Couple Always Wanted!
The island metaphorically represented a two headed creature displaying mystique and beauty at the same time. The mystique came from their very own unique adaptation of Hindu culture with Chinese elements in it. Whereas, the beauty comes from its natural treasure of beaches, forests, and flat lush green landscapes.
Our review of Intercontinental Hotel Bali:
For the first few nights, we had booked a private pool villa on our own in Seminyak. The experience of having your very own villa, with a private pool at a serene location was memorable.
The final night in Bali probably capped off as the best experience in terms of hotels on our entire trip to Singapore and Bali. Our stay at the Intercontinental Hotel in Seminyak was absolutely perfect. The luxury and quality of service over there was beyond compare.
Our rating of Intercontinental Hotel Bali: 5/5
Places to visit in Bali
On the penultimate day of our trip, we paid a visit to the enchanting Tanah Lot Temple. A marvelous temple that epitomizes the ancient architecture of Bali. The location of the temple made it all the more special, as the temple sits atop a rock perched in the water on the coastline.
Coffee and tea plantations
Also on our penultimate day, we stopped by at a small coffee and tea plantation in central Bali, while we were on our way to Tanah Lot Temple.
Over there we learnt about the preparation of the famous and locally brewed Kopi Luwak coffee. We liked the tea and coffee given to us for testing a lot, so we ended buying a few packets for ourselves.
Things To Do In Bali
 Amazing Adventure Activities: Ashu's 5N/ 6D Honeymoon Trip To Bali
We traveled to Nusa Dua for water sports activities. We already had parasailing, banana boat and jet skiing included in package. Once we reached there, we also felt like doing scuba diving (the local diving companies demand too much money for it. The asking price was at 200 USD per person but I bargained it down till 125 USD per person including underwater photos and videos),
It was our first time scuba diving. The calming experience of swimming with the fishes was unreal. The water was crystal clear and visibility was very high.
On our second night in Bali, we were scheduled to go for a dinner cruise on the 'Bali Hai' from Denpasar. The cruise boat started it's journey a little after sunset and greeted the passengers with welcome drinks and some light music. The cruise charted it's course to the beautiful isle of Nusa Lembongan, while we feasted on a lovely dinner.
Entry Fees: INR 3500 per person
Timing: 9 am – 4.30 pm ; 5.30 pm – 9 pm
Enjoy the private beach at Hotel Intercontinental, Djimbaran
On the final morning of our trip to Singapore and Bali, we decided to take a stroll on the beautiful private beach maintained by Hotel Intercontinental. The beaches of Bali, even on a cloudy day like our last one, were a treat to sore eyes.
Useful Travel Tips For Bali
Be it parasailing, scuba diving, jet skiing, or surfing, Bali is heaven for water sports. It is sure to awaken the thrill junkie in the best of you.
For all honeymooners going on a trip to Singapore and Bali, staying at Intercontinental Bali is recommended.
What I loved about Bali:
Water sport activities in Nusa Dua
Stay at the Hotel Intercontinental Bali
Going from the modern marvels of Singapore to the alluring nature-laden landscape of Bali, it truly felt like my wife and I went on a honeymoon back and forth in a time capsule capturing the essence of beauty regardless of time. Our trip to Singapore and Bali was an unforgettable experience, and I couldn't have hoped for it to turn out any better than this.
Witness the modern marvels and exotic treasures of Singapore and Bali. Book your Singapore & Bali honeymoon package  and enjoy like Gurpreet did!
People Also Read:
Singapore In April Adventure Tour To Singapore One Week In Singapore
---
Looking To Book An International Honeymoon?
Book memorable honeymoon on TravelTriangle with 650+ verified travel agents for 65+ domestic and international destinations.
---
Comments
comments