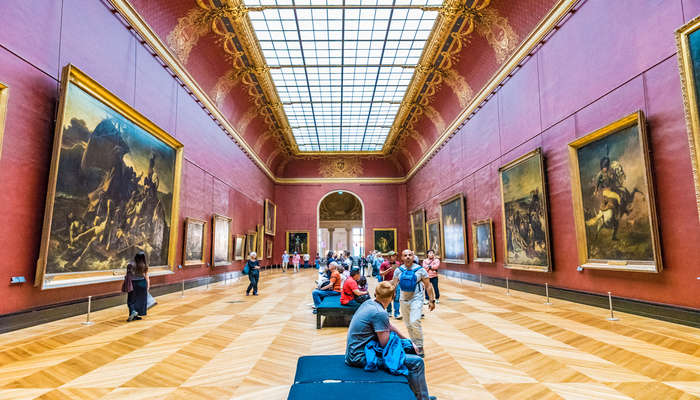 Haifa, a city that thrives in diversity and rich history and is also the capital of Israel. You will find many hidden gems in the city which perfectly describe Israel's capital. Take a day tour in the famous Bahai Gardens which are the most famous attraction in Haifa, or you can relax by the beach. Being a city with a glorious history, it is a must to explore the museums in Haifa which has kept the past alive and give the travelers an opportunity to connect and get to know more about the country's art and history. There are wonderful Haifa museums dedicated to art, science, history and more.
6 Best Haifa Museums
If you are planning your visit to Haifa, you should definitely visit these amazing Haifa Museums which is a great way to know about the city and its rich past and culture. Spend a day touring these museums and fall in love with the city's history and diversity:
1. The Madatech
The Madatech National Science and Technology museum, is a large museum filled with hands-on activities that are loved by both adults and children. Located in the Hadar neighborhood of Haifa, the museum is housed in the old Technion building. This is also known as the famous Haifa museum of science and hosts more than twenty thousand visitors annually. Take a visit here and get to know some interesting science and space facts which will intrigue you with interesting stories behind them.
Timings: Sunday: 12 AM- 4 PM
Monday – Wednesday: 10 AM- 4 PM
Thursday and Saturday: 10 AM- 6 PM
Friday: 10 AM- 1 PM
Address: 25 Shmaryahu Levin Street / 12 Balfour Street, Hadar HaCarmel
Must Read: 10 Incredible Things To Do In Haifa That Will Let You Have An Intriguing Vacay
2. Tikotin Museum Of Japanese Art
While vacaying in Haifa, it is a must to visit the famous Japanese art museum, the Tikotin Museum of Japanese art. It is the only Japanese museum in all of the Middle east. It was built in 1959, by a Holocaust survivor who hid his collection of Japanese artifacts during the world war. You can find all kinds of gems here which portrays true Japanese culture, from crafted hand fans to samurai swords, Tikotin museum is a small home away from home for all things Japanese.
Timings: Sunday – Thursday: 10 AM -4 PM
Saturday and Holidays: 10 AM -3 PM
Friday: 10 AM -1 PM
Address: 89 HaNassi Avenue, Haifa
Suggested Read: 10 Hip And Historic Hostels In Israel Perfect For Exploring Its Cities
3. Haifa City Museum
Located in the German Colony at the foot of famous Baha'i gardens, the Haifa City Museum is one of th most visited museum in the city where you can enjoy the collection of Israels's rich cinematic past, from blueprints of historical movies to letters and movie invitations of famous actors there is nothing which you cannot find here. It is one of a kind museum where you can enjoy with your friends and family.
Timings: Monday – Thursday: 10 AM -4 PM
Friday: 10 AM -1 PM
Saturday: 10 AM -3 PM
Address: 11 Ben Gurion Avenue, Haifa
Suggested Read: Honeymoon In Israel: The Beginning Of A Lifelong Romance
4. Clandestine Immigration And Navy Museum
If you are into army and navy stuff, then the Clandestine Immigration and Navy Museum is a perfect place for you. It is located at the foot of Mount Carmel, which displays two retired ships and a submarine belonging to the Israeli Navy and Ministry of Defense. As you enter the museum, a short video presentation will be shown giving a brief overview of the Israeli Navy's glorious history and after that, you can browse through the naval maps, articles, and souvenirs. A Haifa naval museum where you can learn about all the wars and battle held in Israel's history.
Timings: Sunday – Thursday: 8:30 AM -4 AM
Address: 204 Allenby Road, Haifa
Suggested Read: 10 Things To Do In Israel: Know Why It's On Every Wanderer's Bucket List
5. Mane Katz Museum
Mane Katz Museum is an incredibly built architecture located at the Yefe Nof Street at Carmel center. The museum comprises of beautiful artworks, paintings, and sculptures by Mane Katz and other contemporary artists worldwide. The complex presents the connection between traditional Judaism and art, which you can see in the paintings displayed in the museum.
Timings: Sunday – Wednesday: 10 AM -4 PM
Thursday: 4 PM – 7 PM
Friday: 10 AM -1 PM
Saturday: 10 AM -3 PM
Address: Yefe Nof St 89, Haifa, Israel
Suggested Read: 15 Scenic Israel Beaches That Flaunt The Best Of The Mediterranean
6. The Haifa Museum of Art
The Haifa Museum Of Art, also known as the " Museum Of Modern Art", is a must-visit museum for all art and history lovers. Dislaying a huge number of relics from the prehistoric era and Carmel era, and you will be amazed to see all these antique collections. It will surely take you on a trip to Israel's past, the Carmel era. Apart from the country's antique historical treasures, you can also check out the collection of prehistoric European figures. Make a visit to this marvelous museum which has kept Israel's history alive through the displays and antique findings.
Timings: Sunday – Wednesday: 10 AM -4 PM
Thursday: 4 PM -7 PM
Friday: 10 AM- 1 PM
Address: Shabtai Levi St 26, Haifa, 3304331, Israel
Further Read: 10 Best Places To Visit In Israel For An Extended Tour Of The Holy Land
Haifa is a city that is known for its celebrated history and these Haifa museums are surely protecting the long-gone history of Israel in the best way possible. Get a glimpse into the rich historical culture of the country by visiting these marvelous and educational museums with your friends and family. There is something for every type of enthusiast in Haifa, be it art, science or history, there is a museum for everything in the city. So, don't wait anymore and plan your trip to Israel and explore these wonderful museums!
People Also Read