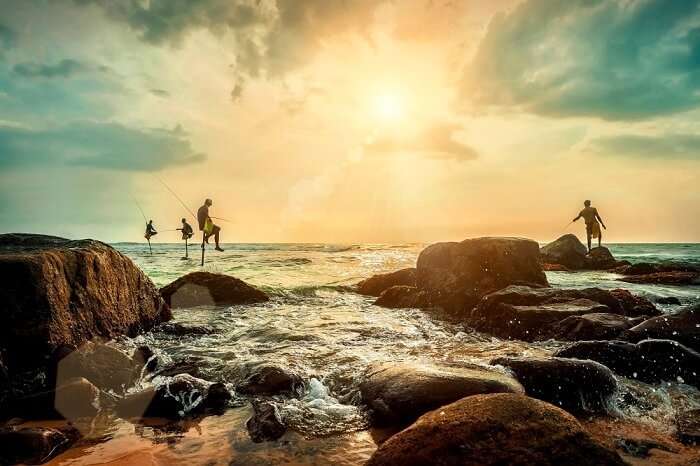 Hambantota is located in the extreme south side of Sri Lanka. The city is the second largest in Sri Lanka right after Colombo and if you are wondering Hambantota is famous for what? Then it is especially famous for its biodiversity. The Hambantota district holds as many as 20 National Parks and wildlife sanctuaries and if you are an ornithologist or simply someone who loves birds, then you can see a lot of magnificent species of birds in this area. Apart from its national parks, Hambantota is also home to many heritage sites including Buddhist worship places and stupas. The city also boasts of a vibrant nightlife and it is one of the most happening location in Sri Lanka, adorning a lot of nightclubs and hotel bars. Food in Hambantota is simply delicious. The fresh sea food will immediately activate your taste buds.
To make your Hambantota trip convenient for you, we have brought this Hambantota travel guide. You can know about all the places to visit in Hambantota as well the necessary information regarding your trip.
Best Time To Visit Hambantota

Being a tropical region, the average temperature in Hambantota doesn't vary all that much, although there is a fair chance of rainfall half the year. If you want to visit the place during the warmest time then you can opt for the months of April through July. This the time when the weather is warm and it is comparatively. The peak season when tourists visits Hambantota is during the months of December through February. This is the peak tourist season and the place is generally crowded during these months.
Things To Do In Hambantota
If you are wondering what to do in Hambantota? There are many places to visit in Hambantota and a number of things to do. You will never run out of places while touring in this beautiful tropical region. Nonetheless, to make it more convenient for you, we have gathered a list of 10 best places in Hambantota, which you can visit on your Hambantota trip. Take a look.
1. Yala National Park

Yala National Park is probably one of the most visited tourist attraction spot in Sri Lanka. Located in the southern province of Sri Lanka, Yala National Park has been serving as a wildlife sanctuary since the early 1900s. You can enjoy a jeep safari to tour around this wildlife sanctuary. Though the park is divided into 5 sections, only two of these sections can be visited by tourists and rest of the area is under natural reserves. This National Park is home to 55 species of animals and over 200 species of birds and during the months of January to July, you can see leopards roaming around actively around the park.
Must Read: 15 Things To Do In Ella In 2022 To Take Your Sri Lanka Trip To The Next Level
2. Bird Watching in Tissamaharama

This delightful tour will take you along the Weerawila Lake, Panagamuwa Lake, Debarawewa Lake and Tissa Lake and Yodha Wewa. Through your tour you will spot many known as well as rare bird species. This experience is like any other. Enjoy the jeep safari to your destination and don't forget to take your camera.
3. Sithulpawwa Temple

This rock temple is a Buddhist monastery dedicated for worships in Sri Lanka. The temple has been in existence since a long time now. To reach the temple you have to travel about 30 km from Yala village. Situated by thick forests of the Yala National Park, this temple exudes a very peaceful ambiance.
Suggested Read: Viharamahadevi Park: A Handy Guide To Explore This Nature's Paradise In Sri Lanka!
4. Ussangoda

Ussangoda, in Hambantota district is a place of important geographical features and is controlled by the department of archeology. The soil structure here is simply exclusive and it is home to various kinds of vegetation. From here, you can follow the track that leads to the beach, which serves as nesting place for sea turtles and if you go farther, you will reach a rock cliff, where you can see beautiful views of the Indian Ocean.
5. Kirinda Temple

Kirinda is a lovely small village in Hambantota district. This village is home to many revered places of Buddhism. There is a beautiful beach in Kirinda and the Kirinda Temple is built on a huge rock on the beach. If you are visiting Kirinda, then don't miss out on these two major attractions.
Suggested Read: Sri Lanka In January: Best Places To Visit & Stay In 2022
6. Bundala National Park

This is yet another widely visited place in Hambantota. The 6200 acres National Park is a place of scenic beauty. Bordered by 4 lagoons, this national park is lined beautifully with different kinds of vegetation. You can spot several bird species here including the rare greater Flamingo.
7. Hummanaya

Hummanaya or Kudawella Blowhole, is another famous tourist attraction in the district of Hambantota. It is a very rare geological feature, creating a very peculiar Ho-ho-h0 sound, which is a curious feature of this blow hole. As the waves hit the rock and passes through the hole, it exerts this interesting sound that you can hear on your way to Hummanaya.
Suggested Read: The Ultimate Guide To Sri Lanka's Dambulla Cave Temple
8. Madunagala Hot Springs

Located in the Madunagala hermitage, the Madunagala hot springs are created naturally and gives you a very exquisite experience. There are five hot springs in total and the local people believe that a dip in these springs can cure skin and eye diseases.
9. Kumana National Park

Another popular National Park in Hambantota, Kumana National Park is a big bird sanctuary. This ecotourism destination is home to various bird species including little stint, common sandpiper, yellow footed pigeon, Gray plover, Malabar trogon and Pacific golden plover and much more.
Suggested Read: 7 Most Haunted Places In Sri Lanka To Make You Face Your Darkest Fears
10. Tangalle Beach

Tangalle Beach is a tropical retreat for people from in and around Sri Lanka. Located in the southern province of Sri Lanka, near Hambantota district, Tangalle Beach is a must visit destination. The beach extends for about 10 kms and it is a great place to unwind and relax on your Sri Lanka vacation.
How To Reach Hambantota

The best way to reach Hambantota is from Colombo. There are multiple ways in which you can reach Hambantota. You can either board a train to reach this place or take the bus. There are several buses running from Colombo, which will drop you off at Hambantota. Otherwise, you can always take a taxi, which can be a bit expensive or drive your private car all the way to Hambantota.
What To Pack

Since the temperature of Hambantota district is pretty hot all throughout the year, make sure you pack a lot of light clothing. There are lots of national parks, which you might visit so you need to pack a pair of good hiking boots as well as slippers for the beach. Also don't forget to pack your swimwear and sun screen or sunglasses.
Visa and Currency

The currency in use in Sri Lanka is Sri Lankan Rupees and naturally Hambantota also uses the same currency. If you are a citizen of Sri Lanka you won't be requiring a visa to visit Hambantota. On the other hand if you are a British citizen, you'll need a passport validity of 6 months as well as a visa.
Further Read: The Definitive Guide To National Museum Of Colombo In Sri Lanka
So now you have all the important information about Hambantota, don't miss out the best things to do around and be well informed before planning. Hopefully this Hambantota travel guide will help you enjoy a lovely vacation amidst the pristine beaches and scenic locations of Sri Lanka .
---
Looking To Book An International Holiday?
Book memorable holidays on TravelTriangle with 650+ verified travel agents for 65+ domestic and international destinations.
---