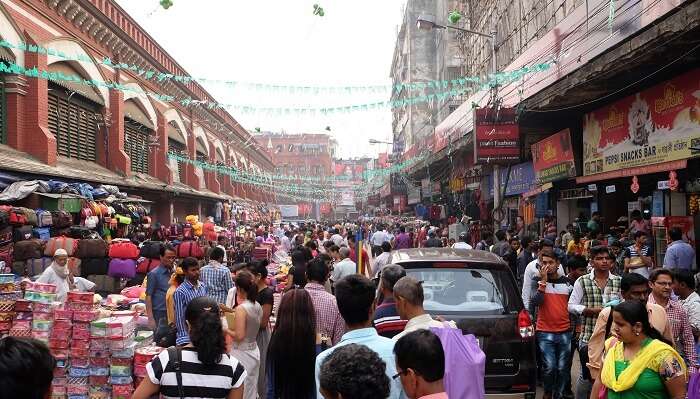 The best handicraft markets in Kolkata can make for a travel experience you find yourself holding onto, with colours, chaos and shopping, if you're anywhere near the city, these are the places you might not want to miss.
Kolkata is synonymous with art and culture unlike any other, and the local communities take immense pride in their ability to weave history into materials. Handicraft markets in Kolkata are an ode to these people and their talent through which they not only tell their stories but represent the east Indian region using their crafts. While visitors from all across the world can be found huddling in the city centre or metropolis markets, we have tailored a list of the best handicraft markets in Kolkata for one to explore.
4 Best Handicraft Markets In Kolkata
Immerse yourself in the cultural bustle of Kolkata and feel the traditional history of Kolkata with a glimpse of the city's love for art. There's no better way to travel like a local in this destination than taking a trip to explore these popular handicraft markets in Kolkata.
1. New Market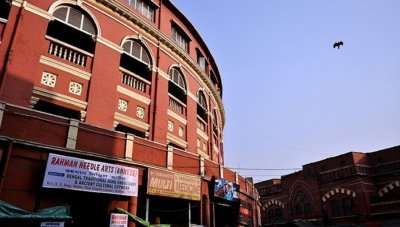 Image Credit: Sudipta Mallick for Wikimedia Commons
Perched on Lindsay Street in the Dharmatala area, New Market is home to 2,200 shops that specialise in countless different arts and crafts, ranging from textiles to metal artefacts, to electronic gadgets. While most people enjoy the space to understand Kolkata's ethnic culture that is rooted in handmade products, it is a popular market for handicrafts in Kolkata. You can enjoy everything from a private day tour of this place paired with lunch or straight away dive in to learn and shop the handicrafts like Coconut (shell & husk), copper repousse, Dokra (metal casting), Dhokra (jute mat), and more.
Location: 19, Lindsay St, New Market Area, Dharmatala, Taltala, Kolkata, West Bengal 700087
43 Outstanding Tourist Places To Visit In West Bengal In 2022
2. Dakshinapan Shopping Center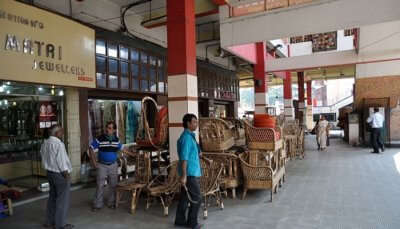 Image Credit: Biswarup Ganguly for Wikimedia Commons
If you are planning an entire day to go around Kolkata and want to shop at an expansive display of handicrafts, Dakshinapan Shopping Complex is a congregation of 141 stores that showcase a variety of products spanning over 57,000 sqft area. The best way to reach this place is by making your way to Gariahat Road where you can find directions to the entryway from the Rail Overbridge in Dhakuria. Unlike modern shopping complexes, the old-timey charm of curtain interiors and the open-air display is a great way to experience the local energy as you shop for handicrafts ranging from brass metalware to handloom sarees.
Location: Dakhinapan Market, Dhakuria, Kolkata, West Bengal 700068
3. Bara Bazar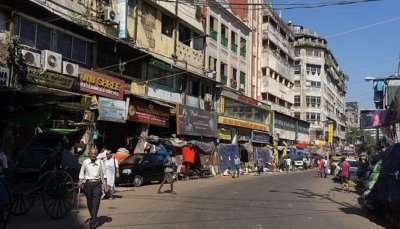 Image Credit: Sumitsurai for Wikimedia Commons
Often referred to as Kolkata's Chandni Chowk, Bara Bazar (also known as Burrabazar) is a prime destination for handicraft artisans and shopkeepers for showcasing timeless artefacts. If you are visiting this area for the first time, the endless bustle can make for an overwhelming experience. Start with a guided tour of the market to learn about the different products that they offer. If you are looking for home decor, check out the bamboo cane stores that blend wood furnishings with the sturdy structural integrity of bamboo to create unmatchable items like sculptures, paintings, storage units, and more.
Location: Purulia
7 Amazing Places To Visit In Summer In West Bengal That No Traveler Would Want To Miss In 2022!
4. Sudder Street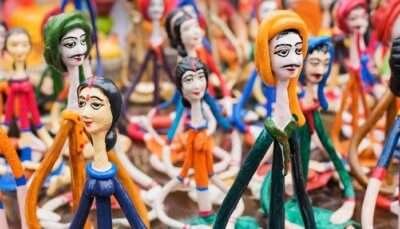 Located in central Kolkata, Sudder Street is often visited by domestic and international visitors for budget hotels and restaurants. While it is not a primary destination for shopping, if you are in search of the best handicraft markets in Kolkata, this narrow alleyway next to the Indian Museum can be a wholesome surprise. A popular store here is Sunshine handicrafts where you can explore handmade Boho crafts.
Location: Kolkata, India
Shopping In Kolkata: A 2022 Guide To Help You Spend Money On The Right Item!
At the intersection of Kolkata's bustle and passion for art, these handicraft markets in Kolkata are a testament to the preservation of community cultures over several centuries. If you are planning a trip to West Bengal in the upcoming months, explore our Kolkata tour packages for more.
For our editorial codes of conduct and copyright disclaimer, please click here.
Frequently Asked Questions about Handicraft Markets in Kolkata
Is handicraft shopping in Kolkata expensive?
While there are various markets offering goods that range from budget purchases to high-end art pieces that can be on the far end of your budget, the cost of your purchases will depend upon the type of handicrafts you want to buy.
Which handicrafts are famous in West Bengal?
There's a long-standing history of handicraft production in West Bengal and if you are looking to shop some traditional pieces for your collection or as a gift, don't forget to explore conch-shell products, brass wares, Baluchari Sarees, wood and cane products.
Which district of West Bengal is famous for bamboo handicrafts?
While there's no particular destination in West Bengal popular for bamboo handicrafts, Dakshin Dinajpur, Malda, Murshidabad, Bardhhaman, Uttar Dinajpur and Bankura are some of the most popular cities where craftspeople produce them.
People Also Read: